France: Aix-en-Provence, Vaison-la-Romaine & St. Rémy
Tour Only
Flight + Tour Combo
7 Days
Starting From
$3,298
10 Days
Starting From
$4,448
Favorite
See What's Included
Paint your own picture of the perfect Provençal walking tour, then step into the frame.
Golden Provençal sunlight floods cypress-fringed fields of red poppies and sunflowers just outside St. Rémy, and it suddenly hits you: déjà vu. As your historian guide illuminates the sites that inspired Van Gogh, you realize that you've stepped into one of his paintings. Aesthetic revelations are nothing new in Provence: perched medieval villages of stone walls and powder blue shutters; market stalls fragrant with fresh-cut lavender, honey-almond nougat and multi-hued soaps. Break your morning stroll through the olive groves with a wine tasting amidst a sea of grapevines. Pause for lunch with a jeweler in her courtyard garden. Prowl Avignon's papal palace or the Roman ruins of Vaison-la-Romaine. When you walk through Provence, village to village, market to market, you put yourself right in the picture.
Highlights
Stroll through the villages of Séguret and Les Baux, noted for being some of the most beautiful in France.
Experience a "zen" moment at the sensational multimedia art show at Carrières de Lumières in Les Baux.
Gaze upon the sweeping landscapes and beautiful backdrops that inspired Vincent van Gogh's most influential paintings.
On all Guided-Flex Adventures you can count on...
Expert local guides to introduce you to the best of your destination.
Opportunities to break away from the group and explore on your own.
Delicious multi-course meals—a majority are included.
A maximum of 20 fun-loving fellow travelers to share the journey.
Gracious accommodations that are a clean, comfortable home away from home.
Experts to handle all the details.
Flight + Tour Combos include plane tickets, airport car service, and pre- and post-tour accommodations.
Hostellerie Le Beffroi
This small, family-run hotel consists of two adjoining homes (built in 1554 and 1690) that were restored in the 1950s to become a gracious inn. Hostellerie Le Beffroi is named after Vaison-la-Romaine's ancient belfry, and is located in the medieval section of the town on a cobblestone street. The pool and terraced gardens provide fine views over the town, and the on-site Restaurant la Fontaine has both indoor and outdoor seating. Each of the un-air conditioned guest rooms is uniquely furnished, giving Le Beffroi the feel of a private home.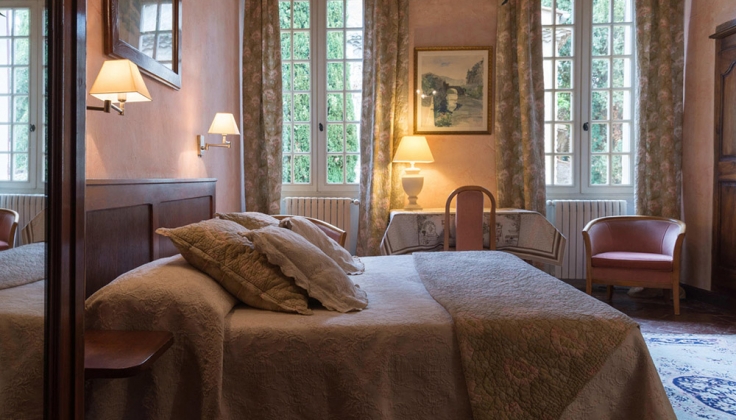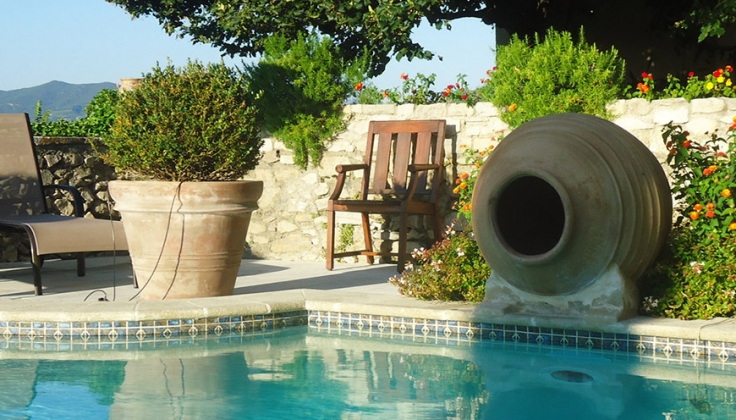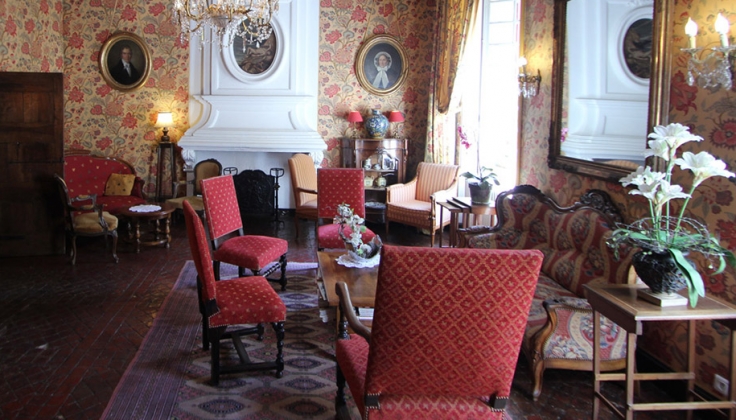 Hotel Burrhus
This laid-back hotel, conveniently located in the center of Vaison-la-Romaine, is perfect for exploing the city on foot. The guestrooms boast a mix of vintage 60s, modern, and casual furnishings, free WiFi, and flat-screen TVs. The décor features works by many artists. A breakfast buffet is served in an airy dining room or on a tree-shaded terrace, and guests can enjoy the hotel's lounge area with a selection of books. Explore the weekly outdoor market on Tuesday mornings just outside your front door.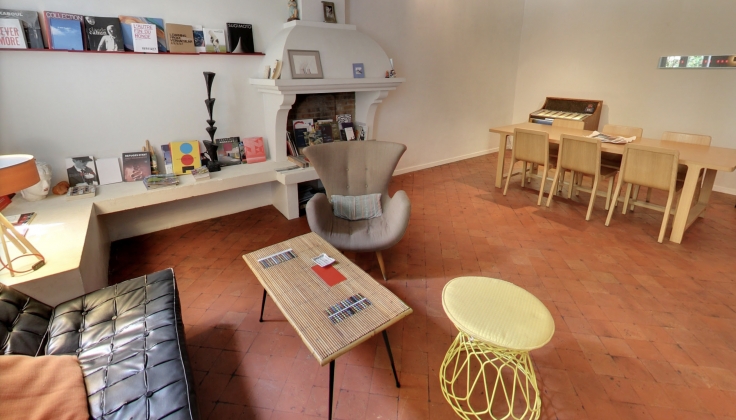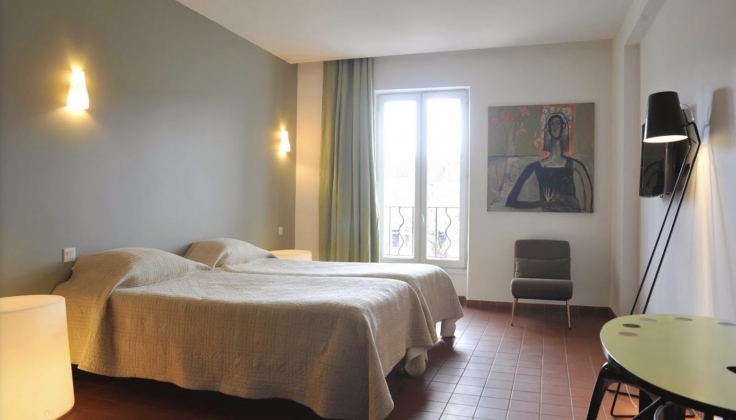 Hotel La Magnaneraie
The Hotel La Magnaneraie is located in the historic town of Villeneuve-lès-Avignon, less than two miles from Avignon. Surrounded by a lush park, this 15th-century former residence of cardinals and one-time silkworm estate combines the charm of an ancient mansion with modern comforts, including air conditioning, and provides an elegant and peaceful haven after a rewarding day of exploring. Enjoy the beautifully decorated common areas, including a restaurant featuring many regional specialties and a spacious lounge and bar, as well as an outdoor garden with a swimming pool.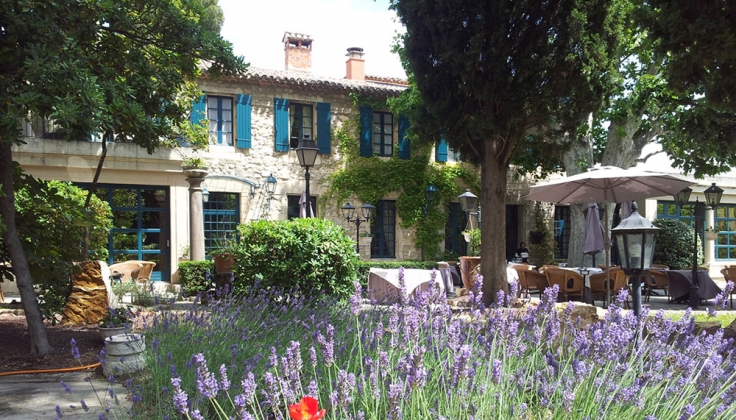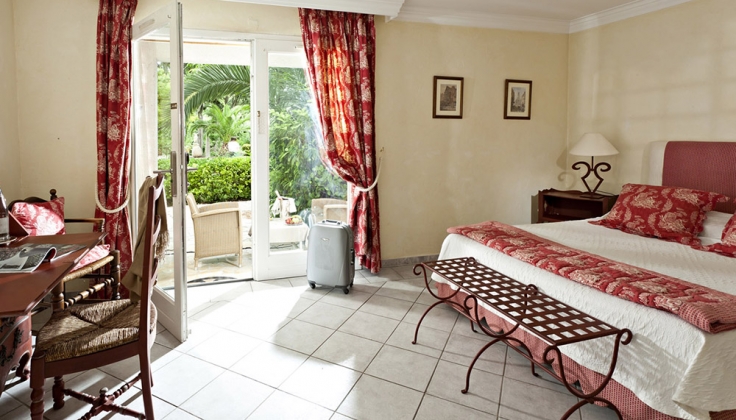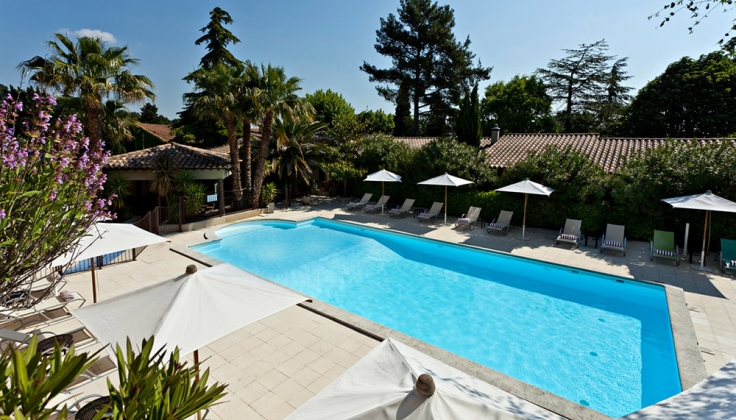 Hotel Le Saint-Remy
Located in the heart of St. Rémy, this five-star hotel is nestled in a 19th-century townhouse. Here, you'll find luxuries including market cuisine with a twist at the Brasserie Chic restaurant, innovative cocktails at the bar lounge, spa treatments (additional cost), an outdoor pool, and a friendly atmosphere. The hotel's air conditioned rooms boast whimsical Gypsy-chic décor.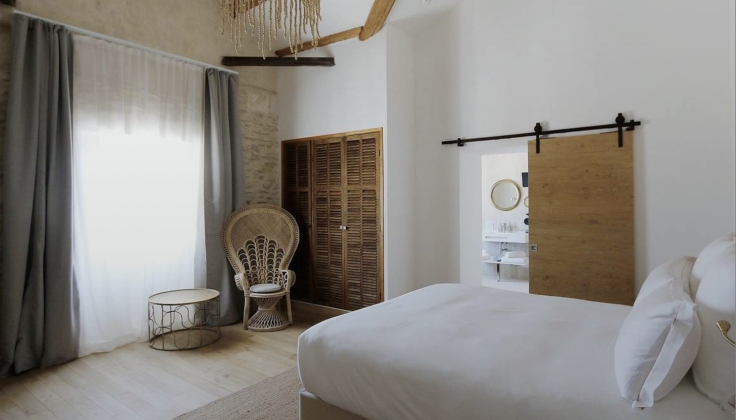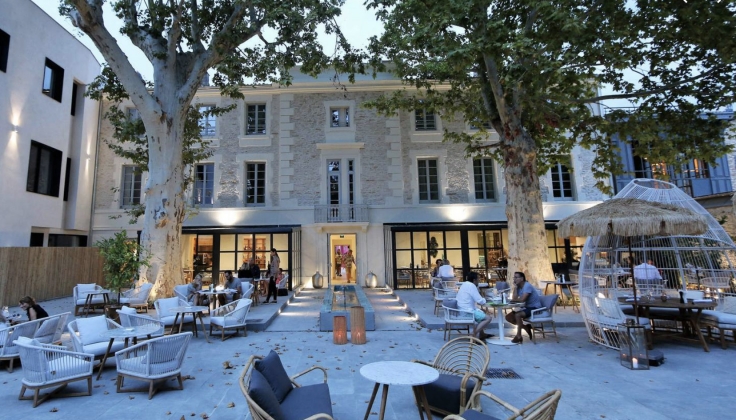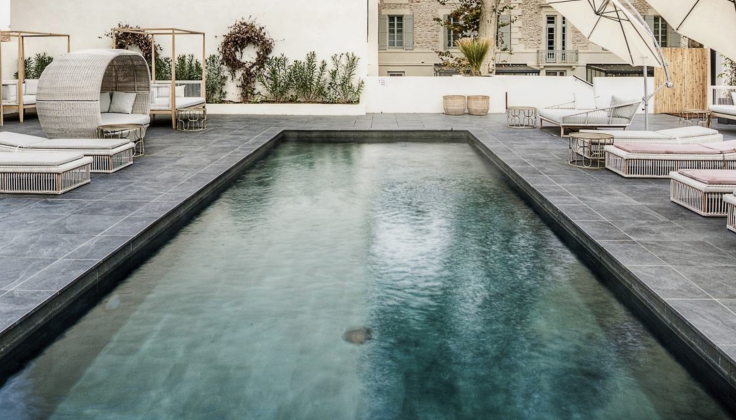 Grand Hotel Roi Rene
The Grand Hôtel Roi René Aix-en-Provence Centre-MGallery by Sofitel is ideally situated near the famous Cours Mirabeau in the heart of the Old Town of Aix-en-Provence. The town's lovely pedestrian squares and fountains, tree-lined main street, and museums are all within a short walk. Contemporary, bright guest rooms feature neutral fabrics and are fully equipped with air conditioning, satellite TV, direct-dial telephone, minibar, bathrobes, and slippers. You'll also enjoy free WiFi access throughout the hotel during your stay.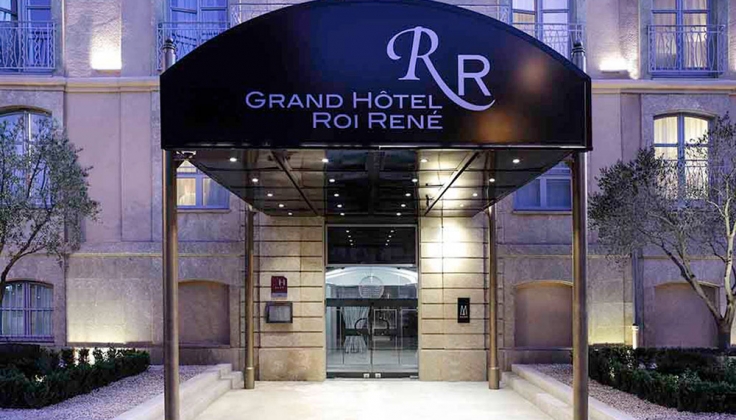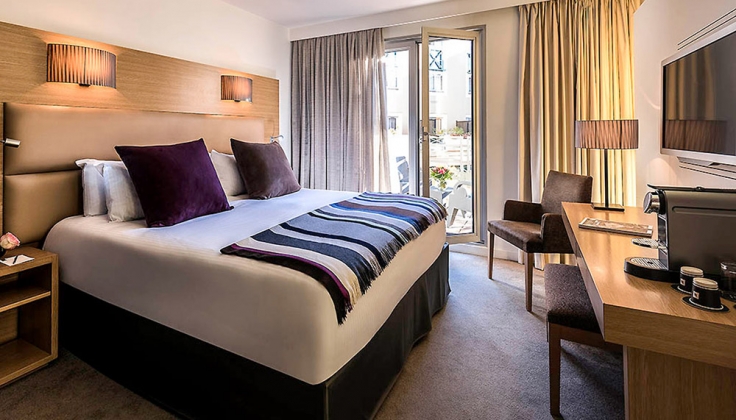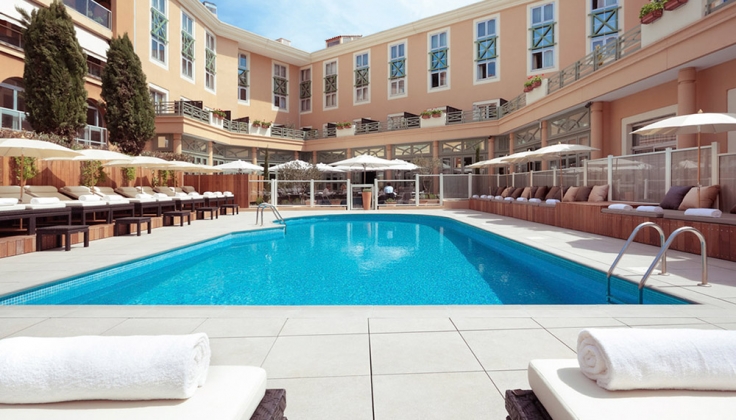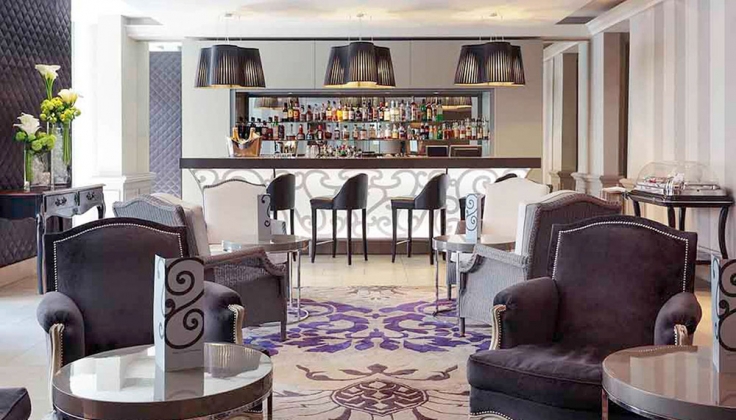 Linger Longer with a Tour Extension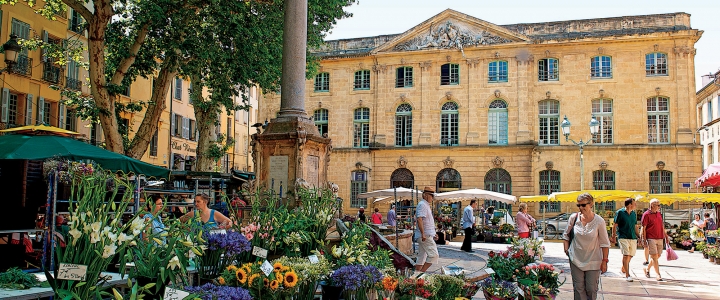 Pre-Tour
Flight + Tour Combo Only
2021 Pre-Tour Extension - Aix-en-Provence
Two nights at the Grand Hôtel Roi René Aix-en-Provence Centre-MGallery by Sofitel
Daily breakfast
City Information
Airport transfer
2 Nights From $248
per person, double occupancy

Single Supplement: From $198
Begin your adventure by departing from a convenient gateway city in the United States or Canada. Spend your first night aloft.
Upon arrival at Marseille Airport, a representative holding a Country Walkers sign meets you as you exit the baggage claim area. A complimentary small-group transfer will be provided to your Aix-en-Provence hotel, approximately 45 minutes away. The remainder of the day is at your leisure (no meals included).
If you are going to be delayed meeting our transfer representative for more than 15 minutes due to delayed or lost luggage, please contact Allianz Global Assistance to advise of your delay and they will contact our transfer service on your behalf. Our drivers are generally able to wait for up to 45 minutes from the time your flight lands, after which you would be responsible for your own transfer.
Please note: If you arrive early, your hotel room may not be available until 3:00 p.m., in which case you may store your luggage with the reception desk.
Country Walkers provides you with City Information including recommendations on what to see and do in Aix-en-Provence during your stay.
Accommodation: Grand Hôtel Roi René Aix-en-Provence Centre-MGallery by Sofitel
After breakfast, spend the day exploring this intriguing city on your own. As you begin your day, perhaps visit some of the museums, such as the Musée Granet or the Musée des Tapisseries. Aix is known as the "City of a Thousand Fountains," and you will discover why when you stroll to the Old Town (Vieil Aix) along the Cours Mirabeau, where many of the best fountains flow.
Discover the architectural and cultural treasures of Aix-en-Provence simply by walking around. Some of the smallest streets of the ancient Roman town have kept their evocative names, offering a glimpse into the city's 2,000-year-old past. Perhaps you'll enjoy a taste of Provence at the main food market at Place Richelme, play pétanque with the locals at the Boulodrome, or admire the elegant townhouses of the Mazarin district.
For dinner tonight, consult your City Information packet for restaurant recommendations.
Accommodation: Grand Hôtel Roi René Aix-en-Provence Centre-MGallery by Sofitel
Included Meals: Breakfast
Take another day to discover Aix-en-Provence, or perhaps venture into the countryside to experience the beauty of the landscapes immortalized by Cézanne. On the edge of town, you can explore the Carrières de Bibémus, a quarry whose red, cubic rocks inspired some of Cézanne's best work.
Accommodation: Grand Hôtel Roi René Aix-en-Provence Centre-MGallery by Sofitel
Included Meals: Breakfast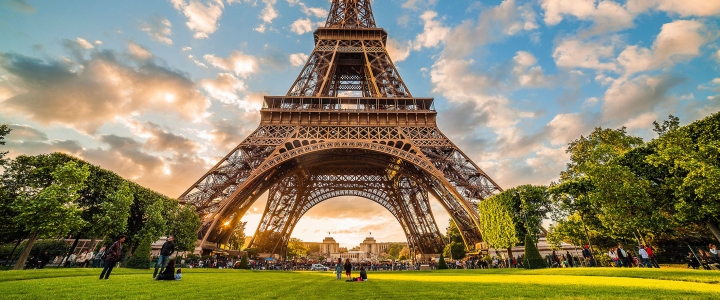 Post-Tour
Flight + Tour Combo Only
2021 Post-Tour Extension - Paris
Two nights at La Demeure Montaigne
Daily breakfast
City Information
Airport transfers
2 Nights From $598
per person, double occupancy

Single Supplement: From $398
After breakfast, transfer to the Aix-en-Provence TGV train station for your train to Paris. Upon arrival, you will be met by a County Walkers representative and transferred to your centrally located hotel.
Dinner is on your own. Country Walkers provides you with City Information that includes recommendations on what to see and do in Paris during your stay.
Accommodation: La Demeure Montaigne
Included Meals: Breakfast
Today, see for yourself why this city has inspired poets, lovers, emperors, and artists for centuries. Visit Montmartre and its charming cafés and artists' colony. Make a stop at the Eiffel Tower or one of the magnificent museums, such as the Musée Picasso or the Musée d'Orsay. You may also wish to stroll through the Tuileries Gardens on your way to the Louvre. You can walk to many of the major sights from your centrally located hotel. Dinner is on your own.
Accommodation: La Demeure Montaigne
Included Meals: Breakfast
A complimentary small-group transfer is provided to Paris Charles de Gaulle Airport based upon your departure time. (Transfer time to be communicated by your guides while on tour.)
Included Meals: Breakfast