40 Years of Experience
Country Walkers began with a simple idea: explore the world actively, passionately, and with a commitment to authentically engaging with local cultures. With this guiding principle, we launched the company in 1979 from an old barn in Vermont. Although we were small (and our office space rustic), our love for the beauty of the surrounding Green Mountains became contagious. Soon we expanded from local to international destinations, introducing travelers to new landscapes and cultures around the world on foot.
Today, Country Walkers is recognized as one of the leading providers of walking adventures worldwide, having garnered countless awards including National Geographic Traveler's "50 Tours of a Lifetime" and Travel + Leisure's "World's Best" Awards.
Meet the Country Walkers Team
Because we're passionate travelers ourselves, we know what you're looking for in an active vacation. Meet some of the team that brings our adventures to life.

Tour Directors
These travel experts have carefully designed every one of our itineraries—using on-site research and the insider perspective of local friends and colleagues—to guarantee a trip that immerses you in the culture, traditions, natural beauty, and history of a destination.

Tour Consultants
Our tour consultants—Jane, Claire, Terri, Ashley, Silvy, Krista, Megan, Tucker, and Katie— are a well-traveled bunch who are ready to answer all of your travel questions. They'll help you book a trip, recommend your next destination, and give you the inside scoop on our tours (they travel on at least one of our adventures per year)! With 29 years combined experience and over 43 countries visited, these savvy travelers are an incredible resource.

Jamen Yeaton-Masi, Vice-President of Worldwide Product & Operations
A 21-year veteran of the company, Jamen is responsible for new tour development, operations, the guide program, and team management, ensuring that we offer innovative and quality experiences that continue to delight both long-term fans and new travelers. An avid traveler who has spent years exploring and living abroad, she has walked and biked on every continent except for Antarctica.

Timo Shaw, President
In his role as the President of Country Walkers and our sister brand VBT, Timo oversees all aspects of the company's day-to-day operations, keeps in touch with colleagues around the world, leads annual VIP adventures, and pours the odd pint at staff get-togethers. A New Zealand native, Timo has worked in the travel industry for 35 years, been with Country Walkers for 12 years, and has visited 53 countries.
Expert Local Guides
Experience your destination like an insider with the people who call it home. Our guides are eager to introduce you to the people, places, and traditions that make their country unique, whether that means chatting with an oyster farmer beside his beds in Croatia's Mali Ston Bay or identifying wildflowers in Glacier National Park. As experts in diverse fields—from biology to world history to architecture—our guides are adept at sharing their insights. As a result, you'll enjoy a perspective on local life most visitors never know: the view from the inside.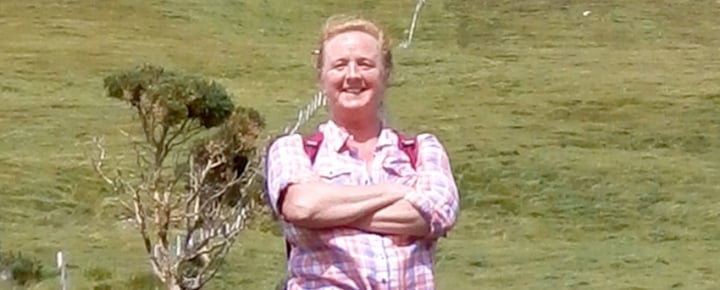 Marie Cullen
Born in County Louth and fluent in Gaelic, when not guiding walking tours, Marie Cullen is an artist, working mainly in oils and mixed media. She hosted visitors on Great Blasket Island, over a mile off Ireland's west coast, in a restaurant and guest house for 10 years before moving to County Cork and founding the Working Artist Studios. She also teaches art to children, adults, and people with special needs. Marie has studied various holistic therapies and swims year round in the Atlantic Ocean.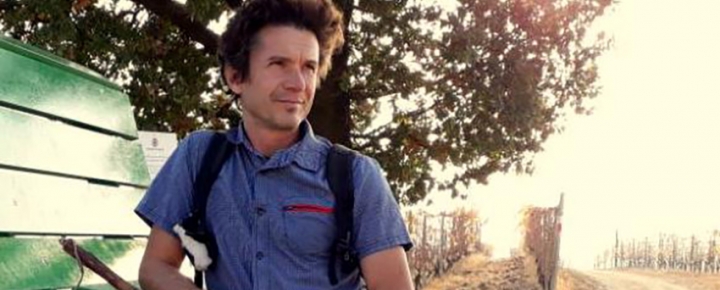 Marcello Bertino
Marcello Bertino still mixes a spoon of Nebbiolo wine in his winter soup, just like his grandmother used to do. That's just one of the thousands of tastes of the Langhe, where he was born and still lives with his wife and family. Marcello spent his youth studying in technical school while also hiking and biking, and it was here where his fascination with art, history, music, and wine slowly grew. Even after over a decade working as a certified guide, his goal is still the same: to help you fall in love with the flavors of the hills he calls home.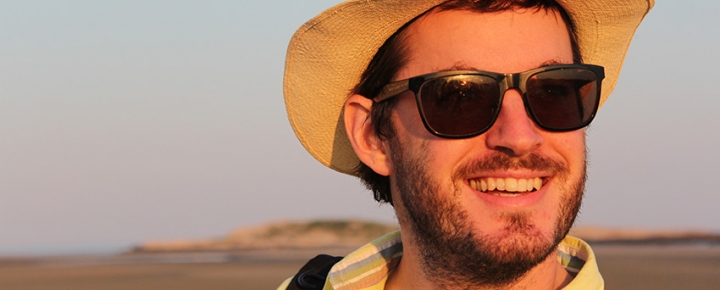 Christopher Atkins
With a deep knowledge of local history and significant outdoors experience, Christopher Atkins is the ideal guide to lead visitors through Québec's distinctive landscapes.Fluent in two languages (he grew up speaking French), he is also a proficient Spanish speaker. In his free time, Chris enjoys a number of active sports, ranging from basketball to paragliding and including, of course, hockey! He has traveled extensively around the world, from the Arctic Circle to the Andes, and is a certified open-water diver as well.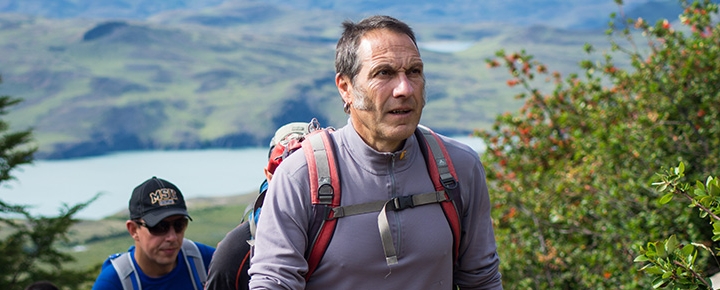 Xabier Etxarri
Xabier Etxarri, or Xabi as he's known (pronounced 'shabby'), hails from Navarra, in the Basque Country and is a true Renaissance man. Originally a science teacher and physicist with a specialization in astrophysics, he decided to leave it all behind and travel to southern Chile where he unlocked his passion for poetry, writing over 14 volumes since! He soon became a fully-licensed trekking guide with a particular interest in nature and the natural sciences. His passion for the mountains of his native Pyrenees remains undiminished and he now splits his time between Patagonia and Spain. What Xabi brings to this journey is an intimate knowledge of the local wines and the flora of northern Spain.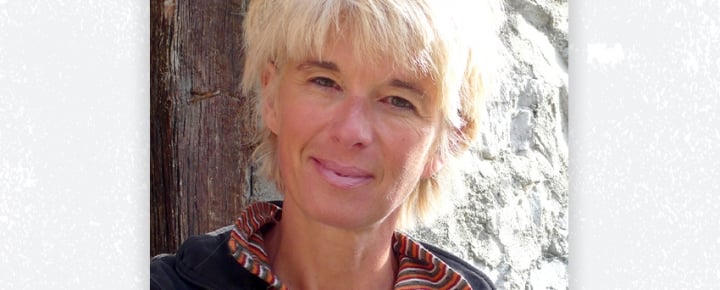 Claire Thioliere
A native of Chamonix, Claire Thiolière spent months during her youth vacationing in Normandy thanks to her parents' passion for the local history of Honfleur, Mont Saint-Michel, and the Cotentin Peninsula. She also traveled extensively in her youth throughout Africa before returning to France where she received a Master's degree in Geography and Geomorphology. She is a certified guide who has been leading people throughout the Alps for more than 25 years and has also led groups along the Norman coast when not sailing that same coast herself! An avid hiker and skier, Claire's enthusiasm extends to the impressionist painters whose artistic movement was born in Le Havre, as well as French literature, architecture, and gastronomy.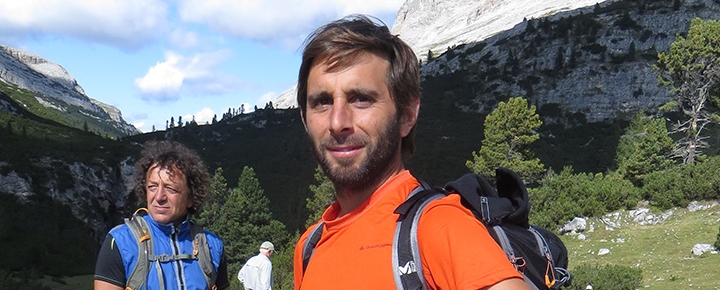 Keegan Alagna
With his American mother and Sicilian father, Keegan Alagna grew up in a bilingual home in the Umbrian countryside near Assisi. From his childhood on a working farm to post-graduate work in geology, he has always pursued his passion and curiosity for the outdoors, through teaching, guiding, and exploring. He brings his depth of knowledge of geology, nature, Italian history and culture to his walking tours and to his position as a key member on Italy's premier outdoor group—the CAI, the Club Alpino Italiano.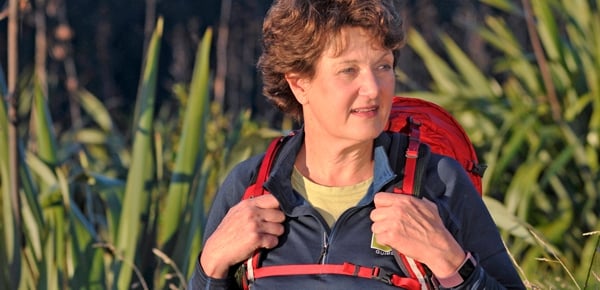 Julia Thorne
From a traditional Kiwi upbringing in Northland, New Zealand, Julia Thorne's life and vocation have segued through worlds of journalism and editorial photography, to property development, artwork, and eclectic roles in the adventure travel sector. Julia's undying passion for Aotearoa and sharing its natural treasures and culture with visitors eventually led her to her current adventure-guiding guests around her beloved native country.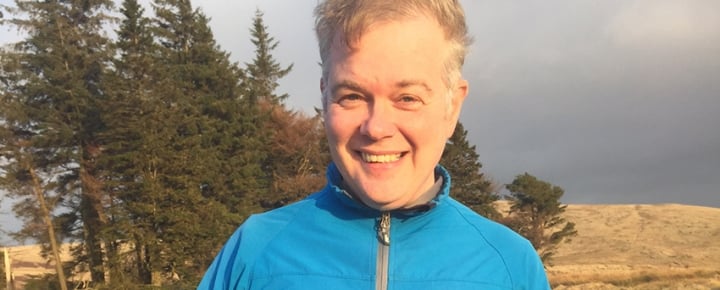 Alan Wright
Alan Wright is very proud of his Glasgow roots but has lived most of his life just outside Stirling, which is on the edge of one of Scotland's only two National Parks. His love for the outdoors began over 25 years ago and he has hiked extensively all over the Scottish Highlands and Islands giving him a wealth of knowledge and wonderful experiences. Following a career in the finance sector, he changed gears and qualified as a mountain guide in 2014 so he could spend his time following his passion for the wonderful landscape, varied wildlife, and remarkable history that his country has to offer.
Awards & Accolades

AFAR Travelers' Choice Award
Our British Columbia: Vancouver Island Guided Walking Adventure was named the Best Hiking and Walking Trip of 2018 by AFAR.

Best Places to Work in Vermont
Country Walkers was named one of the Best Places to Work in Vermont in the Small Employer Category.
Sustainable Travel
Responsible tourism is integral to our core values. In all ways we strive to preserve indigenous cultures, support local economies, conserve wildlife, and protect the environment. When you travel with us, you'll contribute to a more sustainable world too.
Learn More
In the Media
We're making headlines! If you'd like to know what others are saying about Country Walkers, look no further. We've been featured in a wide range of media outlets, blogs, and magazines—including Men's Journal, Travel + Leisure, and Outside. Here are some examples of our recent coverage in the press.
Be the First to Get News & Special Offers