France: Provence & St. Rémy
7 Days
Starting From
$3,445
10 Days
Starting From
$4,545
Favorite
See What's Included
With its vivid scents and colors flavoring every day, Provence is the perfect place to come to your senses.
Spring breezes carry the scent of sage, rosemary, and wild thyme as you climb along a ridgeline, and radiant sunlight warms your face. A patchwork of olive groves and vineyards stretches far across the valley below, while farther up the trail, Les Baux's medieval buildings peek out from chalky white hillsides dotted with cypresses and red poppies. Exploring southern France's most beautiful villages, each walk prompts the same question: What could possibly be more picturesque? The vibrant Van Gogh landscapes surrounding St. Rémy? The fragrant lavender fields outside Sénanque Abbey? The ochre-hued contours and red cliffs etched into the dramatic landscapes of the Luberon massif? Every day, this walking tour in Provence finds new ways to delight your senses.
Highlights
Follow the ridgeline of the windswept Alpilles on a walk with awe-inspiring 360-degree views before stopping in the medieval village of Les Baux-de-Provence for lunch.
Stay in delightful, local accommodations imbued with Provençal charm, where friendly owners greet you with warm hospitality and a glass of wine.
Rub elbows with locals as you explore the colorful stalls of open-air markets in quaint towns like St. Rémy, Gordes, and Bonnieux.
Gain a deeper appreciation for the work of Vincent Van Gogh, as you visit the sites where he created some of his most iconic paintings.
Explore the red-hued Ochre Trail, a rich landscape of soaring cliffs and finger-like rock formations once mined for its pigments.
On all Self-Guided Adventures you can count on...
A local representative available 24/7
Detailed maps & route notes featuring turn-by-turn directions and places of interest
Delicious meals—many are included
Scheduled taxi transfers to bring you to and from each day's walks (excluding self-drive adventures)
Gracious accommodations that are a clean, comfortable home away from home
Experts to handle all the details, including moving your luggage between hotels while you're out exploring
Access to a Self-Guided Flight Concierge—ask our knowledgeable team to find flights that sync with your planned trip
Hotel De L'Horloge
Situated in the city center, the Hotel De L'Horloge puts you within easy walking distance of the Popes' Palace, cozy cafés, and boutique shopping. The hotel's air-conditioned rooms are stylish and airy, designed with soothing palates, tasteful furnishings, and a Provençal sensibility that exudes charm and character. It's an ideal location for discovering Avignon's art and culture.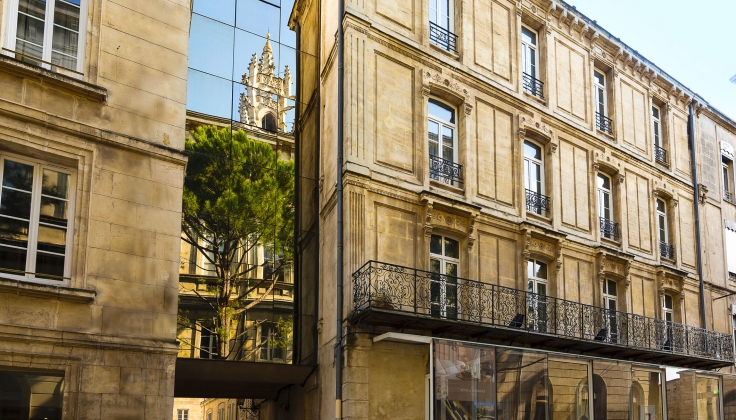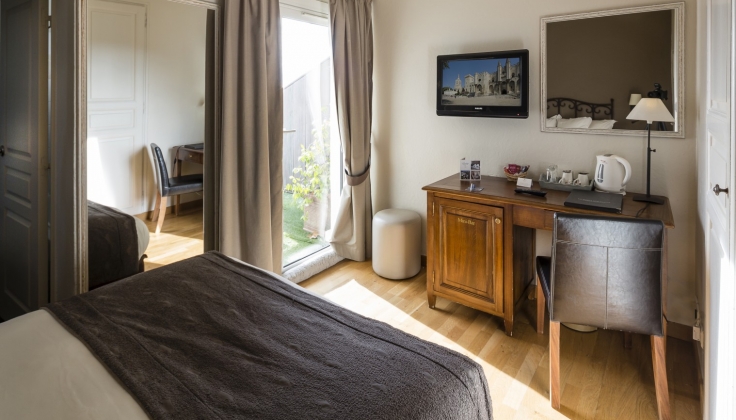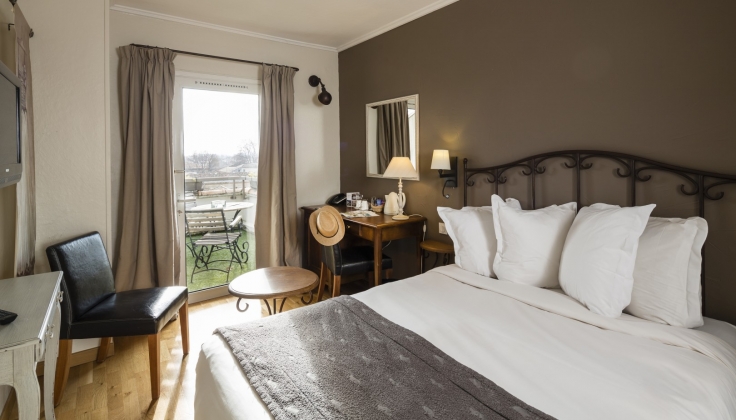 Hotel Sous les Figuiers
A charming, small hotel built around an interior courtyard, the Hôtel Sous les Figuiers features individually decorated, air-conditioned guestrooms highlighting Provençal décor supplemented by antiques and artwork. Fresh local products and home-baked regional breads and pastries are on the breakfast menu, served either in the shaded terrace or the Baroque salon. An onsite art studio exhibits contemporary works and encourages local artistic endeavors. A pleasant Provençal town, St. Rémy is best known for the Saint-Paul de Mausole monastery, where Van Gogh received psychiatric treatment. Please note: this accommodation is available on limited departures.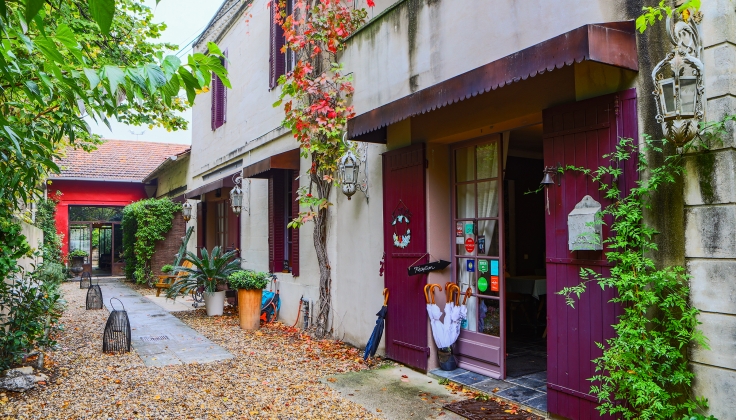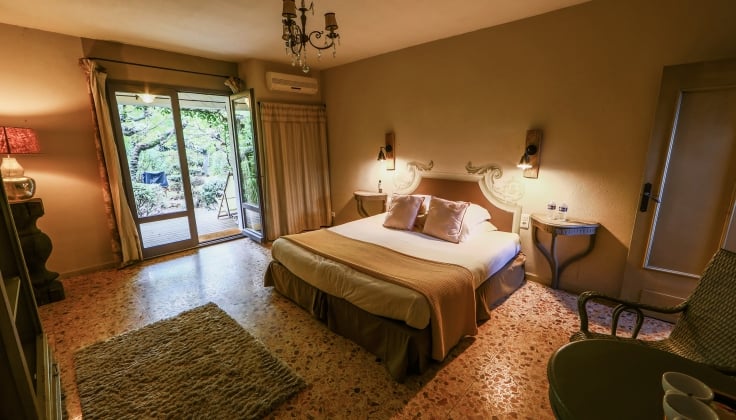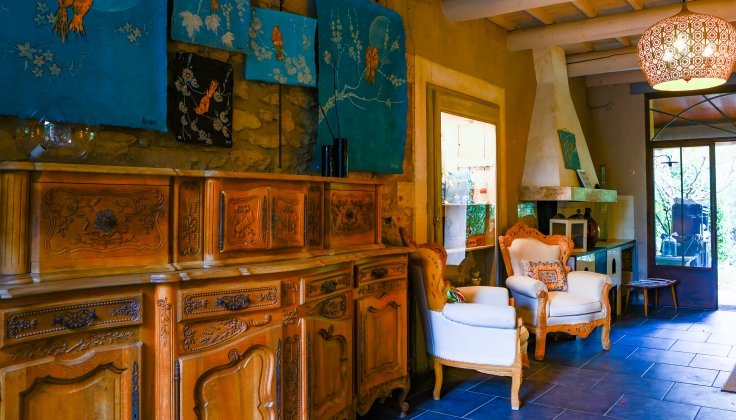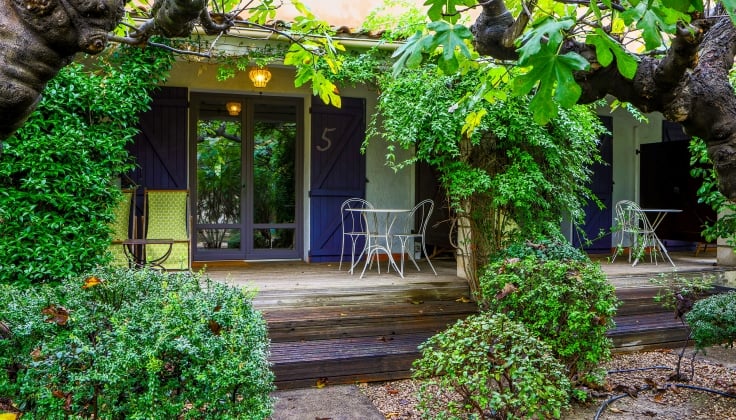 Le Mas de la Beaume
Set in a restored stone farmhouse, this charming bed-and-breakfast is just a short stroll from the center of Gordes. Quaint, un-air-conditioned guest rooms are individually decorated with antique furnishings, linen curtains, lavender-adorned wood beams, and waxed walls. In the late afternoon, a swimming pool and surrounding terrace and grounds are bathed in the region's unique golden light. On a rocky outcropping overlooking classic Provençal landscapes, Gordes, one of France's loveliest towns, delights with its charm and history dating from the Middle Ages. Please note: this accommodation is available on limited departures.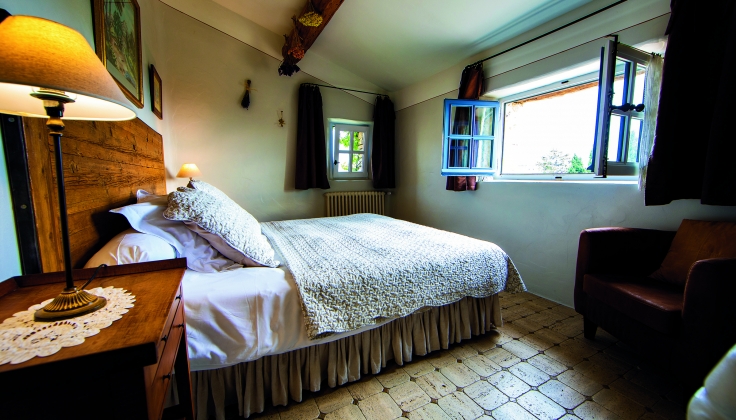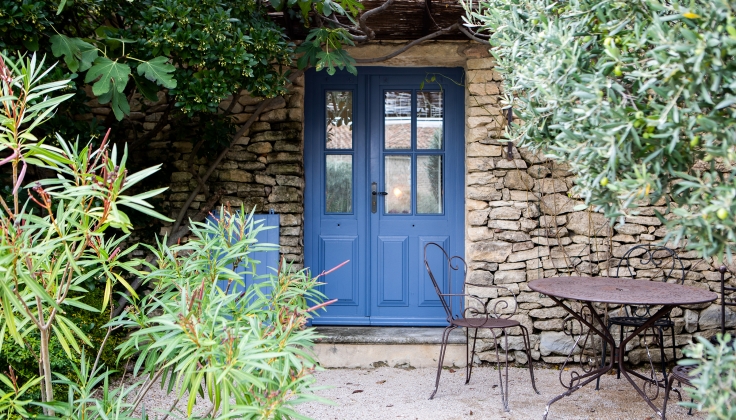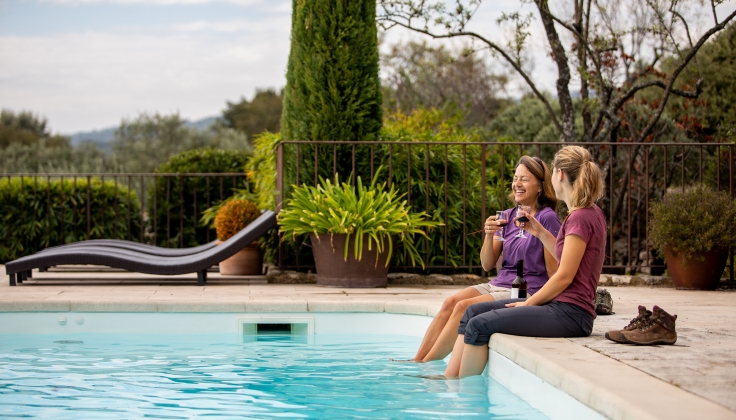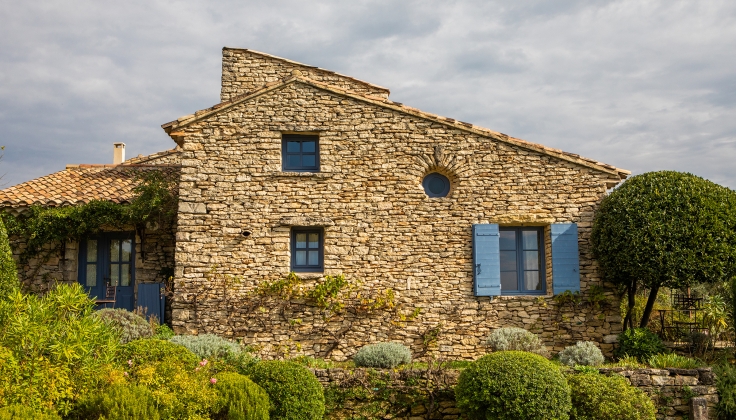 Hôtel Les Sables d'Ocre
Set on two-and-a-half acres and just a 15-minute walk from the hilltop village of Roussillon, Les Sables d'Orce boasts lovely gardens and an inviting outdoor pool. The walking trails of Le Sentier des Ocres are a half-mile away, making this a convenient location for exploring. The cheery palates of yellow and ochre evoke the area's stunning natural surroundings, while the comfortable air-conditioned rooms and attentive staff embody the famed Provençal hospitality. Country Walkers guests enjoy a private balcony or terrace during their stay. Please note: this accommodation is available on limited departures.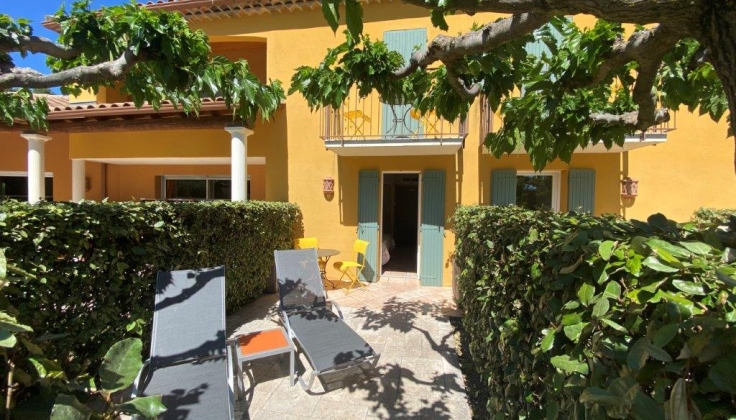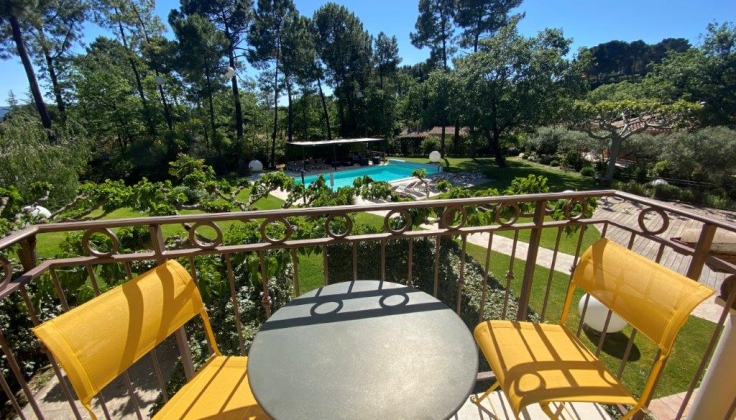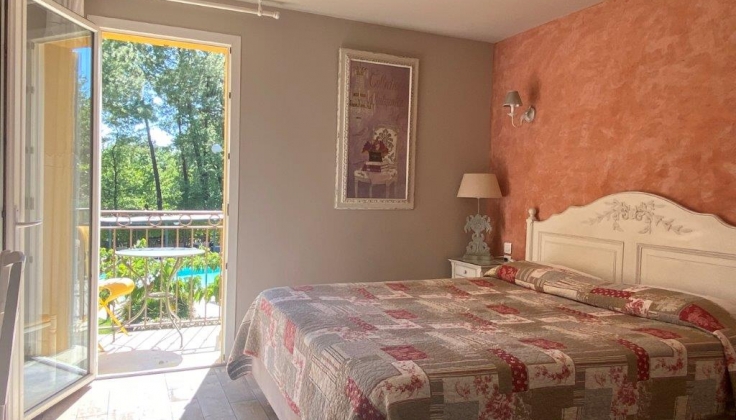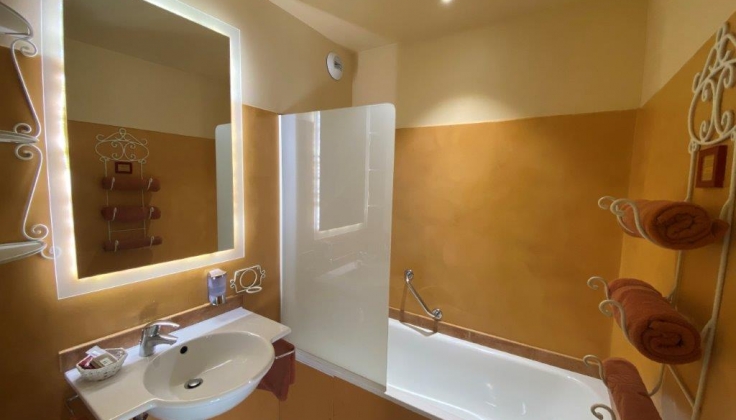 Grand Hotel Roi Rene
The Grand Hôtel Roi René Aix-en-Provence Centre-MGallery by Sofitel is ideally situated near the famous Cours Mirabeau in the heart of the Old Town of Aix-en-Provence. The town's lovely pedestrian squares and fountains, tree-lined main street, and museums are all within a short walk. Contemporary, bright guest rooms feature neutral fabrics and are fully equipped with air conditioning, satellite TV, direct-dial telephone, minibar, bathrobes, and slippers. You'll also enjoy free WiFi access throughout the hotel during your stay.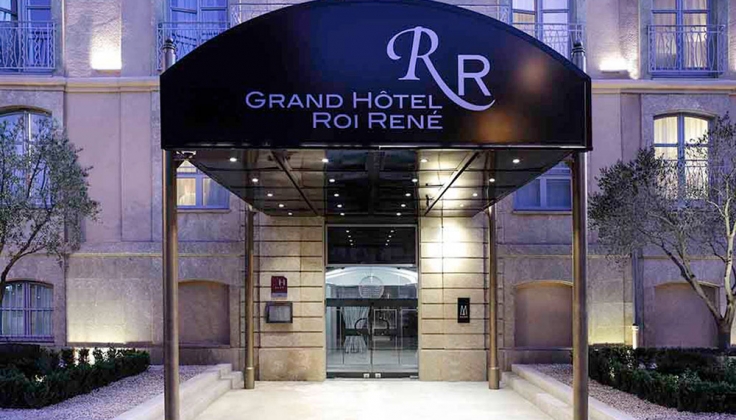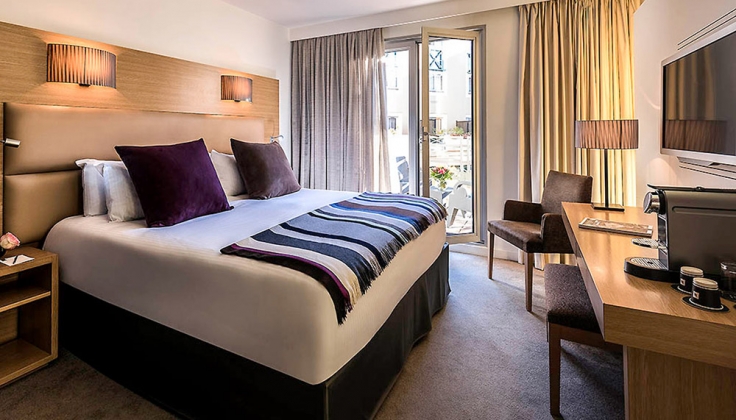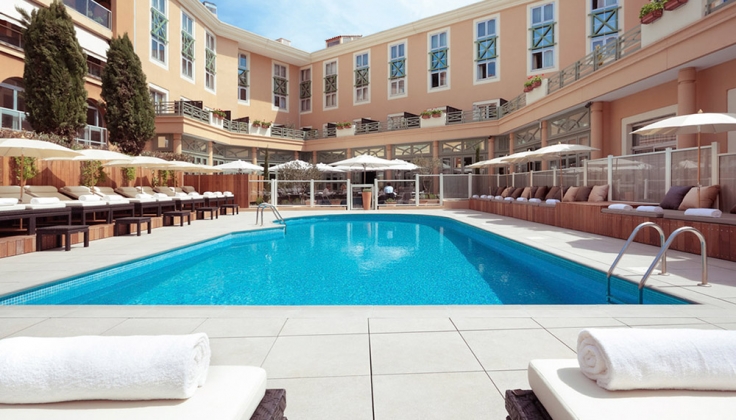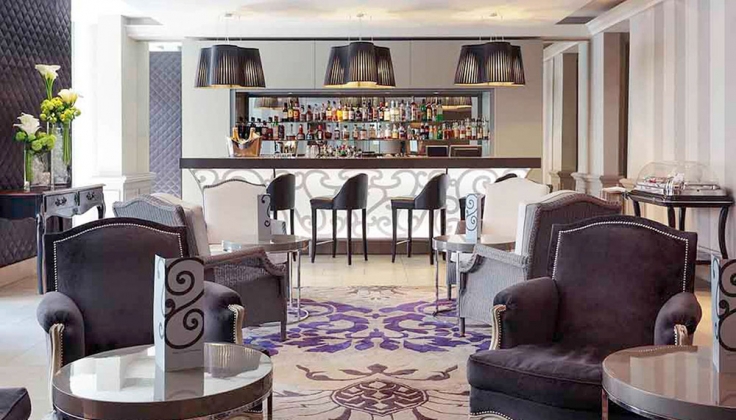 | What's Included | Air Package | Tour Only |
| --- | --- | --- |
| Roundtrip international airfare | | |
| Business-class upgrades available | | |
| One extra night in Avignon and one extra night in Aix-en-Provence | | |
| Pre- and post-tour breakfasts | | |
| Detailed information for your independent travel to/from arrival and departure airports | | |
| Boutique accommodations | | |
| 7 on-tour meals: 6 breakfasts and 1 dinner | | |
| Detailed water- and tear-resistant Route Notes and maps | | |
| Orientation meeting with a Country Walkers representative | | |
| Local representative available 24/7 | | |
| Scheduled on-tour taxi and luggage transportation (Please note: If unable to walk, it is possible to travel with your luggage from one accommodation to the next; there may be an additional charge.) | | |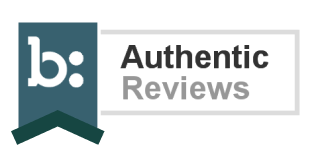 Guest Reviews This tour doesn't have any reviews because it is a new tour. Be the first to review it!
Be the First to Get News & Special Offers
102 other people have recently viewed this tour!
Click and hold to Zoom