Ireland's Most Beautiful Places for Walkers and Hikers
For many travelers, simply mentioning Ireland conjures a misty landscape of vibrant green, towering sea cliffs, charming villages, and sheep tranquilly grazing beside age-old stone walls. Celebrated in song, poetry, and film, it's a countryside as iconic as any in the world. But...it's also a pretty large area. Though small by the standards of most nations, there are still 32,595 square miles of pubs, moors, walking paths, and rolling hills to explore. Which begs the question: where should you go in Ireland to see it at its most beautiful? Here are our top picks.
Killarney National Park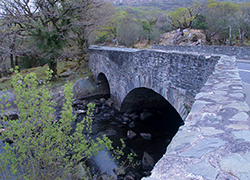 Located in the far west of County Kerry, Killarney National Park hosts a landscape of placid lakes, wild woodlands, and sweeping mountains beloved by hikers. Famous for its medieval abbey and the 15th-century Ross Castle, it's also a haven for endangered wildlife, vibrant flowers, and lush forest. Walking here, you'll have a chance to encounter the only natural herd of red deer in Britain or Ireland, spectacular waterfalls, and majestic views celebrated by Queen Victoria.
The Burren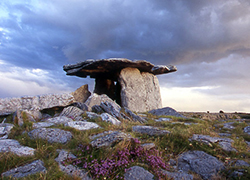 In western County Clare, a surreal landscape of limestone karsts, arctic plants, and ancient ruins presents itself. Called "the Burren," it's one of the most unique regions in Ireland. Walking here, you'll discover a patchwork of massive, erratic "paving" stones, interspersed with cracks (called "grikes") that bubble over with alpine grasses and flowers as well as warm-weather Mediterranean plants. Of course, the area conceals more than just flora—it's also famous for its abandoned chapel, Iron-Age fort, Neolithic burial sites, and Celtic high cross too.
Connemara National Park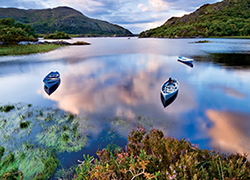 In western County Galway, visitors can savor quintessential Irish blanket bog and heathland in Connemara National Park. Abutting Ballinakill Harbor, it encompasses towering hills and tranquil lakes, as well as a biome famous for carnivorous plants and diverse birdlife. Climbing the gentle slopes of iconic Diamond Hill here, spectacular views unfold—the distant blue of the ocean, the Twelve Bens mountain range to the east, and much more.
Gougane Barra Forest Park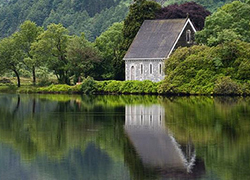 Wonderfully pristine and lush with sitka spruce and Japanese larch, Gougane Barra Forest Park is renowned as one of the most scenic spots in County Cork. Its remote location lead to the founding of a Catholic oratory on an island here, where locals could could celebrate mass in peace during the years of Protestant rule. Today, St. Finbarr's Oratory offers a rustic stone punctuation mark on the region's misty lake and surrounding mountains.