Limoncello: Italy's Sweet and Sunny After-Dinner Drink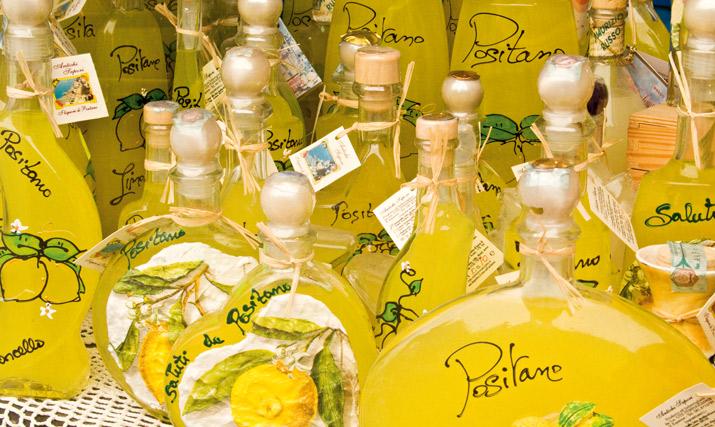 On the Sentieri degli Dei—"Path of the Gods"—along Italy's Amalfi Coast, you catch the scent of fresh lemon in waves. The tart and floral aroma rides the sea breeze up from terraced groves along the coast to your hillside track, filling your nose with the sweet and bitter perfume of citrus...and the promise of one of Italy's most delicious creations, limoncello. This vibrant yellow liqueur is a hallmark of Amalfi's seaside culture. You'll find it for sale in virtually every store—most families have their own recipe—and at the end of most meals, as a delicious, chilled digestivo. Italy produces three quarters of the world's lemons, so it's only natural they've found an unforgettable way to use them. A syrupy glass of limoncelloserved in a traditional ceramic glass packs all of the fruit's sunny flavor with none of its bitterness. Sipped in an outdoor café overlooking the rugged Capri coast, it's the perfect way to end a day on the trail. And a bottle safely stowed in your kitchen cabinet is a simple way to bring yourself back to Italy for months to come.
Interested in making your own limoncello? You're in luck! Our guide Alessandra di Castri recently shared her family's recipe with us. Brew up your own batch for a tiny taste of the Amalfi Coast today!
Ingredients:
1 liter grain alcohol (or vodka)
1 liter water
8 medium organic lemons
1 3/4 to 2 cups sugar
1. According to Alessandra, for the best limoncello the lemons should not even be washed (though we'd recommend a light rinse for sanitation's sake!). Peel the lemons into long strips of zest with a paring knife or vegetable peeler, being careful to collect only the zest, not the white. Save the zest and set aside the lemons for another use.
2. Place the peels in the alcohol, seal the bottle, and set-aside in a dark, cool cupboard for five days or more.
3. When the alcohol is ready, bring 1 liter of water to a boil in a medium saucepan and add the sugar. Stir until it's dissolved and then let the solution cool.
4. Strain the alcohol to remove the lemon rinds and then combine with the sugar solution. Pour into bottles and enjoy. You may drink limoncello hot or cold!
Learn all about our Amalfi Coast & Capri Guided Walking trip, our The Amalfi Coast Self-Guided Walking trip, and our Positano Select Experience.