Italy: Pompeii, Capri & the Amalfi Coast
Tour Only
Flight + Tour Combo
7 Days
Starting From
$3,348
10 Days
Starting From
$4,348
Favorite
See What's Included
Spectacular vistas and chic towns come with a twist of lemon on southern Italy's prettiest peninsula.
Steep terraced hillsides line the blue-green Gulf of Salerno, and a heady sweetness fills the air. Who knew that any walk could rival yesterday's tour of Pompeii? Yet here you are, immersed in a sea of Sfusato Amalfitano lemons—a rare local variety with a sweet floral scent. Delightful coolness settles in as you enter the Valle delle Ferriere, a gorge lush with waterfalls, ancient ferns, and moss-clad limestone walls. Continue past abandoned ironworks and paper mills to a trailside farm, where a local family welcomes you for lunch. Under the pergola on their terrace, enjoy delicately battered zucchini blossoms, linguine with pesto, and glasses of homemade limoncello—the perfect inspiration for plotting your next move. Your walking tour takes you on to Amalfi, Capri, and the rest of this beguilingly beautiful coast.
Highlights
Behold the stunning gardens immortalized by Wagner in his opera Parsifal at the Villa Rufolo.
Explore the ruins of Pompeii, learning about daily life in this ancient city before Mount Vesuvius buried it under a blanket of volcanic ash.
Immerse yourself in the lush green landscape of the Valley of the Mills.
Stop by the Museo della Carta and discover the delicate art of papermaking.

Design and craft your own ceramic tile, under the supervision of an expert, local artisan in Minori.
Uncover the "Path of the Gods" and its striking panoramic views worthy of its namesake.
Admire sweeping views of the Sorrento countryside during a lunch at a 5th-generation, family-owned farm, savoring their organic vegetables and homemade preserves.
On all Guided Adventures you can count on...
Expert local guides to introduce you to the best of your destination
Off-the-beaten-path places you'd never find on your own
Delicious multi-course meals—a majority are included
A maximum of 18 fun-loving fellow travelers to share the journey
Gracious accommodations that are a clean, comfortable home away from home
Experts to handle all the details
Flight + Tour Combos include plane tickets, airport shuttles, and pre- and post-tour accommodations
Grand Hotel Cocumella
The oldest hotel on the Sorrento Peninsula, the Grand Hotel Cocumella was built in 1637 as a Jesuit residence, becoming an inn 140 years later. Its elegant rooms boast in-room WiFi and air conditioning along with antique furnishings. Exceptional views of the sea and grounds have attracted such visitors as Goethe, Mary Shelley, and Freud. Set in a century-old park overlooking the sea, the hotel features a swimming pool, along with a private pier and sun terrace. There is also a fully equipped gym and spa. Scintilla, an open-air garden restaurant, features local specialties while the Coku restaurant offers a fusion of Mediterranean and Japanese cuisine.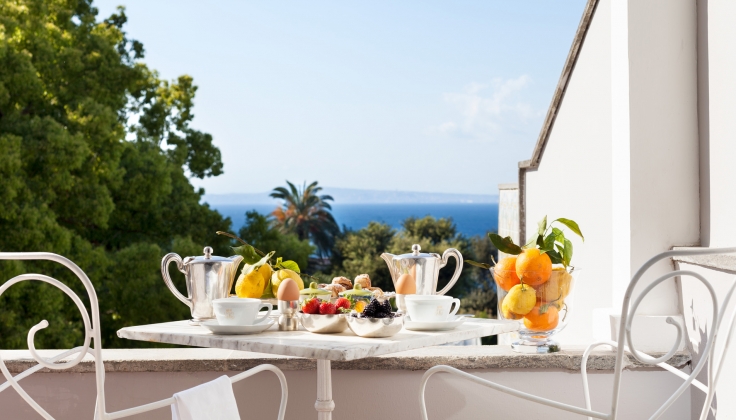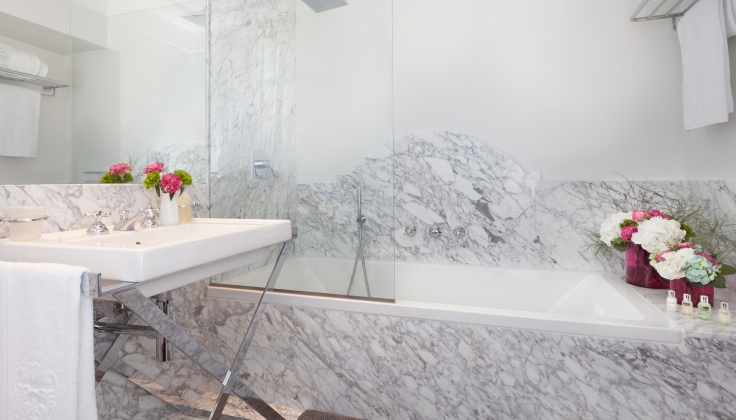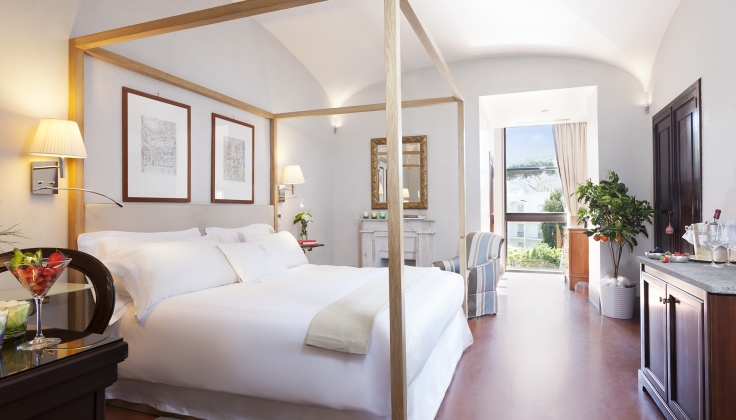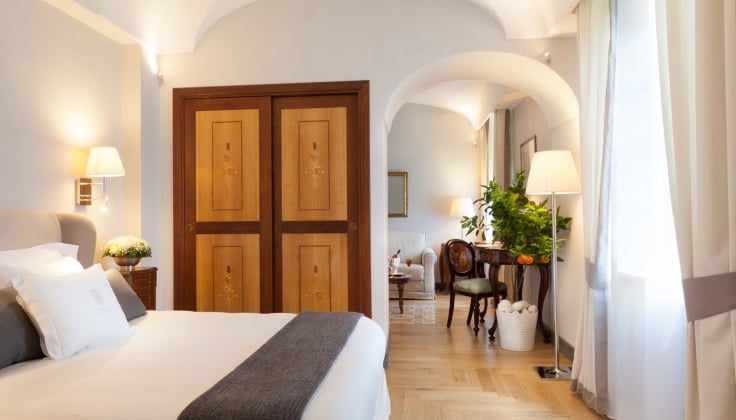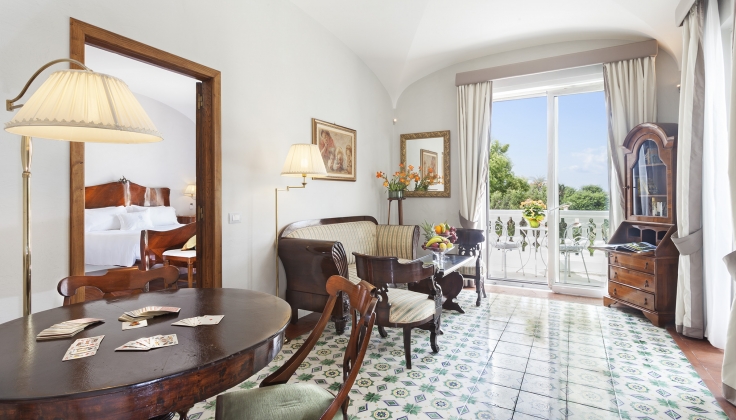 Villa Fraulo
Only a few steps from Piazza Vescovado and Cathedral Square, this charming property is an elegant and sophisticated retreat perched above the endless sea of the Amalfi Coast. Once the residence of the noble Cortese family, today Villa Fraulo offers modern guestrooms with in-room WiFi and air conditioning, as well as a relaxing spa and a spectacular infinity pool surrounded by a terrace.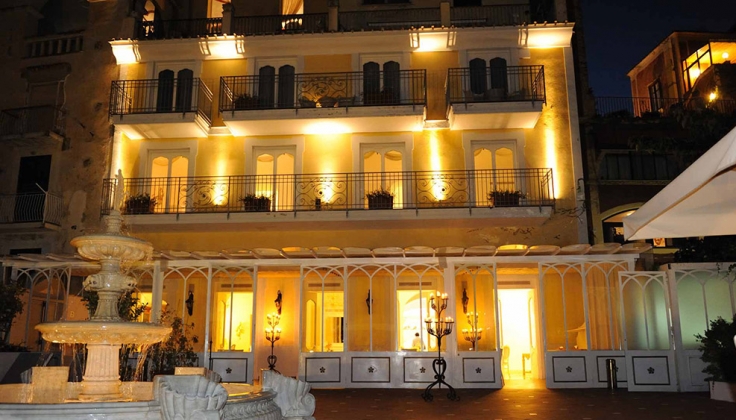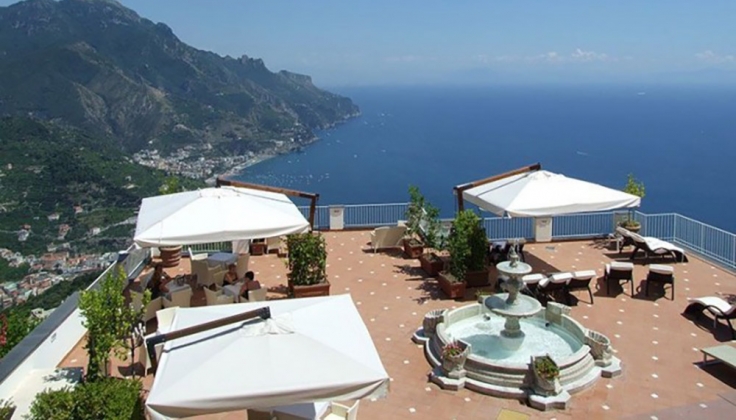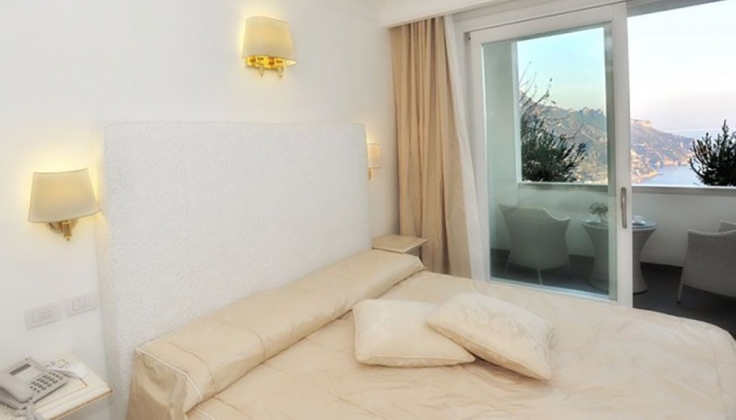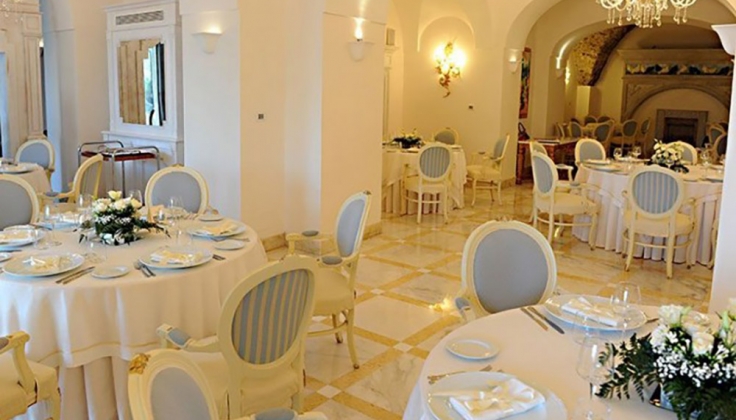 Grand Hotel Santa Lucia
Built in 1900 in the Art-Nouveau style, the Grand Hotel Santa Lucia combines traditional Italian elegance with modern amenities like in-room WiFi and air conditioning. With an ideal location at the water's edge in the middle of the Centro Storico, the hotel is positioned perfectly for exploring the surrounding city. Enjoy views of the entire Bay of Naples, the majestic Castel dell'Ovo, Mount Vesuvius, and distant Capri.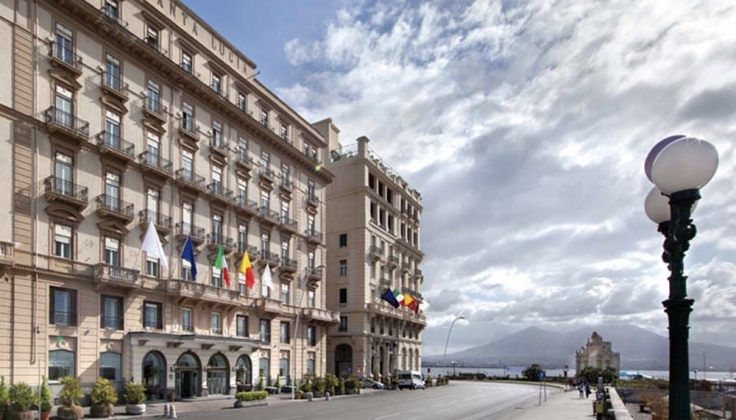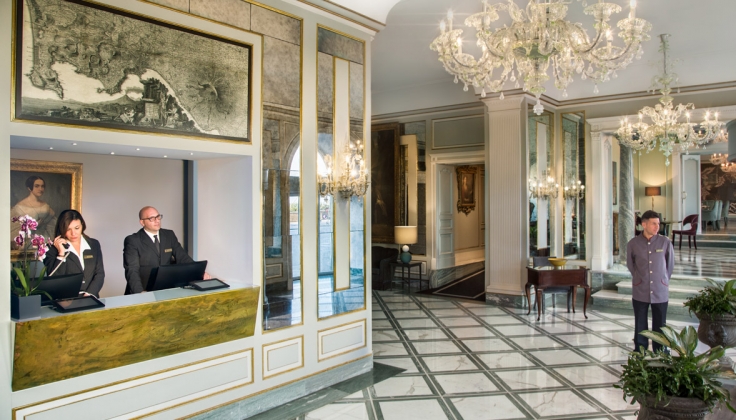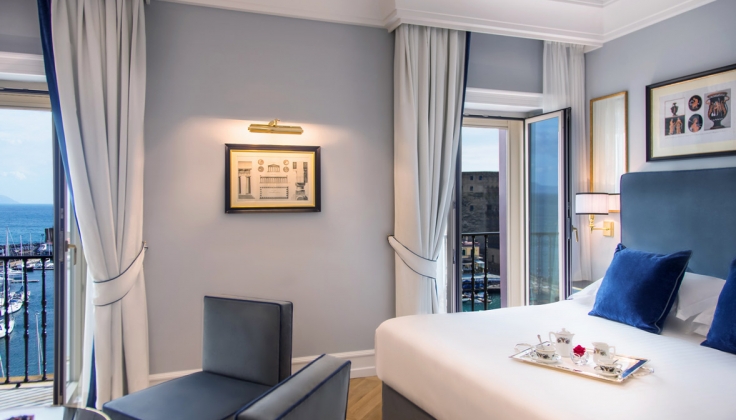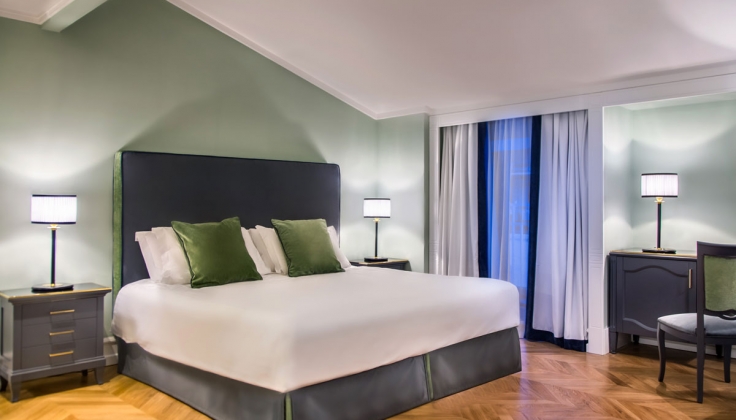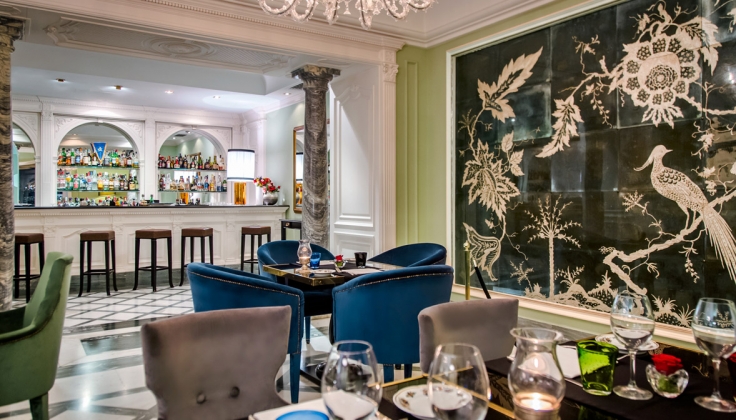 Linger Longer with a Tour Extension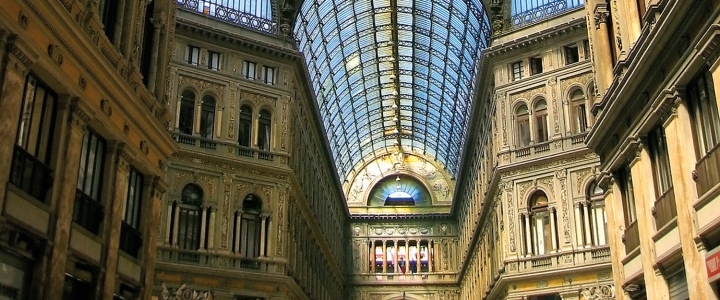 Pre-Tour
Flight + Tour Combo Only
2021 Pre-Tour Extension - Naples
2 nights at Grand Hotel Santa Lucia with daily breakfast
City Information
Hospitality Desk & Orientation tour
Airport transfers
2 Nights From $348
per person, double occupancy

Single Supplement: From $248
Begin your adventure by departing from a convenient gateway city in the United States or Canada. Spend your first night aloft.
Upon arrival at the Capodichino Airport in Naples, Italy, a representative holding a Country Walkers sign meets you and helps you transfer (approximately 30 minutes) to your Naples hotel.
If you are going to be delayed meeting our transfer representative for more than 15 minutes due to delayed or lost luggage, please let our driver know by calling or sending a text message to +39 340 952 5525. The driver is generally able to wait for up to 45 minutes from the time your flight lands, after which you would be responsible for your own transfer. You may also contact Allianz Global Assistance to advise of your delay, and they will contact our transfer company.
Please note: If you arrive early, your hotel room may not be available until 2:00 p.m., in which case you may store your luggage with the reception desk.
At the hotel, your County Walkers representative will be available at 6:00 p.m. to answer your questions and help you organize your time in Naples. Please make sure to arrive promptly at this time since optional activities, like a city walk, will also be discussed to help you make the most of the city. The activities will start the next day, and the cost will be shared among the number of participants. The rest of the day is free to discover and dine on your own, using the Country Walkers City Information as your guide. The area is full of wonderful options for dinner.
Please note: County Walkers transfer times and departure points are finalized in advance and cannot be modified for individual guests. If you fly in earlier than the scheduled program dates, transportation from the airport will be at your own expense.
Accommodation: Grand Hotel Santa Lucia
Continue to explore Naples on your own. In about three or four hours of walk from your hotel, you will encounter many fascinating sites, all fairly close to each other in the heart of the city. Head towards Piazza del Plebiscito, past the Palazzo Reale and stop at the Gran Caffè Gambrinus to enjoy the experience of an invigorating, true Neapolitan espresso. Walk down what is called Spaccanapoli (a street cutting Naples in half from west to east, officially named Via Benedetto Croce), visit the complex of Santa Chiara and its convent, Chiostro delle Clarisse, featuring a spectacular annexed cloister decorated with ceramic tiles. In the same square stands the Basilica of San Domenico Maggiore, built between the 13th and 14th century. A special spot worth a visit is the Cappella Sansevero. There is so much to see in this city!
Accommodation: Grand Hotel Santa Lucia
Included Meals: Breakfast
Continue your exploration of Naples at leisure visiting the Archeological museum, for example. Maybe plan a visit to Mount Vesuvius or Herculaneum. On Mount Vesuvius, you must walk one mile uphill along the side of the crater to reach the rim at 1,281 meters altitude. From there—on a clear day—you can enjoy unrivalled views of the Gulf of Naples, the Sorrento Peninsula and the islands. If you are interested in archeological sites, then consider Hercolaneum. Like Pompeii, the wealthy city of Herculaneum was completely buried—and exceptionally well preserved—under a layer of mud and lava more than 25 meters thick. Besides the many villas that were excavated, other highlights include the House of the Deer and its statues, the thermal spas of the Forum and the Palestra.
Accommodation: Grand Hotel Santa Lucia
Included Meals: Breakfast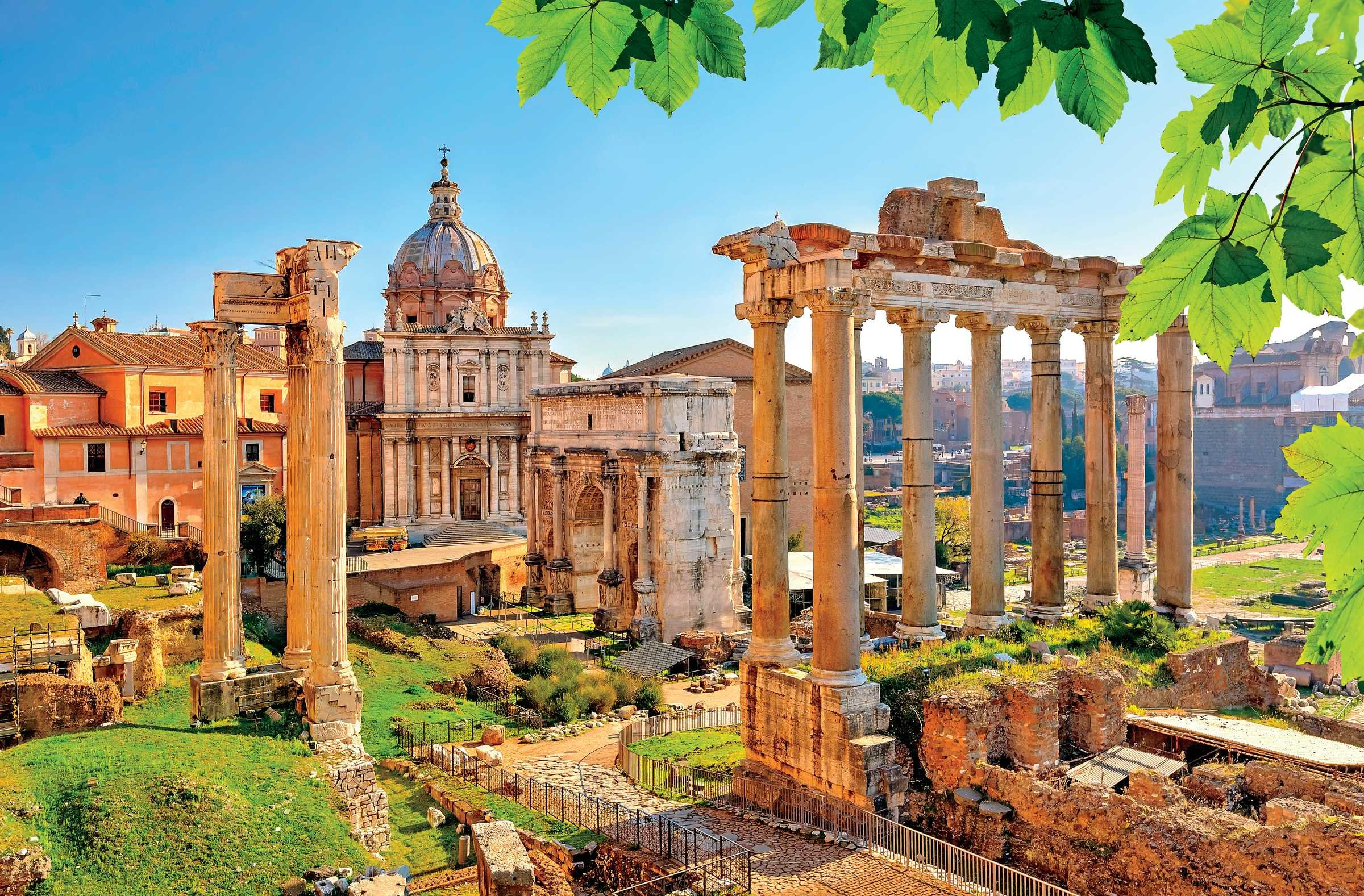 Post-Tour
Flight + Tour Combo Only
2021 Post-Tour Extension - Rome
2 nights at the Le Meridien Visconti Rome with daily breakfast
City Information
Hospitality Desk & Orientation Tour
Airport transfers
2 Nights From $448
per person, double occupancy

Single Supplement: From $298
This morning, enjoy breakfast before boarding our private coach at 8:30 a.m. You arrive at your hotel in Rome at approximately 1:00 p.m. after a short stop on the way. The hotel is centrally located near public transportation. Upon arrival at the hotel, a Country Walkers representative will answer your questions and offer optional city walks and visits that will help you make the most of the city. Country Walkers provides City Information including recommendations about what to see and do during your stay.
Spend the rest of the day exploring the "Eternal City." You can step out of Italy while in Rome with a visit to the Vatican, an independent state. The Vatican Museums are filled with magnificent art that goes far beyond such well-known pieces as Michelangelo's Pieta and the Sistine Chapel ceiling. You will need to buy your tickets in advance to visit the Vatican.
Tonight's dinner is on your own with plenty of options nearby.
Accommodation: Le Meridien Visconti Rome, Rome
Included Meals: Breakfast
You might visit the Forum, the political and commercial center of ancient Rome. Various emperors constructed the temples, monuments, and other structures here over a period of nine centuries. Today you can still see the Curia, where the Roman Senate met.
Explore Palatine Hill, where tradition says the first settlers of Rome built their huts, and which later became the home of emperors Caligula, Nero, Tiberius, and Domitian. Tour Rome's famous Catacombs, located in tunnels carved out of rock along the Via Appia Antica, or Appian Way. Or spend an idyllic afternoon in the gardens of the Villa Borghese, one of Europe's most elegant parks. And by all means, when in Rome sip espresso, savor Italian wine, and take the time to enjoy la dolce vita. After a full day of independent exploration, retire to your hotel or savor dinner in one of Rome's many fine restaurants.
Accommodation: Le Meridien Visconti Rome, Rome
Included Meals: Breakfast
This morning, a complimentary, small-group transfer is provided to Rome's Leonardo da Vinci International Airport based on your departure time. (Your transfer time will be communicated to you by your guides on tour.)
For guests with early-morning departures, breakfast at the hotel may not be available. Please check with the reception desk to verify the times when breakfast is served.
Please note: Country Walkers transfer times and departure points are finalized in advance and cannot be modified for individual guests. If you extend your stay beyond the scheduled program dates, return transportation to the airport will be at your own expense.
Included Meals: Breakfast
| What's Included | Flight + Tour Combo | Tour Only |
| --- | --- | --- |
| 13 on-tour meals: 6 B, 3 L, 4 D | | |
| Local guides with you throughout tour | | |
| Entrance fees and special events as noted in the itinerary | | |
| Travel assistance available 24/7 provided by Allianz | | |
| Roundtrip airfare | | |
| One extra night in Naples and one extra night in Sorrento | | |
| Airport car service for arrival & departure | | |
| Pre- and post-tour breakfasts | | |
| Business-class upgrades available | | |

Expert Local Guides
Experience your destination like an insider with people who call it home.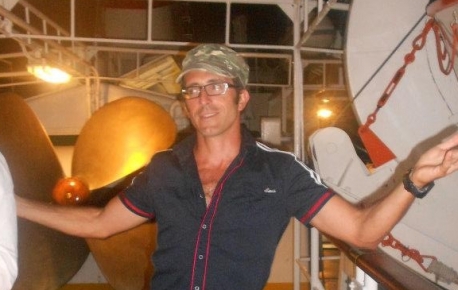 Mauro Chiummo
Mauro Chiummo was born and raised in Sicily and has a Neapolitan background. His love of nature began with his time in the Boy Scouts, eventually leading to a career in Environmental Education where he spent 10 years providing adults and children with wilderness adventures and outdoor recreational activities. In addition to leading biking and walking tours in Italy, Mauro is an active member of the anti-mafia association called Adiopizzo. He also enjoys spending time with his wife and daughter as well as playing volleyball and soccer, kayaking, running, and swimming. Plus, he's a master ping-pong player! When not enjoying all his outdoor sports, you can find Mauro reading, singing, studying history, and cooking.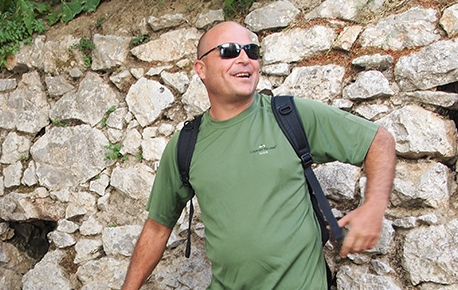 Costantino Di Losa
A native of the Island of Capri, Costantino Di Losa deftly combines his formal studies of history, art, and classics with his intimate knowledge of Italy. Costantino has traveled around the world and is a multilingual certified tour guide for the Campania Region, including the sites of Pompeii and Herculaneum.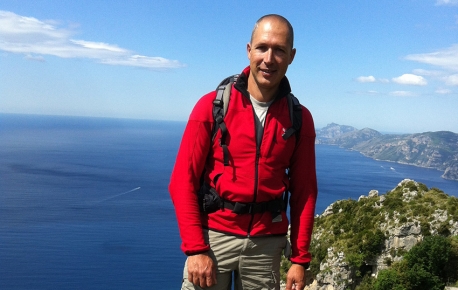 Luigi Esposito
A native of the Island of Capri and member of the Italian Environmental and Hiking Guide Association, Luigi Esposito has been guiding on the Amalfi Coast, Sorrento, and Capri since 1996 and loves showing off Capri's hidden corners and spectacular flora. Passionate about protecting and sharing the island's natural assets, he founded "Capri Outdoors," a volunteer organization promoting both preservation and active enjoyment of the island, and, in cooperation with the University of Naples, he monitors the Blue Lizard of the Faraglioni, one of Italy's 10 most endangered species. Equally dedicated to safety, Luigi is a helicopter rescue technician for the Italian Mountain Search & Rescue Corps. When not busy guiding, Luigi promotes organic farming and farm-to-table cuisine through the management of his family's land.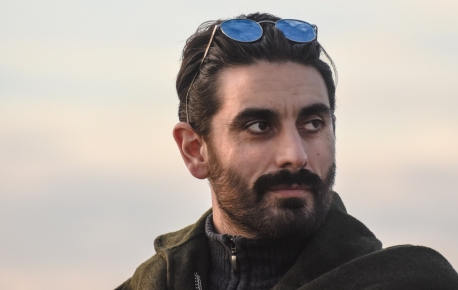 Giovanni Iacopetti
Giovanni Iacopetti was born and raised in Massa (northern Tuscany) and studied aerospace engineering while also working as a technician in local theaters before a love for the outdoors led him to change direction, eventually earning a PhD in Forest Ecology. Giovanni speaks four languages (English, Italian, French, Spanish) and, when not leading walking tours, enjoys playing music at Celtic festivals.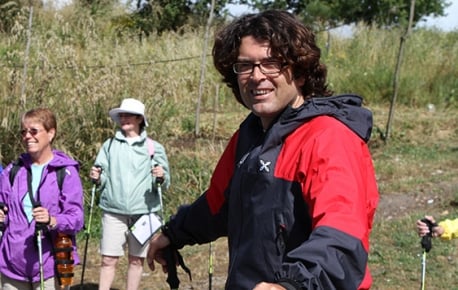 Vincenzo Falcone
Vincenzo Falcone was born and raised in Amalfi, resides in Ravello, speaks four language fluently, and lived and traveled throughout the world before he started guiding walking tours in 1993. His favorite part of leading trips is sharing the stories of the past, present, and possible future of the Amalfi Coast with visitors while also introducing them to his home and friends. Vincenzo's goal is for guests to return home knowing they have most certainly made new friends.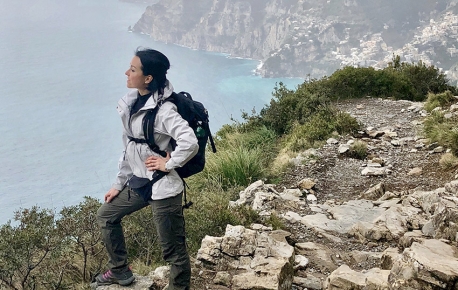 Dasha Dmitrieva
Born in Moscow, Dasha Dmitrieva moved to Florence at the young age of eleven, later studying languages and foreign literature at the University of Florence before becoming a professional guide in 2013. Dasha's philosophy is that a guided tour is not only about art, history, and cuisine but it's also about showing off her country as a local and a friend so that guests feel at home and have fun together. She wants to make all visitors feel like they are a true part of her wonderful country and that they fall in love with Italy as much as she has!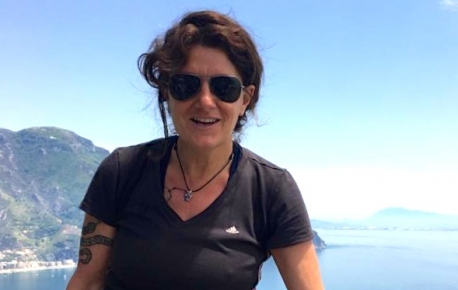 Alessandra diCastri
A graduate of the Naples School of Fine Arts, Alessandra di Castri is a performer and visual artist who lived in Canada for three years, returning to Italy fluent in English and French. Once settled again, she began researching the traditions and costumes of the Naples region where she has found great inspiration for her characters, paintings, and stories. Alessandra infuses her tours with a passion for the oral tradition, replete with the colorful expressions unique to the Campania region of Southern Italy.
Be the First to Get News & Special Offers
Click and hold to Zoom