Switzerland: Zürich, Wengen & Zermatt
Self-Guided
Easy to Moderate
7 Days
Starting From
$5,195
10 Days
Starting From
$6,595
Favorite
See What's Included
The mountain views are astonishing, but in Switzerland, the little things offer their own delight.
Three days staring at the majestic sweep of the Matterhorn haven't dampened your enthusiasm. On yesterday's walk you were admiring its chiseled beauty reflected in the Riffelsee. Today, it's the dream backdrop for a lunch of beer and rösti on a sunny terrace in the meadows above Zermatt. Of course, Switzerland's other mountains aren't too bad either. Earlier this week on your Swiss Alps hiking tour, Jungfrau's snowy summit had you equally hooked, as you rose high above the clouds on the cog railway to Jungfraujoch, and watched it towering above the waterfalls of Lauterbrunnen's deep green valley. It's hard to say which peak wins the beauty prize. For now, all you know is that there's nowhere else you'd rather be.
Highlights
Enjoy ambles through quintessential Swiss landscapes, from deep-cut valleys where cowbells echo to high mountain slopes watched over by the Matterhorn.
Walk the length of Lauterbrunnen Valley, which boasts numerous waterfalls plunging down cliffsides, emerald-green pastures with grazing cows, and wildflower meadows.
Hear the call of resident marmots in the Mattertal Valley, and sit in silence as you wait for them to emerge from their underground homes.
Ride historical cog-wheel trains through gently sloping valleys and up steep mountainsides, taking in magnificent vistas as you go.
Indulge in the Swiss-style amenities—soothing spas, astonishing views, and meals of fondue, local dried meats, and rösti—at rustic-chic lodges.
On all Self-Guided Adventures you can count on...
A local representative available 24/7
Detailed maps & route notes featuring turn-by-turn directions and places of interest
Delicious meals—many are included
Scheduled taxi transfers to bring you to and from each day's walks (excluding self-drive adventures)
Gracious accommodations that are a clean, comfortable home away from home
Experts to handle all the details, including moving your luggage between hotels while you're out exploring
Access to a Self-Guided Flight Concierge—ask our knowledgeable team to find flights that sync with your planned trip
Miles and Terrain Description for Switzerland: Zürich, Wengen & Zermatt
This tour is one of our Self-Guided Walking Adventures, rated easy to moderate with an average of 3 to 6 miles per day and occasional options. There are daily ascents and descents, with a maximum elevation gain of 650 feet (daily trains and cable cars transport you to higher elevations) and maximum elevation loss of 2,550 feet. Most of the hills are gradual as opposed to short and steep. The highest walking altitude on tour is 10,100 feet. The footing in this alpine region is uneven, with most hikes on single-track trails with loose rocks, gravel, and roots that can be slippery when wet; surefootedness is essential. Weather can increase the difficulty of this tour, as most of the walks are fully exposed to the elements and weather conditions can change quickly in the mountains; be prepared for sun, rain, and even snow. Sun protection and sturdy, waterproof hiking boots are essential on this tour, as are warm layers and breathable waterproof clothing. And remember: Preparation is the key to ensuring your tour readiness; the more you walk or participate in aerobic exercise prior to your trip, the more you will enjoy your experience!
Ambassador Hotel Zurich
A member of the "Small Luxury Hotels of the World," this 4-star superior boutique hotel is ideally situated in Zurich's city center, just opposite the famous Opera House. The nearby lakeside promenade makes for a lovely morning jog or leisurely stroll. Just a five-minute walk away, the glamour of the world-renowned Bahnhofstrasse unfolds, the most attractive and exclusive shopping mile in Zurich. The Old Town is also nearby, with its pastel-hued guild houses and historic buildings. The property's 44 air-conditioned rooms are spread over five floors, each paying homage to Switzerland's textile trade history with a unique and beautifully designed interior inspired by a different country or region. Acclaimed interior designer, Ina Rinderknecht, has ingeniously woven influences from Spain, France, England, India, and Asia into the hotel's fabrics, inlays, and contemporary decor, creating a rich and captivating aesthetic. Along with street-side seating spilling out from a stylish lounge, the hotel boasts a rooftop terrace bar with stunning views over Lake Zurich. Complementary WiFi is available throughout the hotel.
Accommodation 1 of 3
|
Next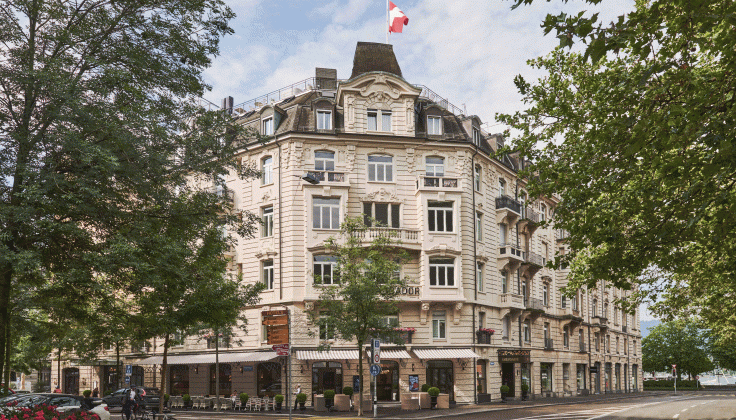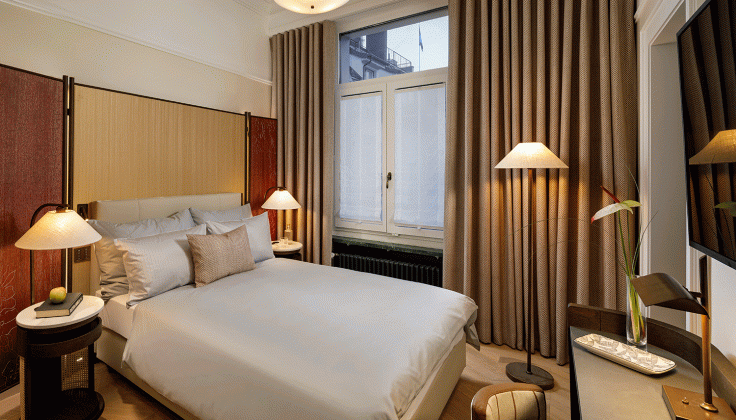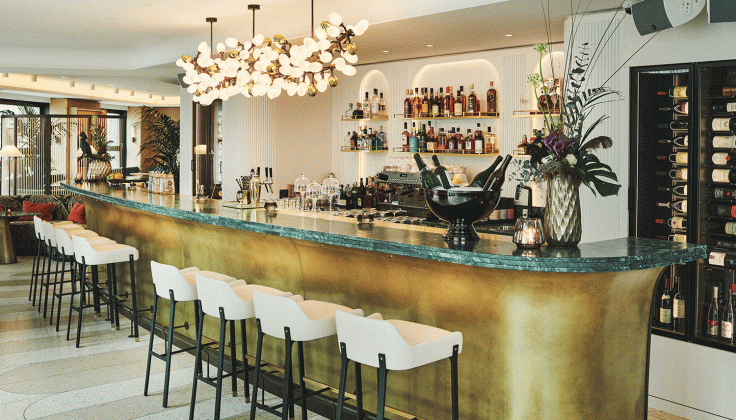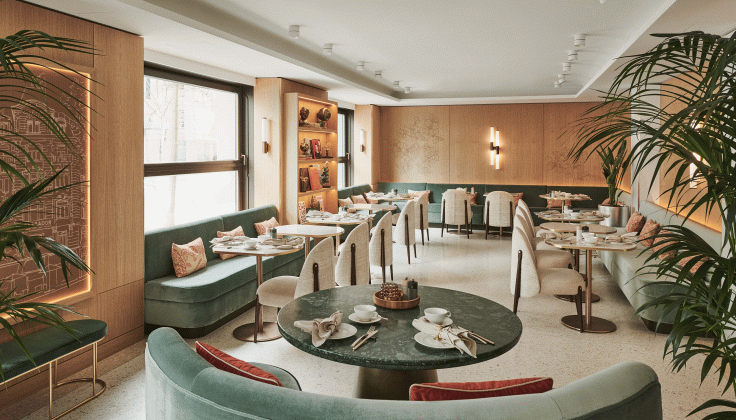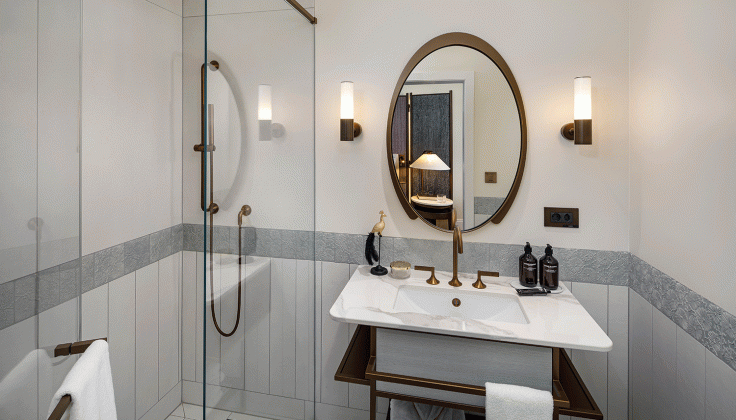 Beausite Park Hotel
Perched above the village of Wengen, the lovely Beausite Park Hotel enjoys splendid views of the Jungfrau massif and the surrounding Alps. The family-owned hotel is nestled amid the outstanding alpine setting of an inviting park. The village and the mountain rail station are just a short walk away. During your stay, you can savor finely prepared, locally sourced meals in the Panorama Restaurant, graced with large windows looking over snow-covered slopes. And indulge in the amenities of the Spa Jungfrau—an indoor pool, sauna, steam bath, and tepidarium with a Himalaya salt pillar. Your un-airconditioned room has unlimited WiFi and offers soothing forest or mountain views. Please note: this accommodation is available on limited departures.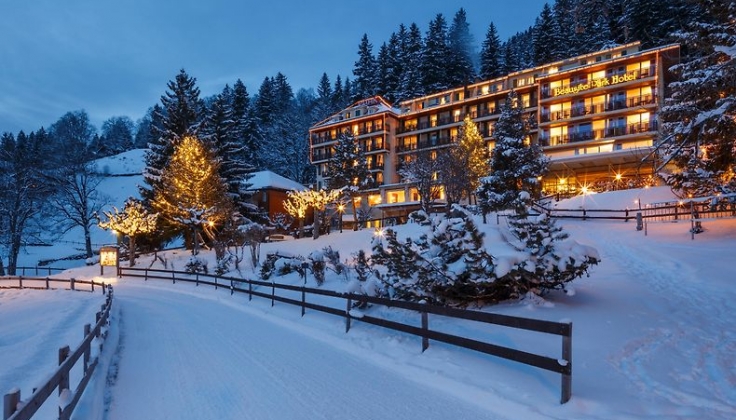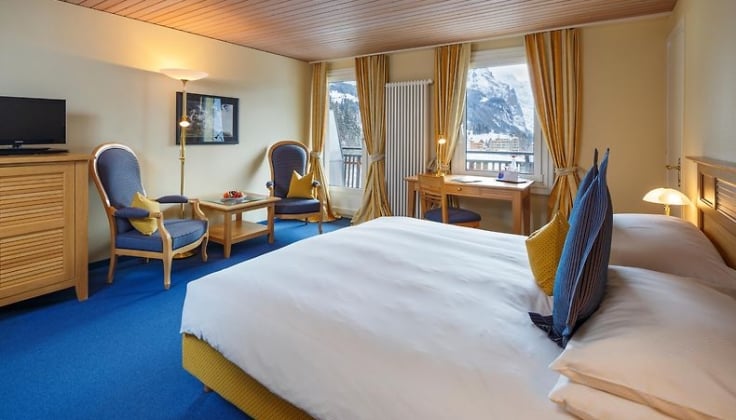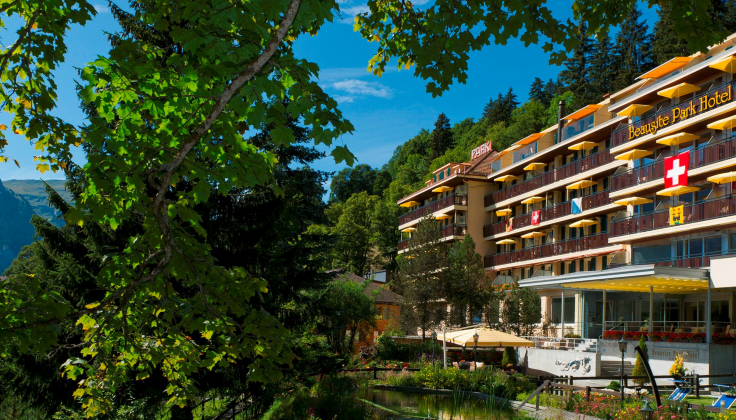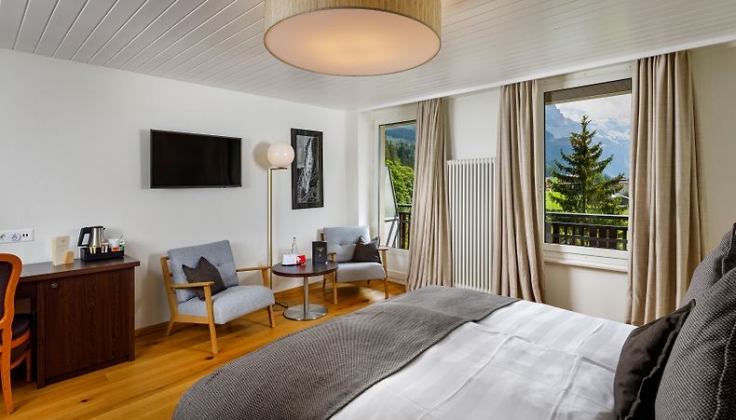 BEAUSiTE Zermatt
This Belle Epoque, 4-star hotel majestically presides over central Zermatt, where it enjoys some of the resort's best views of the Matterhorn. It also offers traditionally comfortable rooms—non-air conditioned and including WiFi—outstanding service, and a spa area with a large panoramic swimming pool, whirlpools, a sauna, and a steam room. In the large, rustic dining room the emphasis is on hearty fare, with menu options ranging from à la carte to themed selections. Please note: this accommodation is available on limited departures.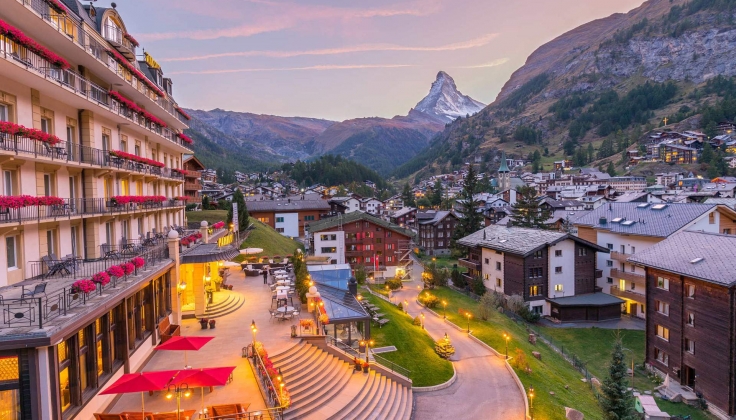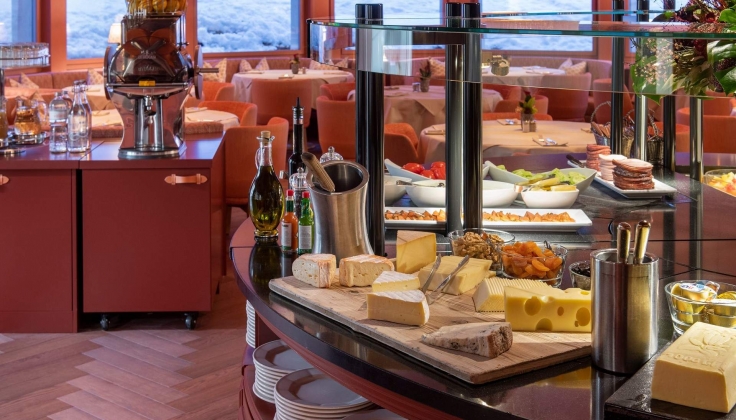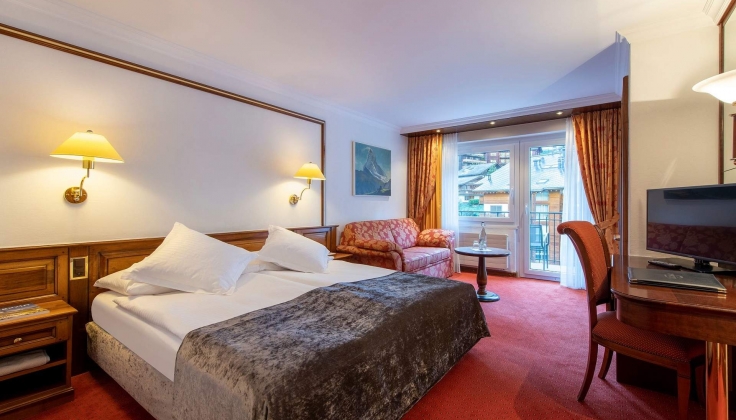 | What's Included | Air Package | Tour Only |
| --- | --- | --- |
| Roundtrip international airfare | | |
| Business-class upgrades available | | |
| Two extra nights in Zürich | | |
| Pre- and post-trip breakfasts | | |
| Detailed information for your independent travel to/from arrival and departure airports | | |
| Boutique accommodations | | |
| 7 on-tour meals: 6 breakfasts and 1 dinner | | |
| Detailed water- and tear-resistant Route Notes, maps, and access to CW walking routes and downloadable maps on Switzerland Mobility App (smartphone required) | | |
| Orientation meeting with a County Walkers representative | | |
| Local representative available 24/7 | | |
| Scheduled on-tour taxi and luggage transportation (Please note: If unable to walk, it is possible to travel with your luggage from one accommodation to the next at no additional charge) | | |
| Entrance fees and special events as noted in the itinerary: A Jungfrau Travel Pass and a Peak Pass, providing full, prepaid access to all cable car, train, funicular, and public transport in Wengen and Zermatt | | |

Please note: Special savings cannot be combined with any other offer. Standard Terms & Conditions apply when purchasing this trip. Prices include all airline surcharges and Government taxes and fees. Ask our Tour Consultants for details. Every effort has been made to produce this information accurately. We reserve the right to correct errors. Prices are based on preferences selected above, including meals and sightseeing as specified in What's Included. All prices are subject to change. Departure dates and prices shown may be updated several times daily, and apply to new bookings only.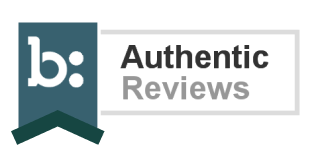 Guest Reviews This tour doesn't have any reviews because it is a new tour. Be the first to review it!
Be the First to Get News & Special Offers
83 other people have recently viewed this tour!
Click and hold to Zoom