The mountain views are astonishing, but in Switzerland, the little things offer their own delight.
Three days staring at the majestic sweep of the Matterhorn haven't dampened your enthusiasm. On yesterday's walk you were admiring its chiseled beauty reflected in the Riffelsee. Today, it's the dream backdrop for a lunch of beer and rösti on a sunny terrace in the meadows above Zermatt. Of course, Switzerland's other mountains aren't too bad either. Earlier this week on your Swiss Alps hiking tour, Jungfrau's snowy summit had you equally hooked, as you rose high above the clouds on the cog railway to Jungfraujoch, and watched it towering above the waterfalls of Lauterbrunnen's deep green valley. It's hard to say which peak wins the beauty prize. For now, all you know is that there's nowhere else you'd rather be.
Highlights
Explore the arts and culture center of Zürich, hugging the Limmat River and Lake Zürich and surrounded by alpine peaks.
Walk the length of Lauterbrunnen Valley, which boasts numerous waterfalls plunging down cliffsides, emerald-green pastures with grazing cows, and wildflower meadows.
Hear the call of resident marmots in the Mattertal Valley and sit in silence as you wait for them to emerge from their underground homes.
Ride historical cog-wheel trains through gently sloping valleys and up steep mountainsides, taking in magnificent vistas as you go.
Indulge in the Swiss-style amenities—soothing spas, astonishing views, and meals of fondue, local dried meats, and rösti—at rustic-chic lodges.
On all Self-Guided Adventures you can count on...
A local representative available 24/7
Detailed maps & route notes featuring turn-by-turn directions and places of interest
Delicious meals—many are included
Scheduled taxi transfers to bring you to and from each day's walks (excluding self-drive adventures)
Gracious accommodations that are a clean, comfortable home away from home
Experts to handle all the details, including moving your luggage between hotels while you're out exploring
Access to a Self-Guided Flight Concierge—ask our knowledgeable team to find flights that sync with your planned trip
Storchen Zürich
Situated on the beautiful cobblestone Weinplatz Square in the heart of Zürich's Old Town, the upscale Storchen Zürich is the city's only hotel set right on the Limmat River. A plethora of restaurants, cafés, and shops line the immediate surroundings, while numerous tourist attractions lie within very short walking distance. The property's 64 rooms feature bright and traditional décor, wooden furnishings, carpeted floors, and provide every amenity, including air conditioning and WiFi, you'll need for a rewarding and comfortable stay. River-facing La Rôtisserie is the setting for breakfast—an extensive Swiss buffet plus several à la carte options—and evening meals. Though the Barchetta Bar-Lounge-Piazza—a glass-fronted bar and lounge that stretches from the square along the river—may be the hotel's showpiece, its rooftop bar offers a unique spot to soak in breathtaking views over the city.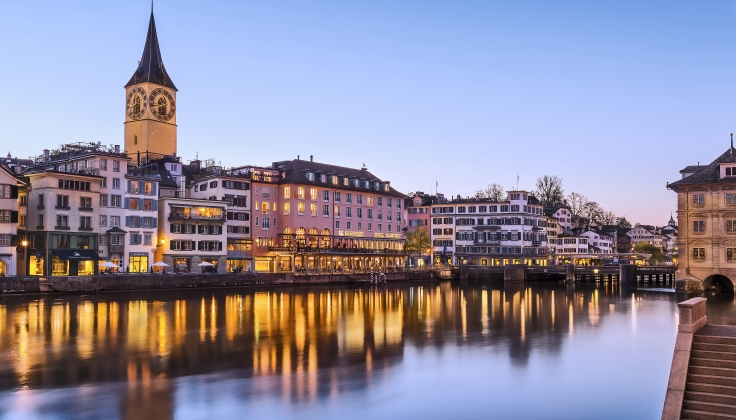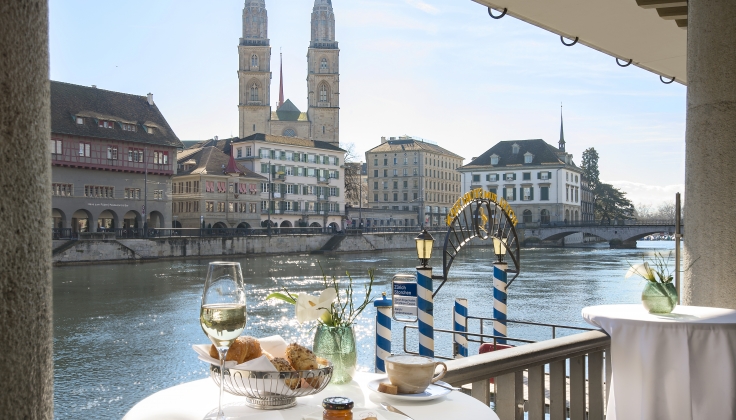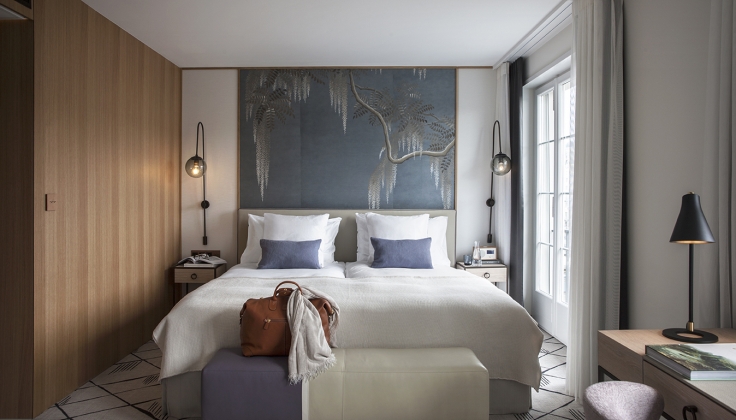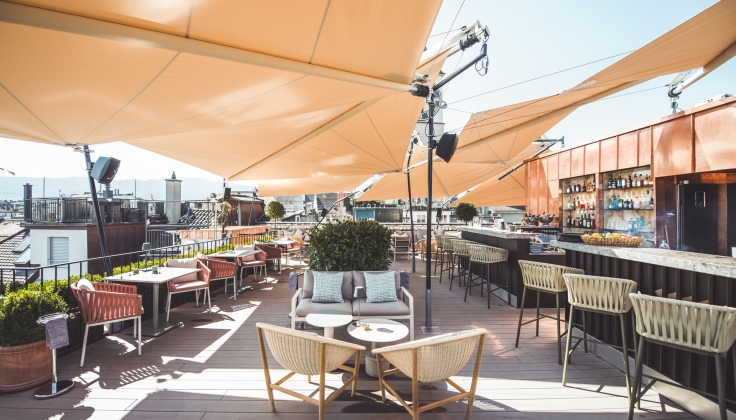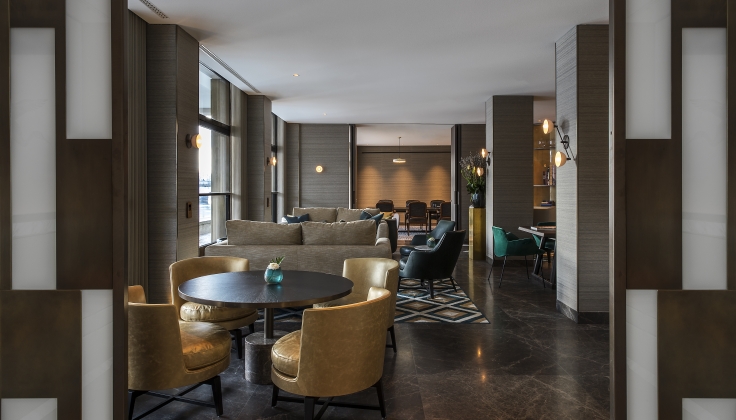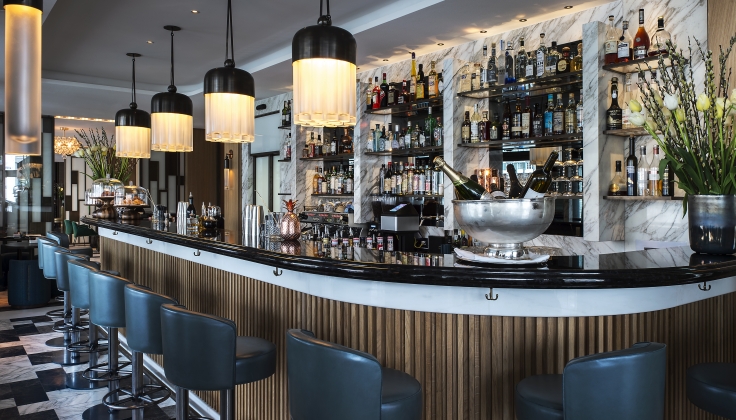 Hotel Schönegg
Inspired by the rustic simplicity of the surrounding Alps, the Hotel Schönegg occupies one of the oldest houses in this mountain village. Throughout your stay, you'll have breathtaking views of the Jungfrau massif and of the delightfully charming Swiss chalets that comprise Wengen. Warm, calming wood tones and fine craftsmanship create an authentic and soothing atmosphere while the on-site Restaurant 1903 brings seasonal ingredients and creative cuisine to every meal. You can step onto the sun terrace each afternoon for coffee and cake, served daily, perhaps followed by a visit to the sauna. Fully renovated in 2012, the Hotel Schönegg retains its original turn-of-the-century charm without air conditioning, while providing state-of-the-art comforts and amenities such as WiFi. You'll enjoy classic Swiss hospitality in a classic Swiss setting. Please note: this accommodation is available on limited departures.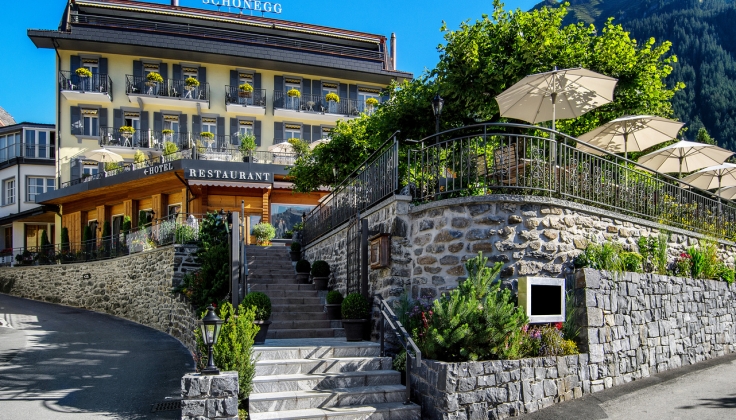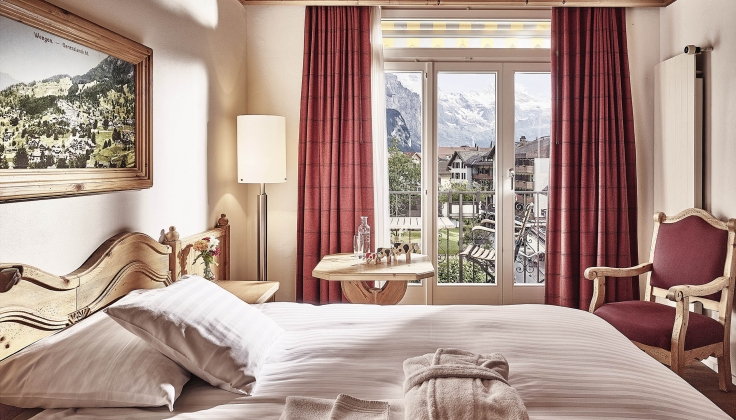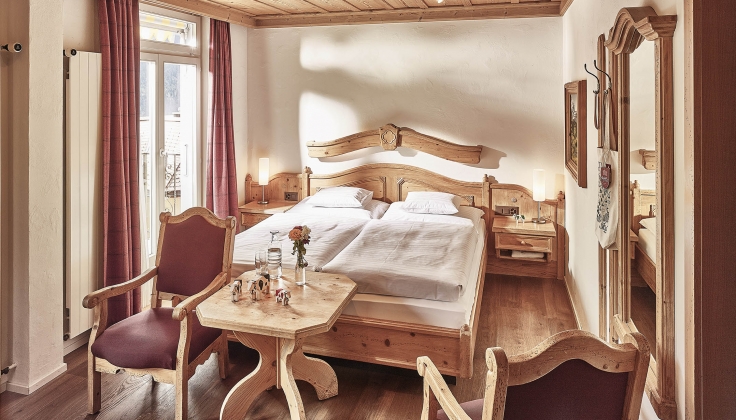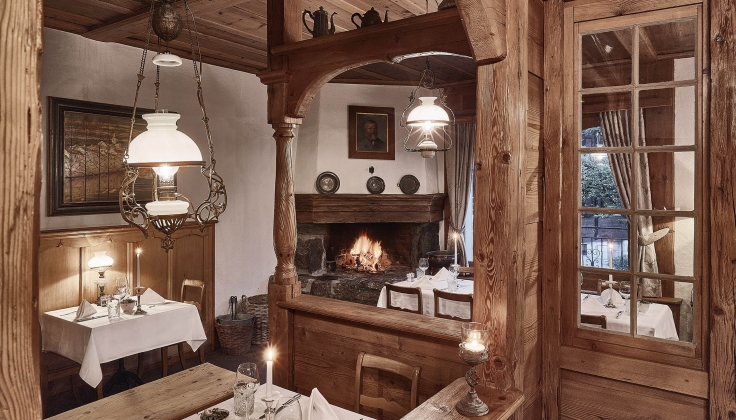 Hotel Pollux
Ideally located on Zermatt's car-free main street, the family-run, chalet-style Hotel Pollux is welcoming, charming, and ablaze with geraniums in summer. Alpine-chic, un-airconditioned guest rooms are designed with comfort in mind—all are equipped with a safe, TV, WiFi, phone, coffee and tea machine, minibar, a cozy armchair and a table. During your stay, choose between three culinary diverse restaurants like the traditional Valais Restaurant Pinte for fondue or raclette, indulge in a Finnish sauna, steam bath, or dip in the Jacuzzi, or linger over cocktails at the cozy, convivial bar. Please note: this accommodation is available on limited departures.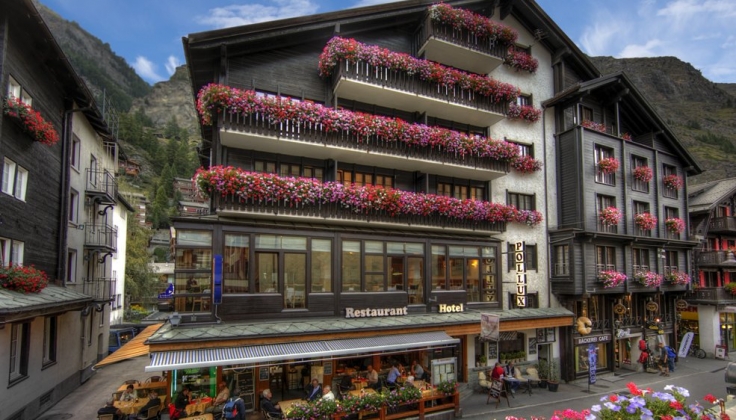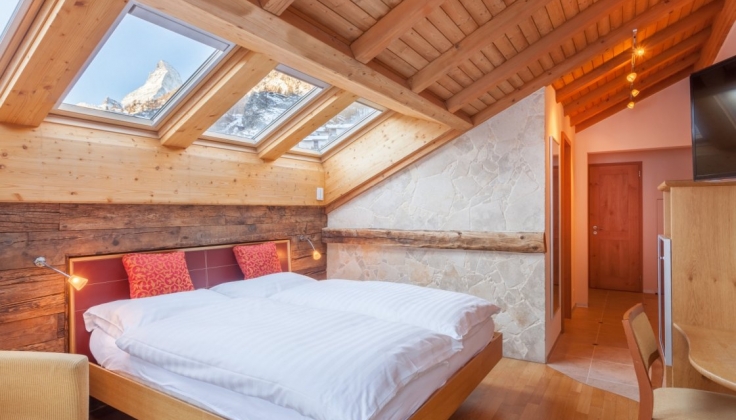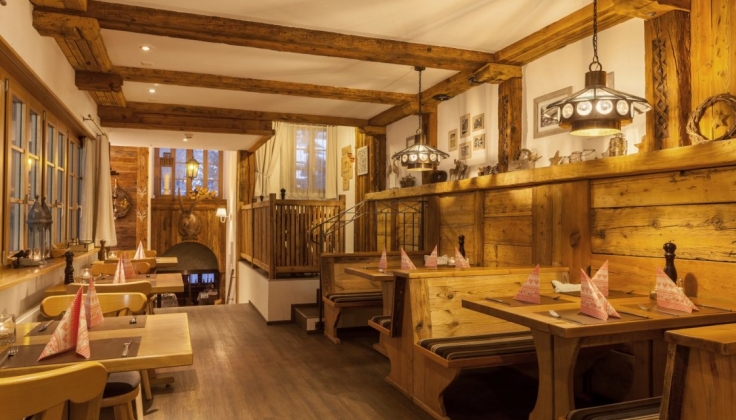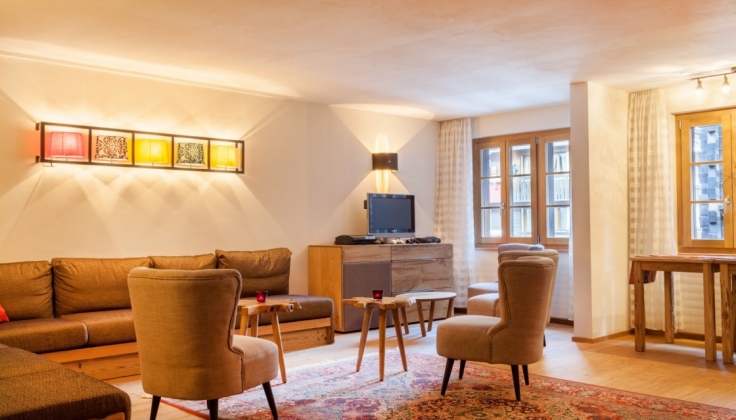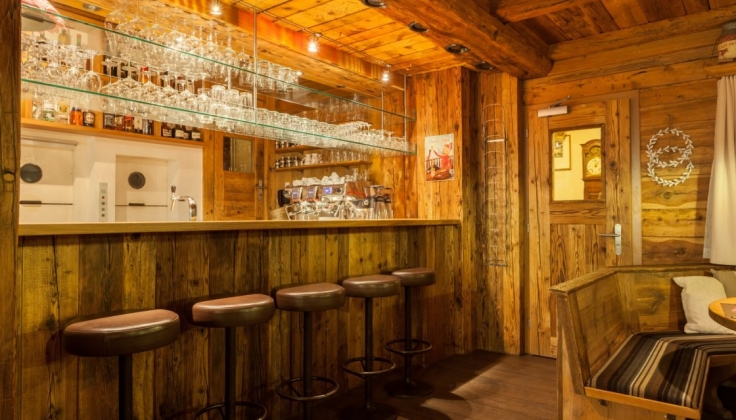 | What's Included | Tour Only |
| --- | --- |
| Boutique accommodations | |
| 8 meals: 7 breakfasts and 1 dinner | |
| Detailed water- and tear-resistant Route Notes, maps, and access to CW walking routes and downloadable maps on Switzerland Mobility App (smartphone required) | |
| Orientation meeting with a County Walkers representative | |
| Local representative available 24/7 | |
| Scheduled taxi and luggage transportation (Please note: If unable to walk, it is possible to travel with your luggage  from one accommodation to the next at no additional charge) | |
| Entrance fees and special events as noted in the itinerary: A 4-day Jungfrau Travel Pass and a 3-day Peak Pass, providing full, prepaid access to all cable car, train, funicular, and public transport in Wengen and Zermatt | |
| Access to Self-Guided Flight Concierge— Ask our knowledgeable team to find flights that sync perfectly with your planned trip | |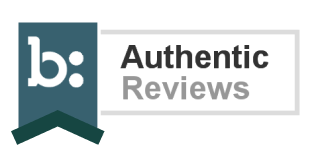 Guest Reviews This tour doesn't have any reviews because it is a new tour. Be the first to review it!
Be the First to Get News & Special Offers
59 other people have recently viewed this tour!
Click and hold to Zoom