Ecuador: Andes & the Galapagos
Tour Only
Flight + Tour Combo
8 Days
Starting From
$8,798
10 Days
Starting From
$9,798
Favorite
See What's Included
You won't need a map to discover Ecuador's natural treasures on this walking tour; they'll find you.
Two steps down the beach, it's already clear who runs this place. The sea lions! They're everywhere: sprawled on park benches and boats in the harbor; and lined up end-to-end here on the sands of Playa Carola. As you'll quickly discover on this hiking tour, in the Galápagos, humans are just visitors. You'll feel it on your walk through San Cristóbal Island's tortoise preserve, some of whose wizened giants have witnessed nearly 200 years of other species' comings and goings. Ecuador's Andean culture is equally engaging, as you'll discover sharing trailside smiles with high-altitude herders or admiring the work of the accomplished weavers in Otavalo's market. Wherever you go, the common thread is a life lived close to exuberant nature.
Highlights
Experience two breathtaking worlds of cultural and natural marvels: the Andean Highlands and the Galápagos Islands
Stroll pristine beaches in search of wild tortoises and sea lions, and hike highland forests on the lookout for exotic birdlife
Enjoy the privilege of chartered boat excursions as you explore remote coves and beaches teeming with life
Enrich your adventure with a horseback ride in the Andes and a snorkeling excursion with sea turtles at Kicker Rock, an icon of the Galápagos
On all Guided Adventures you can count on...
Expert local guides to introduce you to the best of your destination
Off-the-beaten-path places you'd never find on your own
Delicious multi-course meals—a majority are included
A maximum of 18 fun-loving fellow travelers to share the journey
Gracious accommodations that are a clean, comfortable home away from home
Experts to handle all the details
Flight + Tour Combos include plane tickets, airport shuttles, and pre- and post-tour accommodations
Golden Bay Galapagos
The Golden Bay Resort is situated on La Playa de Oro (Golden Beach) on San Cristobal Island. Its location puts you within easy reach of Puerto Baquerizo Moreno and its restaurants and shops, while also placing you on a waterfront that plays host to the island's famous sea lions, blue-footed boobies, and other magnificent wildlife. This boutique property offers all the comforts of an upscale hotel (including air conditioning and in-room WiFi) without the pretension, infusing the galapagueña soul into your stay at every turn. The Restaurant Muyu is renowned for its creative "Farm, Forest and Sea to Table" cuisine. Not only is the food fresh and delicious, but Muyu is part of a Galápagos Foundation Project mentoring young island residents in the tourism industry.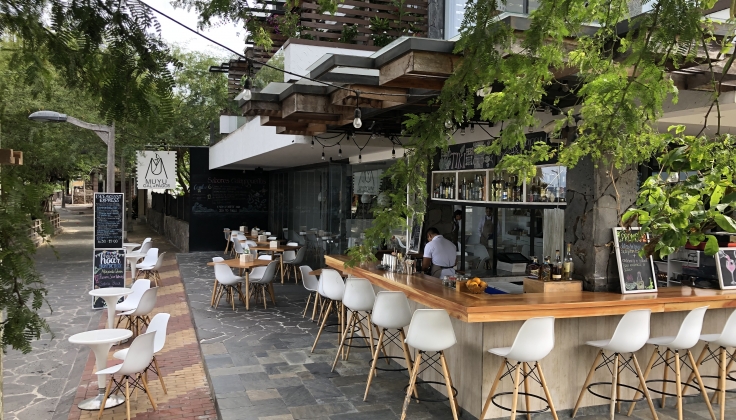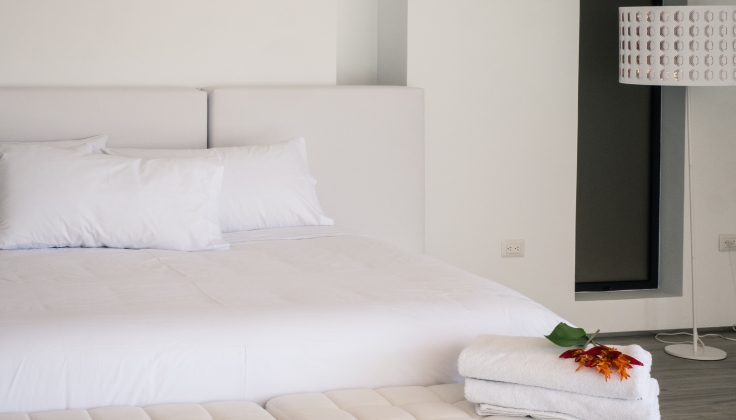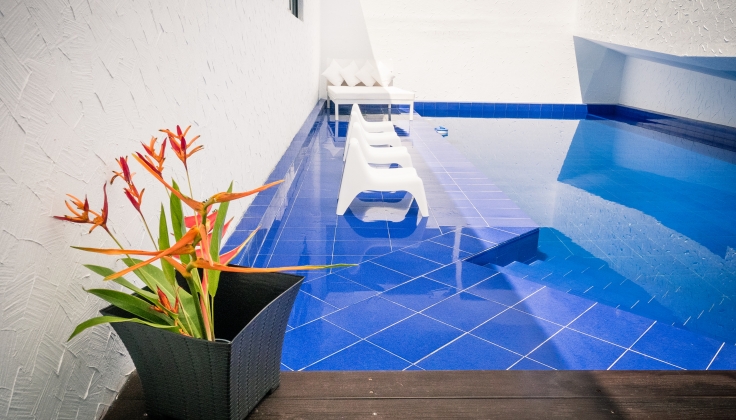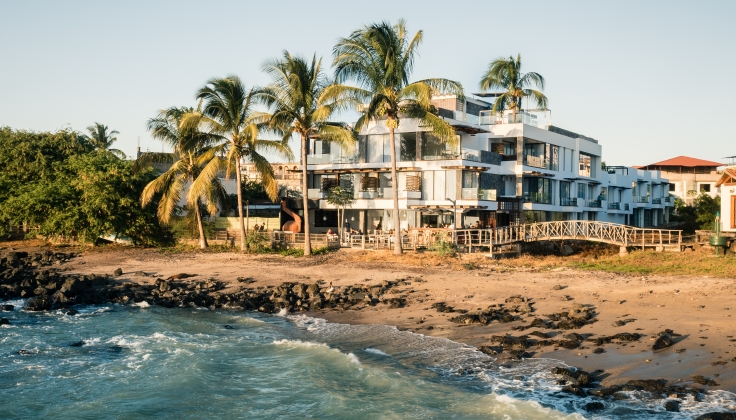 Casa Ilayaku
This simple hacienda-style hotel offers tranquility and gracious service just 30 minutes from the airport. Well-appointed rooms are naturally cooled without air conditioning. Set in the foothills of the Volcano Ilalo in the Tumbaco Valley, the grounds offer beautiful views and outdoor seating areas. WiFi is available in the lobby.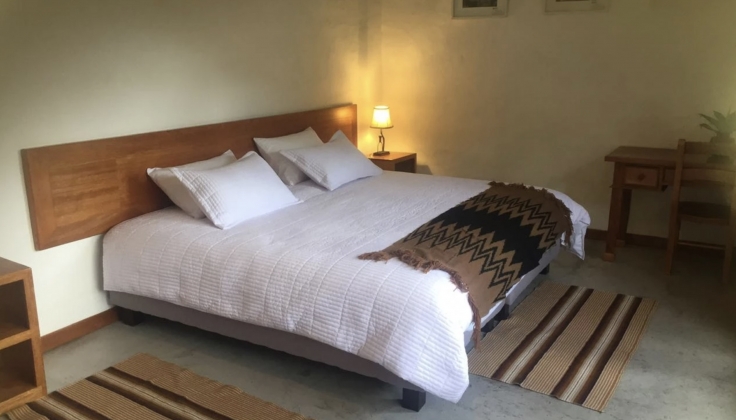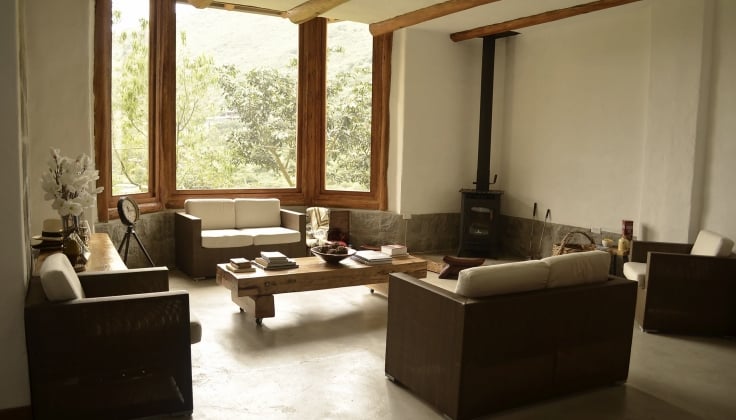 Wyndham Quito Airport Hotel
Relax amid the comfort of the Wyndham Hotel. Located at the Quito Airport, this contemporary property provides great convenience during your pre- and post-tour stay. Enjoy a buffet breakfast and international options for dinner. Each air-conditioned room features WiFi, a flat-screen TV, a safe, and other amenities to ensure a worry-free stay.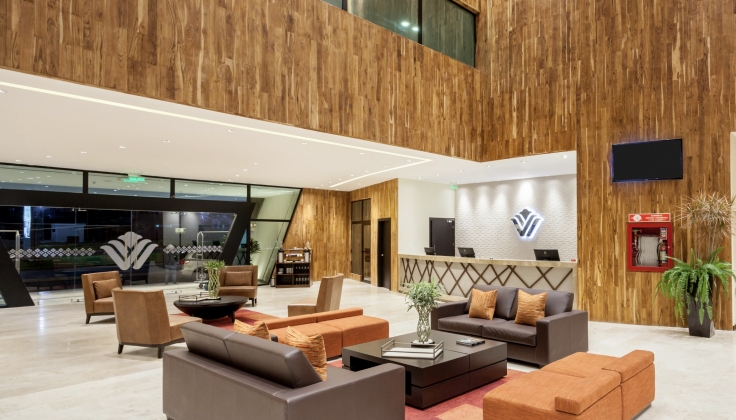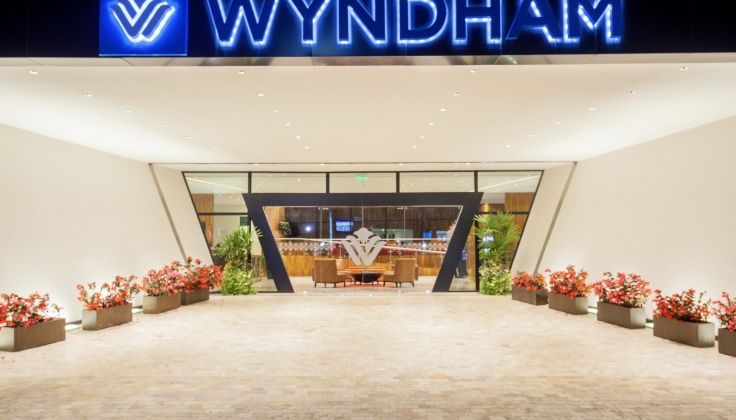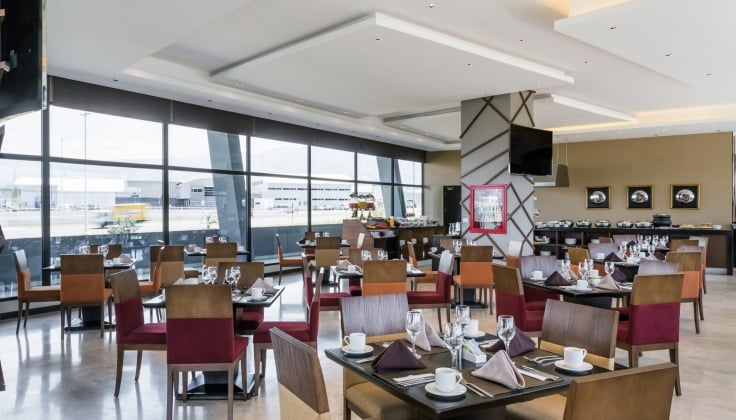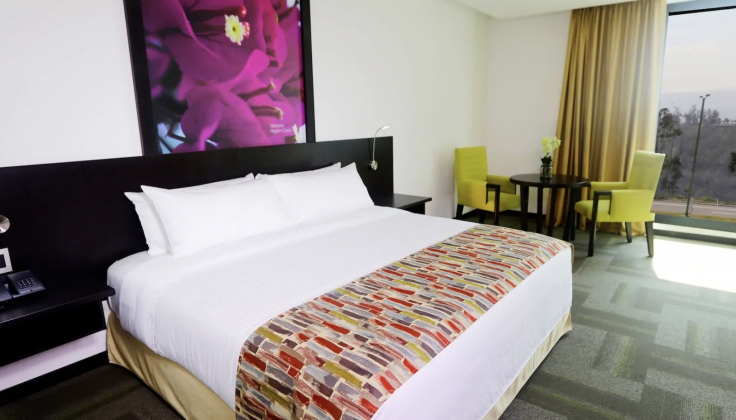 Hacienda Zuleta
Situated in a wide, fertile Andean valley, the Hacienda Zuleta is a 4,000-acre diversified working farm with organic vegetable and grain cultivation, a dairy and cheese-making operation, horse stable, tree nursery, and trout hatchery. The adobe hacienda is steeped in history, originally built in 1691, and furnished in Spanish colonial style It is now owned and operated by the family of a former president of Ecuador. Upon settling in to your comfortable room warmed by an individual fireplace (no air conditioning) and decorated with antiques, you may wish to explore the extensive grounds, gardens, and stables. Thoughtfully prepared meals are sourced directly from the property and may feature queso fresco, a cheese made on-site, a traditional Ecuadorian potato soup with avocados, or a trout grilled with flavorful herbs.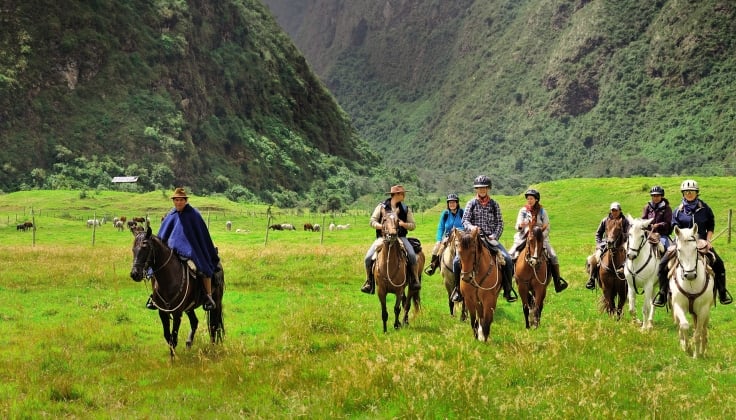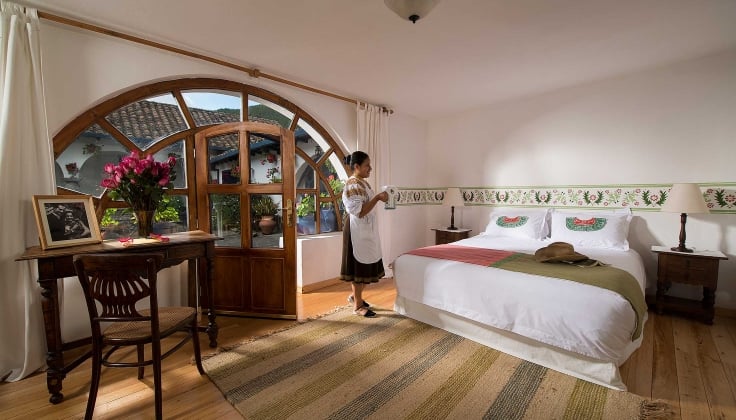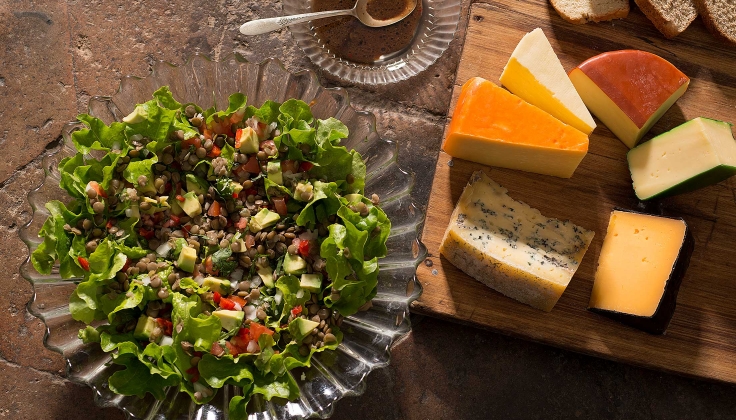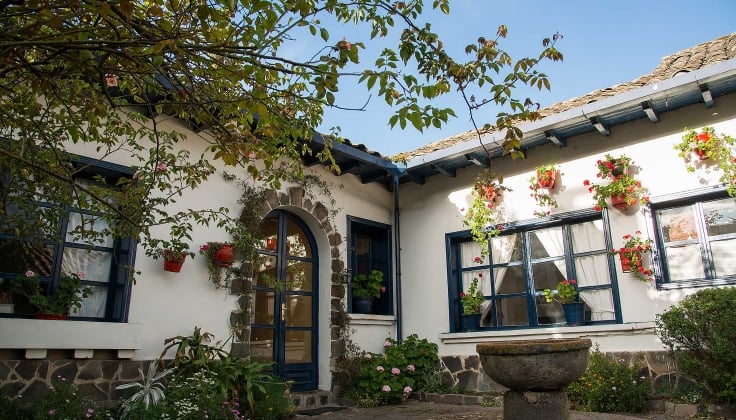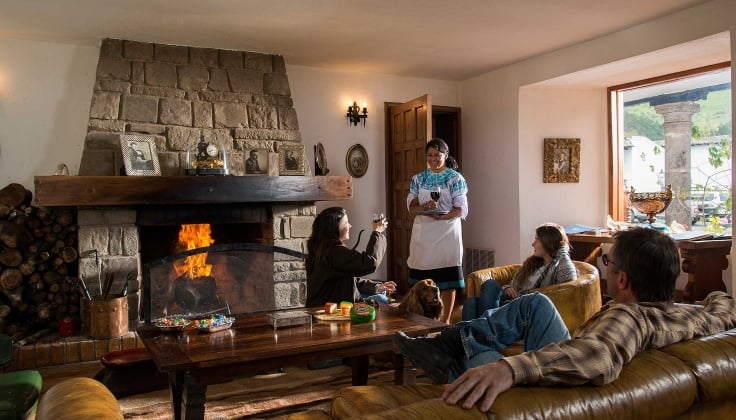 Linger Longer with a Tour Extension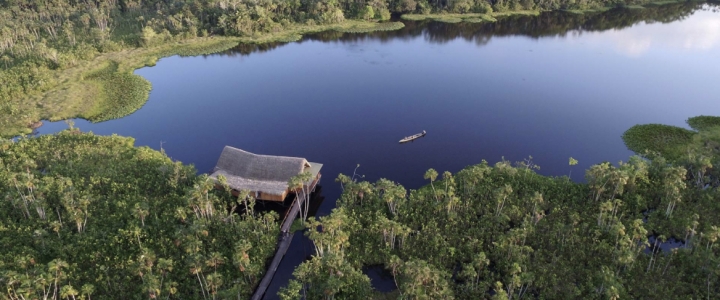 Pre-Tour
Flight + Tour Combo Only
2021 Pre-Tour Extension - Amazon
Enjoy an all-inclusive adventure deep in the Amazon with daily guided excursions
Walk in the rainforest canopy, thrill to a nighttime safari with a naturalist guide and paddle along tranquil tributaries and rivers
Relax for three nights at a rainforest lodge amid 5,000 acres of protected land
Marvel at the winged action at a local parrot lick
Climb a soaring observation tower to look for toucans, scarlet macaws and monkeys as magnificent views spread before you
4 Nights From $1898
per person, double occupancy

Single Supplement: From $398
Begin your adventure by departing from a convenient gateway city in the United States or Canada. Spend your first night aloft.
Upon arrival at Quito's Mariscal Sucre International Airport, a representative holding a Country Walkers sign meets you as you exit the baggage claim area. A complimentary small-group transfer is provided to your airport hotel, just minutes away.
If you are going to be delayed meeting our transfer representative for more than 15 minutes due to delayed or lost luggage, please contact Allianz Global Assistance to advise of your delay, and they will contact our transfer service on your behalf. Our drivers are generally able to wait for up to 45 minutes from the time your flight lands, after which you would be responsible for your own transfer. If you arrive early, and your hotel room is not available prior to the designated check-in time, you may store your luggage with the reception desk.
Depending on your arrival time, you may wish to journey by taxi into Colonial Quito (approximate 1-hour transfer) on your own to browse museum collections or shop in the city's charming boutiques and galleries. Country Walkers provides you with City Information including recommendations on what to see and do in Quito during your stay.
Accommodation: Wyndham Hotel, Quito Airport
This morning, transfer to the airport for a ½-hour flight to Coca, where you are greeted by your lodge staff and served a light lunch or late morning snack (depending on your arrival time). Then the real adventure begins as you board a motorized canoe for a 90-minute journey along the Napo River through a lush and mystical rainforest landscape. After disembarking your canoe, follow a trail through the rainforest for approximately 30 minutes before boarding dug-out canoes for your final paddle to the lodge.
You arrive at Sacha Lodge, situated in the heart of the Ecuadorian Amazon, with time to relax in your spacious bungalow or on the lagoon's deck before a dinner prepared with ingredients sourced from your surroundings and the lodge's private garden. The following itinerary includes sample daily excursions.
Accommodation: Sacha Lodge
Included Meals: Breakfast, Lunch, Dinner
Get acquainted with the magnificent rainforest environment from above as you explore the treetops via a thrilling canopy walkway. It is a privilege to view the Amazon from a bird's perspective. As you stroll the suspended footpath from platform to platform, take time to gaze out over the breathtaking expanse of forest. And be on the lookout for toucans and scarlet macaws taking wing and tamarind monkeys cavorting among the branches. This evening, join an exciting nighttime safari with one of the lodge's specialists. You might hear more creatures in the forest than you see, and your guide will point out species like tarantulas, owls, and frogs that are surprisingly easy to locate in the dark as their tiny eyes reflect the glow of a flashlight.
Your meals at Sacha unfold in The Balsa, Spanish for "raft." This alfresco dining area overlooks the tranquility of Pilchicocha Lake. Savor a mix of traditional Ecuadorian dishes such as paiche, the meaty white fish of the Amazon region. During one evening, you'll savor a traditionally prepared barbecue, sampling unique stylings of grilled fish, meat, and vegetables.
Accommodation: Sacha Lodge
Included Meals: Breakfast, Lunch, Dinner
This morning's fascinating excursion takes you down the Napo River by canoe to a local gathering place for parrots—the Yasuni parrot lick. Of all the licks in Ecuador, this is the most accessible. You pause at river's bank to marvel at a colorful display of birds as they feed on the exposed clay. Later, visit the Shipati Warmi project, an initiative run by, and benefitting, the women of the Providencia community of Yasuni. Join the women here to learn about their daily lives in the Amazon, from getting the children to school to doing laundry. You may help to prepare some traditional food during your stay and sample the results.
In the Amazon, water threads all of life together, as you'll witness when you paddle into lost worlds. Set out into the river system around Sacha Lodge by authentic dug-out canoe, sitting back as your guide escorts you along tributaries and rivulets, some of them narrow and overgrown with flora. Your relaxing journey will be accompanied by bird calls and perhaps a curious monkey or two.
Accommodation: Sacha Lodge
Included Meals: Breakfast, Lunch, Dinner
Return to Quito this morning, where you check in to the Casa Ilayaku, with lovely ranch-style accommodations where horses roam free, and the welcoming spirit of Ecuador is sure to envelop you. It is a rustic spot that embraces both the outdoors and its peaceful farm setting.
Accommodation: Casa Ilayaku
Included Meals: Breakfast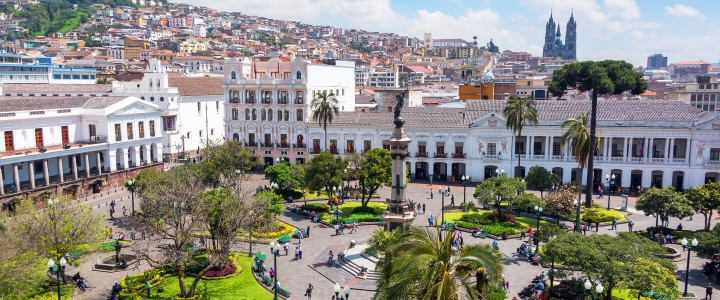 Post-Tour
Flight + Tour Combo Only
2021 Post-Tour Extension - Quito
Enjoy 2 nights (plus a day room) in the heart of colonial Quito at a deluxe, historic hotel
Walk with a private guide in the UNESCO World Heritage site of the Old City, the best-preserved and least altered historic center in Latin America
3 Nights From $1048
per person, double occupancy

Single Supplement: From $648
Upon arrival at the Quito Airport, join our complimentary small-group transfer into the colonial heart of Quito to the elegant Grand Plaza Hotel, overlooking historic Independence Square. You arrive in time to settle in to your royal suite, then head out on a stroll and choose from one of the Old Town's many fine restaurants for dinner on your own.
Accommodation: Grand Plaza Hotel
Included Meals: Breakfast
The first historic city center to be declared a UNESCO World Heritage site, Quito is perched in a high Andean valley at 9,350 feet and surrounded by magnificent volcanoes that soar up to 16,000 feet. It served as the northern capital of the Inca Empire, and today it boasts a captivating blend of ancient, colonial, and modern architecture. Begin your walking tour right outside your hotel on the Plaza de la Independencia. Here, you learn about the elegant Presidential Palace, Municipal Building, Archbishop's Palace, and the striking, white Metropolitan Cathedral. Continue to the Street of Seven Crosses, so named for its seven colonial churches. Among them is the Church of La Compañia de Jesus. Built by the Jesuits, it is a replica of a church in Rome, and within its late 18th-century walls, hardly an inch is left unembellished.
Next, enjoy a walk along streets brimming with history to the enormous Plaza San Francisco. In pre-Inca days, this was the site of the Tianguez, the main market in the Americas. Today, a splendid Spanish Baroque church and monastery rise above it all. The monastery is the largest colonial building on the American continents. Conclude your exploration with lunch at one of our favorite restaurants, then enjoy time on your own to browse the city's museums or peruse its charming boutiques and galleries.
Accommodation: Grand Plaza Hotel
Included Meals: Breakfast, Lunch
With a late-night departure at the end of today, you have another day to soak in the beauty of Quito. You might begin at the Mercado Central, where the city's cuisine and culture merge into a wondrous emporium of colors, scents, and flavors. Snack on some of Ecuador's fruits and perhaps find the perfect Panama hat as a keepsake. You may choose to also visit the Museo de la Ciudad to learn more about the history of this remarkable city.
Perhaps ascend to the summit of El Panecillo ("The Little Bread Loaf") for spectacular views of the city and the surrounding volcanoes. Head over to the Quito's largest craft market and outdoor art gallery, situated at the northern end of Parque El Ejido. Step inside the Monasterio de San Francisco in its namesake plaza to marvel at the ornate, glittering dome and breathtaking altar. As you explore, the city's many restaurants offer hearty local dishes like fritada (fried pork with hominy) and locally brewed cerveza artisanal (artisanal beer). Come dinnertime, few experiences can rival a walk through La Ronda, a cozy lane lined with 17th-century buildings where you'll find plenty of restaurants and bars.
This evening, a complimentary small-group transfer is provided to Quito's Mariscal Sucre International Airport, based on your flight time. (Departure time from the hotel will be communicated to you by your guides on tour.)
Included Meals: Breakfast
| What's Included | Flight + Tour Combo | Tour Only |
| --- | --- | --- |
| Exceptional boutique accommodations | | |
| 20 on-tour meals: 7 breakfasts, 7 lunches, 6 dinners | | |
| Local guides with you throughout tour | | |
| Local wine and/or beer with dinner | | |
| Entrance fees and special events as noted in the itinerary including optional horseback riding, snorkeling, snorkeling equipment and wet suit rental (1 day) | | |
| Airfare for internal flight to Galapagos Islands | | |
| Travel assistance available 24/7 provided by Allianz | | |
| Roundtrip airfare | | |
| One extra night in Quito and one day room in Quito | | |
| Airport car service for arrival & departure | | |
| Pre- and post-tour breakfasts | | |
| Business-class upgrades available | | |

Be the First to Get News & Special Offers
Click and hold to Zoom