Peru: Cusco, Machu Picchu & the Sacred Valley
Tour Only
Flight + Tour Combo
8 Days
Starting From
$3,795
10 Days
Starting From
$4,795
Favorite
See What's Included
In this walking tour of Peru through bustling markets and mountaintop ruins, Andean culture endures as surely as stone walls.
Morning light pierces the forest canopy, and your heart quickens. Another few steps up the centuries-old Inca stairway and…you're there! Intipunku—the Sun Gate. Far below, Machu Picchu's ruins lie across a knife-edge ridgeline of green. As you've discovered on this walking tour, Peru's culture stands the test of time. At Sacsayhuaman fortress, it's impossible to fit even a slip of paper between the massive stones that comprise its walls—mortarless craftsmanship so resilient it's survived wars and earthquakes. Outside Maras, survey the vast checkerboard of steeply terraced evaporation ponds, where locals still harvest salt as they did before the conquistadors. And in Pisac market, meet women resplendent in traditional embroidery busily working handheld spindles, while their children play among bags of multihued native potatoes. Here too, the ancient endures.
Highlights
Delight in a morning walk on ancient farm paths through the peaceful Andean Highlands
Enjoy the bustle and barter at a market in Pisac
Walk to the lovely Andean villages of Chinchero and Urquillo
Taste Peruvian chicha de jora, corn beer, at an authentic chicheria

Visit the colorful Qotowincho market in Urubamba
Trek a scenic footpath through the lush Andean countryside to Maras village, where the locals still use traditional techniques to mine the terraced saltpans
Gather with your fellow travelers for a delicious picnic lunch by Huaypo Lagoon
Marvel at mountain and river views from the panoramic windows of the Vistadome train as you make your way down the narrowing valley from Ollantaytambo
Hike the stunning Inca Trail, with spectacular views of mountains and cloud forests
Hike the Inca Trail to the Sun Gate – the original entrance to Machu Picchu – taking in sweeping views of the ancient ruins from above
Encounter more of Machu Picchu on a guided walk with your guides
Discover the ancient Inca capital Cusco on a walking tour of the old city
Enjoy free time to shop for delightful Peruvian crafts, art, woolen textiles and silver jewelry
On all Guided Adventures you can count on...
Expert local guides to introduce you to the best of your destination
Off-the-beaten-path places you'd never find on your own
Delicious multi-course meals—a majority are included
A maximum of 18 fun-loving fellow travelers to share the journey
Gracious accommodations that are a clean, comfortable home away from home
Experts to handle all the details
Flight + Tour Combos include plane tickets, airport shuttles, and pre- and post-tour accommodations
Aranwa Cusco Boutique Hotel
Aranwa Cusco Boutique Hotel is a five-star boutique hotel that combines the essence of history, luxury, and well-being located in the heart of the Incan city. Built in an old colonial mansion dating back to the 16th century, the hotel is a museum with its numerous pieces of art, sculptures, and colonial furniture. The boutique hotel's elegant, un-air conditioned rooms have luxuries including radiant floor heating and an intelligent oxygen system to help guests better adapt to the higher altitude.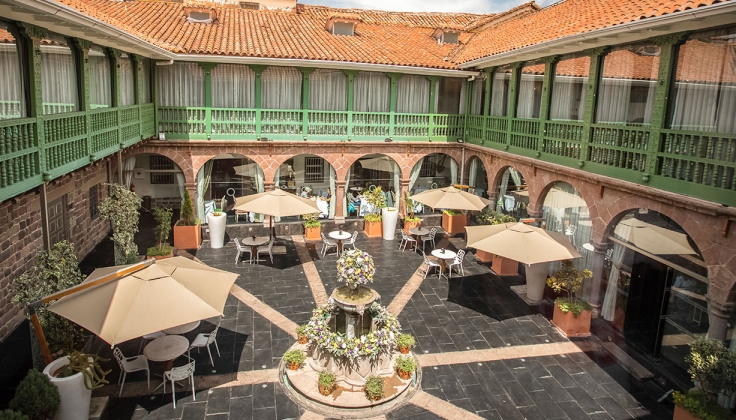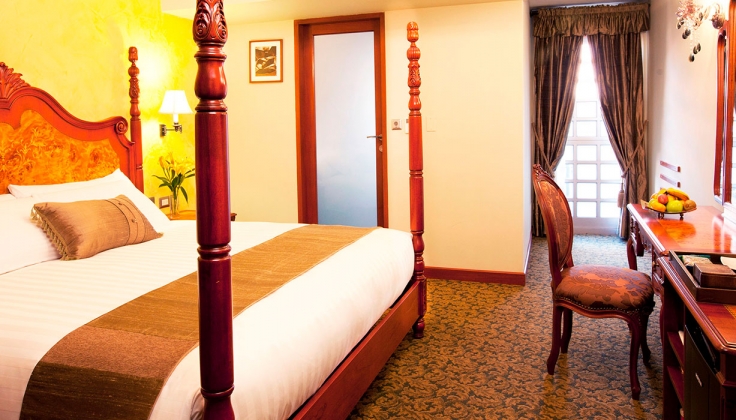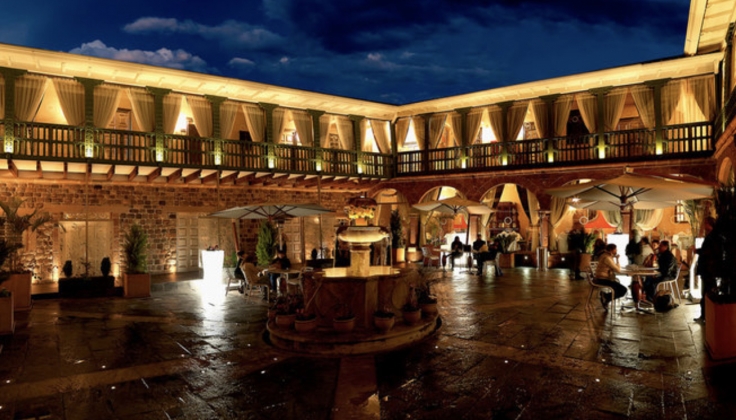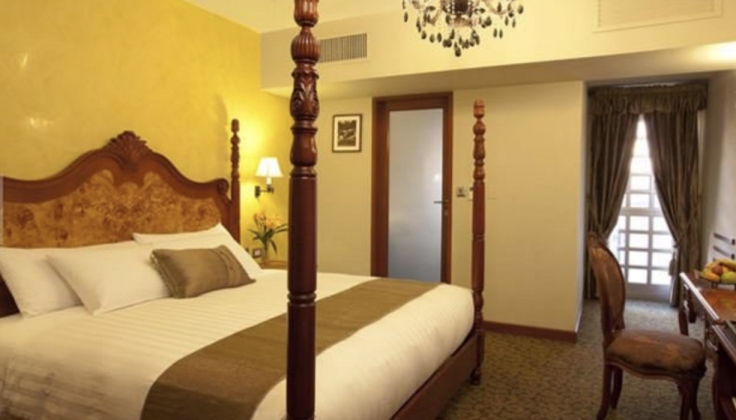 Inkaterra Machu Picchu
Inkaterra Machu Picchu Hotel is a pueblo of luxurious whitewashed bungalows nestled into terraced hills. The train station is only steps away, but the ambiance at the Inkaterra Machu Picchu Hotel seems to exist in a world apart. It is an intimate 85-cottage luxury hotel designed in the manner of a sprawling Andean-style village on 12 secluded acres of exquisite beauty. Guests follow stone pathways to their rooms, located in comfortable one- or two-story whitewashed casitas. Spa services use natural essences, and a first-class restaurant offers grand views of the Vilcanota River.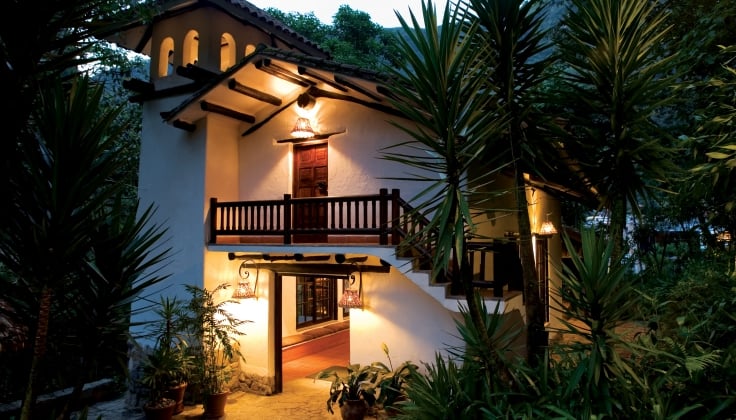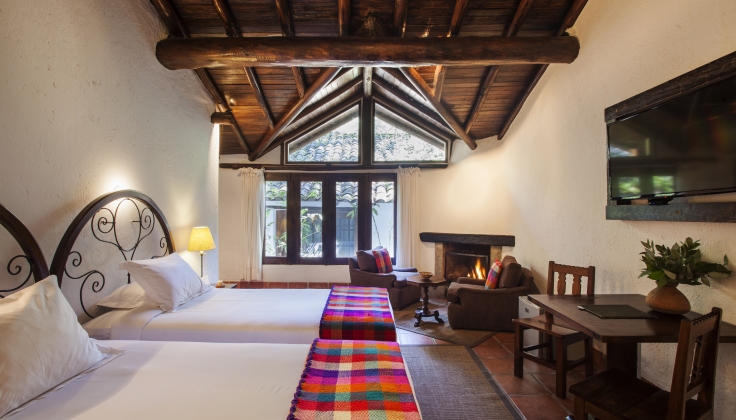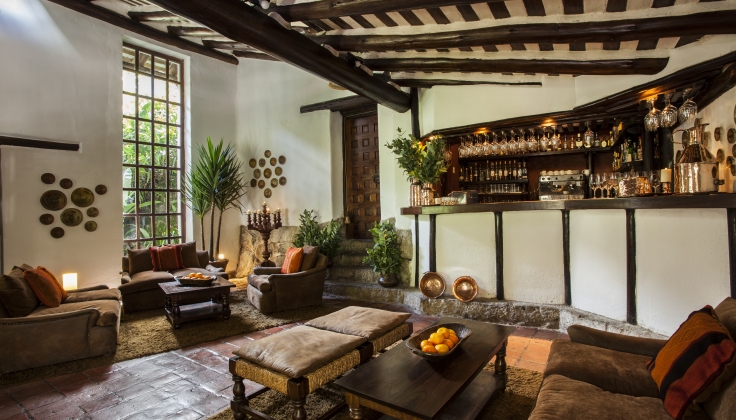 Wyndham Costa del Sol Lima
The Wyndham Costa del Sol Lima at Jorge Chavez Lima-Callao International Airport is a beautiful 130-room hotel. Each guestroom features a 26-inch LCD TV with cable, complimentary wireless Internet access, marble bathroom with tub and shower, air conditioning, minibar in-room, safe, and hairdryer.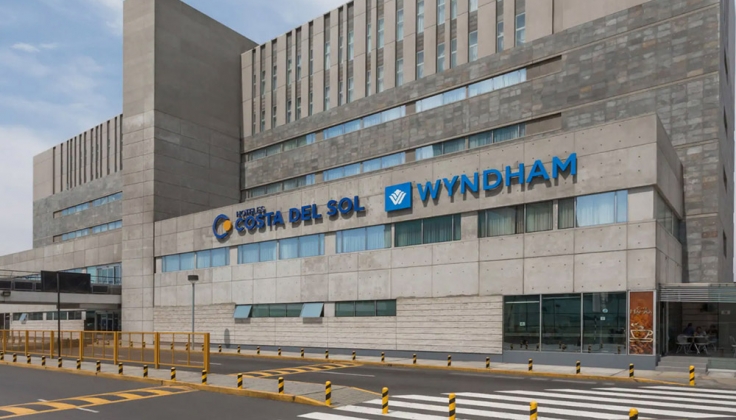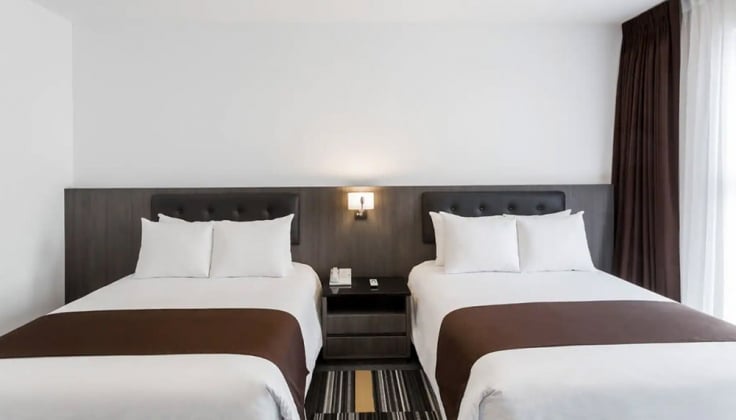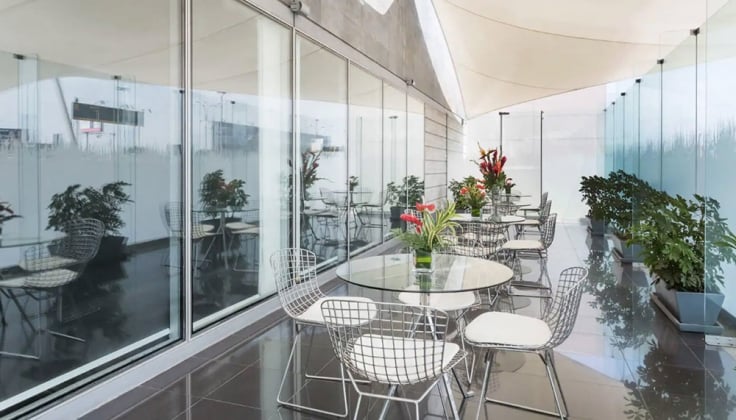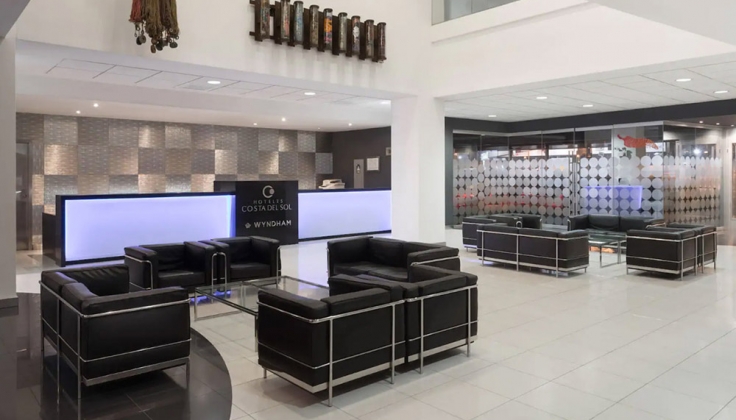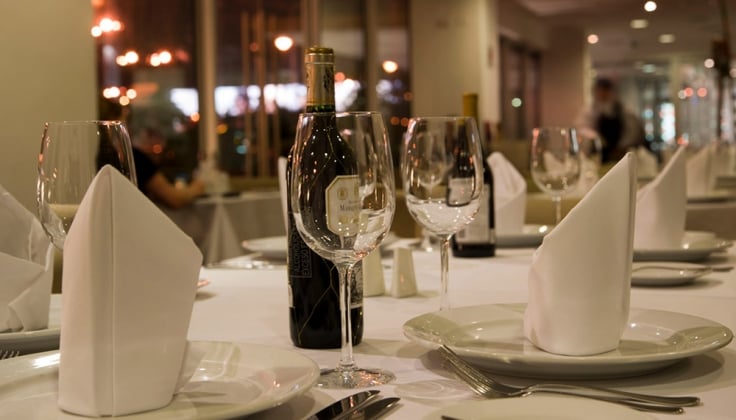 Inkaterra Hacienda Urubamba
Serenity and relaxation are hallmarks of the Inkaterra Hacienda Urubamba, a contemporary, hacienda-style hotel on a 100-acre property surrounded by a dramatic mountain range. Set in the Sacred Valley, between Cusco and Machu Picchu, it proudly showcases the region's blend of Spanish and Andean influences. Rooms are un-air conditioned, with colonial furnishings, Inca mask accents, and handcrafted woodwork. Harvest produce comes from the hacienda's 10-acre organic plantation, where crops are cultivated as they have been for centuries. There are stunning views from nearly every window.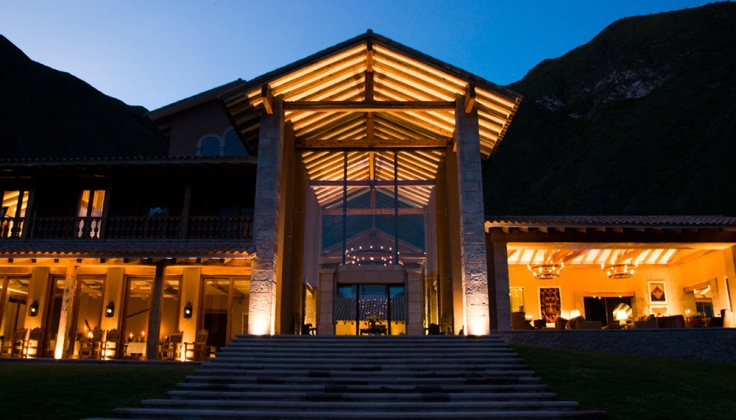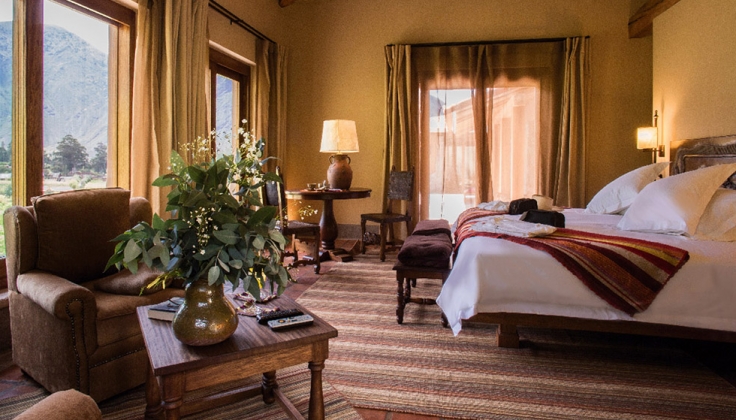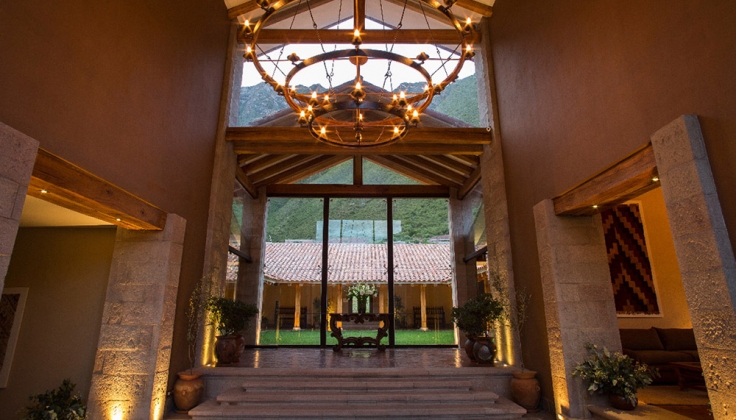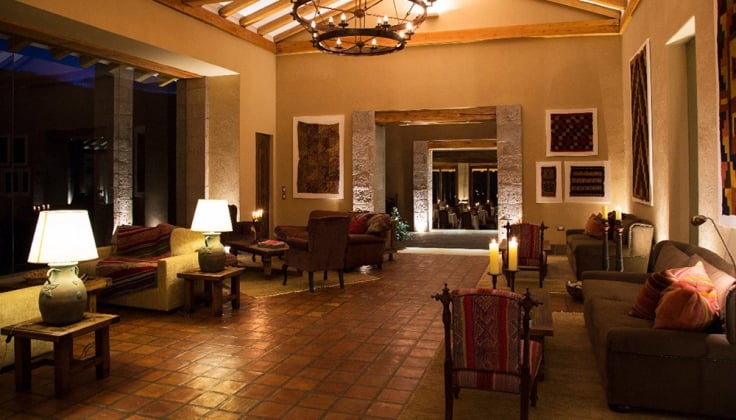 Linger Longer with a Tour Extension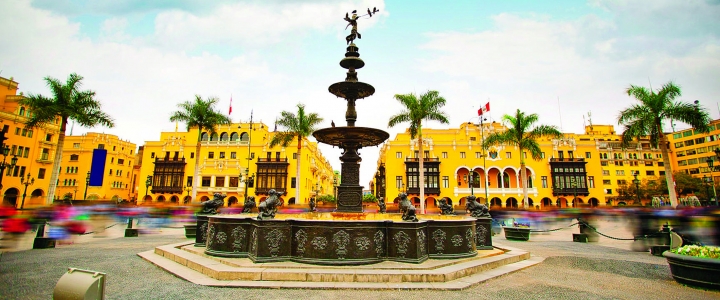 Pre-Tour
Flight + Tour Combo Only
2021 Pre-Tour Extension - Lima
2 nights at Hyatt Centric San Isidro Lima
Guided visits in Lima including the Larco Museum
Daily breakfast and 1 lunch
City Information
Airport transfers
2 Nights From $448
per person, double occupancy

Single Supplement: From $198
Begin your adventure by departing from a convenient gateway city in the United States or Canada. Spend your first night aloft.
Upon arrival at Lima's Jorge Chavez International Airport, proceed through immigration.
Important Note: The TAM (Andean Immigration Card) is now virtual—this means you will no longer be required to complete this form by hand as it is now automatically stored online once you pass through one of the airport's new biometric gates using your passport.
After exiting customs, enter the arrivals hall and look for a representative holding a Country Walkers sign. Please note that there may be up to a 45-minute wait if other guests are arriving within the same time frame. A complimentary small-group transfer will be provided to your Lima hotel, approximately 30-90 minutes away. The remainder of the day is at your leisure (breakfast is included).
Please note: Regular check-in time at the Hyatt Centric San Isidro Lima is 2:00 p.m. Because most flights have early-morning arrivals, we have secured a check-in time for all guests at 10:00 a.m. Breakfast is included prior to your early check-in.
Dinner is on your own while in Lima and there are many fine restaurants to choose from. Use the provided Country Walkers City Information as your guide.
Accommodation: Hyatt Centric San Isidro Lima
Included Meals: Breakfast
A County Walkers representative will meet you at 9:00 a.m. in the hotel lobby today for your included exploration of Lima. Today you will visit the Cathedral of Lima, San Francisco Monastery, and the Larco Museum. The Larco Museum holds the world's largest private collection of pre-Columbian art. You may want to try the local ceviche during an included lunch overlooking the Pacific Ocean.
Accommodation: Hyatt Centric San Isidro Lima
Included Meals: Breakfast, Lunch
This morning, after an early breakfast, you'll take a complimentary transfer from your Lima hotel to the Jorge Chaves International Airport for your flight to Cusco. A representative will meet you in the hotel lobby and assist with your transfer.
Upon arrival at Cusco airport, gather your luggage and exit the baggage claim to look for a representative holding a Country Walkers sign. Enjoy a complimentary transfer to your Aranwa Cusco Boutique Hotel, about 20 minutes away. Please note that your hotel room may not be available until 2:00 p.m.; however, you may store your luggage at the reception desk while you explore the city. The remainder of the day is at your leisure. Meals are on your own.
Country Walkers provides you with City Information that includes recommendations on what to see and do in Cusco during your stay.
Once you arrive in Cusco, it is advisable to rest and avoid strenuous activity as your body acclimates to the altitude (10,900 feet / 3,322 meters). Also, be aware of dehydration and drink plenty of water to help prevent altitude sickness. A couple of hours' rest at this time will go a long way toward feeling more comfortable later.
Accommodation: Aranwa Cusco Boutique Hotel
Included Meals: Breakfast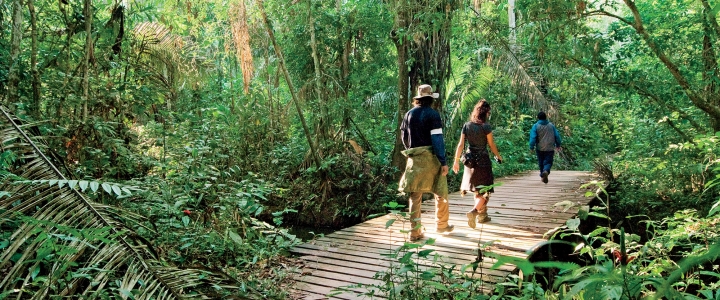 Post-Tour
Flight + Tour Combo Only
2021 Post-Tour Extension - Peruvian Amazon
2 nights at Reserva Amazonica Lodge
Flights between Cusco, Puerto Maldonado, and Lima
Daily guided exploration including the Twilight River Boat Ride & Rainforest by Night Walk Entrance to Lake Sandoval (INRENA), Canopy Walkway, and Butterfly House
6 meals—2 breakfasts, 2 lunches, 2 dinners
City Information
Airport Transfers
2 Nights From $748
per person, double occupancy

Single Supplement: From $148
You will catch a mid-morning flight from Cusco to Puerto Maldonado, where the Inkaterra Reserva Amazonica staff greets and assists with your transfer to the port. After a 45-minute boat ride, arrive at Reserva Amazonica. Lunch is included today, and you'll have time to enjoy the extensive trail system with an interpretive guide this afternoon. This evening, join an included "Twilight River" excursion or catch a nature presentation in the Eco Center. Dinner is in the lodge dining room tonight. Note: Due to the logistics of getting to Reserva Amazonica Lodge, there are restrictions on what luggage you can bring. Please use the small bag you brought for Machu Picchu to transfer only what you need for these two overnights from your large suitcase. Your large luggage will remain in secure storage in Puerto Maldonado.
Accommodation: Reserva Amazonica Lodge, Peruvian Amazon
Included Meals: Breakfast, Lunch, Dinner
Breakfast is from 5:00 – 10:00 a.m. Today, you can enjoy an excursion to Lake Sandoval. After a 30-minute boat ride to the Tambopata National Reserve, wildlife surrounds you during a one-hour walk to reach the lake. Then, glide in a wooden canoe across a beautiful oxbow lake. This area is home to the endangered giant river otter as well as red howler monkeys, macaws, prehistoric hoatzins, anacondas, point-tailed palm creepers, and side-neck turtles. Spend two hours on the lake delighting in all that it has to offer.
After lunch, discover the Inkaterra Canopy Walkway. A five-minute boat ride takes you to the Inkaterra Canopy Interpretation Center. After ascending the first tower, at 95 feet above the forest floor, you will walk through the treetops for one hour, along suspension bridges that link eight observation platforms. Enjoy landscapes and vistas that would be practically unimaginable from below, while you take in views of giant strangler fig trees, orchids, toucans, woodpeckers, trogons, and—with luck—monkeys and sloths. After your descent from the canopy, a 30-minute walk through the jungle gives you a chance to see the Amazon from a different perspective. In this lush ecosystem, you may observe various species of amphibians, birds, mammals, insects, and flora. At the end of your walk, return to the lodge.
Dinner is in the main dining room tonight. Then fall asleep to the song of the Amazon.
Accommodation: Reserva Amazonica Lodge, Peruvian Amazon
Included Meals: Breakfast, Lunch, Dinner
Spend the morning relaxing. You may purchase a snack or lunch at the Lodge, but you need to notify the staff by 10:00 a.m. You may also wait and buy a sandwich at the Butterfly House upon your return to Puerto Maldonado.
In the early afternoon, transfer by boat and van to the Puerto Maldonado airport for your flight home via Lima. Upon arrival, check in to comfortable rooms for day use. Tonight, dinner is at your leisure before returning to the airport for overnight flights departing in the late evening. Your flights may arrive at your final destination in North America the following day.
Accommodation: Wyndham Costa del Sol Lima, Lima International Airport
Included Meals: Breakfast
| What's Included | Flight + Tour Combo | Tour Only |
| --- | --- | --- |
| Exceptional boutique accommodations | | |
| All on-tour meals except 3 lunches and 2 dinners | | |
| Local guides with you throughout tour | | |
| Entrance fees and special events as noted in the itinerary | | |
| Travel assistance available 24/7 provided by Allianz | | |
| Roundtrip airfare | | |
| One extra night in Cusco and dayroom at airport hotel in Lima | | |
| Airport car service for arrival & departure | | |
| Pre- and post-tour breakfasts | | |
| Business-class upgrades available | | |

Expert Local Guides
Experience your destination like an insider with people who call it home.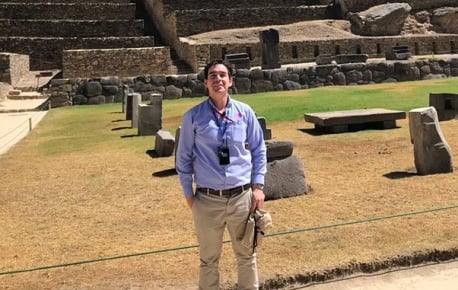 Sergio Prieto
Born and raised in Cusco, Sergio Prieto attended the University of Saint Anthony the Abbot in Cusco, one of the oldest universities in South America. An experienced guide, Sergio knows the key to a successful and enjoyable trip is not only sharing information about a place but also immersing guests in the local culture while providing a deep understanding of an area's history, natural beauty, and cultural heritage.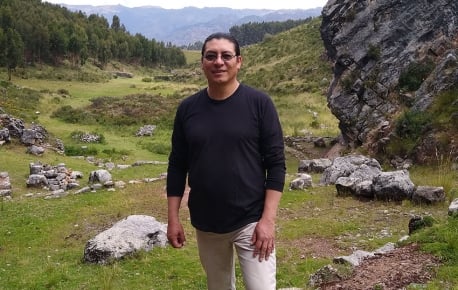 Miguel Vergara
A native of Peru, Miguel Stalin Vergara Ugarte studied tourism at Andina University of Cusco and started guiding trips along the Inca Trail in 2004. Miguel's passion lies in pre-Incan and Incan cultures and he makes great effort to retain his ancestral Andean traditions, particularly around folk medicine, rituals, and music. In fact, when not guiding or hiking in the surrounding mountains, you are likely to find Miguel entertaining his wife and children playing pre-Hispanic musical instruments.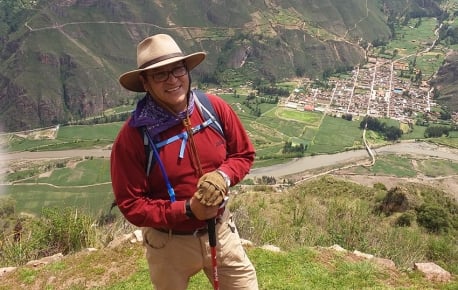 Jorge Olivera
Jorge Olivera, a native of Cusco, is passionate about hiking and sharing the rich history of Peru with travelers from around the globe. As a veteran guide with over a decade of experience, Jorge is a boundless source of knowledge of local culture and gastronomy and looks to give guests unforgettable memories and an experience of a lifetime when they visit his home country.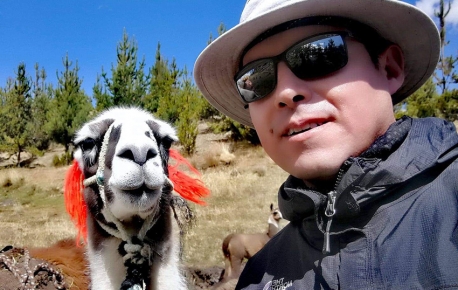 Alvaro Zamora
Alvaro Zamora is a veteran guide who was born and raised in Cusco. He enjoys sharing his extensive knowledge of ecology with guests and feels Peru is a destination that perfectly combines nature, history, exquisite food, and very friendly people, calling it "the perfect place for everyone!"
Be the First to Get News & Special Offers
Click and hold to Zoom