Chile & Argentina: Patagonia & Torres del Paine National Park
Tour Only
Flight + Tour Combo
8 Days
Starting From
$7,498
11 Days
Starting From
$8,848
Favorite
See What's Included
In a land of freewheeling condors and Andean peaks, grand visions are everywhere.
Pampas stretching as far as the eye can see, ancient caves where prehistoric animals left their bones—Patagonia has a timeless, boundless feel unlike anyplace else on earth. With horizons this vast, it's hard to know where to turn your gaze. Fortunately, your expert guides know just how to direct you. Above tower the imposing stone sentinels of Torres del Paine, while across the way dozens of condors wheel in flight, and a solitary guanaco stands silhouetted on the ridgeline. Whatever your pursuit—sharing a gaucho-style asado with your hosts on a 100,000-hectare working estancia; watching pink clouds of flamingos rise from a lonely lakeshore, or listening to the roar of ice slabs crashing down from the Perito Moreno Glacier—this Patagonia hiking tour delivers unforgettable visions of grandeur.
Highlights
Marvel at jagged mountain massifs as you walk valley and mountain trails, from "the Horns" and "the Towers" to the Baguales Mountains.
Spot astonishing wildlife in its natural habitat—eagles, flamingoes, guanacos, armadillos, and perhaps the elusive puma.
Get a glimpse of Patagonian and gaucho life during stays at traditional, working estancias.
Indulge in the finest Chilean and Argentinean cuisine, prepared with care using locally sourced ingredients.
On all Guided Adventures you can count on...
Expert local guides to introduce you to the best of your destination
Off-the-beaten-path places you'd never find on your own
Delicious multi-course meals—a majority are included
A maximum of 18 fun-loving fellow travelers to share the journey
Gracious accommodations that are a clean, comfortable home away from home
Experts to handle all the details
Flight + Tour Combos include plane tickets, airport shuttles, and pre- and post-tour accommodations
Hotel Cabo de Hornos
Located in the heart of La Plaza Central in historic Punta Arenas, the Hotel Cabo de Hornos offers scenic vistas of the cityscape and the stunning Strait of Magellan. Step right outside to take in the intimate atmosphere and relaxed pace of the city, sample enticing restaurants and browse interesting shops. Sip a drink at the hotel's cozy Quincho Bar and enjoy international cuisine at the Cabo de Hornos Restaurant. Modern interiors, newly renovated air-conditioned rooms and genuinely friendly service ensure a warm and welcoming stay.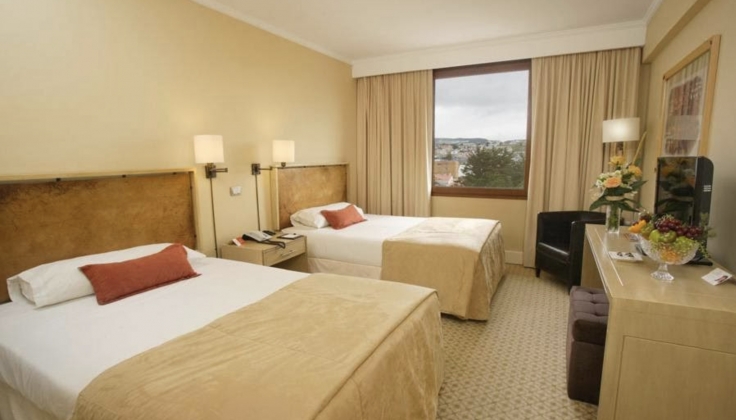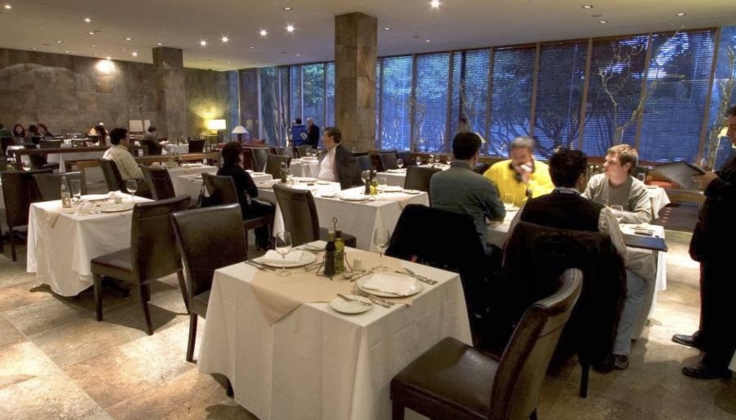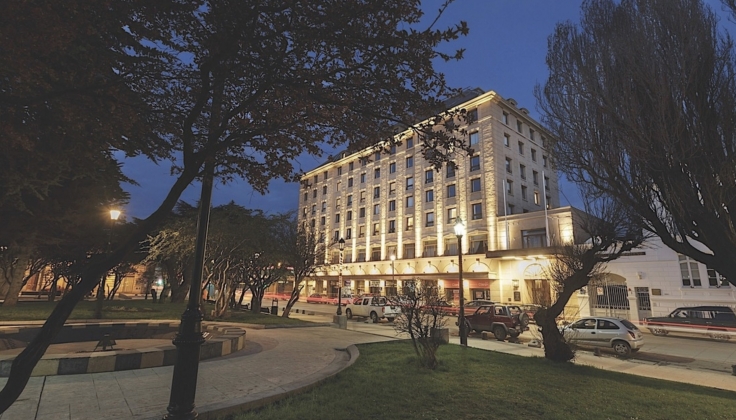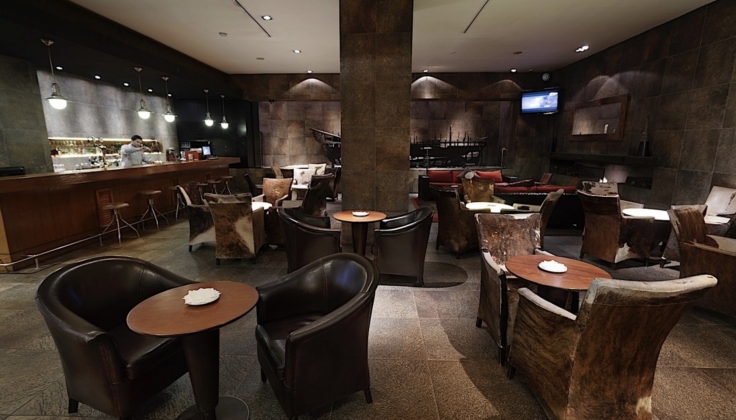 Hotel Altiplanico Sur
Built into the gentle rise of a hill overlooking the Ultima Esperanza Gulf and the Baquedano Glacier, the stunning Altiplanico Sur offers one of the region's most unique and thrilling stays. This intimate property has just 22 rooms with splendid views. The horizontal lines of the low-built architecture, grass roof and bricks, and natural building materials blur the line between what's manmade and what's natural here. Air-conditioned rooms are simple yet beautiful, designed so you can focus on the magnificent scenery outside your window. Throughout your stay, hearty dishes in the restaurant keep you fueled for your next adventure.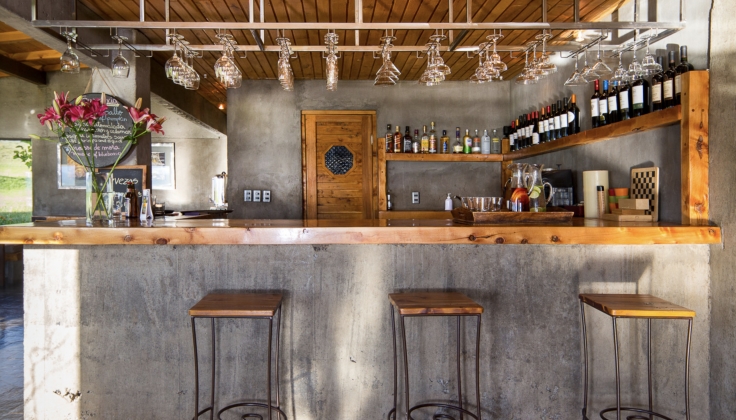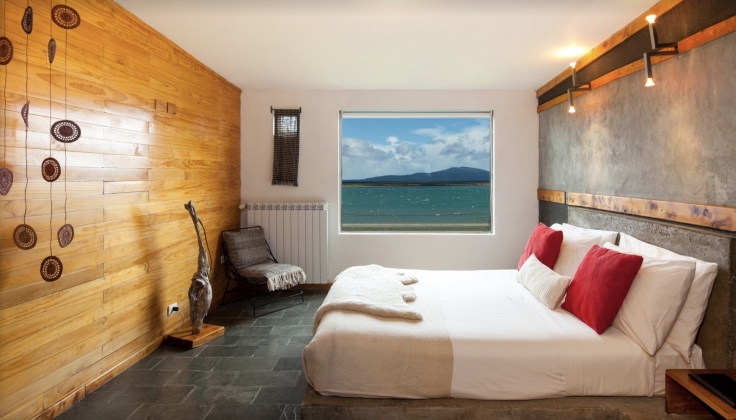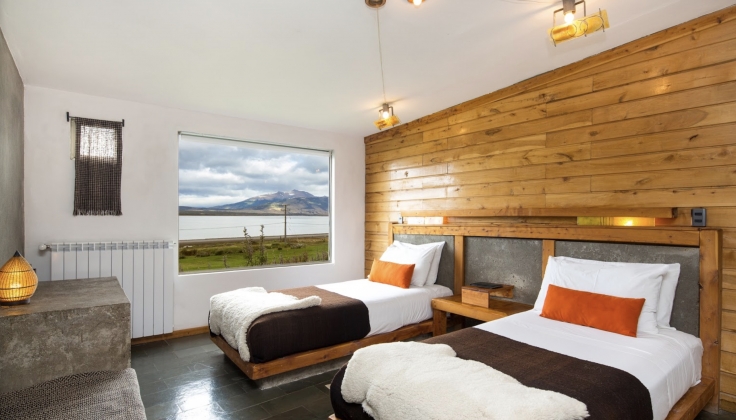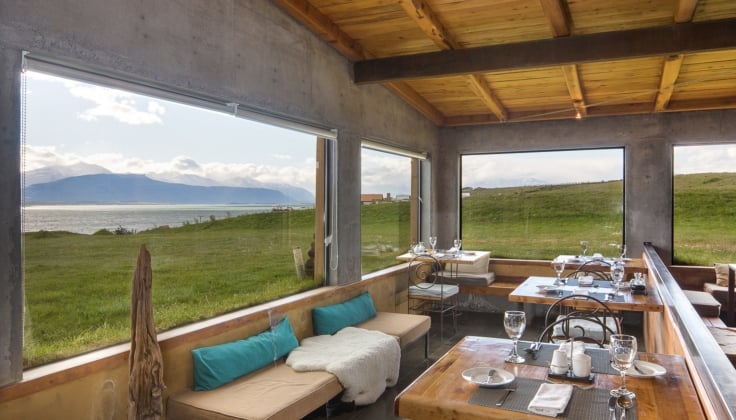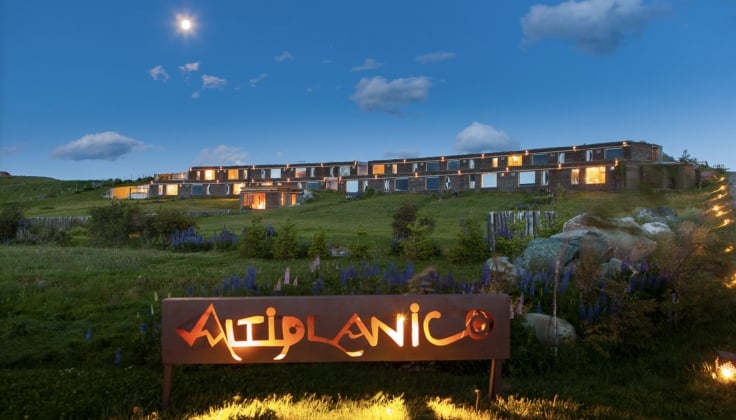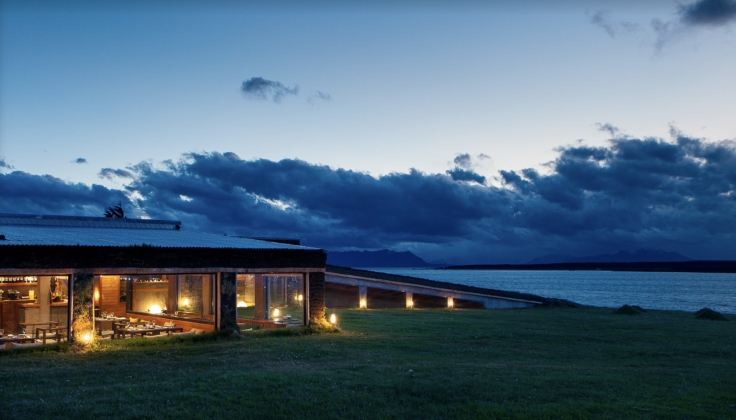 Pampa Lodge
With its vast windows, wood construction and elegant simple interiors, the Pampa Lodge was designed to bring the breathtaking outdoors in. The Silva family opened their first lodge here on the banks of the River Serrano in 1970. Since then, they have created experiences that immerse guests into the rich Patagonian culture. From a privileged location within Torres del Paine National Park, you can explore the stunning landscapes of Patagonia on one of the property's 35 horses, indulge in Patagonian cuisine during a traditional barbecue or simply gaze upon the park's profound beauty. Each of the 14 air-conditioned rooms provides views of snow-capped peaks.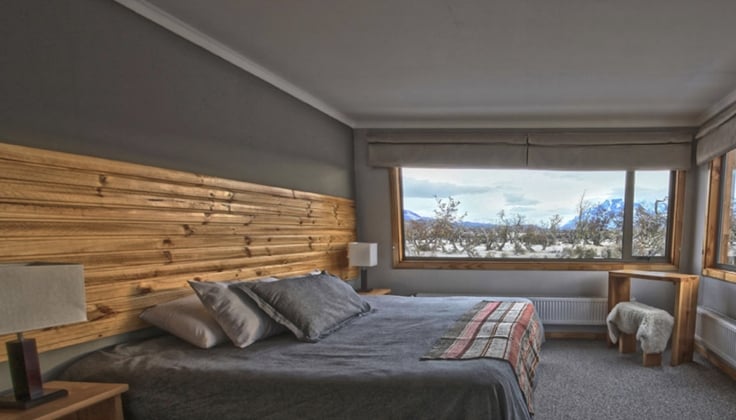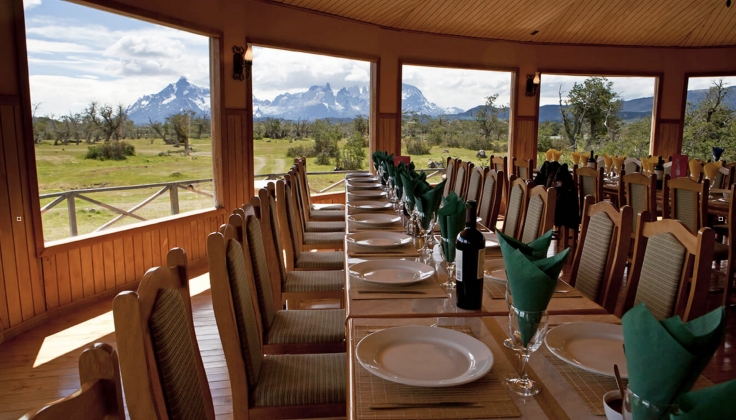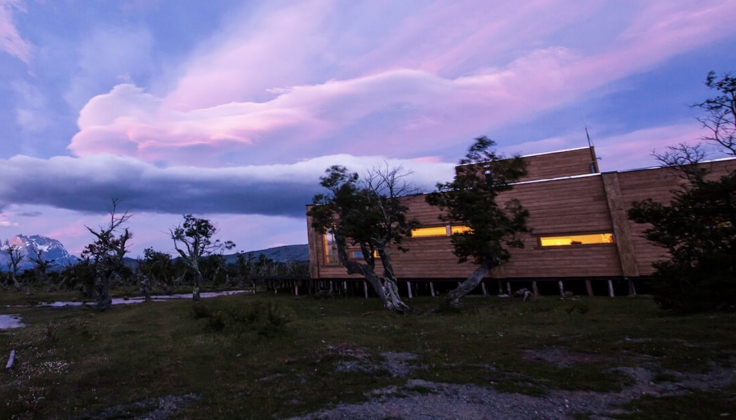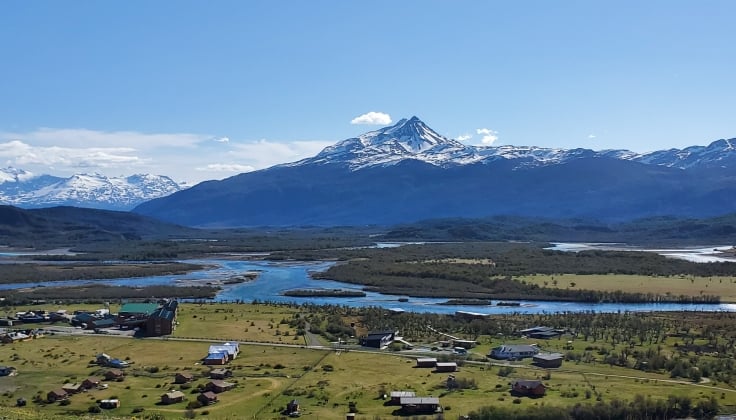 Estancia Cerro Guido
Nestled on sweeping plains among soaring peaks, the Estancia Cerro Guido is the largest estancia in the region. .Its operators are dedicated to preserving the traditions and customs of Patagonia's first settlers in a rich and authentic setting. The slopes of the imposing Cerro Guido rise up behind the property—a series of charming, restored red-roof houses built by European pioneers in the 1920s. The 12 well-appointed air-conditioned rooms exude elegance and refinement, inspired by Old England, and offer garden views. Meals are lovingly prepared with local ingredients from the vegetable garden, whether in the dining rooms or during a traditional asado barbecue.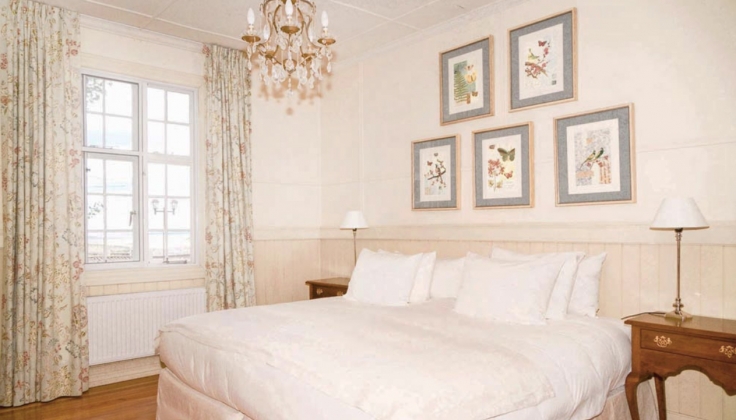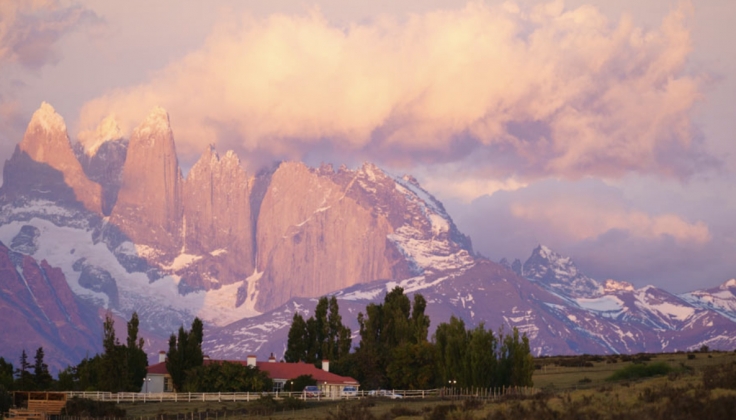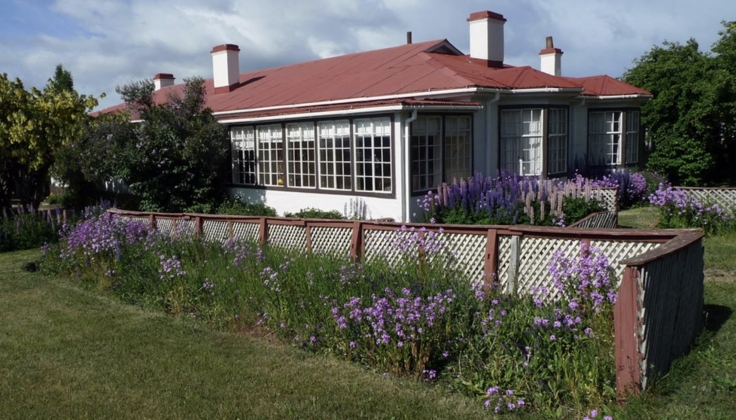 Eolo Lodge
Enjoy luxury in the pampas at the magnificent Eolo Lodge. Built in the style of an old Patagonian ranch in the vast, empty Anita Valley, the beautiful 5-star Relais & Châteaux property enjoys a stunning locale on 7,500 pristine acres bordering the starkly beautiful Frías Hill. Recently built, and designed to evoke the nostalgia of the estancias of the first settlers in the early 1900s, this elegant air-conditioned lodge is spacious and has all the comforts and conveniences you would expect, including a sauna and indoor pool. Thanks to its solitary situation in a wide-open valley, every room offers sweeping views of the pampas. Lake Argentino and Torres Del Paine are also visible across the valley.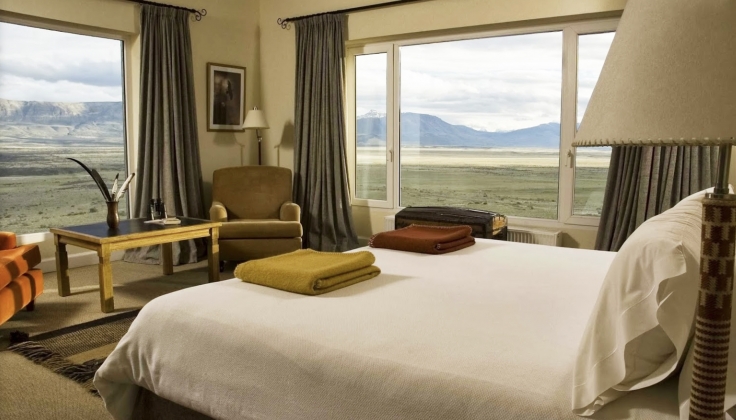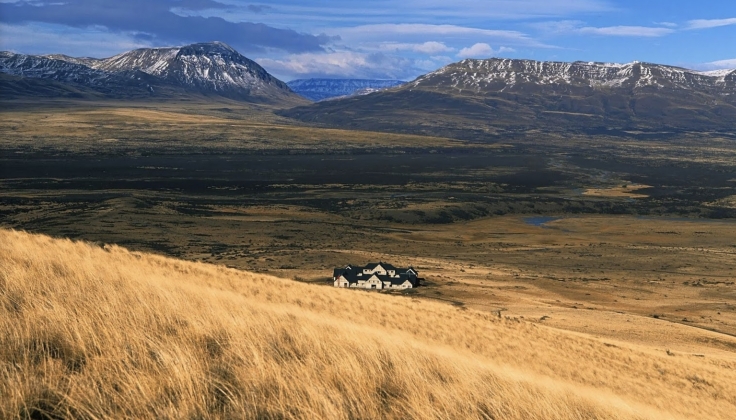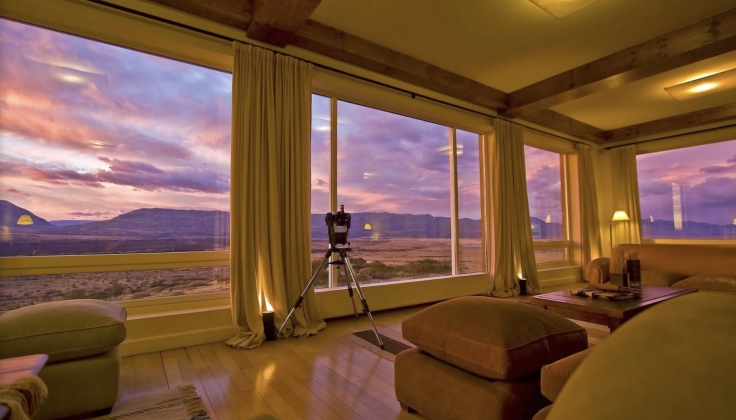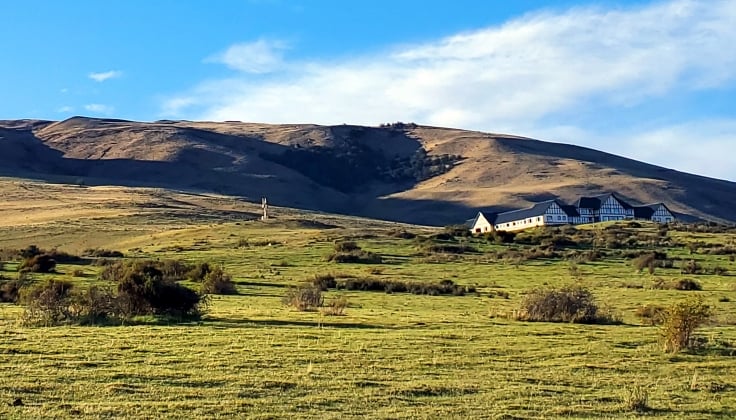 Recoleta Grand Hotel
A fine urban hotel located in one of the most prestigious neighborhoods of Buenos Aires, the Recoleta Grand Hotel provides a comfortable haven for your stay. Exploring is easy, as the Recoleta Cemetery, National Museum of Fine Arts, the famed Colón Theater the Tango Porteño dinner theater and more are all nearby. During your stay, indulge in a relaxing treatment at the hotel's Floralis Spa & Fitness and sample international cuisine at the Club 31 Bar & Restaurant. Stylish, air-conditioned rooms are functional and well-appointed, offering comfort and tranquility.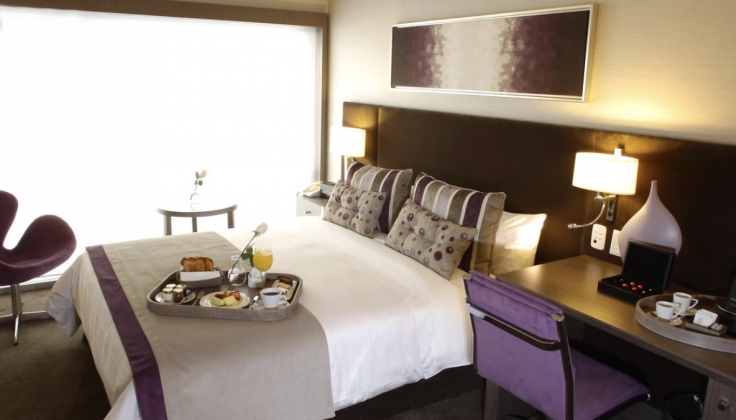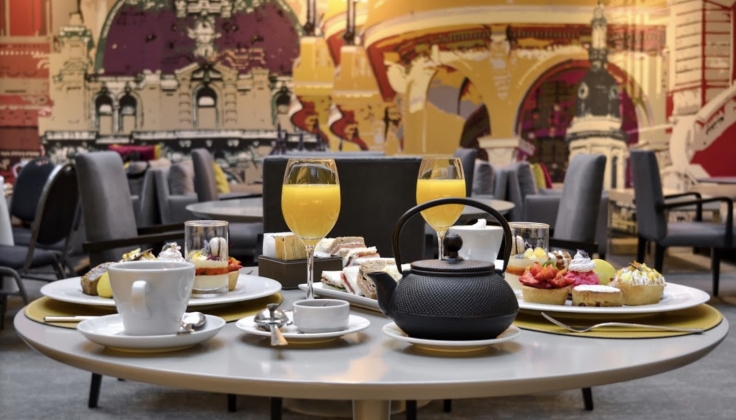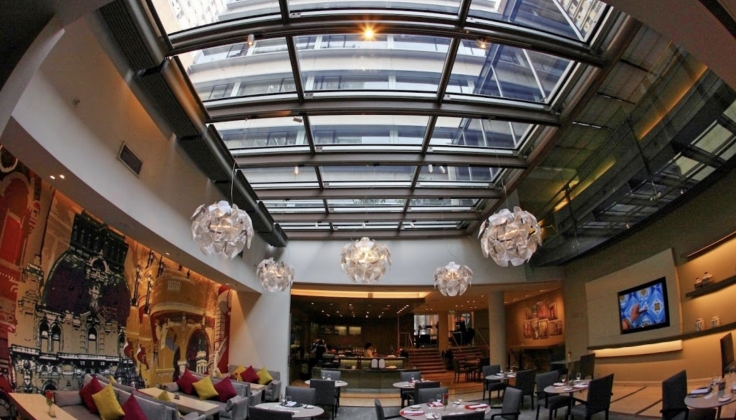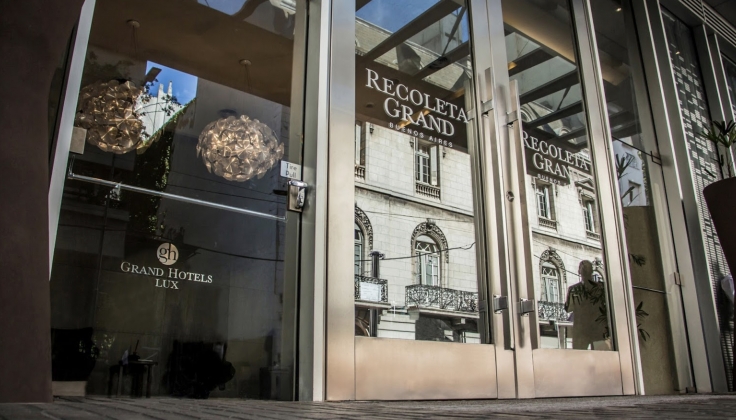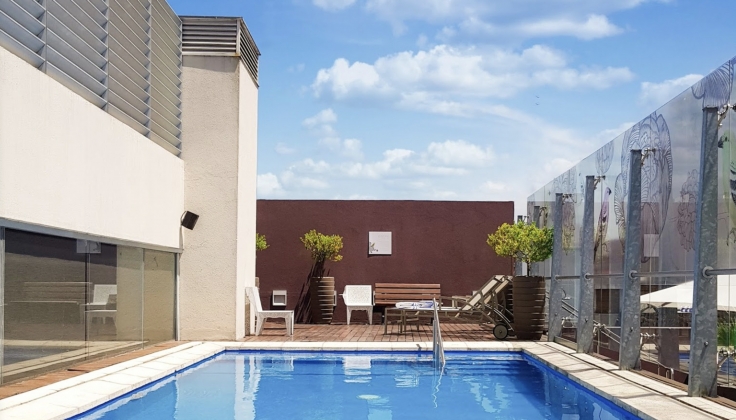 Linger Longer with a Tour Extension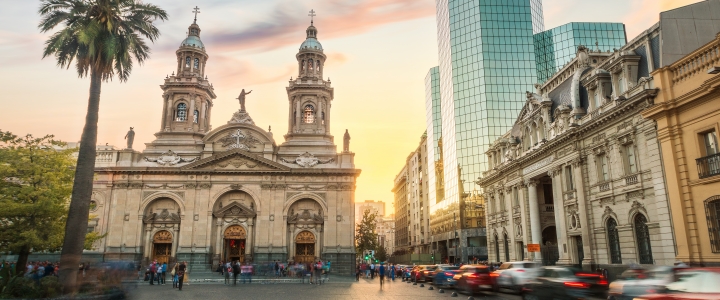 Pre-Tour
Flight + Tour Combo Only
2022 Pre-Tour Extension - Santiago
Two nights at the Singular Santiago Hotel
International flight to Santiago
Flight from Santiago to Punta Arenas
Airport car service for arrival
Daily breakfast
City information
2 Nights From $448
per person, double occupancy

Single Supplement: From $348
All you have to do is get to the airport. On our Flight + Tour Combos, we'll take care of the rest, handling all the logistics, so you can travel with peace of mind. Spend your first night aloft and arrive refreshed for an unforgettable trip.
Start off your first day in Santiago right by having a Country Walkers representative greet you at the airport. A complimentary car service will whisk you to your hotel. From here, you are perfectly positioned to explore this charming city at your leisure.
After a delicious included breakfast at your hotel, you are free to explore on your own, using our included city information packet to guide your discoveries.
Included Meals: Breakfast
Morning is the best time to explore the Mercado Central, the beating heart of traditional Santiago. The earlier you arrive, the more locals you'll see scrambling for the freshest produce, meats, and fish. It's a pleasure to simply stroll among its stalls and take in the many sensory delights. Later this morning, transportation will be provided to the airport for your flight to Punta Arenas, where your Patagonia walking adventure begins!
Included Meals: Breakfast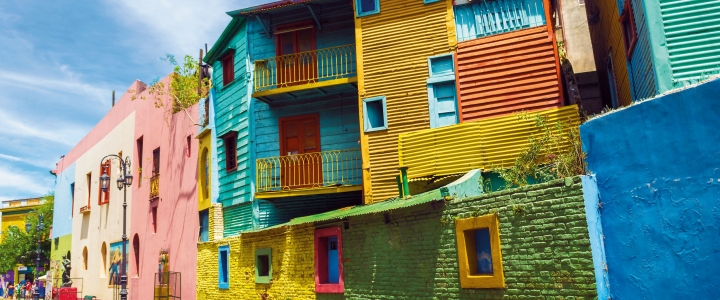 Post-Tour
Flight + Tour Combo Only
2022 Post-Tour Extension - Buenos Aires
Two nights at the Recoleta Grand Hotel
Airport car service for departure
Daily breakfast
Flight from Calafate to Buenos Aires
International flight from Buenos Aires
2 Nights From $348
per person, double occupancy

Single Supplement: From $248
Enjoy an included breakfast this morning and travel to the town of El Calafate. Enjoy free time over lunch before continuing to the airport to catch your flight to Buenos Aires.There'll be time after you settle in to take in the city's European-style sophistication and you're sure to find a spot to enjoy a fine Argentinean meal for dinner, participating wholeheartedly in the locals' love of eating.
Included Meals: Breakfast
After a delicious included breakfast at your hotel, you are free to explore Buenos Aires on your own, using our included city information packet to guide your discoveries.
Included Meals: Breakfast
After a delicious included breakfast at your hotel, you are free to explore Buenos Aires on your own, using our included city information packet to guide your discoveries.
Included Meals: Breakfast
After an included breakfast this morning, complimentary transportation is provided to the Buenos Aires airport based on your departure time.
Included Meals: Breakfast
| What's Included | Flight + Tour Combo | Tour Only |
| --- | --- | --- |
| Exceptional boutique accommodations | | |
| 21 on-tour meals: 7 breakfast, 7 lunches, 7 dinners | | |
| Local guides with you throughout tour | | |
| Local wine and/or beer with dinner | | |
| Entrance fees and special events as noted in the itinerary | | |
| Travel assistance available 24/7 provided by Allianz Global Assistance | | |
| Telescopic walking sticks provided on tour | | |
| Roundtrip airfare | | |
| Buenos Aires | | |
| Airport car service for arrival & departure | | |
| Pre- and post-tour breakfasts | | |
| Business-class upgrades available | | |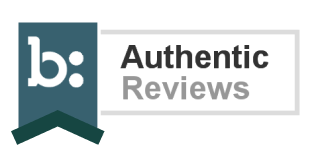 Guest Reviews This tour doesn't have any reviews because it is a new tour. Be the first to review it!
Expert Local Guides
Experience your destination like an insider with people who call it home.
Jaka Bizjak
Jaka Bizjak, discovered his passion for outdoor sports at a very young age. He is an avid mountain biker and a pioneer of balance sports, such as slackline and stand up paddle-boarding. An experienced walking, biking, and sailing guide in both Slovenia and Croatia, he enjoys spending time in nature with his wife and is an aspiring custom bike frame builder.
Barbara Kricej Bizjak
Barbara Kricej Bizjak's immense love of sports, nature, and people led her to a life working outside and her particular interest in guiding. Barbara especially enjoys informing visitors about local traditions and cuisine. She is also a horseback riding instructor, ballroom dance teacher, a licensed mountain bike guide, and speaks three languages! Her hobbies include a wide range of outdoor sports, which she usually enjoys with her husband.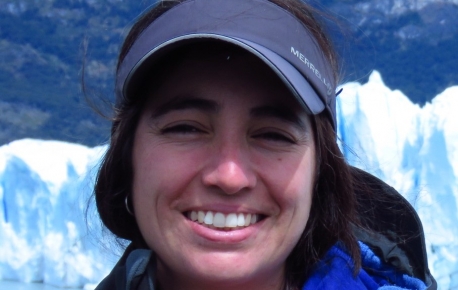 Rosario Wevar Munoz
Born and raised in the Chilean capital of Santiago, a younger Rosario traveled the entire length of her home country, from the northern tip to the southern reaches. It was Patagonia that called to her most profoundly, so she made this magnificent region her home. She has been guiding travelers through her adopted lands for almost ten years, delighting in the privilege of a career that allows her to spend her days outdoors in Patagonia's splendid natural world, witnessing its seasonal cycles and endless resilience. There are few things Rosario enjoys more than sharing everything she has learned about Southern Chile's astonishing landscapes and rich culture.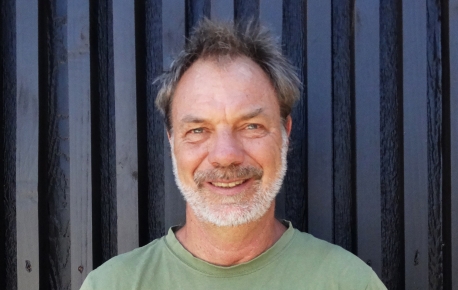 Camilo Silva
Camilo has been sharing his love of Chile's natural and cultural wonders for more than 20 years. Born in the Chilean capital of Santiago, he has lived in various places throughout his home country, so his expertise and knowledge stretch far and wide. He has shown travelers the remote splendors of Northern Chile, the forests, fjords, and glaciers of Southern Chile, the spectacular peaks of Patagonia, and even parts of Bolivia. He cannot get enough of his country's natural beauty, even spending his free time trekking and birdwatching. He has advanced his guiding skills with courses in mountaineering, local flora and fauna, ancient villages and cultures, and geology.
Be the First to Get News & Special Offers
Click and hold to Zoom