Why Take a Self-Guided Walking Tour?
Do you daydream about traveling the world, exploring fantastic destinations on your own terms and at your own pace? Then consider joining Country Walkers' Self-Guided Adventures. They're exhilaratingly freeing ways to discover the world without having to coordinate with a group.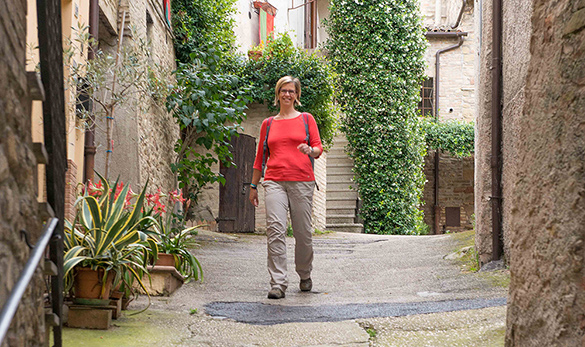 Here's why you should take a self-guided walking tour:
Having Adventures on Your Terms 
Self-guided tours give you that tantalizing freedom that comes with travel. You can enjoy your vacation on your terms and in your unique way. Forget being tied to any rigid itinerary; you answer to you and you alone! If you want to spend the evening wandering around a medieval village, go for it. If an afternoon on the beach is calling your name, set up camp without an ounce of guilt. You can enjoy your vacation at your own pace and explore wherever your curiosity takes you.
You Do the Traveling, We Do the Planning 
Another benefit of Self-Guided walking tours is that we take care of the planning so you can focus on enjoying your trip. No poring over maps or piecing together itineraries. We use our insider knowledge to plan your trip and make it as convenient and easy for you as possible. We provide most meals, detailed maps of your walking routes, no-stress luggage transfers, and itineraries that don't require knowing the local language. You'll attend an orientation to get you ready to go before you depart, and while you're on your trip, you can call your local representative for support and safety assistance 24/7.
Experiencing Local Immersion 
What makes vacations truly memorable—instead of forgettable, cookie-cutter trips—is cultural immersion. The freeing nature of Self-Guided Walking tours means you can get up close and personal with a place, savor every aspect of your destination, and discover local wonders not in the guidebook. Country Walkers has an extensive network of local connections that we'll put you in touch with to enhance your trip. Perhaps you'll stay at a family-run inn, learn how to make wine on a historic estate, take a cooking class from a local culinary legend, or enjoy a picnic of artisan foods by the seaside; Country Walkers Self-Guided tours are sensory experiences you'll never forget and that get you in touch with the heart and soul of a place.
There's a lot of world out there to see, and you can't wait until everyone else is ready to explore it! Join Country Walkers' Self-Guided Adventures to experience the blissful freedom and joy that comes from traveling on your terms, your way.
To request a free Country Walkers catalog and learn more about exciting destinations throughout the world, click here. If you would like to speak with one of our Travel Experts, please call 800-234-6900. They are available Monday through Friday from 8:30 a.m. to 6:30 p.m. EST.