Cranberries Return to Maine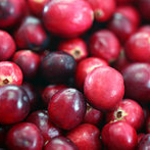 Maine is known for lobster and potatoes, but did you know cranberries (Vaccinium macrocarpon) are an important part of Maine's agricultural identity?
On our Maine: Acadia National Park tour, you spend a day walking on Little Cranberry Island, one of the five Cranberry Isles—Great Cranberry, Little Cranberry or Isleford, Bear, Baker, and Sutton. The islands are from one to five miles offshore and named after the low-bush wild cranberries that grow profusely throughout their terrain.
Cranberries were cultivated in Maine through the 19th century, but the industry died out during the 20th century, due to, among other things, the populous' penchant for that canned jelly stuff. Other factors include a lack of technology for frost protection, the spread of disease and pests, depressed demand during World War I, and the increasing trend toward specialized farming, according to Cranberry Agriculture In Maine: Grower's Guide, 1996 version. In 1988, there were no commercial cranberry growers in Maine.
In 1991, a Maine farm began cultivating cranberries to sell, and the industry has seen a rebirth. With new technologies and an increased interest in locally produced foods, the cranberry industry is again successful. In 2010, according to the University of Maine, there were 30 commercial cranberry producers.
There's great reason to celebrate the tart little berry—after all, it is one of just three fruits that are native to North America! (The others are Concord grapes and blueberries.) Cranberries kept scurvy at bay by providing vitamin C to Native Americans and the Pilgrims, as well as by keeping them healthy with dietary fiber and the essential mineral, manganese.
Next time you enjoy cranberry sauce on Thanksgiving, you can appreciate the important role this tiny fruit played in American history.
Check out this time line, from the University of Maine, to learn some cranberry history.
1550: Native Americans use cranberries for food, dyes and medicine.
1620: Pilgrims learn to use cranberries from the Native Americans.
1683: Cranberry juice made by settlers.
1816: Captain Henry Hall first cultivated cranberries in Dennis, MA.
1820s: Cranberries shipped to Europe for sale.
1838: First record of ice sanding on bogs. Flooding first used to control insects and prevent frost damage.
1843: Eli Howes cultivated Howes variety of cranberries in East Dennis, MA.
1845: "An Act for the Protection of Cranberries on Gay Head" put forth by Gay Head Indians on Martha's Vineyard.
1847: Cyprus Cahoon cultivated Early Black variety cranberries in Harwich, MA.
1850s: First cranberry scoops used for harvest. Water-harvesting tried, but abandoned. Seamen used cranberries to prevent scurvy at sea.
1854: First census on cranberry acreage – 197 acres in Barnstable County, MA.
1856: The Cranberry and its Culture published by Benjamin Eastwood.
1860s: Maine has over 600 acres of producing cranberry bogs.
1863: US Department of Agriculture created Massachusetts Agricultural College (University of Massachusetts) founded. Abraham Lincoln proclaims first national Thanksgiving.
1868: Standard 100 lb. barrel of cranberries sold for $0.58 in Philadelphia, PA.
1871: American Cranberry Growers'  Ass'n formed in Massachusetts.
1870s: Six quart pail used as standard picking measure.
1887: Snap scoop invented for younger vines by Daniel Lumbert.
1888: Cape Cod Cranberry Growers' Ass'n formed in Massachusetts.
1906: Henry J. Franklin – Began formal agricultural research on cranberries.
1907: First market co-operative – New England Cranberry Sales Company founded.
1910: Cranberry Experiment Station research facility established - Wareham, MA. Dr. Henry J. Franklin named first director of Cranberry Experiment Station. More efficient rocker scoop used.
1912: Hayden cranberry separator patented. First cranberry sauce marketed, Hanson, MA.
1920: Oscar Terbo invented first mechanical ride-on dry-harvester known as Matthewson. Telephone frost warning system started.
1923: Bailey Separator patented to grade and separate cranberries by bouncing the berries.
1930: Ocean Spray formed as a grower-owned marketing cooperative – one of the three founding members was Marcus Urann, native of Sullivan, ME.
1930s: Women allowed to use scoops.
1947: Walk-behind mechanical dry harvesters replaced hand scooping.
1953: First million-barrel national crop.
1960s: First successful water harvesting  Sprinkler systems installed on most bogs. Cranberry products diversify and market expands
1970s: Integrated Pest Management program used.
1983: Formal IPM programs developed.
1980s: International market developed for cranberries and cranberry products become ingredients in other products.
1989: Maine Cranberry Growers Ass'n formed.
1995: Crop of 4,200 barrels harvested in Maine.
1996: Dr. Irving Demoranville retires from Cranberry Experiment Station in Massachusetts;  Per barrel return as much as $90.
1998: UMaine Cooperative Extension adds a cranberry position to run an IPM program for Maine's cranberry industry
2002: Two independent studies find that antioxidants—which cranberries are high in—appear to provide some significant protection against Alzheimer's disease
2009: Crop of 26,000 barrels harvested in Maine (highest so far in the state's modern history) (1 barrel = 100 lbs).
What's your favorite way to enjoy cranberries? On cereal? In muffins? Jam? Let us know!