Adventures on the Water in Zambia and Botswana
While they may be landlocked, Zambia and Botswana are still home to stunning water formations, most notably Victoria Falls and the Okavango Delta. Let's take a look at what both have to offer travelers who seek adventure and natural wonders.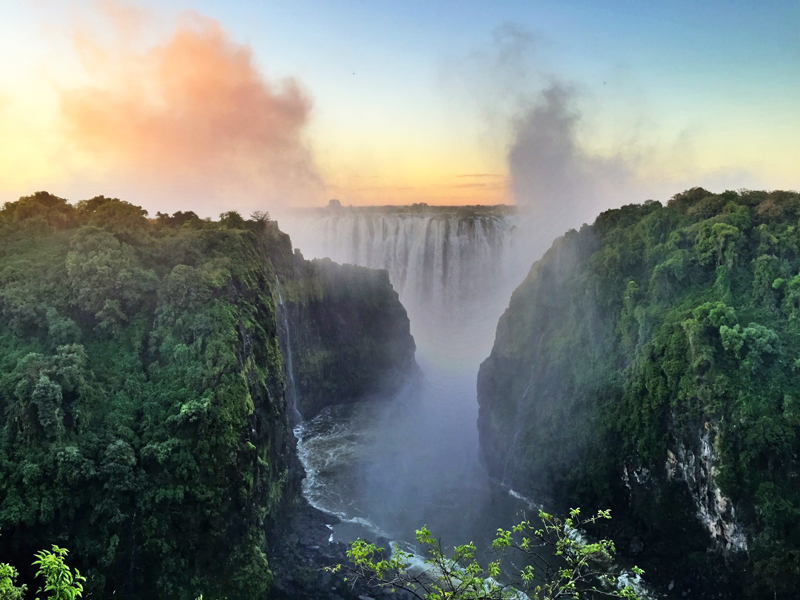 The Grand Beauty of Victoria Falls
In Lozi, a language used throughout Zambia and in various areas of neighboring nations, Victoria Falls is called Mosi-oa-Tunya, which means "the smoke that thunders." Although it's thousands upon thousands of gallons of water, rather than smoke, that crash down from a cliff more than 300 feet high, the name is quite apt nonetheless. It is a truly awesome sight to behold and an essential part of the Country Walkers walking tour Botswana & Zambia Safari: Victoria Falls to the Okavango Delta.
Victoria Falls is located right on the border separating Zambia and Zimbabwe, an approximate halfway point of the Zambezi River. Thirty-three thousand cubic feet of water plunge from its wide basalt precipice every second. According to Encyclopaedia Britannica, the peak represents the river's widest point at 5,500 feet wide. From there, water drops 355 feet to the remainder of the river where it resumes its journey down the Zambezi River and into the Indian Ocean.
The sheer beauty of the falls is reason enough to visit, but you'll also see a colorful variety of flora and fauna. Mosi-oa-Tunya National Park, in nearby Livingstone, is well known for the rare white rhinoceros population. Because the white rhino is an endangered species, however, visitors interested in viewing them will have to book a specific tour, monitored vigilantly by rangers who protect these animals from poachers 24/7. Park visitors will also see antelope, zebras, buffalo, giraffes, elephants, and more.
Okavango: A Delta Unlike Any Other
The Okavango Delta of northwestern Botswana, a UNESCO World Heritage Site, does something that very few deltas worldwide do - or, rather, it doesn't do something most all other deltas do. As an endorheic delta, the Okavango doesn't drain into a nearby sea. Instead, the delta ends at the Kalahari Basin, where its waters sustain a thriving ecosystem amid the Kalahari Desert.
When the Okavango River floods during dry seasons, it feeds its water to the leafy canopies of nearby acadias, the dense and flourishing euphorbia shrubs and the miles upon miles of salt grass. Because of their fibrous structure, the swollen trunks of the baobab trees are perfectly equipped to soak up as much water as they possibly can. The delta also provides a nourishing respite for thirsty lions, cheetahs, African wild dogs, zebras, buffaloes, red lechwes, black and white rhinos and African elephants.
To learn more about our walking tours in Zambia and other areas of Africa, click here. To request a free Country Walkers catalog and learn more about other exciting destinations throughout the world, click here. If you would like to speak with one of our Travel Experts, please call 800.234.6900. They are available Monday-Friday from 8:30 a.m. to 6:30 p.m. EST.