Four Fun Ways to Make the Gift of Travel Even More Special
Picking the perfect gift can be stressful, but we want to make things simple for you. We're delighted to create a Gift Certificate for any amount, to any destination—you can even leave it open-ended and let the recipient decide. (If they need help choosing, we'll assist with that too!) Whatever you decide, we'll send your gift with a collection of our catalogs, so they can get excited for the journey to come.
And, while we're at it, let's get extra creative. We love coming up with memorable ways to present unforgettable gifts. Here are four ingenious tricks for transforming our most popular trips into gift-giving experiences your loved ones will treasure forever.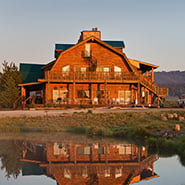 Why It's a Great Gift: Any traveler with a bit of the pioneer spirit simply has to experience Glacier National Park. As one of America's least-visited national parks, its haunting seclusion and ancient forests harken back to a time when the West was truly wild. Endowed with some of North America's most glorious alpine scenery, this park is a national treasure—a world of ice and lakes, massive summits, and waterfalls surging from high cliffs.
Make It Extra Special: No one captured the serene beauty of Glacier quite as well as acclaimed photographer Ansel Adams. Present your loved one with a framed print of his large-format photo "Going-to-the-Sun Mountain" and tuck the Gift Certificate in the corner. Watch them do a double take when they notice it.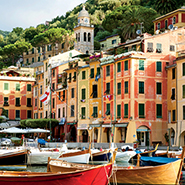 Why It's a Great Gift: On the Italian Riviera, Cinque Terre possesses perhaps the most beautiful ports on the Mediterranean. With its mild climate, scenic fishing boats, and pastel houses stacked like wrapped gifts around sapphire coves, it's no wonder that the region inspired the likes of Dante Alighieri and Lord Byron. Fans of Italy will melt for its clifftop walks, waterfront seafood feasts, and sleepy, seaside culture.
Make It Extra Special: For a trip this operatic, you need, well, opera. Cue up the aria "Libiamo ne' lieti calici" from Verdi's La Traviata to start playing on your stereo just as the gift is opened. The libretto says it all: "Let's drink from the joyous cup that beauty so truly enhances." Libiamo!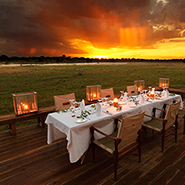 Why It's a Great Gift: If a loved one dreams of Africa, there's no destination more immersive, unforgettable, and verdant than Zambia. And no better group to take you than CW Safaris, our boutique outfitter. Here, where the walking safari was pioneered, you can savor dinner under the stars as elephants walk by, sip champagne by bathing hippos, listen to the music of a thousand birds waking up the day, or stroll through the bush with expert local guides, catching giraffes in their natural habitat.
Make It Extra Special: One of the great Safari traditions is that of sundowners—the practice of enjoying a special cocktail as the setting sun paints the savanna orange. Set your loved one up with a sundowner of their own: have them settle into a canvas director's chair in front of a roaring fire, then bring them a tray with a gin and tonic and the gift certificate.

Why It's a Great Gift: The Camino de Santiago is one of the most renowned pilgrimage routes in the world. If someone close to you has dreamed of walking the entire path but doesn't have time to take off the two months they'd need to do so, they'll love our unique Self-Guided Walking itinerary. We've handpicked the very best walks from throughout the entire route and woven them together to create one unforgettable 9-day, 8-night experience.
Make It Extra Special: The Camino is marked by a series of iconic scallop shell markers. Create your own mini-"pilgrimage" through the house with a series of clues on scallop shells— each leading to the next. At the end, you'll be waiting with an opened bottle of Rioja wine, two glasses, and a copy of the itinerary.