Spain: San Sebastian, Bilbao & Basque Country
Tour Only
Flight + Tour Combo
7 Days
Starting From
$2,848
10 Days
Starting From
$3,848
Favorite
See What's Included
Maps claim otherwise, but Basque Country, with its unique cross-border culture, is a nation unto itself.
Free-roaming horses wander the green pastures atop Mount Jaizkibel, where your walk brings panoramic views extending clear across Spain into southern France—from the Bay of Biscay to the Pyrenees. You're on a walking tour in the Basque Country, a unique corner of Europe with its own ancient language and culture. You've just begun exploring this fascinating region—from Bilbao's cutting-edge architecture to Hendaye's beaches to the mountainous interior. Your week ahead also promises tasty glimpses of local culinary culture: a Basque cooking class, a festive dinner at a traditional gastronomic club, a homemade feast in a hillside farmhouse…. Speaking of food, isn't it about time to begin your scenic seaward descent through the vineyards for lunch and wine tasting? On egin! (Bon appetit!)
Highlights
Join a private gastronomic club, or txoko, for an exclusive dinner as the members share their love of Basque cuisine.
Live like royalty in a setting so beautiful it earned the honor of hosting Louis XIV and Maria Theresa's wedding in St. Jean de Luz.
Experience the vibrant nightlife in a Basque wine bar.
Stroll the seaside paths that Spanish aristocracy once wandered in San Sebastián.
Tour the world-famous Guggenheim Museum – one of the largest museums on Earth and an architectural phenomenon.
Satisfy your cravings in a region with more Michelin-star rated restaurants than Paris.
Rest your mind and body in a restored 17th-century palace, or jauregia.
Participate in a cooking demonstration of traditional Basque cuisine.
Follow in the footsteps of pilgrims as you walk the "Way of St. James," a historic coastal path and part of the Camino de Santiago.
On all Guided-Flex Adventures you can count on...
Expert local guides to introduce you to the best of your destination.
Opportunities to break away from the group and explore on your own.
Delicious multi-course meals—a majority are included.
A maximum of 20 fun-loving fellow travelers to share the journey.
Gracious accommodations that are a clean, comfortable home away from home.
Experts to handle all the details.
Flight + Tour Combos include plane tickets, airport car service, and pre- and post-tour accommodations.
Hotel Rio Bidasoa
This small boutique hotel's central location makes it a great spot for exploring the Basque fishing town of Hondarribia. The hotel features a garden, which is the favorite spot for many guests, with beautiful species of plants and majestic trees that preside over it—some of them are over 100 years old! The garden's swimming pool is perfect for a moment of relaxation when you fancy a swim or soaking up a few rays of sunshine in the hammocks or one of the comfortable Balinese beds in the pool area. The air conditioned guest rooms, created with a marked minimalist style, have been designed with the sole purpose of making your stay one of exceptional comfort and tranquility.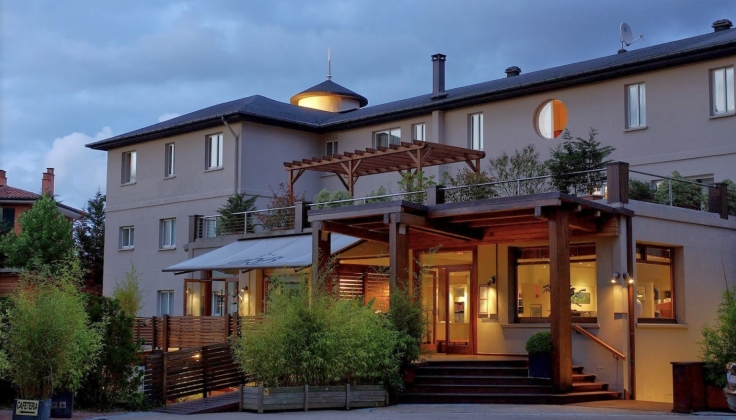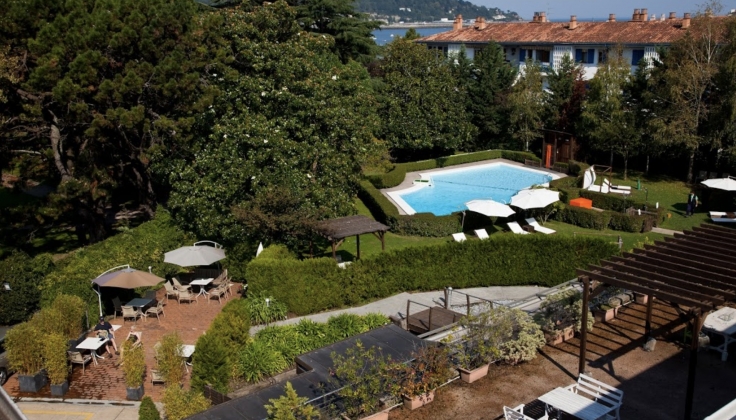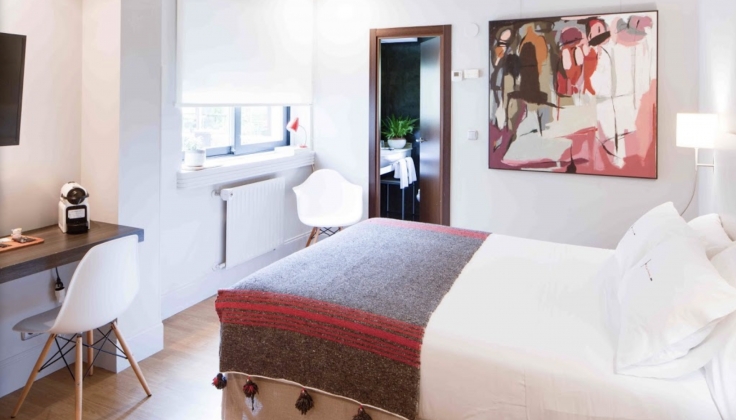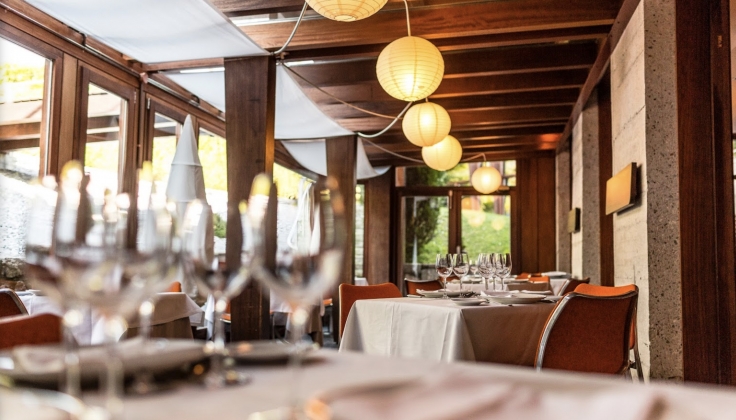 Iriarte Jauregia Hotel
This 17th-century palace was built in 1650 and completely restored into a luxury hotel in 2009. The owners live on-site. With only 19 rooms, you'll feel as if you are in a comfortable home rather than a hotel. The décor features a mixture of antique furniture and modern amenities. A private art collection adorns the walls throughout the manor. Well-appointed rooms include in-room WiFi and air conditioning. The hotel's small, cozy bar is perfect for meeting fellow guests and the elegantly designed library for more quiet get-togethers. On warmer days, you may enjoy breakfast and other meals on the terrace overlooking the hotel's garden and the scenic valleys and hills surrounding the estate. The on-site restaurant, Bailara, serves gourmet Basque and international cuisine.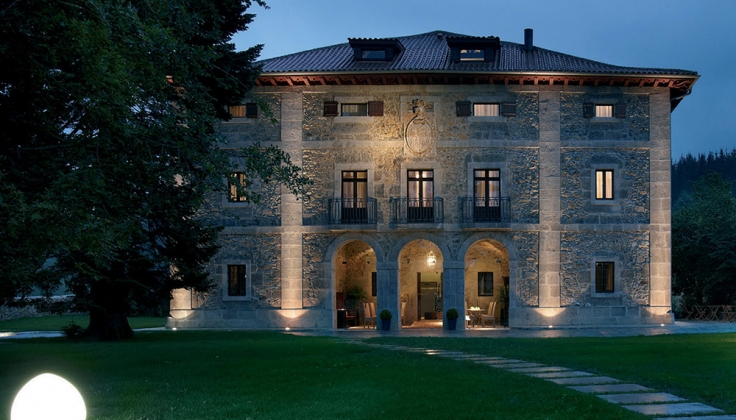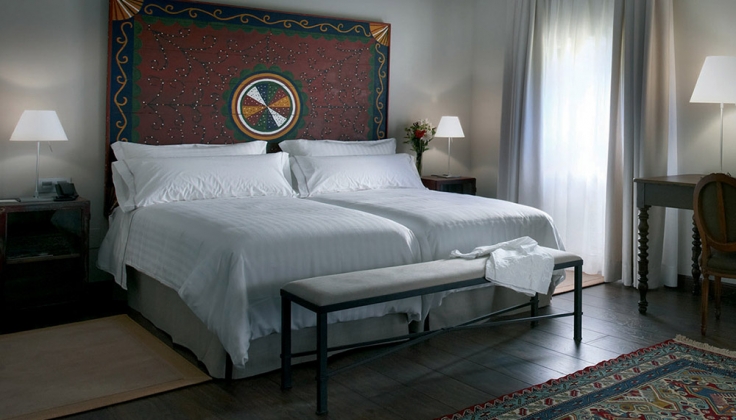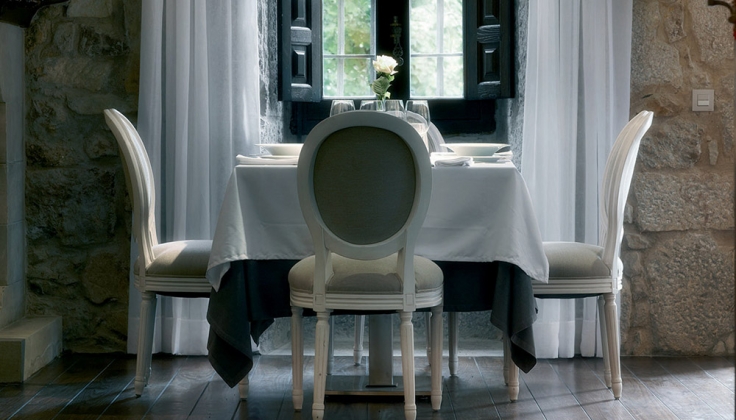 Hotel de Londres y de Inglaterra
This 4-star, luxury, 19th-century hotel—completely renovated in 2013—is located directly on the seaside promenade of San Sebastián, putting the beach and scenic La Concha Bay right outside your door. The historic district lies within easy walking distance. The hotel's grand Belle Époque style transports you to an age when San Sebastián was one of Europe's most glamorous retreats, luring the likes of Mata Hari to its doors; a special suite here is named for the notorious spy. Savor Basque cuisine at the Mari Galant Brasserie and relax with a cocktail with beach views at the elegant Swing Bar. Guest rooms were designed with inspiration from the classical style and offer modern amenities such as flat-screen TVs, free WiFi, and minibars. We have secured ocean-view rooms for our guests.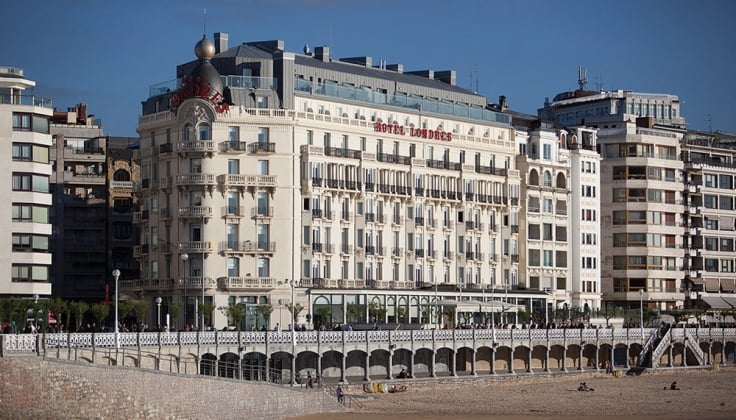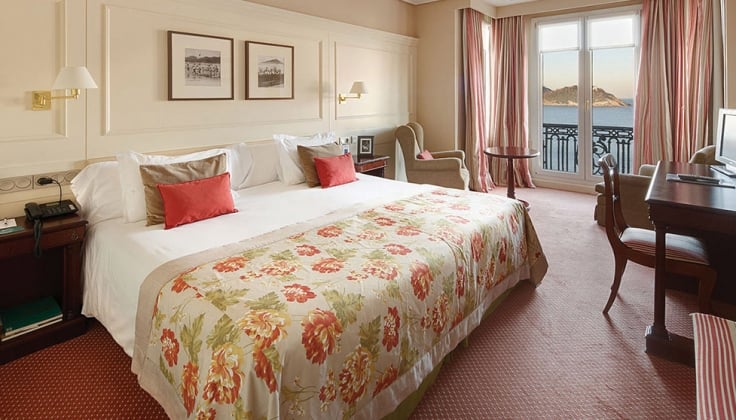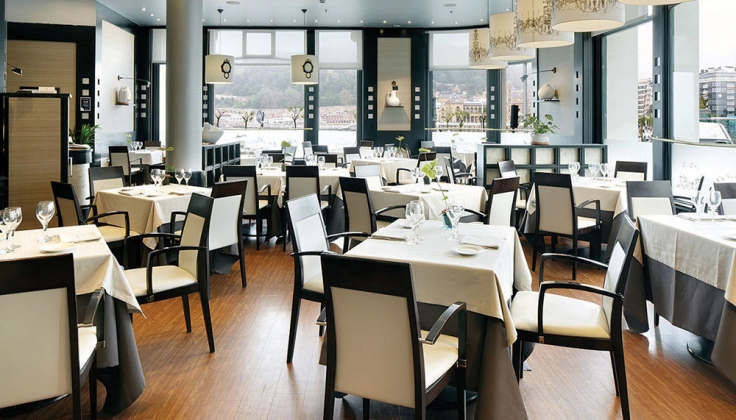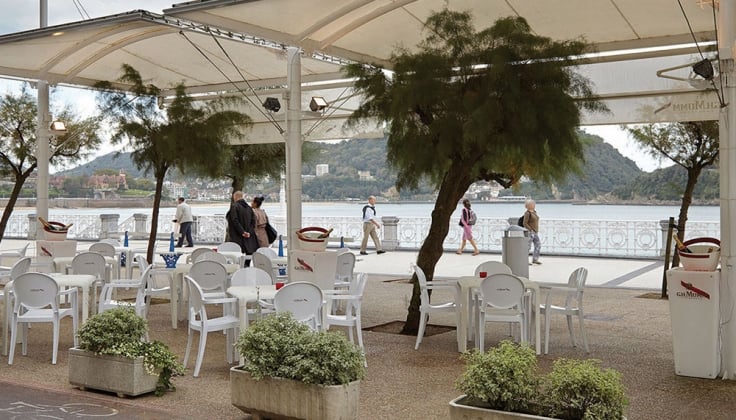 NH Collection Villa Bilbao
The stylish, contemporary NH Collection Villa de Bilbao has a reputation for being one of the best hotels in the city. Not only is it right in the heart of Bilbao's commercial district, but the Guggenheim, the Bilbao Fine Arts Museum, and the Congress Palace are all within easy walking distance. The San Mamés football stadium, famed for its unique design, is just 100 meters away. The hotel is near the metro stations and you may experience the nearby Michelin-starred restaurants and authentic pintxos-tapas bars. Guest rooms with WiFi and air conditioning provide a quiet haven from the bustle of the city.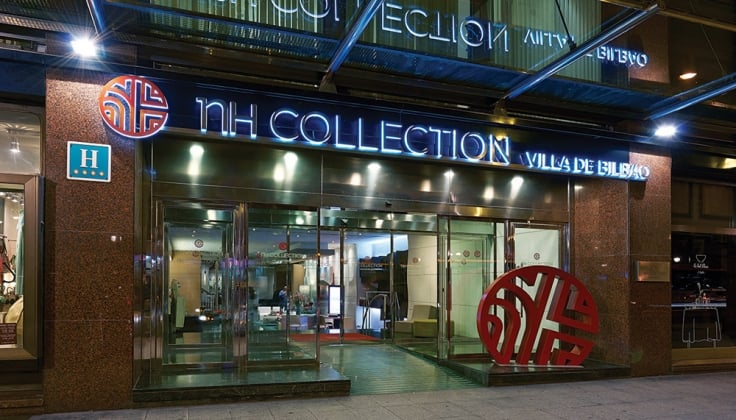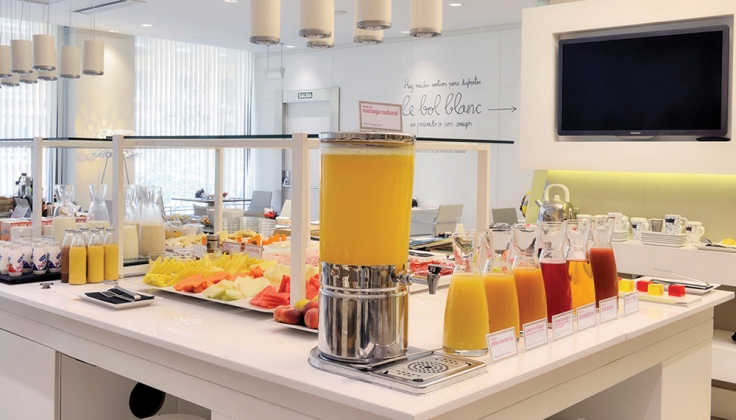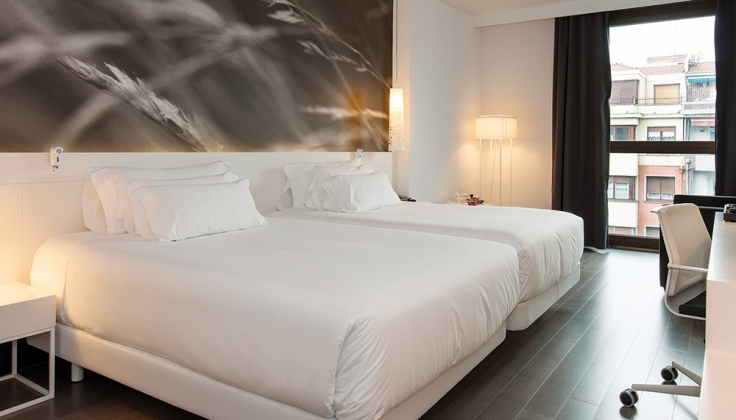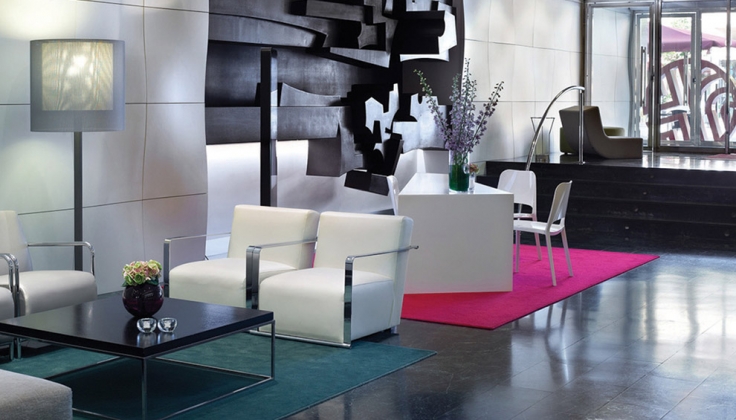 Linger Longer with a Tour Extension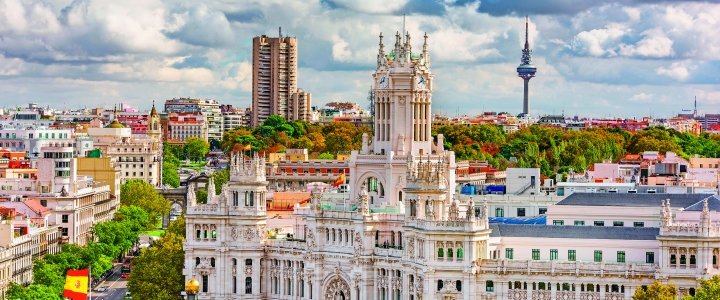 Pre-Tour
Flight + Tour Combo Only
2021 Pre-Tour Extension - Madrid
Two nights at the NH Paseo del Prado Hotel
Daily buffet breakfast
City Information
Airport transfers
2 Nights From $498
per person, double occupancy

Single Supplement: From $198
Begin your adventure by departing from a convenient gateway city in the United States or Canada. Spend your first night aloft.
Upon arrival at Madrid's airport, a representative holding a Country Walkers sign meets you as you exit the baggage claim area. A complimentary small-group transfer will be provided to your Madrid hotel, approximately 30 minutes away. The remainder of the day is at your leisure (no meals included).
If you are going to be delayed meeting our transfer representative for more than 15 minutes due to delayed or lost luggage, please let our Airport staff or representative know by calling or sending a text message to +39 334 221 88 93. Our drivers are generally able to wait for up to 45 minutes from the time your flight lands, after which you would be responsible for your own transfer. You may also contact Allianz Global Assistance to advise of your delay and they will contact our transfer service.
Please note: If you arrive early, your hotel room may not be available until 2:00 p.m., in which case you may store your luggage with the reception desk.
Country Walkers provides you with City Information including recommendations on what to see and do in Madrid during your stay.
Accommodation: NH Paseo del Prado Hotel, Madrid
Enjoy your first full day of independent exploration in Spain's capital. Your hotel is conveniently located on the Paseo del Prado, within the "Golden Triangle of Art" comprising three art museums: the Prado Museum, the Museo Nacional Centro de Arte Reina Sofía (a modern art museum) and the Thyssen-Bornemisza Museum, which is housed in the renovated Villahermosa Palace.
After visiting the museums in your neighborhood, you may wish to continue walking to the Royal Palace (Palacio Real), the official residence of the Spanish royal family, or the nearby Teatro Real, featuring a restored Opera House. Tonight, try one of the many renowned restaurants in this gastronomic capital.
Accommodation: NH Paseo del Prado Hotel, Madrid

Included Meals: Breakfast
Transfer to Madrid's airport today for your hour-long flight to Bilbao. Upon arrival at Bilbao Airport, claim your luggage. Please make certain your Country Walkers luggage tags are affixed to your bag so your Country Walkers representative can identify you. As you enter the arrival hall, look for your Country Walkers representative holding a Country Walkers sign. Please wait here while your representative helps make arrangements for your transfer to your hotel in Bilbao (a drive of approximately 20 – 30 minutes).
Accommodation: NH Collection Villa de Bilbao, Bilbao
Included Meals: Breakfast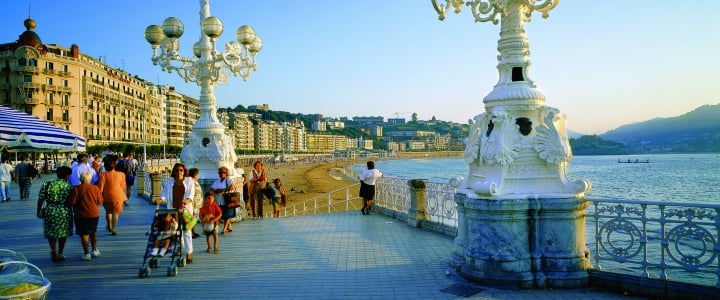 Post-Tour
Flight + Tour Combo Only
2021 Post-Tour Extension - San Sebastian
Two nights at the Hotel de Londres y de Inglaterra in seaview rooms
Daily buffet breakfast
City Information
Airport transfers
2 Nights From $548
per person, double occupancy

Single Supplement: From $498
Your hotel's location allows multiple options for exploring San Sebastián on foot. You may want to venture inland to what is considered the "romantic area" of San Sebastián. Cross the Santa Catalina Bridge, walk along the Paseo de Francia with its stately French-style mansions, and enjoy the elegant Cristina-Enea Park. You may also visit Bilbao Square, whose circular shape breaks away from the more rationalistic side streets. No matter which neighborhood you choose to wander, you will not be disappointed by San Sebastián's architecture. Lunch and dinner are on your own tonight.
Accommodation: Hotel de Londres y de Inglaterra, San Sebastián
Included Meals: Breakfast
Continue your exploration of San Sebastián with a tour of its museums. The San Telmo Museum located in the Old Town is housed in a 16th-century convent. This building has been transformed into the current Museum of Basque Society and Citizenship with a focus on the Basque culture through its archaeological, ethnographic, and artistic collections along with audiovisual features of today's top Basque creators. The Palacio del Mar, or Aquarium, is one of the most modern in Europe and may be of interest for marine enthusiasts.
This evening, enjoy your last night in the Basque Country with a celebratory dinner at one of San Sebastián's superb gastronomic restaurants.
Accommodation: Hotel de Londres y de Inglaterra, San Sebastián
Included Meals: Breakfast
A complimentary transfer (approximately 60 minutes) is provided to Bilbao Airport based upon your departure time. (Transfer time to be communicated by your guides while on tour.)
Included Meals: Breakfast