Japan: Kyoto, Nara & the Kumano Kodo
Tour Only
Flight + Tour Combo
8 Days
Starting From
$7,598
10 Days
Starting From
$8,648
Favorite
See What's Included
Traditions don't just run deep in Japan; on the Kumano Kodo pilgrimage trail, they walk.
Tradition permeates Japanese life. You'll find it in the precise choreography of a tea ceremony or the colorful, stylized theatricality of a geisha at your ryokan (traditional inn) in Kyoto. Step onto Japan's ancient Kumano Kodo pilgrimage trail and you'll sense it all around you. In centuries past, Japanese emperors walked this route from temple to temple, seeking transcendence through physical exertion. Now you'll follow in their footsteps, climbing timeworn stone staircases through forests dense with ferns and moss, watched over by jizo, Japan's guardian deity of travelers. Enlightenment still lies around every bend, as simple as sunlight filtering through massive cedars—or the hot-spring-fed onsen baths and exquisitely presented organic meals that greet you every evening of this Japan walking tour.
Highlights
Visit a Shugend¬o temple and meet with a yamabushi priest to learn how endurance, meditation, and martial arts combine in this often-misunderstood religion.
Attend dinner in Kyoto's Gion district hosted by a geisha and her apprentice, gaining an appreciation for the strict training underlying a geisha's timeless grace.
Explore Kyoto's famous Nishiki Market, a shopping street with over 100 tightly packed stalls, sampling popular and traditional Japanese street food as you go.
On all Guided Adventures you can count on...
Expert local guides to introduce you to the best of your destination
Off-the-beaten-path places you'd never find on your own
Delicious multi-course meals—a majority are included
A maximum of 18 fun-loving fellow travelers to share the journey
Gracious accommodations that are a clean, comfortable home away from home
Experts to handle all the details
Flight + Tour Combos include plane tickets, airport shuttles, and pre- and post-tour accommodations
The Celestine Kyoto Gion
Japanese tradition blends with modern style at the Celestine Kyoto Gion, where rooms with simple, nature-inspired décor are paired with modern amenities like in-room WiFi and A/C. Enjoy green tea in your room, served from an elegant tea set, or head to the hotel's exclusive guest-only lounge to relax with a drink or a snack. The on-site restaurant, Yasaka Endo, serves up savory meals made from kyo-yasai – vegetable varieties unique to Kyoto. Take a bath in your room to soak away fatigue, or visit the hotel's traditional Japanese bath house, overlooking a serene garden. This accommodation is available on limited departures.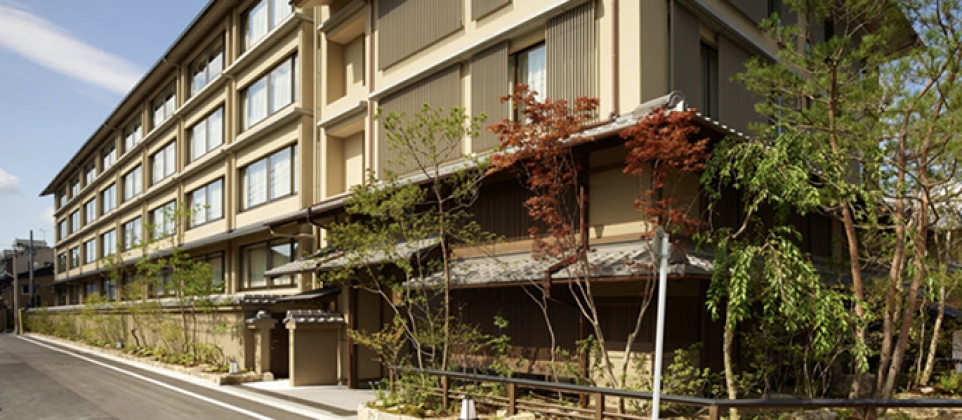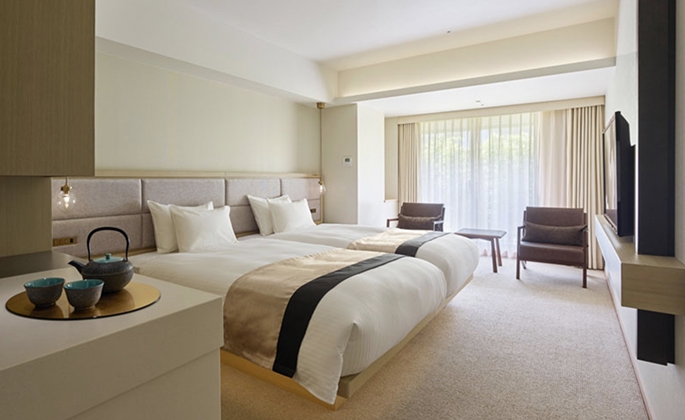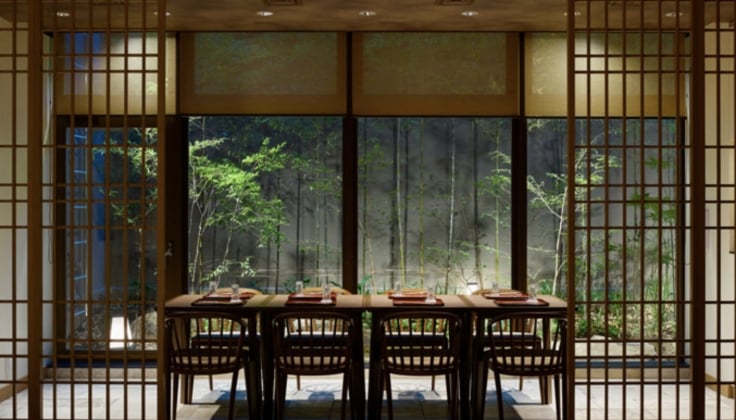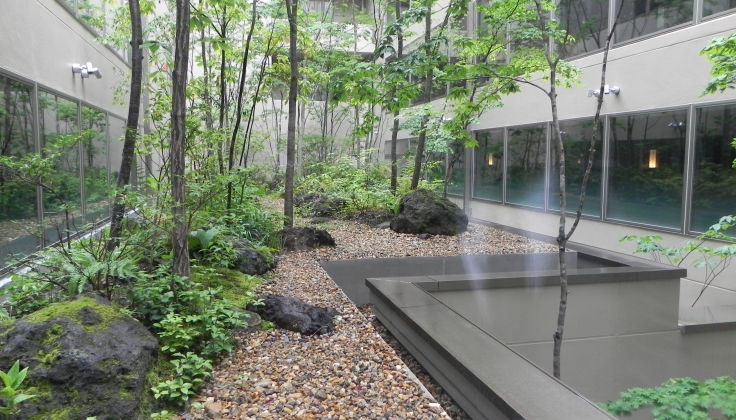 Nara Hotel
This grand historical hotel, built in 1909 during Japan's Meiji era, has retained its Old World elegance and sophistication in the original main building. A true fusion of European and Japanese décor, guest rooms combine both stylings in their design along with modern comforts like WiFi and air conditioning. Surrounded by manicured grounds and gardens contiguous with Nara's park-like setting, the hotel offers on-site dining that includes a signature French restaurant, a traditional Japanese restaurant, a lovely tea lounge, and a classic wood-paneled bar.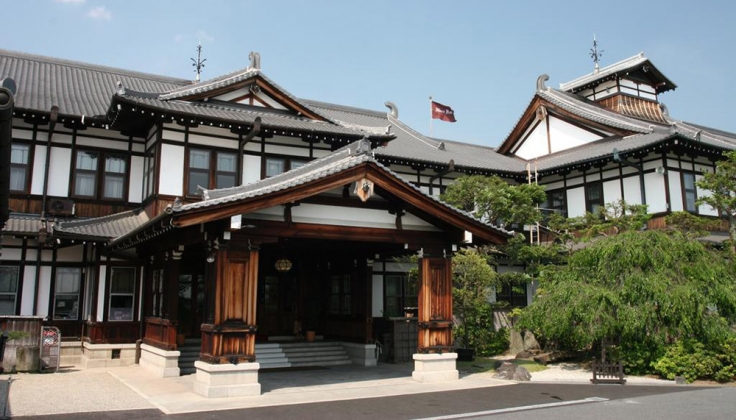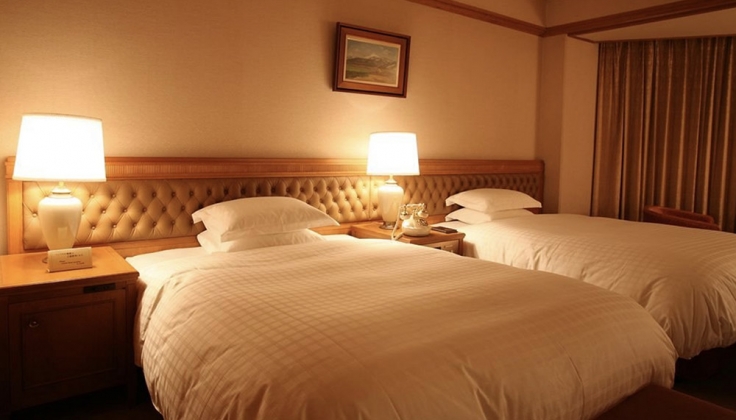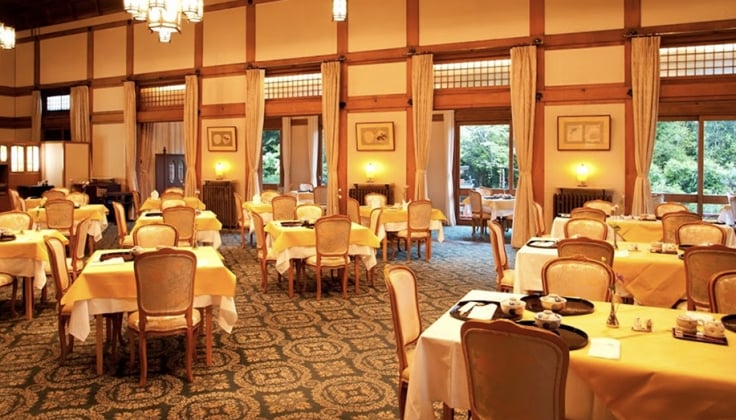 Organic Hotel Kiri-no-sato-Takahara
Overlooking the Hatenashi Mountain Range, the Organic Hotel Kiri-no-sato-Takahara is situated directly on the Kumano Kodo pilgrimage walking route at about 900 feet and thus has some of the best views in the Kumano region. Simple and comfortable guestrooms have mountain views and are either Japanese-style with tatami-mat floors, futons, and low furniture or Western-style with twin beds. Traditional meals of local organic cuisine are served with multiple courses in the dining room overlooking mountains and terraced hillsides. A traditional onsite onsen bath is fed with hot-spring water.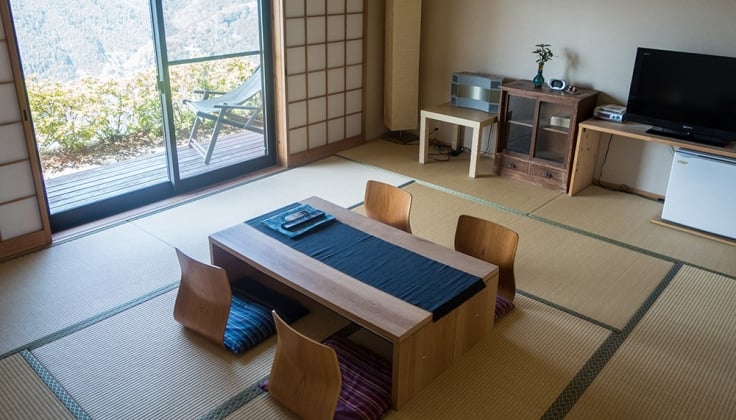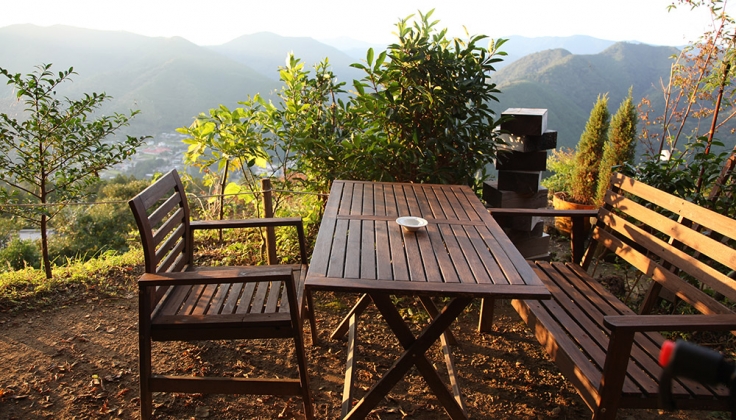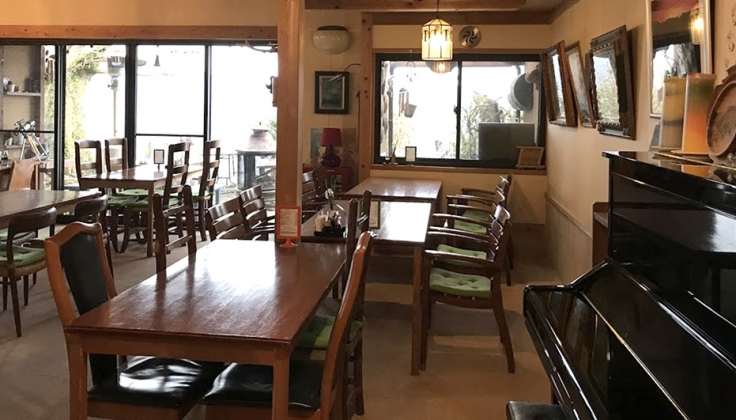 Osaka Marriott Miyako Hotel
Every room at the Osaka Marriott Miyako Hotel is spacious and elegantly designed, with modern amenities including WiFi and air conditioning, and floor-to-ceiling windows offering spectacular views of the city. Occupying the top floors of the 60-floor Abeno Harukas cultural complex, the adjacent public spaces also enjoy endless panoramas, such as the 57th-floor restaurant with its 360-degree views and its mix of Japanese and international cuisine, and the open-air outdoor plaza atrium on the 58th floor.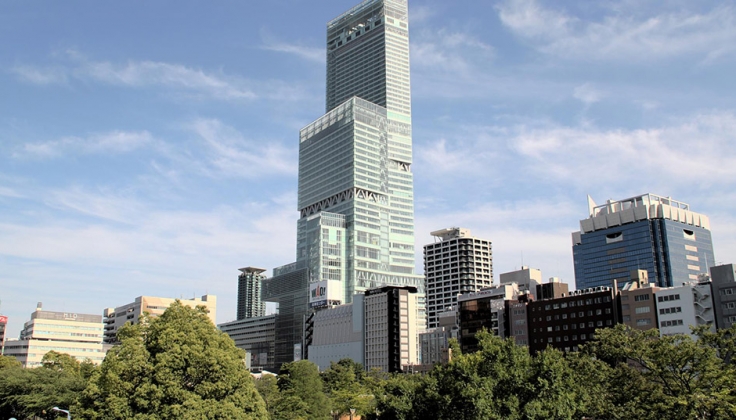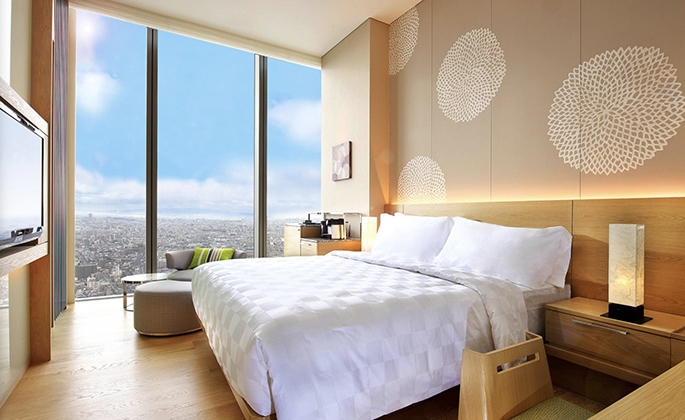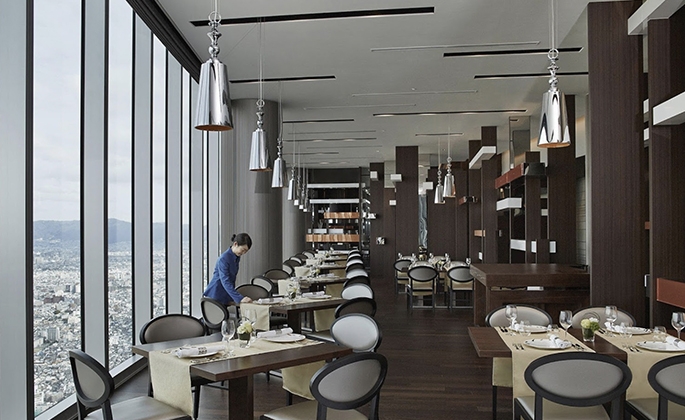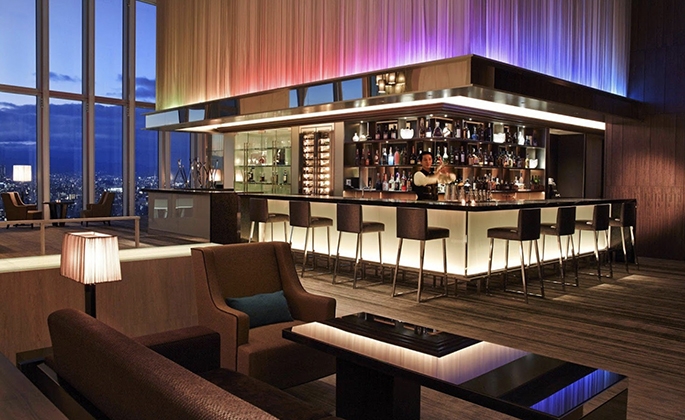 Linger Longer with a Tour Extension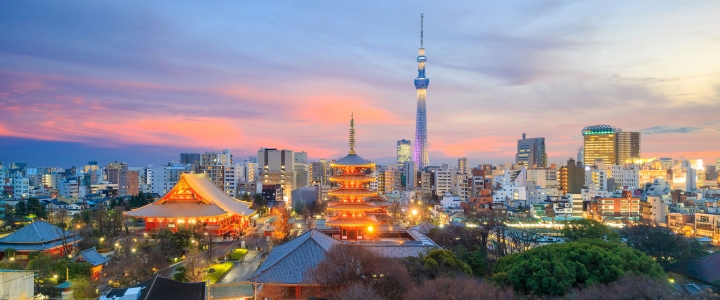 Post-Tour
Flight + Tour Combo Only
2022 Post-Tour Extension - Tokyo
Two nights at the Park Hotel Tokyo
Train transfer from Osaka to Tokyo
Transfer to hotel in Tokyo
Two breakfasts
2 Nights From $1048
per person, double occupancy

Single Supplement: From $548
This morning, after breakfast at your hotel, your pre-booked taxi will take you from the hotel to Shin-Osaka station. You travel using a pre-booked Shinkansen (bullet train) ticket provided to you by a Country Walkers representative. You are met upon arrival at Tokyo station. Please look for a representative holding a Country Walkers sign. You are then taken to your hotel.
Lunch and dinner are on your own today. We provide detailed city information to help you plan your day.
Included Meals: Breakfast
After a delicious included breakfast at your hotel, you are free to explore on your own, using our included city information packet to guide your discoveries.
Included Meals: Breakfast
Your Tokyo extension concludes following an included breakfast at your hotel. Onward travel to your departure airport is not included but the hotel concierge can assist with booking an appropriately timed limousine bus.
Included Meals: Breakfast
| What's Included | Flight + Tour Combo | Tour Only |
| --- | --- | --- |
| Exceptional boutique accommodations | | |
| All on-tour meals except 1 dinner | | |
| Local guides with you throughout tour | | |
| Local wine and/or beer with dinner | | |
| Entrance fees and special events as noted in the itinerary | | |
| Travel assistance available 24/7 provided by Allianz | | |
| Roundtrip airfare | | |
| One extra night in Kyoto | | |
| Airport car service for arrival & departure | | |
| Pre- and post-tour breakfasts | | |
| Business-class upgrades available | | |

Our 16 CW trip with the usual high quality guides. The accommodations were not the usual quality with high rises instead of boutique hotels and a dirty traditional stay.
Japan: Kyoto, Nara & the Kumano Kodo
This trip exceeded our expectations. The guides, accommodations, hikes and cultural experiences went way beyond our expectations. We fell in love with Japan.
Japan: Kyoto, Nara & the Kumano Kodo
Expert Local Guides
Experience your destination like an insider with people who call it home.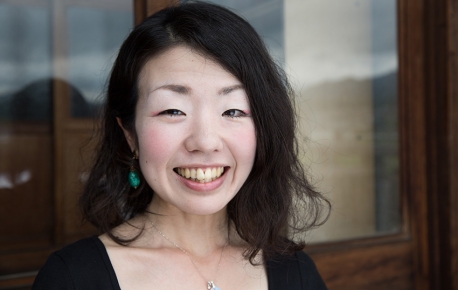 Kana Hattori
Kana Hattori was born in Nagoya, raised in Kobe, and studied in Kyoto and the United States. A student of the traditional Tea Ceremony and the philosophy of Zen, living in the moment has always been a core tenet of her life. Kana loves to sing, regularly giving concerts, and is passionate about traditional Japanese culture. She looks forward to sharing her extensive knowledge with our guests through her guiding.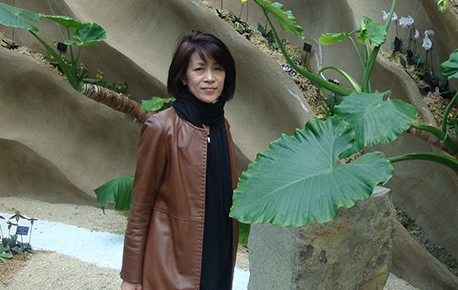 Kozue Hisaoka
Born on the island of Kyushu, Japan, Kozue Hisaoka lived in the United States as an exchange student in high school and now resides in Tokyo. Kozue managed to plan and execute an impressive around-the-world trip with her family, fulfilling her passion for travel and exploring the cultures (and cuisine, especially!) outside her native Asia. When not introducing the nature and culture of Japan to visitors through her guiding, she enjoys cooking, cycling, gardening, and flower arranging.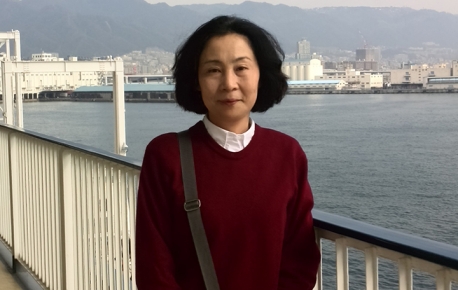 Kaoru Teshima
Kaoru Teshima was born in Kyoto, moved to Osaka, and, after 10 years living in London acting as a tourist, student, amateur flautist, and Japanese language tutor, she returned to Japan and currently lives in Nara. She has been guiding on a volunteer and professional basis for many years and considers the revered Tea Ceremony a valued hobby. In addition, she continues to teach Japanese and enjoys Latin dance.
Be the First to Get News & Special Offers
Click and hold to Zoom