Truffle Hunting: The Inside Scoop on a Fascinating Tradition

In forests across Italy and Croatia, under the soft light of dawn or the darkness of night, excited searches for buried treasure are taking place. The nose of a highly trained dog twitches, and the leaves and ferns underfoot crunch as men and women race after their canine companions, hopefully to where X marks the spot.
No, these adventurers are not digging for gold or jewels but fungus. Truffles, to be exact. And though these small organisms may not have the gleam of a gem or ancient coin, they do fetch a high price on the market for their unparalleled flavor.
Truffle hunting has long been a revered pastime in the shimmering forests of the Mirna River Valley in Istria, Croatia, and in Piedmont, Italy. Let's take a closer look at this fascinating tradition:
Prized pups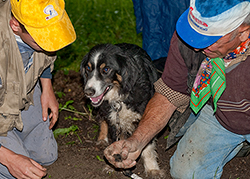 Pigs were originally used to sniff out truffles buried in the earth, but they scarfed down too many of the fungi once they found them. Truffle hunters then switched to dogs, who have proven to have a knack for the pastime.
Truffle-hunting dogs undergo extensive training, which usually begins when they are just a few months old. As the blog A Taste of Travel explains, first the dogs have to locate very small pieces of cheese buried a few inches under the ground, and later progress to finding pieces of truffles. Expert canines can sniff out white truffles, the rarest and most valuable variety, with incredible speed and accuracy.
Legends and lore
Fruitful truffle spots are closely guarded secrets, often kept for generations. While truffles don't look like much on first glance, gnarled and covered in dirt, they have an incredibly rich and luxurious flavor that elevates nearly any dish, from pasta to soups.
According to The Telegraph, truffles are also the subject of intriguing myths and legends. The ancient Greeks believed that truffles were created by lightning striking damp earth. The forests of the Mirna River Valley themselves are rich with enchanting tales, such as that of the giant Veli Joe. As the legend goes, he used oak trees as enormous brooms to brush away the enemies of Istria. Then there's the aura of magic surrounding the trifolau, or truffle hunters, who "walk with lighter steps than the rest of us, and speak only with necessary words," as GoNomad put it.
Find your guide
Want to discover the one-of-a-kind magic of truffle hunting yourself? Then team up with a local guide. It's truly the best way to fully experience this fascinating pastime. On Country Walkers tours in Piedmont, Italy, and Istria, Croatia, you'll learn to hunt for truffles from an expert forager and his dog. You'll experience the thrill of the chase and the fantastic tastes of your labor at dinner that night!
Learn more about our walking itineraries in Piedmont, Italy, and the Istrian Peninsula. To request a free Country Walkers catalog and learn more about other exciting destinations throughout the world, click here. If you would like to speak with one of our Travel Experts, please call 800.234.6900. They are available Monday-Friday from 8:30 a.m. to 6:30 p.m. EST.