The Insider Allure of High-Altitude Provence
Avignon's festive cafés and burbling fountains. Sweeping valleys combed with grape arbors. The sun-baked houses of Arles, resplendent in Van Gogh golds and browns. Lively market day in St. Rémy. For most travelers, the name "Provence" conjures images of an idyllic land of cypress trees, rocky hillsides, and red-tile roofs bordered by the Mediterranean Sea. But just inland from some of the region's most well-known towns, a second Provence awaits your visit—a higher altitude area in the foothills of the Alps. Here's what we love most about it: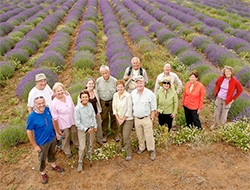 The Best Lavender Views
One of the most romantic sights in Provence is its expansive fields of lavender in bloom. However, this iconic plant is hard to find in the most-traveled parts of the region. Surprisingly, lavender—at least in its true medicinal form—is not actually a native Mediterranean plant, so it doesn't grow widely at lower elevations. To enjoy this unforgettable spectacle, you must head up to 2,400 feet and higher to villages like Sault. Here, the plant can be found in its iconic brightly colored fields. One of the most celebrated views in France is the lavender fields beside Notre-Dame de Sénanque monastery. In the foothills of Mont Ventoux, you can stroll a botanical path lined with fragrant lavender plantations. Most memorably, the Valensole Plateau offers a giant sea of purple blooms on 300 square miles of pristine land.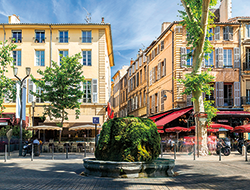 Provence's Unspoiled Villages
The hilltop villages of Provence are a quintessential part of the region's culture. From Aix-en-Provence's leafy boulevards to lively bistros in Lourmarin, experiencing Provençal life in its streets and cafes is an essential part of any visit here. However, as most guidebooks will tell you, some of these cities are quite...discovered. Nothing shatters the enchanting atmosphere of a medieval square like massive crowds and tour buses. Instead, we invite guests to stroll through the more off-the-beaten-path towns of high-altitude Provence. Forcalquier, where our guests stay in a renovated 18th-century farmhouse beside a Roman road, is a remarkable hilltop town with an outsized history. With ancient buildings dating back to the 12th century, a gothic cathedral, and Renaissance-era squares, it is every bit the scenic wonder that Provence's better-known cities are, but considerably more authentic.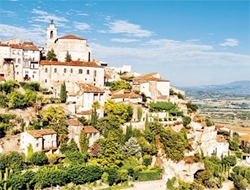 Clear Skies
Far from the light pollution of major cities and highways, the sleepy village of Saint Michel l'Observatoire hosts an astronomy center built in the 1930s. To this day, the town's pure air (and resulting clear skies) makes it one of the top spots for celestial observation in the country. Travelers will be struck by the spectacular starry skies in Haute Provence—a nightscape that hearkens to Van Gogh's iconic work. Of course, that's not the town's only appeal. Its isolated location and surrounding natural beauty makes it an ideal walking destination. Strolling through a garrigue landscape of aromatic herbs, oak, and pine, you can follow timeless paths through rolling hills far from any other travelers.