The Inside Story of Our New Australia Adventures
For years, whenever we've asked guests what destination they'd most like us to add to our repertoire, the answer has often been, "Australia." And for good reason: from the unique animals of "the bush" to a local vernacular chocka bonzer strine (that is, full of great slang) it's a country unlike any on earth. This winter, we're excited to debut two new Self-Guided Walking Adventures to the Land Down Under: The Great Ocean Walk and Sydney to the Blue Mountains. Each offers a different take on Oz's spectacular scenery and charming towns—combined they make for an incredible adventure like no other.
Of course, creating standout itineraries like these doesn't happen overnight. Our Self-Guided Adventures Director Melanie Morin spent months chatting with mates in Melbourne and Sydney, strolling trails through wild eucalypt forest, and testing a range of bed and breakfasts, inns, and eco-lodges. Here, she talks with us about how the tours were designed, her favorite highlights, and what surprised her most about this unforgettable country.
Country Walkers: So, first off: why two itineraries? Isn't that twice the planning?
Melanie: It is! But once I started exploring the region, it became clear that there was just too much to experience in one adventure. From Sydney to the Blue Mountains to the coast of Victoria—you could never do it all in one week. We picked two regions that were especially beautiful, but very different. The Great Ocean Walk offers incredible wildlife—kangaroos, wallabies, koalas—and some of the most beautiful beaches and heathland I've ever seen. It has longer walks, but over gentle terrain. The Blue Mountains, on the other hand, offer amazing scenery—a landscape of massive canyons, rainforests, and waterfalls that's truly memorable. Here, there are lots of options for shortening or lengthening a walk, so you can really control your daily experience.
CW: What were some of the challenges in creating these itineraries?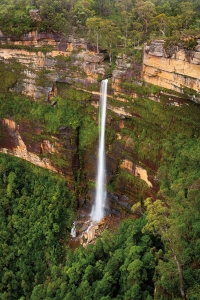 Melanie: Well, first off, we wanted to make sure that guests didn't have to find their way around Australia by themselves, so we made sure to include private airport transfers in the itineraries. For the Great Ocean Walk, that actually becomes a highlight, as you follow the Great Ocean Road down from Melbourne to Apollo Bay. It's one of the world's most scenic drives and a great "appetizer" for your tour.
Another essential thing—and something that will be difficult for travelers reserving on their own—was finding accommodations that meet our guests' high standards. A lot of hotels in both regions are very simple; we made certain to select properties that are comfortable, gracious, and authentic to the region. In the Blue Mountains that means truly luxurious country lodges with lots of amenities, each with easy walking access. On the Great Ocean Walk, we chose unique, historic guest houses, each with their own charm. The variety of accommodations on this itinerary is part of the fun: you stay in a boutique hotel on the beach, a four-room eco-lodge, a bed and breakfast owned by a renowned chef, and a surfside inn whose owner was a ranger for 25 years. It would be incredibly difficult to put this itinerary together on your own.
CW: What were some of your favorite highlights?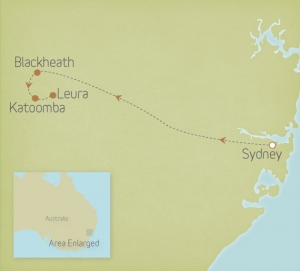 Melanie: Oooh…too many to list here. On the Great Ocean Walk, my favorite day is the one where you walk along Johanna Beach—a perfect, completely deserted stretch of sand split by a tidal river—before continuing on into rolling farmland dotted with kangaroos and coastal heathland forest full of flowers and koalas in gum trees. It's really amazing the diversity of landscapes you see, though you're always close to the coast. Then, you cap your day at the Aire Valley Guest House, a beautiful homestead dating back to the 1890s with chickens in the yard and flowers everywhere.
In the Blue Mountains, there's really no topping the walk past the Three Sisters—that's the local name for a trio of towering rock pillar formations. You follow a trail called "the Giant Staircase" past them on your way down into a rainforested valley full of giant ferns and waterfalls. It's really, incredibly beautiful.
CW: Was there anything that surprised you in Australia?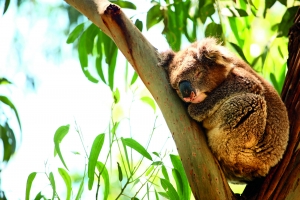 Melanie: The birds! Everyone knows about the wildlife in Australia, but the birds were really remarkable too. In the Blue Mountains, I was lucky enough to see a lyrebird. They're about the size of a pheasant, with a beautiful, huge tail; they're also notable because they can mimic all sorts of sounds, even cell phones or people's voices. On the Great Ocean Walk I fell in love with the kookaburras. They're a species of kingfisher with iridescent blue plumage and a bizarre call—it sounds like a person laughing.
CW: Are there any special extras you'd like guests to be aware of?
Melanie: On both itineraries, we take care of all the details—transfers, breakfasts, picnic lunches, and many dinners. But a particular standout meal is in the Blue Mountains, when you eat at the most-awarded restaurant in all of New South Wales, one which features many of the near-by Megalong region's famous wines.
On the Great Ocean Walk we made sure to include some guided experiences to add an extra dimension to your travels. On Cape Otway, you have the opportunity to join a ranger on a dusk walk through forest, looking for koalas in the wild. A former ranger (actually your host at your final accommodations) joins you in Loch Ard Gorge for a walk that highlights the regions geological and maritime history.