The Four Unforgettable Landscapes of Olympic National Park
When Franklin D. Roosevelt created Olympic National Park in 1938, he achieved an ecological coup: four parks in one. The architect of the New Deal, who knew a bargain when he saw one, was enchanted by the region's diverse landscapes—from cathedral groves of sitka spruces to tidal pools beside pristine beaches. In fact, when the usually composed president was shown a clear-cut field of stumps at the park's edge, he completely lost his cool, proclaiming, "I hope the son-of-a-bitch who is responsible for this is roasting in hell." So much for diplomacy!
Presidential curses aside, Olympic National Park presents a staggering array of climate zones, landscapes, flora, and fauna. Here are four that travelers experience on our Washington: Olympic Peninsula Guided Walking Adventure. They're a testament to what makes this region special, and why it's the perfect destination for travelers who want to see it all.
1. Lush Temperate Rainforest—Picture a landscape of monumental trees clad in green epiphytes, giant ferns, dangling beards of moss, and blooming orchids. The Olympic Peninsula is home to one of the largest remaining regions of temperate rainforest on the planet. Here, in the Hoh and Quinault Rainforests, you'll find colossal sitka spruce trees up to 300 feet tall and 23 feet in diameter. In their shade, herds of Roosevelt elk and black-tailed deer graze. It's an eco-system that literally teems with life, even out of death; massive "nurse" logs of fallen trees serve as starting ground for new seedlings, nourishing them with nutrients and moisture as they decay.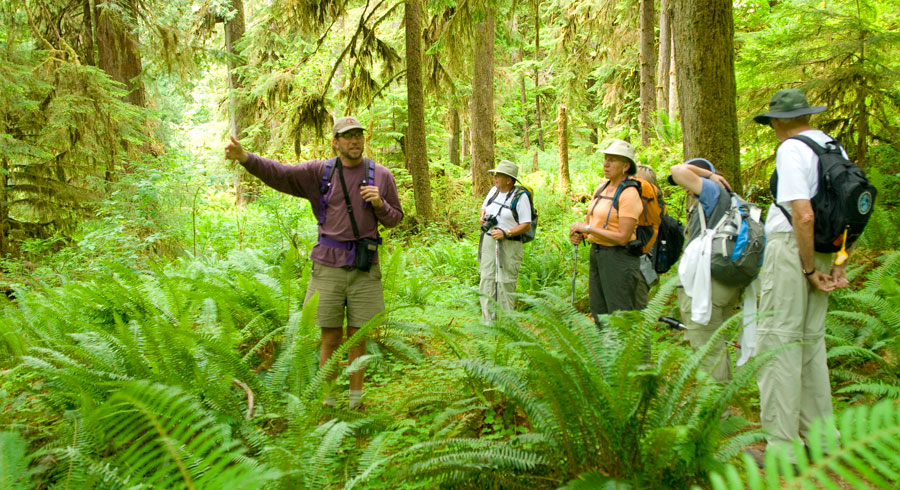 2. Pristine Pacific Coastline—Walking along Kalaloch and Ruby Beach, you'll encounter self-contained worlds of tidal pools dotted with starfish and anemones. Pelicans, cormorants, and oystercatchers skim along the surface of the water. The massive trunks of bygone spruce trees lie scattered in gigantic piles of driftwood. Out in the ocean, sea-stack rock formations break the waves and otters, eagles, seals, and whales hunt for their dinner. It's a beautifully preserved, wide-open environment—the perfect contrast to your rainforest walks.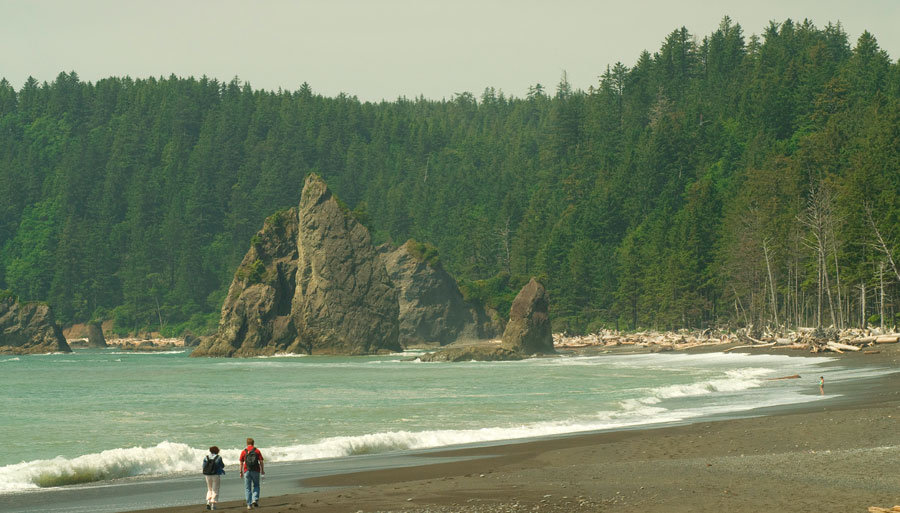 3. Subalpine Meadows—One of the most spectacular highlights of western Washington is the sweeping grandeur of the Olympic Mountain Range. Though hard to see beneath the canopy of dense rainforest or while walking on distant beaches, you'll have a prime view from Hurricane Ridge, a beautiful subalpine meadow in the northern part of the park. From this green expanse of tall grass and wildflowers, you can enjoy a striking skyline of snowcapped peaks, stretching from Mount Dana across Mount Olympus to Mount Appleton in the distant west. Of course, that's not all the area has to offer. Because the Olympic Peninsula was cut off from the rest of the world by glaciers 10,000 years ago, these meadows were also isolated—they now include endemic species of flora and fauna found nowhere else on earth, such as the Olympic Mountain daisy, Flett's violet, and the Olympic marmot.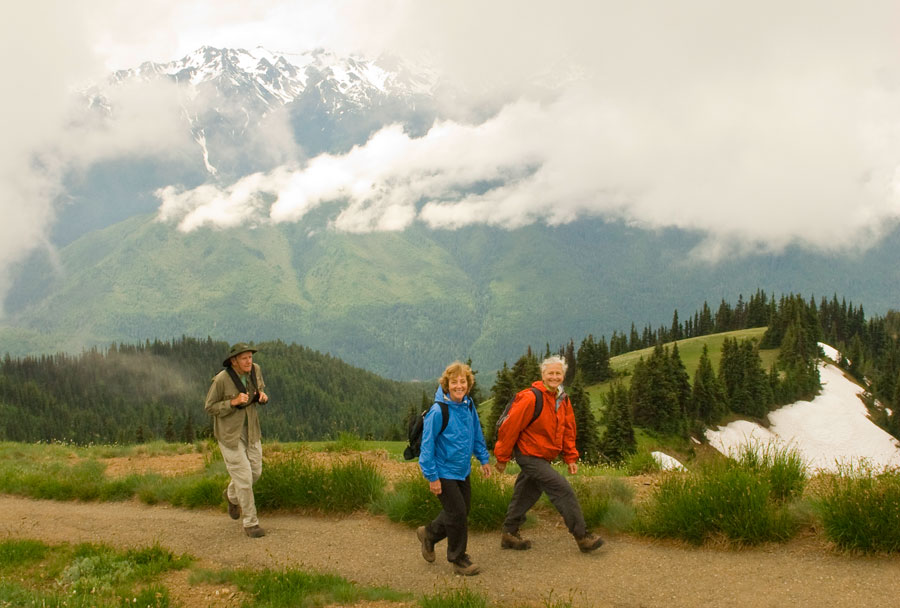 4. Wild River Valleys—With annual precipitation over 150 inches, the Olympic Peninsula's water has to flow somewhere, and its many rivers, streams, and waterfalls are legendary. But perhaps none is more remarkable than the Elwha, which is currently undergoing one of the largest dam removal projects in U.S. history. This initiative, which will restore one of the Northwest's most incredible salmon runs, has been 20 years in the making. And our guide, who will help you explore this beautiful river on foot and by raft, has been instrumental in its conservation. With him, you'll walk into the former Elwha Dam site, which is being reclaimed by nature and now regularly sees massive king salmon swimming by to their ancient reclaimed spawning grounds upriver. Then, you'll float past mossy river banks concealing merganser nests and otters, spot eagles soaring above, and stop for photo ops along pebble-strewn sandbars.