The Best African Safari for Every Interest
It may seem obvious, but it bears repeating: Africa is big. A behemoth on the map, it could comfortably fit the United States, China, India, and all of western Europe within its borders. With a population of over 1.2 billion, it hosts a dazzling 2,100 languages. Hoping to take the grand tour? The distance from Cape Town to Cairo is almost 4,500 miles as the marabou stork flies...though Google Maps helpfully points out that the most direct driving route is over 6,200 miles (they helpfully point out: "This route has tolls").
It's clear why travelers find it so difficult to decide where to travel here. From Namibia's trackless deserts to Tanzania's endless plains, there are countless destinations to explore, cultures to discover, and animals to spot. How to choose? We're here to help.
Rather than presenting a comprehensive, kitchen-sink collection of every elephant wallow, baobab, and game reserve on the continent, we have carefully curated six unique safaris—each showcasing the best of one country. Deciding where to go is as simple as sharing your interests. We can even help you find the perfect extension to add to your trip!
---
The Destination: Botswana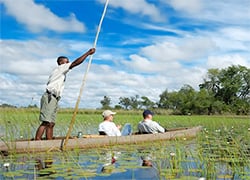 Perfect for: Off-the-beaten-path travelers, birders, canoers
The View: Pristine waterways thronged with birds and the world's largest elephant herds
Wildlife Highlights: Hippos wallowing in stands of papyrus, viewed from your mokoro (canoe)
Go Deeper: Enjoy aerial perspectives on Botswana's great herds while flying by light aircraft between regions
Pair It with: Urban exploring in Cape Town or witnessing Victoria Falls
---
The Destination: Namibia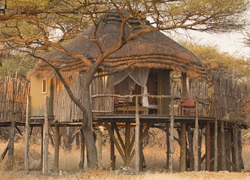 Perfect for: Adventuresome naturalists, photographers, stargazers
The View: Magnificent, vast deserts full of unique and hearty animals, star-strewn night skies (the second darkest in the world!), and castaway coastline
Wildlife Highlights: Cheetahs lazing on the savanna, spotted while walking with local naturalists
Go Deeper:  Explore the rock paintings, outcrops, and petrified forests of Twyfelfontein, a UNESCO World Heritage site
Pair It with: Urban exploring in Cape Town or witnessing Victoria Falls
---
The Destination: South Africa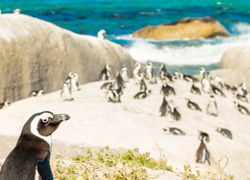 Perfect for: Families, foodies, garden fans, first-time travelers to Africa
The View: Sophisticated gardens and museums, genteel wine country, and thrilling game drives
Wildlife Highlights: Lions, leopards, and the rest of the Big Five witnessed in Kruger National Park
Go Deeper:  Encounter the Cape's distinct floral kingdom—unlike any other in the world—in Kirstenbosch Botanical Gardens
Pair It with: Witnessing Victoria Falls or Gorilla tracking in Rwanda
---
The Destination: Tanzania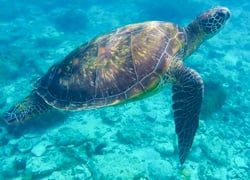 Perfect for: Fans of the classic safari experience and animal lovers
The View: The world's most famous savanna, snow-capped Kilimanjaro, and villages of Maasai warriors
Wildlife Highlights: Herds of wildebeest filling the Serengeti plains at dawn during an awe-inspiring game drive
Go Deeper:  Experience the magic of Ngorongoro Crater, where thousands of animals roam the fertile floor of a vast caldera
Pair It with: Gorilla tracking in Rwanda or beachside relaxation in Zanzibar
---
The Destination: Zambia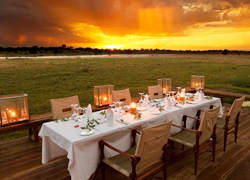 Perfect for: Dedicated wilderness walkers, off-the-beaten-path explorers
The View: Lush floodplains alive with huge herds of game, remote camps, hardwood forests
Wildlife Highlights: The rare Thornicroft's giraffe, spotted while walking in the South Luangwa Valley
Go Deeper: Connect with local communities just outside the National Park while visiting the village and schools of Mfuwe
Pair It with: Gorilla tracking in Rwanda or witnessing Victoria Falls
---
The Destination: Zimbabwe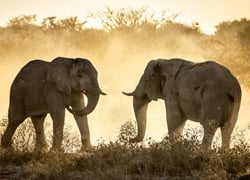 Perfect for: Intrepid wildlife fans,
The Experience: The majestic thunder and spray of Victoria Falls, plus undiscovered parks deep in the wilderness
Wildlife Highlights Elephants in abundance guzzling water by Hwange's water holes
Go Deeper  Discover the fascinating history of Africa's Cape-to-Cairo rail line as you ride it through Hwange's backcountry.
Pair It with: Urban exploring in Cape Town or Gorilla Tracking in Rwanda