Mont Blanc: The Birthplace of Mountaineering
Located on the border of France, Italy, and Switzerland, Mont Blanc has enchanted visitors for centuries. As the highest peak in the Alps, it beckons adventurers with its soaring spires, glistening glaciers, and lush valleys, inspiring a sense of awe in all who gaze upon it.
It's these very qualities that made Mont Blanc the birthplace of mountaineering and alpinism. Today, millions of visitors flock to the mountain and its surrounding towns of Chamonix and Courmayeur to discover its wonders.
Let's take a closer look at the mountaineering history of Mont Blanc:
A man and his mission 
Modern mountaineering traces its roots back to 1760, when Swiss naturalist Horace Benedict de Saussure arrived in the Chamonix Valley and couldn't believe the beauty and magnitude of Mont Blanc rising above him. Saussure felt imposing mountains such as Mont Blanc, which he called "palaces of nature," could create a new type of human experience, as travel journalist Sarah Baxter wrote in an article for The Telegraph.
So moved, Saussure quickly offered a reward to the first person who could climb Mont Blanc. In 1786, Michel-Gabriel Paccard, a doctor in Chamonix, and crystal hunter Jacques Balmat reached the summit, an accomplishment considered to be the first act of mountaineering.
Since then, tens of thousands of people have flocked to Mont Blanc to climb its towering heights or ski or snowboard down its slopes, and Chamonix and Courmayeur have become world-renowned mountain towns.
However, Mont Blanc is not significant only for being the birthplace of mountaineering. It is also where walking tours began.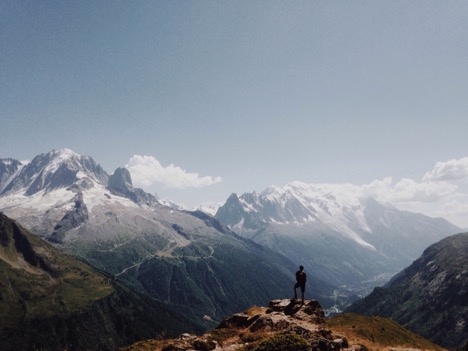 The Tour du Mont Blanc 
While climbing Mont Blanc is incredibly challenging, the Tour du Mont Blanc enables visitors of all abilities levels to take in views of the legendary mountain on a 170-kilometer walking route.
Adventurers have walked the Tour du Mont Blanc for 200 years, and as soon as you arrive in the valley, it's not difficult to understand the route's enduring popularity. Walkers will take in the majestic alpine beauty of France, Italy, and Switzerland, weaving their way through meadows dotted with yellow and purple flowers and passing quaint dairy farms. Everywhere they look, travelers will see majestic views of Mont Blanc and the surrounding Alps.
But no mention of the Tour du Mont Blanc is complete without discussion of the local Alpine hospitality. In rustic mountain cabins, also called rifugio, walkers can enjoy steaming mugs of hot cocoa while they rest their feet. They can also cap their days on the trail with hearty dinners featuring farm-to-table fare and spirited conversation. Charming sidewalk cafés in cozy Alpine towns offer delectable treats if walkers need a little extra fuel for the journey ahead.
All these elements make the Tour du Mont Blanc a truly magical and timeless adventure. Experience it yourself with Country Walker's France, Italy & Switzerland: The Mont Blanc Circuit Tour.
To request a free Country Walkers catalog and learn more about other exciting destinations throughout the world, click here. If you would like to speak with one of our Travel Experts, please call 800-234-6900. They are available Monday through Friday from 8:30 a.m. to 6:30 p.m. ET.