Insider Tips for Making the Most of Your Next Wine Tasting
You don't have to be a sommelier to appreciate the deep flavors and rich colors of a jammy pinot noir or crisp chardonnay. And you certainly needn't be a wine expert to delight in our new Self-Guided Walking trip through California's premier wine country—a region of towering redwoods, rustic towns, sun-dappled vineyards, and sophisticated art galleries.
Still, some find wine's complex terminology and upscale associations daunting. To put all of our fears to rest, we spoke with Mary Guerrazzi, our local partner in the region and a self-proclaimed oenophile.
Country Walkers: Someone who's never been to a wine tasting may wonder if there are any etiquette rules they should follow. What would you tell them?
Guerrazzi: Don't worry! There are no real rules about what to bring or how to dress. My only suggestion would be to avoid wearing any perfume or aftershave—wine tasting is mostly about scent, after all. On this tour, you won't have to worry about paying for tastings, since they're included. Tipping isn't customary, but if you've met a host who's really helpful and you'd like to express some gratitude, the best tip you can give them is to buy a bottle.
CW: Do you have any wine tasting tips? I've seen a number of people swirl the glass around or slosh it in their mouths. Does that make a difference?
G: Yes, believe it or not! Swirling brings the aromas out, so you should absolutely swirl first. Then stick your nose right in the glass—don't be shy! It's astonishing how each wine has its own distinct smell; 90 percent of the taste is in the olfactory. Next, take a sip. Sloshing it in the mouth moves the wine to all of the five taste centers on your tongue. If you pay attention, it will taste different on the tip of the tongue from the back of the tongue.
CW: And the "tasting buckets"...when should we spit the wine back out? Will that cause offense?
G: It's a personal choice. There are tasting buckets at all the wineries. The aficionados will spit during a tasting session because they taste so many wines that they don't want to risk losing their edge by getting loopy. The designated driver will often spit as well—not a concern on a walking trip! I prefer to swallow because I find that the sensation that started with sniffing continues as the wine is swallowed. The bottom line, however, is that the tasting staff is not offended if you spit.
CW: What are some terms that can help us talk about wine in a way others will understand?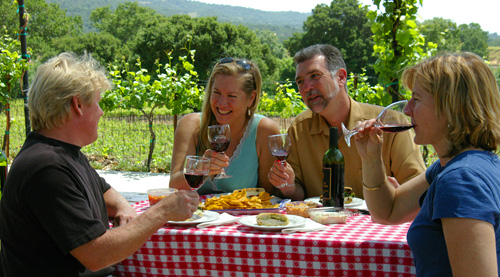 G: Great question! These terms are actually less intimidating than people make them out to be. For instance, "terroir" means dirt. It's literally just a way to refer to the vineyard where the wine was born. There can be a huge difference in taste between grapes grown at the top of a hill and the grapes at the bottom, which get more shade or water. This is a big deal to wine enthusiasts. Winemakers agonize over these differences in flavor as they create their blends.
"Bouquet" is simply the smell. Some people will get creative with how they describe the scent of a wine: chocolate, strawberry, licorice, etc. But, really, whatever you smell is perfectly valid.
"Varietal" is the actual grape. Chardonnay and cabernet sauvignon are two popular ones.
The "Vintage" is simply the year the grapes were grown. A "Non-Vintage" wine is one where grapes grown in different years are combined together.
The concept of "oaking" is a tad more complicated, but it refers to the amount of time, if any, a wine spends in an oak barrel, which adds a particular note of flavor to the wine. (This brings up a whole other controversial topic: which French forest has the best oak!) Typically, whites other than chardonnay are fermented in stainless steel tanks, so we'd say they're "unoaked." All red varietals go in oak barrels after fermentation to pick up the flavors.
CW: Alright, then: what varietals should we try?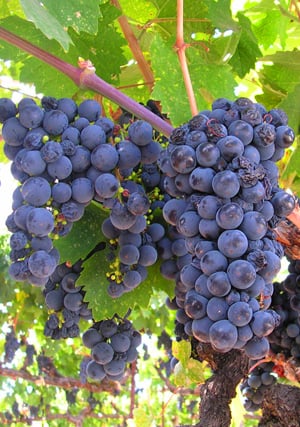 G: This is completely dependent on where you are. Each area has its own varietals that grow there. It all comes down to climate and terroir. A chardonnay from Burgundy, France is completely different than a California chardonnay. California wines tend to have a more fruit-forward flavor, so bolder and bigger. More luscious than lean. Napa Valley is hot, so it has great sauvignon blanc and cabernet sauvignon. Sonoma Valley is a bit milder, so it has great chardonnay. Russian River has fabulous pinot noir because of the coastal fog. That being said, most wineries buy grapes from multiple regions so they have several varietals and styles to pour. I find that absolute novices tend to like champagne and white varietals more. They're a little easier to taste than the complex, bolder reds, which are fun to experience too.
CW: When should we buy? How much should we buy?
G: This is easy: if you like it, buy it! If it is something you can't find at home, have a case shipped to you. All the wineries will ship for about $10 a bottle (so $120 a case). If you really enjoy a certain winery's offerings, you may want to join their wine club. That way, you'll get wine shipped to your door two to six times a year. They also throw great parties for club members and you get perks like no tasting fee!
CW: What if we only buy a few bottles and want to take them home with us. Can we do that?
G: Certainly! Remember that you can transport wine in checked bags only. If you have just a few bottles, wrap them well in your clothing in the middle of your suitcase. My one warning is to never transport champagne (or any other sparkling wine) that way—the changing pressure and temperature of a plane could cause the bottle to burst! In addition, we offer a "wine check" that holds 12 bottles, so you can wheel it up to baggage and check it as luggage.
CW: Any final thoughts?
G: Have fun! This region is just so beautiful and relaxing. Exceptional scenery, acclaimed restaurants, and world-class wines all experienced on foot—it doesn't get much better than that!