Hidden Highlights of the Catalonia
There's a lot to see in Catalonia. From the high peaks of the Pyrenees to the twisting backstreets of Barcelona (where a chance detour can lead to colorful street performers or millennia-old Roman walls), Spain's northeastern corner offers an incredible range of hidden highlights and insider secrets. Here are a few of our favorites.
1. La Madonna Negra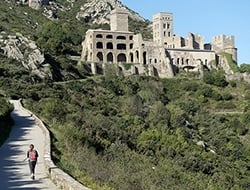 The otherworldly rock formations of Montserrat, a towering saw-tooth mountain at the heart of Catalonia, conceal a mysterious chapter of Spanish history. Here, the Santa Maria de Montserrat monastery clings to the steep slopes of the mountain. Notable for many things—its boys' choir is renowned and its publishing house is one of the world's oldest—it's best-known for a three-foot tall statue of the Virgin Mary that sits in its chapel. This Virgin of Montserrat is (affectionately called "La Madonna Negra" by locals) is notable for being depicted with coal-black skin. Though in keeping with Byzantine and Romanesque styles, tradition claims that the statue was carved in Jerusalem during the earliest days of the church. Conversely, some art historians claim that it was patterned off of the Egyptian goddess Isis. Whatever its origins, it has taken on a special significance in Catalan culture; today, "Mare de Déu de Montserrat" is the patron saint of Catalonia.
2. An Artist's Hideaway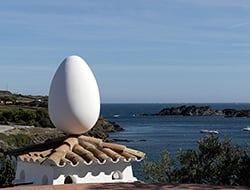 It's well known that Salvador Dalí was born in Catalonia. While tourists flock to his birthplace in Figueres (where the surrealist created his magnum opus—an elaborate "theatre-museum"), fewer people discover his connection to the coastal town of Cadaqués. And that's a shame, because it's where the artist learned to paint. As a teen, Dalí took a summer painting class in Cadaqués while vacationing with his parents. The Costa Brava's seascapes made quite an impression on him—art experts claim to recognize its coves, sea stacks, and promontories in much of his later work. Dalí returned to Cadaqués many times in his career, bringing with him luminaries like Pablo Picasso, Juan Miró, and Marcel Duchamp. After World War II, he built his home in the nearby town of Port Lligat—today, you can still visit his studio there.
3. The World's Best Restaurant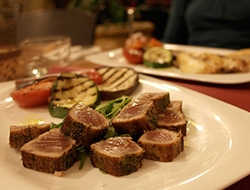 For just over two decades (sadly ending in 2011), elBulli was the ne plus ultra of molecular gastronomy—a tiny restaurant with a massive reputation. Located on an island off the coast of Roses (on the northern tip of the Costa Brava), Chef Ferran Adrià's avant garde eatery was awarded three Michelin stars and crowned "the world's best restaurant" by publications ranging from Vanity Fair to the Guardian. Though today it's closed to the public (having been converted into a nonprofit foundation), its influence on Catalan's thriving culinary scene is obvious. From his many executive and sous chefs that have opened their own restaurants to the countless graduates of Adrià's cooking classes and workshops, the region has a wealth of creative and sophisticated chefs that rival Paris or New York.
4. Ancient Volcanoes
Many travelers have heard of Barcelona's festive streets, the Costa Brava's fishing villages, and the mountain towns of the Pyrenees, but fewer are aware of Catalonia's volcanoes. In the central portion of the province, near the town of Santa Pau, Garrotxa Volcanic Zone Natural Park is home to 30 dormant cinder cones which last erupted only 11,000 years ago. This unique geology (there is no other region like it in Europe) has resulted in rich soils of ochre and black lava, which contrast beautifully with the region's beech forests and verdant meadows. The park hosts over a thousand plant species, as well as animals ranging from wild boar to foxes, rabbits, weasels, and hedgehogs.
5. Greek Ruins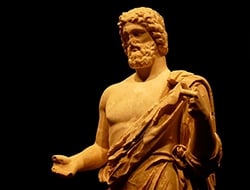 Just up the coast from the town of L'Escala, the Costa Brava hides one of the most monumental feats of ancient engineering on the Iberian Peninsula. The ancient town of Empúries was founded in 575 B.C. by Greek colonists from the town of Phocaea. It became the springboard for the Roman conquest of Hispania and grew to be a thriving port city, with a massive breakwater, walled Roman precinct, acropolis, and paleo-Christian basilica. Rediscovered in 1908, it's estimated that only about 20% of the remarkably preserved city has been uncovered, with lots more hidden beneath the dunes.
6. World Class Wines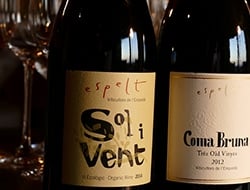 Though the Rioja region may get all the press, Catalonia has quietly established itself as one of the top wine regions in the world. First arriving on the world winemaking stage in 1979 (when a blended bottle of Torres wine won the Bordeaux category at the Gault Millau Wine Olympics), Catalan wine has a reputation for being full-bodied, minerally, and deep. Acclaimed regions like Priorat, Emporda, and Montsant produce a range of varietals. But perhaps Catalonia's best known creation is Cava, a delicious sparkling wine  renowned since the 1800's.