Five Sights That Make Japan's Nara Park So Remarkable
South of Kyoto and east of Osaka, the city of Nara may be overlooked by time-pressed travelers visiting the Japanese island of Honshu. However, we feel it's well-worth a visit. Along with being the ancient capital of Japan and home to seven iconic temples, it's the location of Nara Park, one of our favorite spots in this beguiling country. Here are a few things that make it special:
1. One of Japan's Most Beautiful Temples.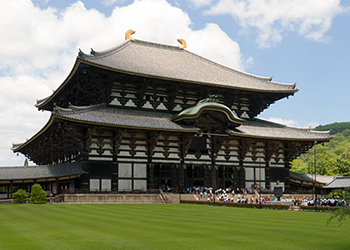 At the heart of Nara Park is Todai-ji, an ancient Buddhist temple complex revered throughout the nation for its massive scale and elegant facade. Reputedly the world's largest wooden building—despite being currently only two-thirds of the original structure's size—it once served as the central administrative temple for all of Japan. According to legend, the Emperor moved the nation's capital away from Nara to escape its outsize influence. Originally built in the early 8th century, it was rebuilt after a fire in 1692.
2. The World's Largest Bronze Buddha Statue.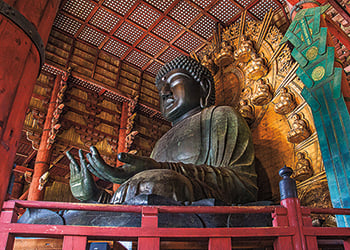 Affectionately known as "Daibutsu" (giant Buddha), this 50-foot-tall statue weighs in at 550 tons. It dates back to 751 A.D., when it was commissioned by Emperor Shomu as a charm against small pox (which, taking the long view, seems to have worked quite nicely). Today, travelers and the faithful alike are awestruck by its scale—each ear is over 8 feet tall!
3. Impeccable Gardens.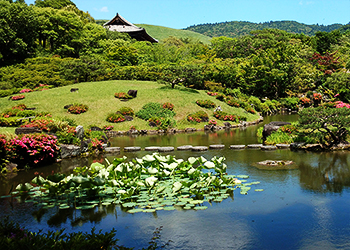 The art of Japanese gardening dates back thousands of years and features a dizzying array of styles, symbols, and aesthetic values. Fortunately, travelers can simply appreciate the results in meticulously landscaped gardens like the ones inside and adjacent to Nara Park. Isui-en, for instance, makes careful use of natural elements to frame a view of Todai-ji's grand gate. In the heart of a busy city, it's a tranquil, seldom-visited respite.
4. Snapshots of Daily Life.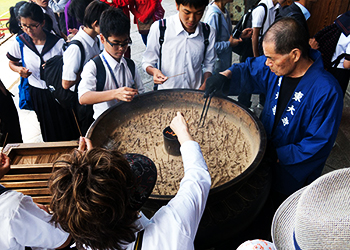 Though a destination for travelers, Nara Park is also an essential part of daily life for people in the city. Part of the fun of visiting here is witnessing school children burning incense on their way into the temple, couples chatting on broad lawns, and merchants selling their wares in tiny stalls.
5. "Tame" Sika Deer.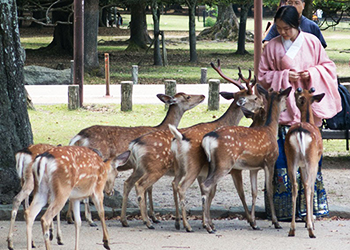 Considered sacred and divine by the nearby Kasuga Shrine, the deer of Nara Park are revered as national treasures in Japan. In fact, it was a capital crime to kill them up until the 1600s. As a result, the deer have developed a distinctly friendly demeanor. Many have even trained themselves to "bow" in exchange for handouts, and visitors may purchase shika-senbei ("deer crackers"...what else?) to offer them.