Eight Places to Experience The Sound of Music in Austria
If you grew up inspired to "climb ev'ry mountain" and "ford every sea" thanks to The Sound of Music, you'll be interested to know that this year the movie is 49-going-on-50. With songs written by Rodgers and Hammerstein, a spectacular setting in Salzburg, and iconic performances by Julie Andrews and Christopher Plummer, it has become perhaps the best-known musical ever. Certainly, it was the most successful: upon its release in 1965, it briefly displaced Gone with the Wind as the most profitable movie of all time. It was single handedly credited with saving 20th Century Fox after the colossal flop of Cleopatra and spawned a parade of copycat musicals in its wake.
Still, when I spoke with the guides for our Austria & Germany: Bavaria & the Tyrol Guided Walking Adventure about the film, they admitted that many Austrians don't quite get it: "Locals sometimes don't understand the hype," says Sabine Rath, who leads our groups on a Sound of Music tour of Salzburg. "They say it's exaggerating a lot, not authentic, kitschy." Of course, she, along with our guide Christian Gleirscher, is quick to point out that the musical is one of her favorite things: "I'm a huge fan! I've been leading Sound of Music themed tours for over 15 years!"
Here, to celebrate the 50th anniversary of the film that gave us "Do-Re-Mi," we've collected a few of Sabine and Christian's favorite Sound of Music spots to show guests. From "high on the hill lived a lonely goatherd," to fields full of edelweiss, they're sure to get your walking shoes tapping.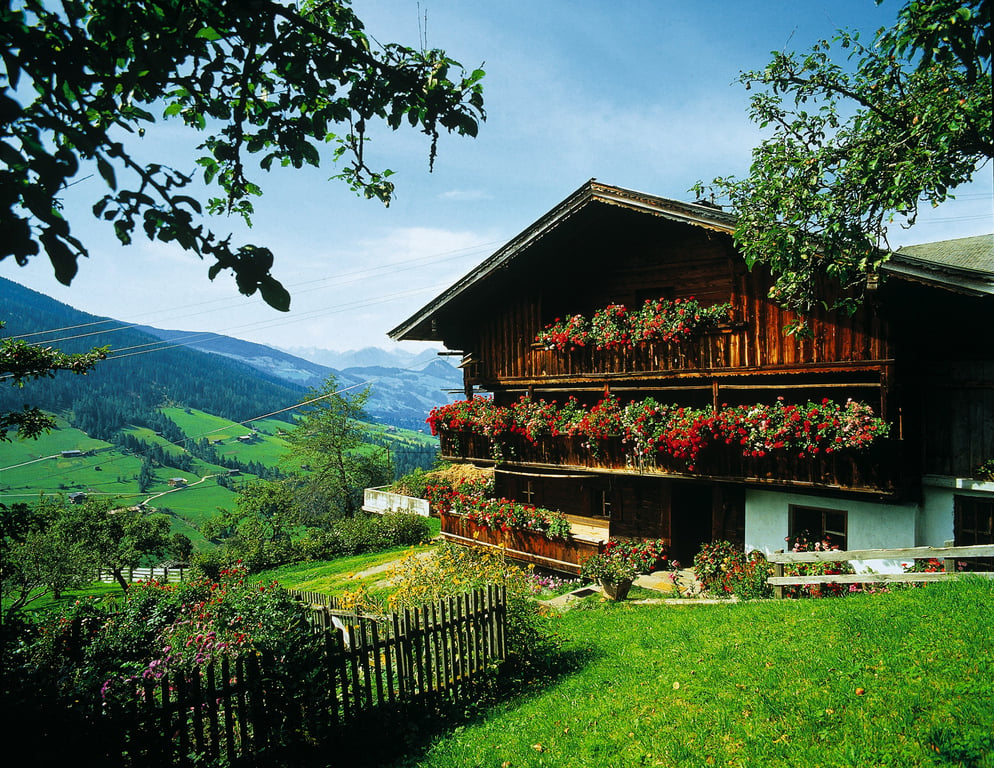 1.    Alpbach. Often considered the most beautiful town in Austria, Alpbach reportedly played host to some extra filming for The Sound of Music, including a shot of Julie Andrews running through the fields. Christian loves the town for its perfectly preserved Tyrolean architecture and exquisite highland meadows. "You can have your own 'Hills Are Alive,' moment here," he says.
2.    Schloss Frohnburg. You'll recognize the iconic front of Villa Von Trapp as you approach Frohnburg Palace...and the long yellow wall out front is just the place to perform your rendition of "I Have Confidence." Of course, this being a Hollywood film, they weren't content to shoot at one Austrian Palace, and so to soak up the back of the Von Trapp family residence, you'll have to head over to...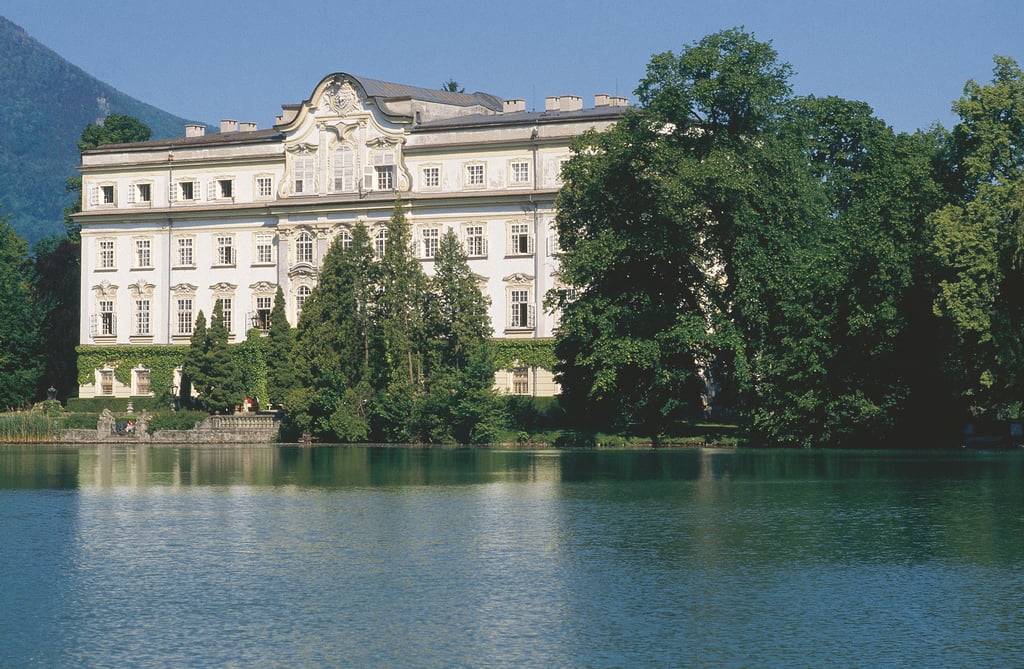 3.    Schloss Leopoldskron. Though closed to the public, the exterior of this rococo masterpiece is more than enough to evoke memories of The Sound of Music. The dramatic back of the building and patio featured prominently in scenes with Baroness Schraeder, the children falling out of a canoe, and the waltz where Maria and Captain Von Trapp fall in love. "I absolutely love Leopoldskron," says Sabine.
4.    Nonnberg Abbey. Much of the abbey where they tried "to solve a problem like Maria," was the creation of a Hollywood backlot, still, you may recognize the real thing from a few exterior shots in the movie. Plus, Christian points out, "It's where the Von Trapps—the real Von Trapps—were married."
5.    Mount Untersberg. You can see the snowcapped Mount Untersberg from pretty much anywhere in Salzburg and, in so doing, marvel at an error in the movie's continuity. As Sabine points out: "They shot the scene of the family escaping into Switzerland here. But if you actually crossed over Mount Untersberg, you'd end up in Germany!" So, how did the real Von Trapps escape? Christian fills us in: "They packed up their bags and got on a train. I guess it was a lot less dramatic."
6.    Schloss Hellbrunn. You won't recognize Hellbrunn Palace from anywhere in the movie, but you'll certainly recognize a certain gazebo on its grounds. The setting for "Sixteen Going on Seventeen," it was moved from Leopoldskron to Hellbrunn in an effort to conserve it. "Of course, you can't go inside it now," Christian chuckles. "A fan of the movie tried to replicate the dance number from that scene—jumping from bench to bench—and broke her leg. Now they just let us appreciate it from the outside."
7.    Residenz Fountain. Though a minor moment in the movie—Maria splashes water in this fountain while leaving the abbey for the first time—Residenz Fountain has an outsize reputation in Salzburg. As the dramatic centerpiece of the city's largest square, it plays host to public music performances, movie screenings, and much more.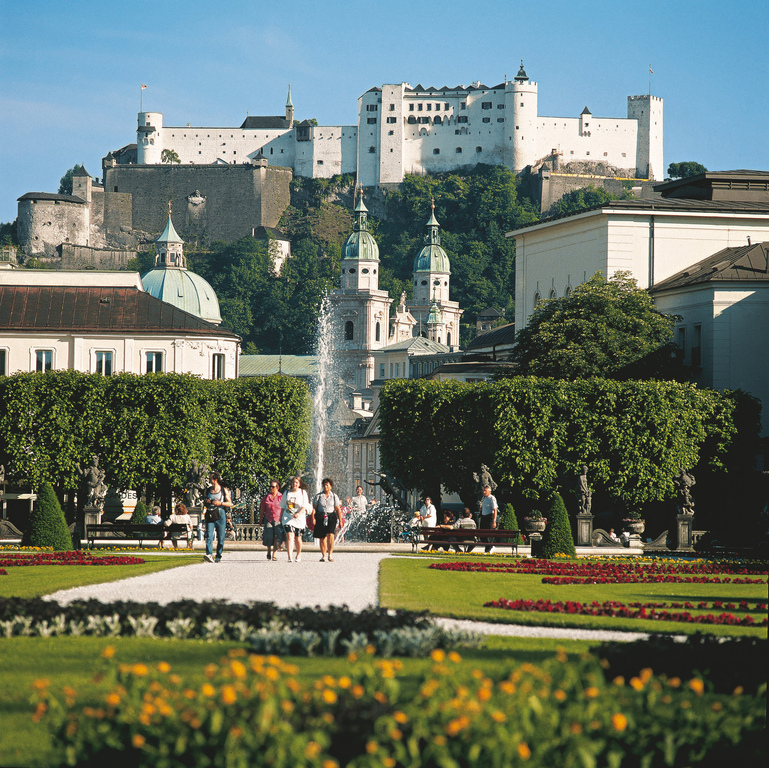 8.    Mirabell Garden. Practice your a cappella singing in this baroque garden, the setting for much of "Do-Re-Mi." Plan on sticking around a while, too—Sabine says it's usually guests' favorite spot to visit. Of course, she adds, don't limit your musical experience of Salzburg to this one movie: "We have Mozart, the great festival in summer, the philharmonic orchestra, Jazz festival in autumn, Adventsingen at Christmas time. It's a city full of music. There's so much to enjoy!"