A Perfect Day on the Trail in Ireland
As my mom and I make our way through the thick fog enveloping the Irish countryside, we hear a deep bellow coming from somewhere in the mist not far ahead. Suddenly a pair of eyes appears and we're face to face with a large cow, who snorts in our direction as we collectively come to a halt on the narrow trail. With a stone wall to our left and thick gorse to the right, we're at an impasse. Carefully, we scramble over the thorny bushes onto a large boulder to give our new friend room to pass. She lumbers by and we're about to climb back down when another bovine head emerges from the fog. And then another. We're stuck in a County Kerry traffic jam.
We're on day six of our Self-Guided Walking Adventure through Cork and Kerry, and so far we've shared trails with plenty of sheep, a few horses, and a very friendly yellow lab, but this is our first encounter with an entire herd of cattle. When my mom and I decided to travel to Ireland, we knew we wanted to wander the Irish countryside on our own, without a group or guide, but we also wanted to be worry-free and not have to spend hours plotting out routes and mulling over logistics. A Self-Guided Walking Adventure checked all the right boxes and led us here, away from the crowds—only cows to compete with for space on the trail.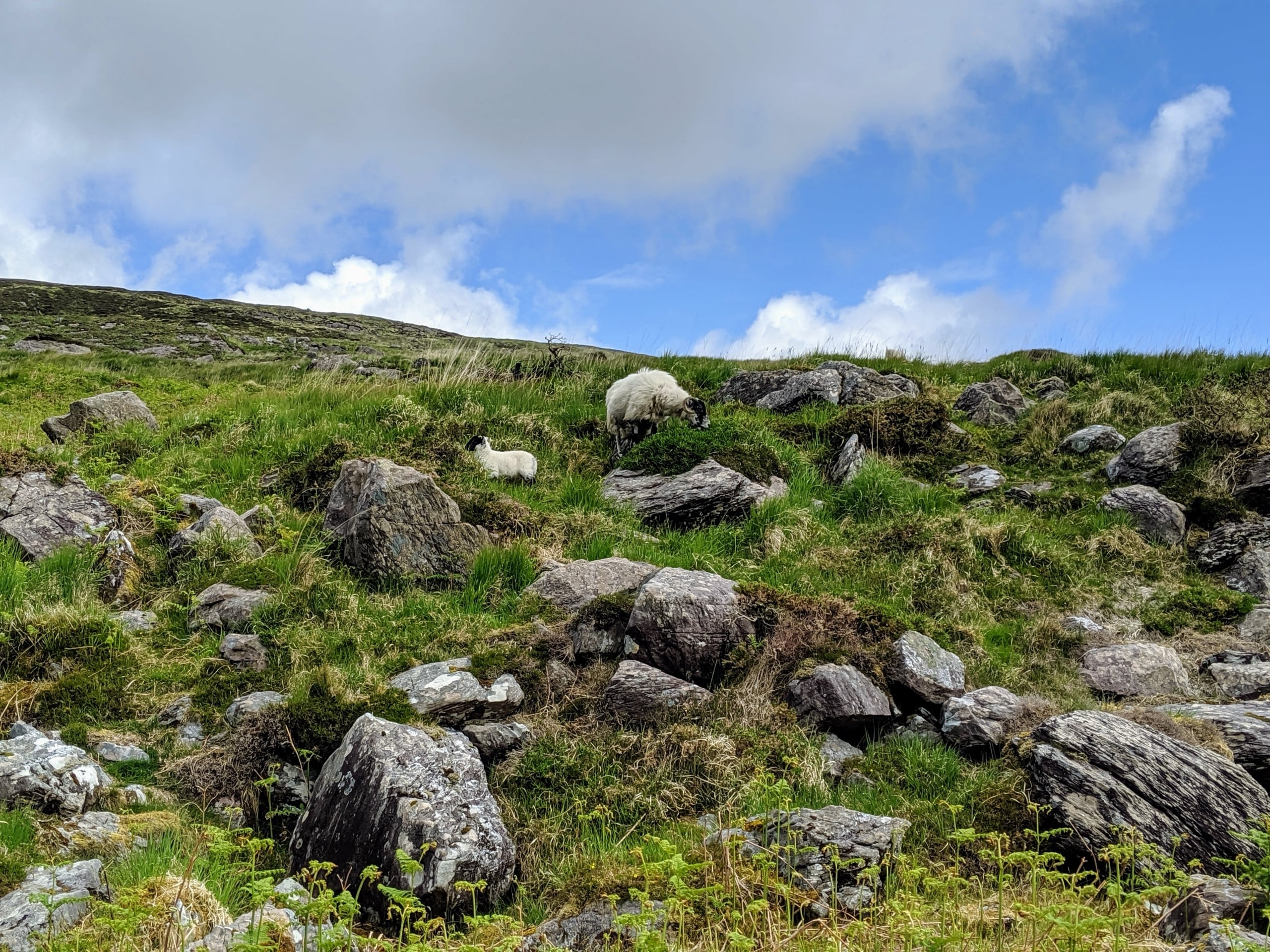 Temporarily stranded on the hillside as the herd takes over right of way on the path, we take the opportunity to enjoy our lunch. The paper bags handed to us that morning by Mary, the innkeeper who sent us off from Killarney with a hug and an invitation to return soon, are packed full of goodies wrapped in paper and tied with little twine bows: sandwiches on freshly baked bread, scones with fresh cream and fruit, a bag of homemade root vegetable crisps, and chocolate bars for dessert. 
Refreshed from our break and with no cows in sight, we continue along the trail. We've had beautiful, sunny weather every day of our adventure so far—this is our first taste of authentic Irish drizzle. For most of the morning we've been able to hear crashing waves in the distance, but haven't been able to see more than a few feet ahead of us through the thick fog. 
We reach a stream that runs right through the middle of the trail. The steady rain means it's flowing fast, and is just wide enough to make jumping across a risky gamble. We pause, unsure of how to continue, until I pull the route notes out. These step-by-step directions have been our guide throughout the adventure, leading us along carefully planned routes and providing details on each destination. There's a note at this step telling me to head a few yards upstream—I follow directions and find a large, flat stone forming a sort of foot bridge over the water. We cross easily and remain dry and comfy.  
A little further ahead we round a bend and the clouds suddenly break. Sun streams through. My mom pauses up ahead and waves me forward, pointing excitedly at a view I can't see yet. I pick up the pace and am rewarded with a stunning view of the Blasket Islands bathed in sunlight. Waves crash along the rocky coast and sheep graze on the hills that slope down to meet the beach. It's a quintessentially Irish view, and we're both so blown away we just stand there in silence for a few minutes.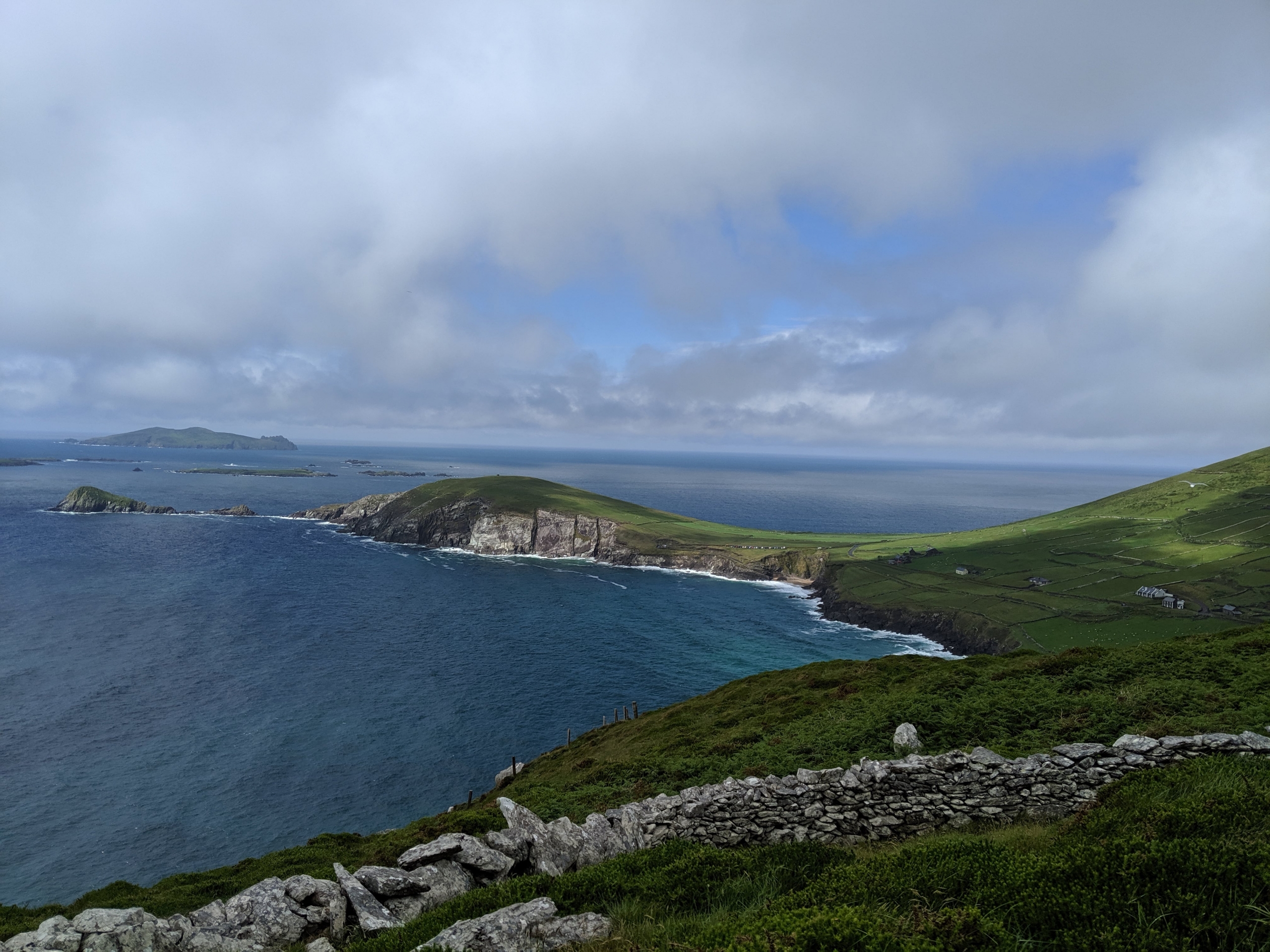 The sun stays out for the rest of our walk, and we soak in the sights as we wind down the hillside towards the coast. Our route concludes at the Blasket Island Visitor's Center, where we're able to stash our daypacks and grab a cup of hot tea before wandering around the exhibit to learn about these now-abandoned islands off the coast. 
A pre-arranged taxi arrives to collect us, and the driver asks about our walk. He's picked up many other Country Walkers travelers like us, so he knows what route we were on and is excited to hear about our favorite spots on the trail. He talks about Dingle—where we're headed—and tells us his family has lived there for generations. He knows a few of the people who used to live on the Blasket Islands, and he talks about how the region has changed since decades past. Before we hop out at our hotel, a charming family-run place right in the center of town, he gives us a run down of which pubs we should check out for the best traditional music.
Our luggage is waiting for us in our room, and we're eager to change out of our muddy clothes and hit the town to find some food. Armed with the restaurant suggestions in our route notes, and our friendly taxi driver's recommendations, we head out into the evening to explore.