A Day on the Trail in Northern California
There's so much to enjoy on our California: San Francisco to Point Reyes Self-Guided Walking trip. Every day will provide a notebook's-worth of new memories—from side streets in San Francisco, to the headlands of Point Reyes. Here's what you might experience during a typical day on the trail:
8:00 a.m. Woke up in the stylish-but-comfortable Casa Madrona, overlooking Sausalito's sleepy waterfront. We wandered down the shop-lined main street to a cute little café for brunch.
9:30 a.m. Started down a wide well-maintained trail into the lushly-carpeted Tennessee Valley, a state park alive with stands of lupine, checker-bloom, and riotous buttercups. We could hear the ocean breakers in the distance.
10:15 a.m. Arrived in the lovely Tennessee Valley Cove, a quiet inlet nestled between bluffs. It's the perfect spot for a quick snack and a few contemplative moments beside the pounding surf.
12:30 p.m. Followed the trail up to a coastal plateau from which, looking south, we could just make out the distant skyline of San Francisco. We stopped and ate a picnic lunch with fresh cheeses from Cowgirl Creamery beside a wild blackberry bush.
2:00 p.m. Muir Beach is a lovely strip of sand and surf in a protected cove, ideal for a quick dip after a long hike. We spent a leisurely hour relaxing by the water and then wandered up into the nearby town.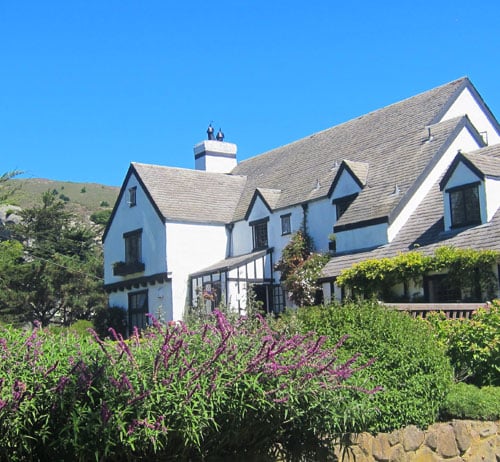 3:15 p.m. Arrived at the Pelican Inn, a slate-roofed and semi-timber-framed inn that looks exactly like an English country estate. Our bags were waiting for us when we checked in.
6:00 p.m. Ate a delicious dinner alfresco in the hotel's restaurant: Mussels in butter sauce and English-style chips washed down with a crisp pint of lager. Yum!

8:00 p.m. Walked back down to the waterfront to watch the sunset. With just the gulls for company, the sense of independence was palpable. Thanks to Country Walkers' attention to detail and meticulous route notes, we were able to enjoy the California coast our way.