Eight Surprising and Unusual Safari Questions, Answered
As the creators of CW Safaris, we absolutely love describing what it's like to travel in Africa. From the Great Migration to the lesser bushbaby, there's no topic we aren't eager to discuss with you. Some questions, naturally, come up again and again ("When's the best time to travel?"—the short answer: "it depends!"), but there are others that are a bit more off the beaten track. And while many might find these queries to be a bit...unusual, we believe that the answers are quite useful for anyone considering a trip to this remarkable continent. So, we thought it would be fun to take a safari through some of the most interesting questions we've received in the past year. Put on your khakis and strap in—we're going for a ride!
What do you do when you have to go to the bathroom out in the wild?
There's no way to sugarcoat this: if you find yourself needing a bathroom break when out in the bush on safari, options may be limited. Many parks have designated facilities and game drives will be planned around them, however, if you are on a classic game drive of three to four hours and have been diligent about staying hydrated, there's a chance you may be far from facilities when nature calls. If so, be assured our guides can accommodate you: First, they drive to a location where they have a good vantage of the surrounding land and possible wildlife. Second, they park the vehicle in a way that lets you use the space immediately behind it—a so-called "green room" that provides privacy while still allowing them an eagle eye view of movement on the landscape. The important thing to remember is that our guides are veterans in such situations; you'll feel comfortable talking with them about your needs.
What do we eat on safari? I don't want to spend a week living on wildebeest jerky!
The short answer is, "too much." Meals on safari are plentiful, fresh, and delicious. We like to introduce you to the local fare, such as fragrant curries or braai barbecue, but our chefs are influenced by European and Arabic flavors as well. Simply put: you'll be spoiled with the freshness and variety of meals at your camps and lodges. As a rule, most guests follow general traveling recommendations such as avoiding ice cubes or fresh salads washed in water. However, your guides and camp hosts will know whether water in a given location has been properly boiled and filtered and will give accurate recommendations.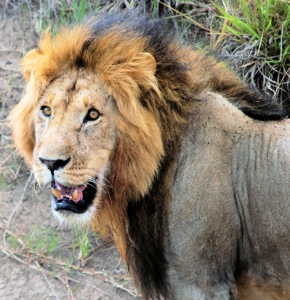 Can I pet the animals?
We strive to follow best practices for wildlife conservation and avoid all personal contact with wildlife. It's never healthy for them, nor is it safe for us. If you find yourself being approached by a wild animal, always follow your guide's lead.
For instance, when on an experience such as gorilla tracking, there are strict rules as to the distance you must keep from them. However, there's always a slight possibility that the gorilla will approach you. If that were to happen, there are very specific things you must do (such as taking a submissive position, avoiding sudden movements, avoiding eye contact, and listening to your rangers as they "speak gorilla" to convince the animal to back away). The best part of going on safari is that it is an unscripted experience—along with the excitement, you must be prepared for anything and respectful of your guide's directions.
Will I be able to keep in touch while on safari?
You'll be amazed by the number of cell phones you see in even the smallest villages. However, this doesn't mean you can make a call or text whenever you want. Cell service is often unreliable and the networks aren't necessarily compatible with American phones. A satellite phone is always an option but, again, they won't work everywhere. Many lodges and camps offer wifi; if it's working, you can use it to send messages over programs like Skype, WhatsApp, or Facetime. That's probably the simplest way to stay in touch.
However, our advice is this: a safari is a great time to "unplug" from the outside world. Rather, connect with the glorious wilderness around you. Rest assured, we'll be able to reach you through our in-country partners (and vice versa) if anything important comes up.
How exactly should I dress on safari? Should I buy a pith helmet like I see in the movies?
No, you don't need a pith helmet, and, no, you don't need to dress like Indiana Jones. Surprisingly, however, it can get quite cold. When packing, it's best to be ready for a variety of conditions including extreme ranges of temperature, humid climates, and bright sunlight. Pack layers, including a fleece or light jacket. Remember that natural colors (beige, green, brown) are always in fashion on safari—they help you blend into the natural surroundings so you avoid standing out to animals. We'd also recommend steering clear of black and dark blue, which attract pesky bugs like tsetse flies.
Our "essential" recommendation: a lightweight cotton or linen wrap or scarf. A scarf does it all: it keeps you warm if the temperature is cool, protects you from the sun when it's bright, serves as a pillow when you need a rest, and, if it's hot, can be dampened and wrapped around the back of your neck. What a great way to maximize your luggage weight and space!
What exactly do you mean by "tented camp?" I'd rather not rough it too much.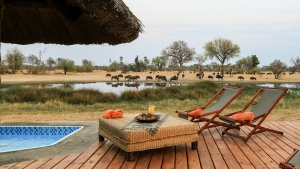 Take it from us: life under canvas is good. These are premium accommodations with en suite bathrooms, hot water, comfortable beds with down duvets, raised viewing platforms, a proper floor, flushing toilets, stylish decor with rugs and easy chairs, and a range of fantastic amenities including wake-up tea and coffee served at your tent, hot water bottle turndown service, massage facilities, private pools, and even butler services.
I love to exercise! Can I go for a run in the morning?
That all depends...can you outrun a cheetah? We kid, but in all seriousness, we selected most of these camps and lodges for their prime location in the parks, so any jog outside puts you in prime predator territory. Having said that, our itineraries are designed to be as active as possible, taking into consideration the areas we're traveling. There are even camps and lodges with gyms that offer you a place to get a workout.
Hmm...I still have more questions! Is there a way I can get in touch with you?
We would love to hear from you! We welcome your questions and are available via phone from Monday-Thursday 8:30 a.m.-7:00 p.m EST and on Fridays from 8:30 a.m.-5:00 p.m at 888.483.7696. If you prefer, please email us at [email protected] or [email protected].