11 Spectacular Images of Provence's Lavender Country
Is there anything more quintessentially Provence than lavender? The fragrant flower conjures images of colorful fields, quaint outdoor markets, and exquisite dishes served in old-fashioned bistros. However, did you know that the iconic plant doesn't grow just anywhere in the region? In fact, there's a very specific section of Provence where lavender grows. This countryside, in the plateaus east of Mont Ventoux and atop the Luberon hills, has its own character and highlights. We asked our guide to show us in images what makes it special.
Below is possibly the most photographed site in all of the Provence: the 12th century Sénanque abbey, Romanesque in architecture and intact after 850 years, complete with its lavender field.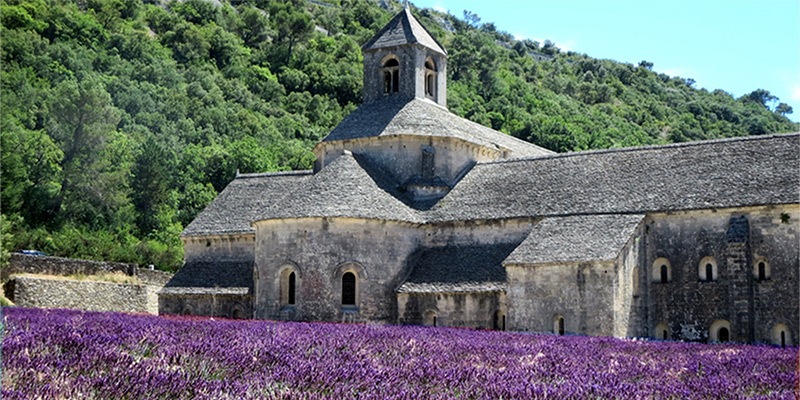 Just outside the village of Gordes, near Sénanque abbey, we stop to stroll through a lavender field in full bloom.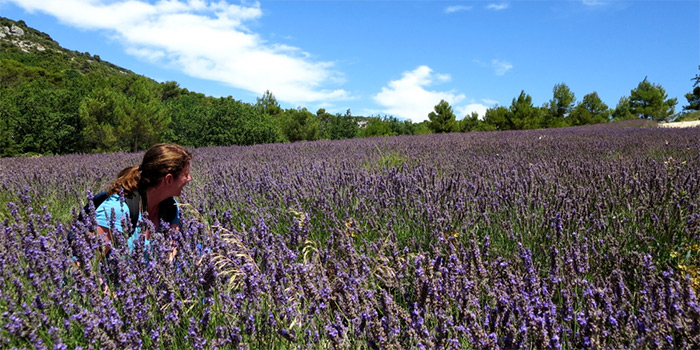 We transfer to the upper slopes of Mont Ventoux to enjoy a view of the entire chain of the Alps, and for a leisurely walk. At 4,600 feet in altitude, lavender grows naturally in the wild, such as the patches we pass below.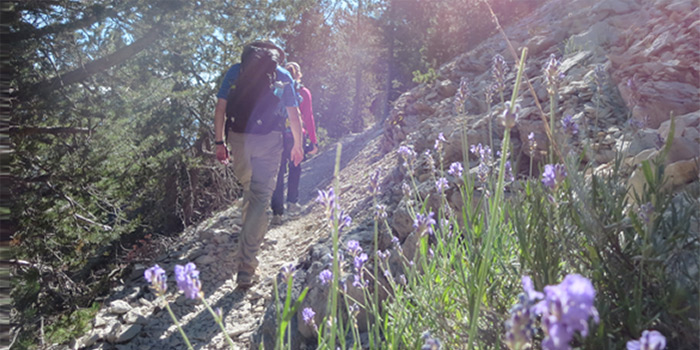 On the upper slopes of Mont Ventoux, we enjoy beautiful views of the distant Alps: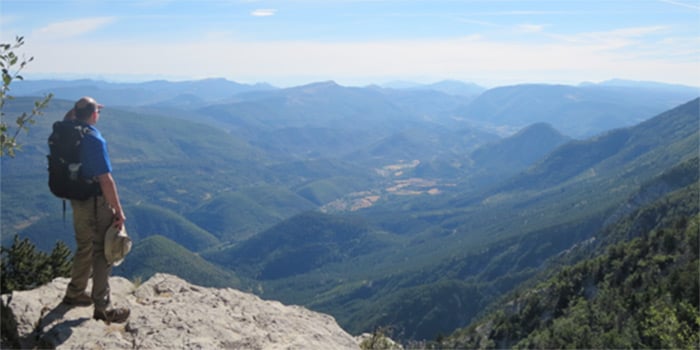 One of the highlights of the week is visiting the Agnel family farm, and learning all about the precious purple flower. After an hour in the distillery, we take to the fields and learn to cut lavender in the traditional way with Mr. Agnel himself. We cut bunches carefully with a sickle—and get to keep them!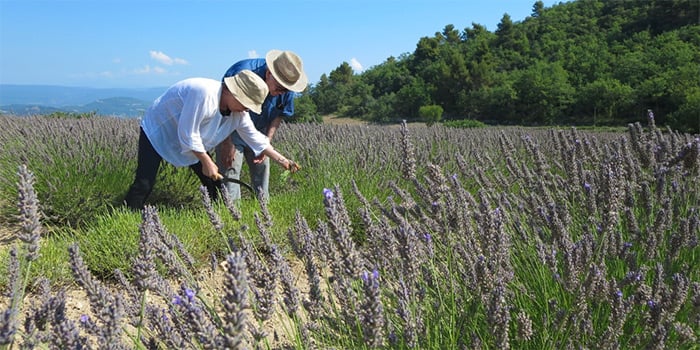 Most of the lavender in the region isn't sold as bunches though: the vast majority is distilled to extract its essential oils. One acre of planted fine lavender will generate only 6 liters of essential oil, one of the reasons why the plant is so precious. Here Anne-Charlotte, one of our guides, spends a few moments being distilled.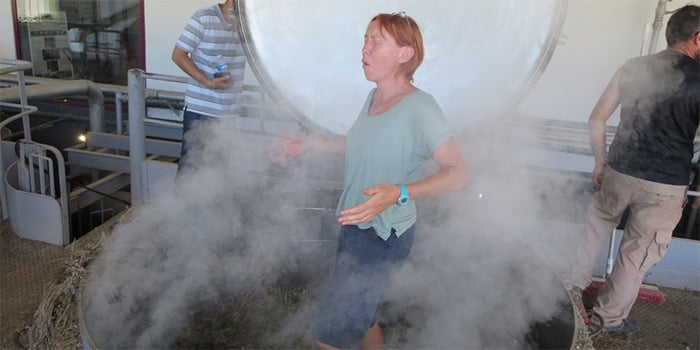 We spend three nights in the town of Forcalquier, to the east of the Luberon Mountains, a stunning medieval town far off the tourist radar.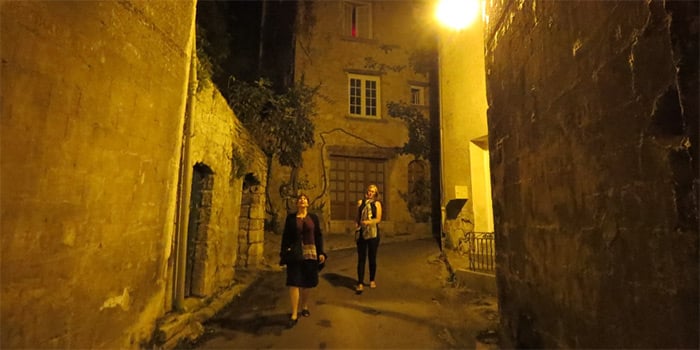 Even farther off the tourist radar is the family goat farm we visit just outside the tiny village of Saint Michel l'Observatoire. We spend time learning about making their prized goat's cheese, and hang out with the herd.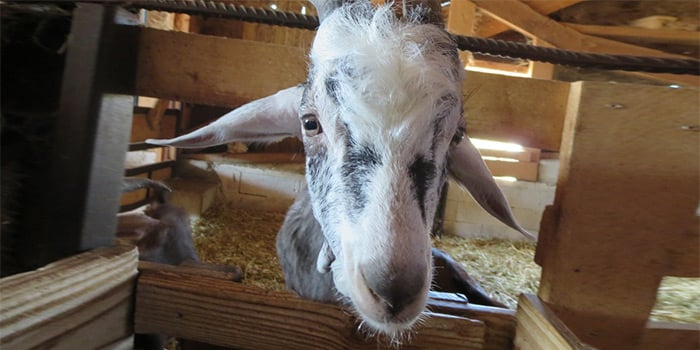 And of course, we get to sample all of the cheeses during our picnic lunch. The one wrapped in a chestnut leaf is called Banon cheese; it's aged longer than the other cheeses, creamier, and stronger in taste; the Musardière has won prizes for their Banon, a veritable symphony of flavor.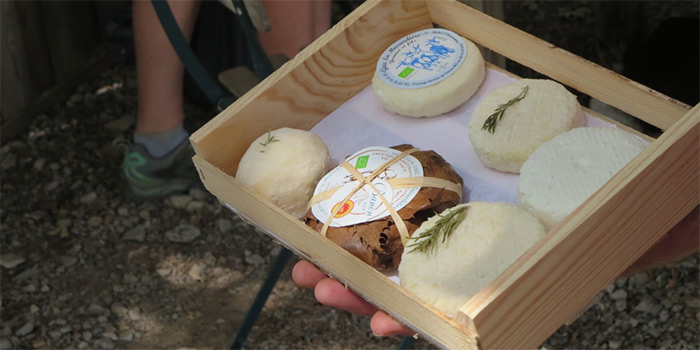 Heading back up to the high plateaus where lavender flourishes, we stroll along the scented rows with views of the Alps in the far distance.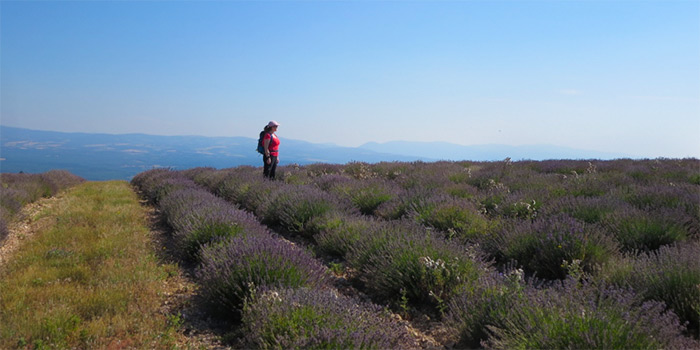 We manage to walk through the fields the very day they're being harvested, and as the machine passes over each of the rows the delicate perfume intensifies, spellbinding.