Morocco: Marrakech, Foothills of the High Atlas & Essaouira
7 Days
Starting From
$4,698
10 Days
Starting From
$5,698
Favorite
See What's Included
On this hiking tour of Morocco along ancient caravan routes, the bread and honey are fresh, but the hospitality is centuries old.
In a hillside village of terraced houses, a woman sits weaving at a tall outdoor loom. Nearby, others bake khobz in a communal clay oven, and men pack mud into wooden molds for bricks. A Berber family welcomes you for a lunch of flatbread and lamb cooked with cumin, cinnamon, and saffron. Afterwards your hosts brew fresh mint tea, pouring out each glass in a traditional gesture of hospitality. The country's uncommon charm is only ever a few steps away on this hiking tour of Morocco, whether following age-old caravan routes in the foothills of the Atlas Mountains or watching the sunset over the Atlantic in Essaouira. And while the country's iconic sights are truly indelible—bustling medinas, spice markets, hidden gardens—it's the generous welcome you'll remember most.
Highlights
Trace salt-mine trails along an ancient caravan route in the foothills of the stunning High Atlas Mountains.
Experience traditional Berber hospitality as you stroll into mountain villages and are invited to share mint tea or a lunch of vegetable tagine and fresh-baked bread.
Thrill to a seaside jaunt astride a camel at sunset during your visit to Essaouira, former haunt of Jimi Hendrix, Cat Stevens, and countless other artists.
Savor lunch and a wine tasting at one of Morocco's prestigious wineries, owned by a Rhône Valley expat whose two trusty dromedaries plow the fields.
Relax in a traditional hammam or indulge in a herbal massage treatment at your remote hotel's world class spa
On all Guided Adventures you can count on...
Expert local guides to introduce you to the best of your destination
Off-the-beaten-path places you'd never find on your own
Delicious multi-course meals—a majority are included
A maximum of 18 fun-loving fellow travelers to share the journey
Gracious accommodations that are a clean, comfortable home away from home
Experts to handle all the details
Flight + Tour Combos include plane tickets, airport shuttles, and pre- and post-tour accommodations
Hotel Les Jardins de la Koutoubia
Occupying a converted palace on the fringe of the Place Djemaa El-Fna, this stylishly designed hotel is named for the mosque across the way. With a light and airy atmosphere, the air-conditioned property embraces the modern sensibilities of Morocco, setting it apart from the city's other tradition-driven accommodations. Yet its local and cultural accents are unmistakable and inspiring. Poolside, a curtained alcove of the 13th-century Riad Ouarzazi serves cocktails mixed with fresh Moroccan mint and juices while traditional tea is served in the lobby. The hotel's resident French chef creates sumptuous dishes from local ingredients at the rooftop restaurant. Each dish is steeped in Berber tradition, enhanced with flavors and culinary techniques from his native country and served with views of the city and the Atlas Mountains. Your elegant room overlooks the courtyard and pool.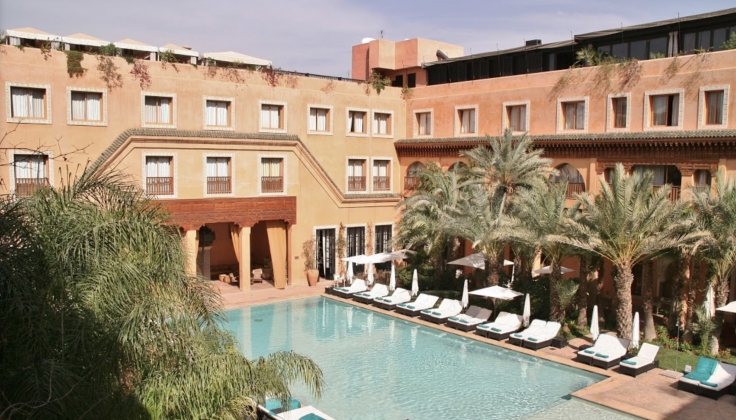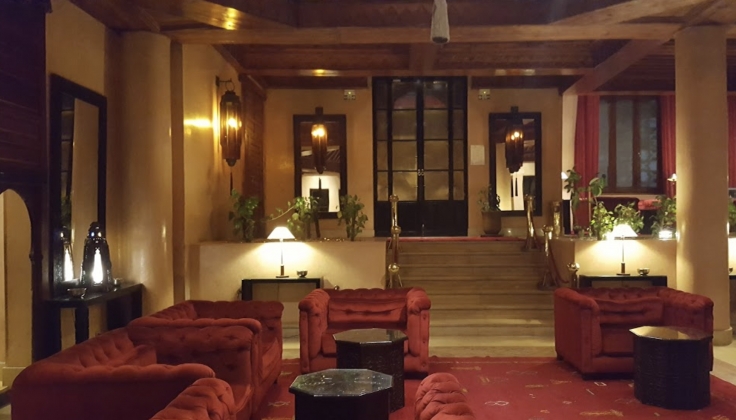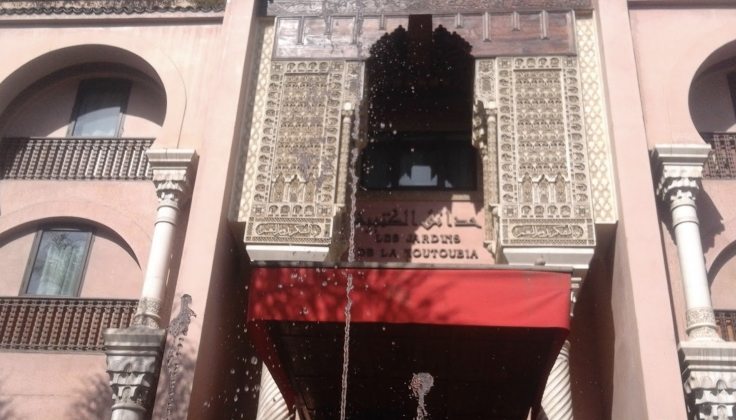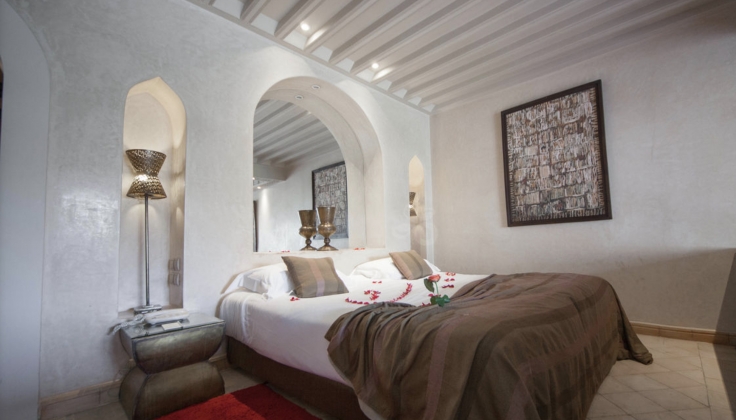 Kasbah Angour
Set on a small plateau of the Atlas Mountains, the Kasbah Angour is a newly constructed hotel modeled after a traditional Berber castle, lovingly restored by Englishman Paul Foulsham and run by local Berbers. Since opening its doors in 2011, this eco-friendly, air-conditioned boutique hotel has been providing traditional hospitality amid magnificent vistas. No detail has been overlooked to give guests the most authentic experience. Its renovation was completed with local materials and your room exudes a rustic and cozy charm, adorned by locally made carpets and textiles. Savor thoughtfully prepared dishes of couscous, tagine and seasonal produce in its main restaurant, laden with carpets like a sultan's tent, or on the outdoor terrace, where mountain views make for the perfect dining room. Refresh or cool off in the beautiful outdoor pool.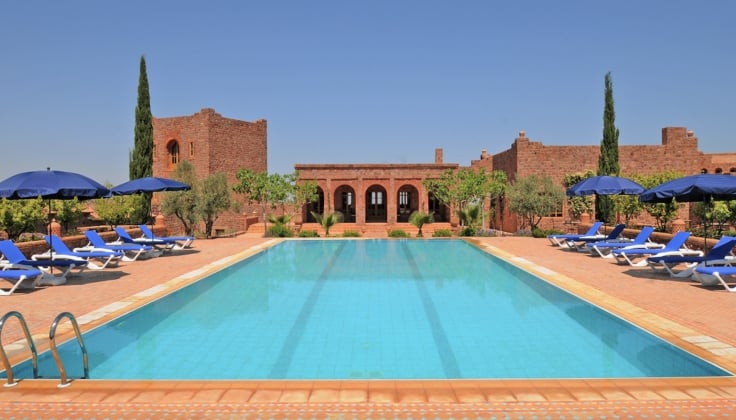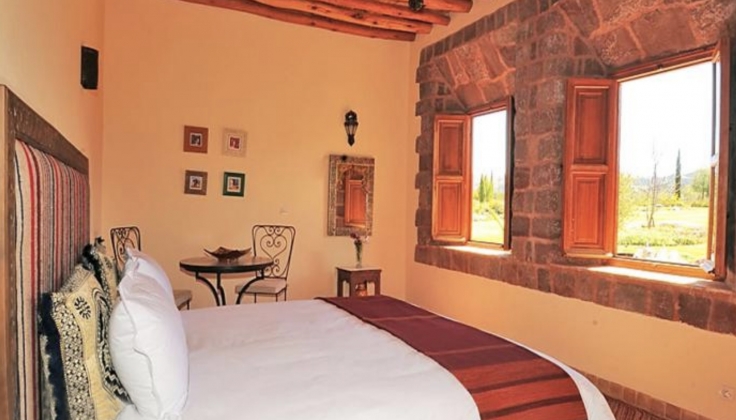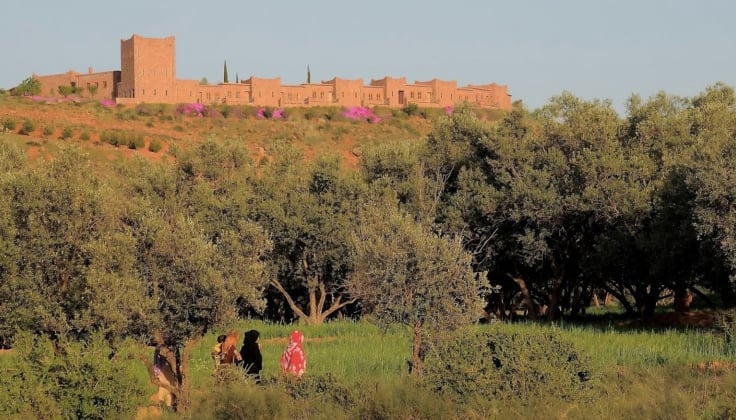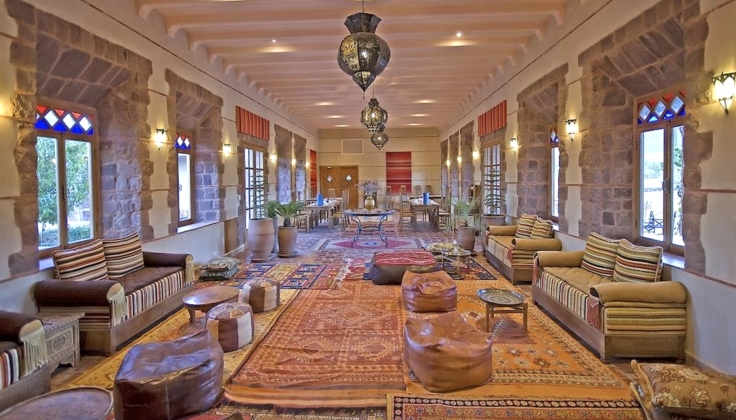 Domaine de La Roseraie
Secluded in the midst of a 60-acre nature park, Domaine de la Roseraie is situated in a peaceful valley. The beautiful air-conditioned property, inspired by Berber tradition and the proprietor's love of gardens, lies in the heart of Berber country among the tranquil foothills of the High Atlas Mountains. The grounds, gloriously ornamented with delicate rose bushes, blend seamlessly with the surroundings. Relax in the on-site spa. Savor its renowned cuisine. And enjoy the privacy and magnificent views of the surrounding landscape.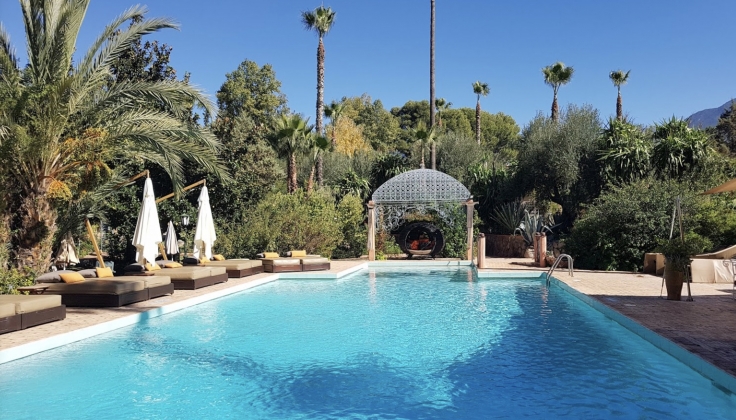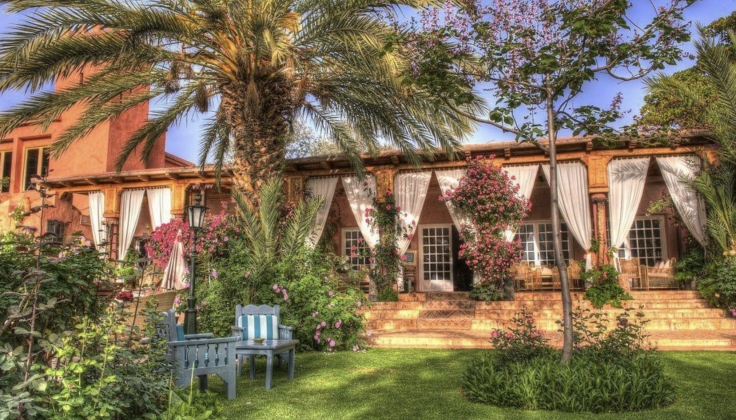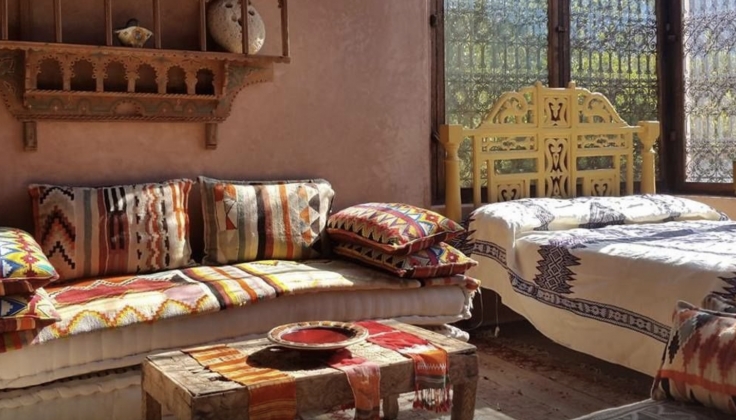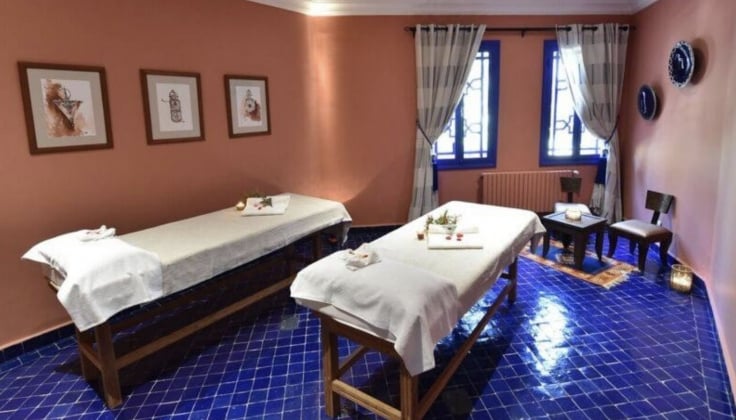 Heure Bleue Palais
Steeped in a rich past, the Heure Bleue Palais is a prestigious Relais & Chateaux property. This elegant former riad—a typical Moroccan mansion built around a central courtyard—was built in the 19th century into the wall of the medina, next to the Bab Marrakech gate. The air-conditioned hotel brims with colonial charm, lush with velvet furniture, oversized plants, wicker, and a tranquil water fountain. Take a dip in the breathtaking rooftop pool, indulge in a spa service or hammam and dine among Moroccan carpets in the candlelit Salon Oriental. Room décor exudes a warm ambiance of dark wood and earthen tones, inspired by African, Portuguese, and Asian styles.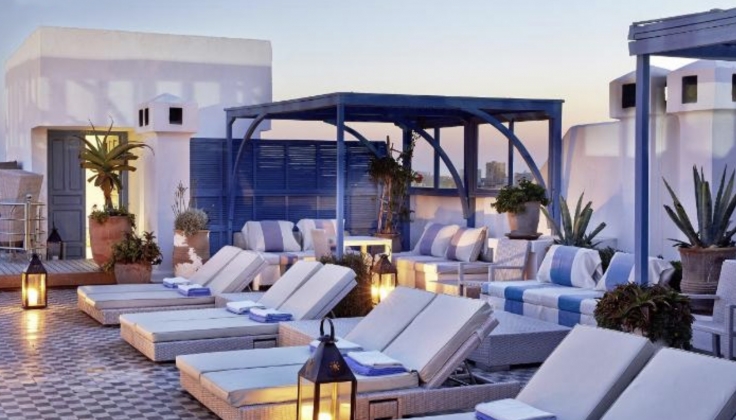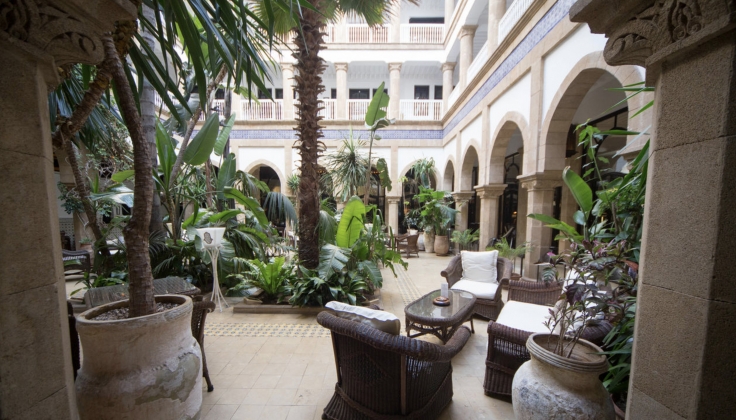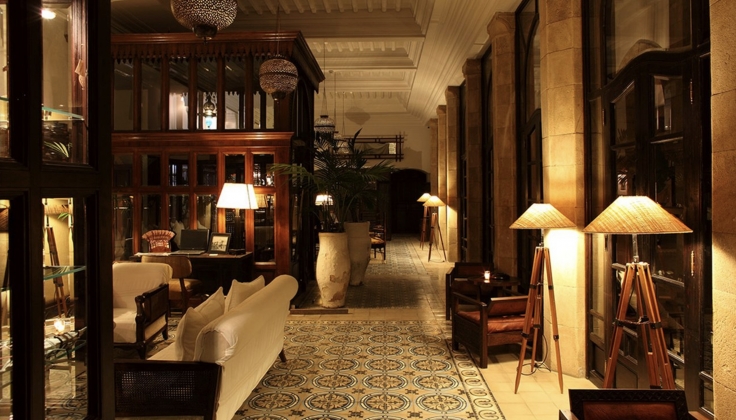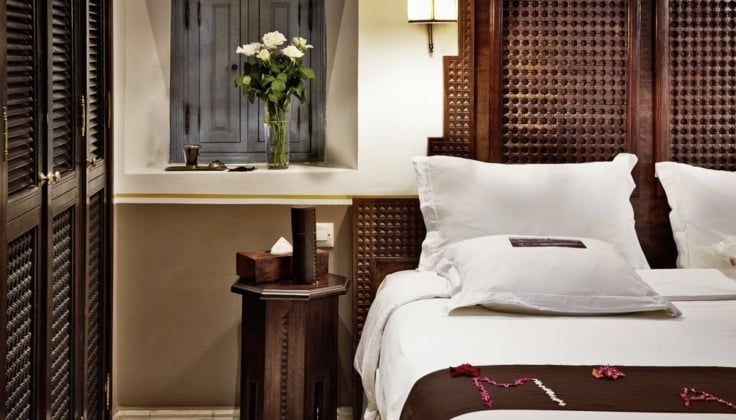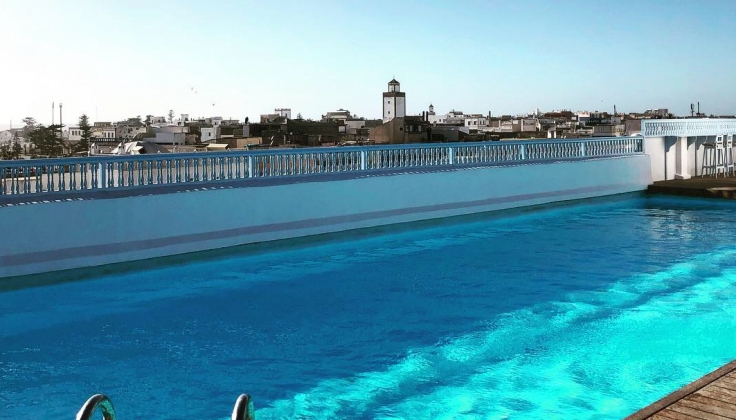 Sofitel Marrakech Lounge & Spa
A calming oasis, the Sofitel Marrakech Lounge & Spa is the picture of elegance. Sophisticated artwork adorns the walls of this stunning "Art Lounge" hotel and soothing neutral tones are accented with gold touches. During your stay at this air-conditioned property, take a dip in the pool surrounded by palm trees. Sip a cocktail underneath a galaxy of gold orbs in the lobby lounge. And enjoy the colors and scents of bougainvilleas and astonishing views of the distant Atlas Mountains. Sample delicious cuisine in the onsite restaurant, finishing off your meal with Moroccan pastries or Parisian macaroons. Your generously appointed room ensures a relaxing stay.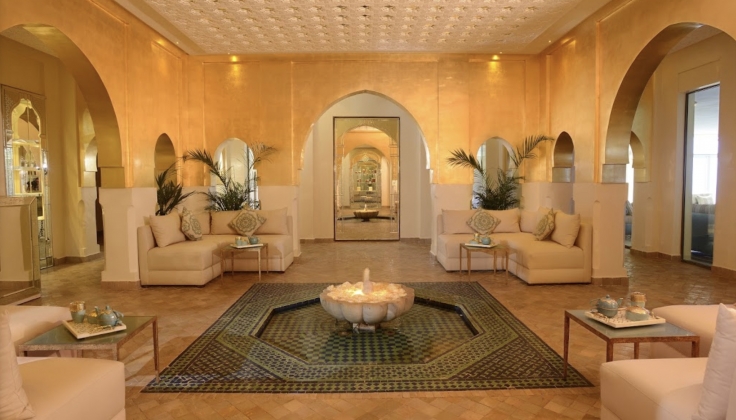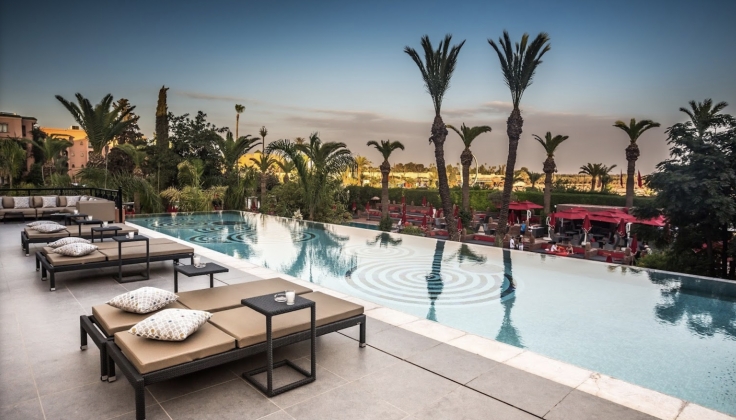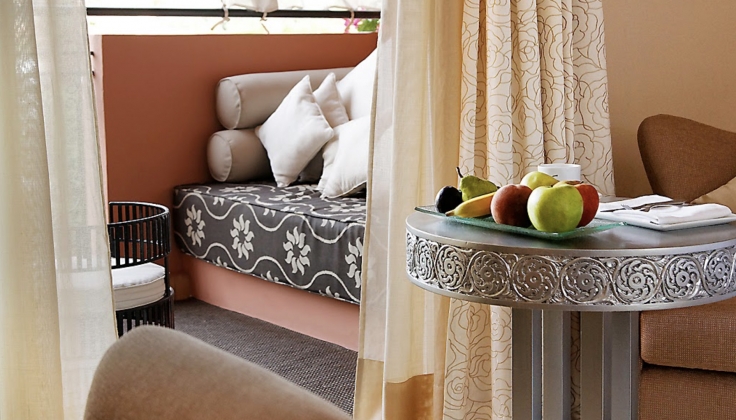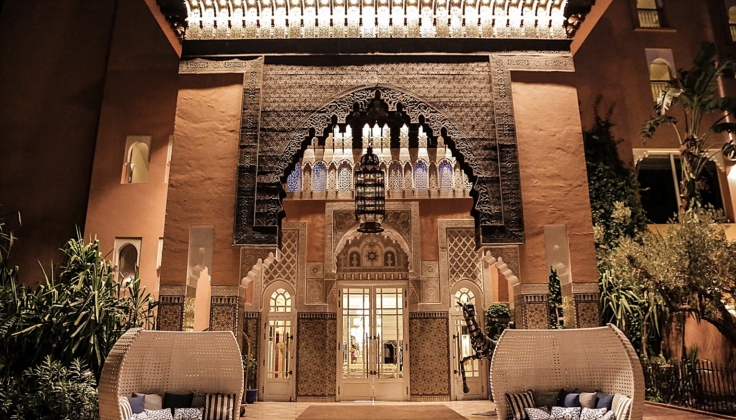 Linger Longer with a Tour Extension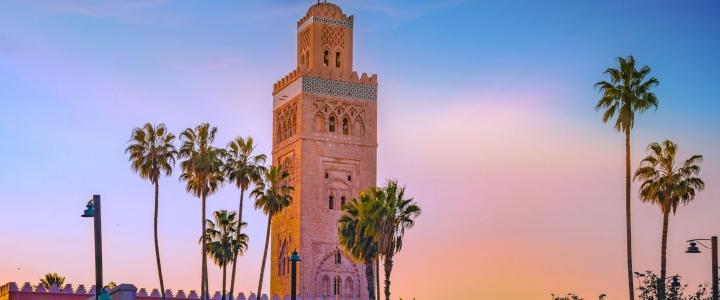 Pre-Tour
Flight + Tour Combo Only
2023 Pre-Tour Extension - Marrakech
One night at Les Jardins de la Koutoubia Hotel
Airport car service for arrival
Daily breakfast
City information
1 Night From $245
per person, double occupancy

Single Supplement: From $195
Your vacation is about to begin! Spend your first night aloft and arrive ready for an unforgettable trip.
Start off your first day in Marrakech right by having a Country Walkers representative greet you at the airport. A complimentary car service will whisk you to your centrally located hotel. From here, you are perfectly positioned to explore this charming city at your leisure.
After a delicious included breakfast at your hotel, you are free to explore on your own, using our included city information to guide your discoveries.
Included Meals: Breakfast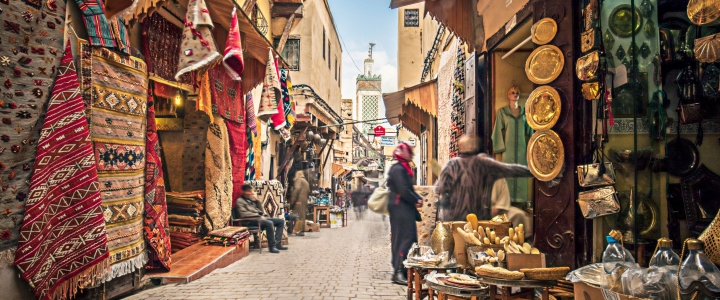 Post-Tour
Flight + Tour Combo Only
2023 Post-Tour Extension - Fes
Two nights at the Palais Faraj Suites & Spa or Hotel Sahrai
One night at Le Casablanca Hotel
Ground Transportation from Marrakech to Casablanca and roundtrip transportation to Fès
Airport car service for departure
Small-group guided walking tour of ancient Fès (with monuments entry)
Daily breakfast, two lunches, one dinner
City information
3 Nights From $1295
per person, double occupancy

Single Supplement: From $395
Start your morning with a three-hour drive from Marrakech to Casablanca. After a light lunch, continue by ground travel (approximately four hours) to Fès, home to the most complete medieval city in the world. By some account, 9,500 labyrinthine streets and alleys wind their way through the city's famous car-free medina, totaling some 180 miles. Your luxury riad is ideally situated right on the edge of the massive marketplace, putting the UNESCO World Heritage site at your feet. A light lunch and dinner are included today; enjoy the latter at your hotel's elegant restaurant.
Included Meals: Breakfast, Dinner
After a leisurely breakfast, you meet your guide at 9:00 a.m. in the hotel lobby for a fascinating walking tour of the medina. A small city unto itself, Fès' medina is Morocco's most important intellectual, cultural, and religious center. Within its walls is one of the world's oldest universities, some of the finest handicrafts in northern Africa, and numerous monuments that honor the city's past as an imperial capital. Throughout your tour, you'll find there is nothing like having a local insider along to reveal the hidden passages and secret corners of Fès. You visit the exterior of the austere yet elegant Kairaouine Mosque, able to accommodate 22,000 worshippers, and the Medersa el-Attarine, one of several ornate medieval theological colleges. Experience the clang and bustle of Seffarine Square, where copper artisans hammer and polish metal into urns and pots as they have for centuries. Continue to the dyers' quarter and get a bird's-eye view of the tanneries, a visual feast of round stone vessels filled with (pungent) multi-hued dyes. Enjoy a lunch of traditional Moroccan fare in the heart of the medina, and continue to the Jewish quarter (Mellah), and the splendid golden doors of the Royal Palace.
Late afternoon finds you relaxing at your riad or perhaps indulging in a spa treatment before dinner on your own. We provide detailed city information to help you plan your evening.
Included Meals: Breakfast, Lunch
After a morning of independent exploration or perhaps a relaxing spa treatment, meet your driver at 1:00 p.m. in the lobby for your shuttle to Casablanca (four hours by minibus) for a late afternoon arrival. Once in Casablanca, settle into your hotel and take in its splendid views of the medina, the Atlantic Ocean, and the Hassan II Mosque, the largest in Africa.
Lunch and dinner are on your own today. We provide detailed city information to help you plan your day.
Included Meals: Breakfast, Lunch
Wada'an! After an included breakfast this morning, complimentary transportation is provided to Casablanca's Mohammed V International Airport, based on your departure time.
Included Meals: Breakfast
| What's Included | Flight + Tour Combo | Tour Only |
| --- | --- | --- |
| Exceptional boutique accommodations | | |
| 16 on-tour meals: 6 breakfasts, 5 lunches, 5 dinners | | |
| Local guides with you throughout tour | | |
| Local wine and/or beer with dinner | | |
| Entrance fees and special events as noted in the itinerary | | |
| Telescopic walking sticks provided on tour | | |
| Roundtrip airfare | | |
| Two extra nights in Marrakech | | |
| Airport car service for arrival and departure | | |
| Pre- and Post- tour breakfasts | | |
| Business-class upgrades available | | |

This was a terrific experience and the ideal exposure to the culture of Morocco, with two of the best guides I've experienced in my 16 Country Walker trips! The guides (Saida & Nadia) were the perfect blend of friendliness, professionalism and cultural knowledge.
Morocco: Marrakesh, Foothills of the High Atlas & Essaouira
We found Morocco to be a fascinating country. Our tour enabled us to experience the diversity of the vibrant medinas, the verdant countryside and the impressive foothills of the High Atlas. Our guide was so knowledgable and thoughtful. Our accommendations were excellent. We would recommend staying for three nights in only one hotel in the foothills, preferably Domaine de la Roseraie. We would like to have had the desert experience. Maybe make the tour one day longer.
Morocco: Marrakesh, Foothills of the High Atlas & Essaouira
Expert Local Guides
Experience your destination like an insider with people who call it home.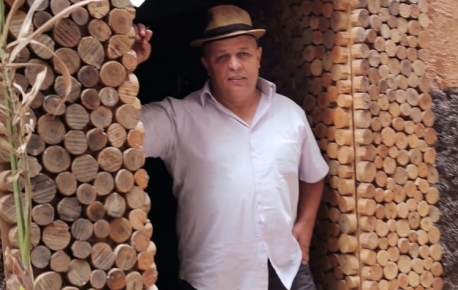 Mohamed Imerhane
A native of Morocco's High Atlas Mountains, Mohamed is an official Moroccan mountain guide. With over 20 years of professional guiding experience, Mohamed loves to share his deep knowledge of the region with guests. He is fluent in English, French, Arabic, and Berber.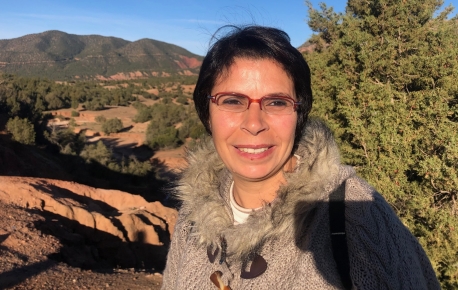 Nadia Kartaf
Nadia Kartaf is a native of Fès with years of experience guiding in her hometown and its surrounding countryside. With a degree in English literature from the University of Fès, Nadia loves reading in addition to music, horseback riding, and travel.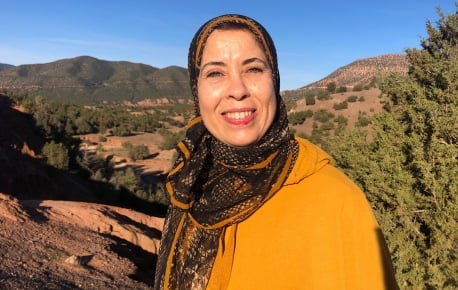 Saida Ezzahoui
A native of the former imperial city of Fès, Saida Ezzahoui is a licensed guide of this fascinating city and was one of the first female guides to accompany groups along trails through her beloved Atlas Mountains. With a degree in English Literature and fluency in three languages, Saida personifies the modern, yet traditional, Moroccan woman.
Be the First to Get News & Special Offers
38 other people have recently viewed this tour!
Click and hold to Zoom