Italy: Matera, Otranto & the Puglia Coast
Tour Only
Flight + Tour Combo
7 Days
Starting From
$4,498
10 Days
Starting From
$5,498
Favorite
See What's Included
Give in to the seductions of Basilicata and Puglia, Italy—awash in coastal and mountain landscapes and stone-carved villages – on this sublime walking tour.
In the hidden rural corners of Basilicata and along the spectacular coast of Puglia, Italy, locals love their passeggiate—leisurely strolls—and it's easy to see why. Soothing waters shimmer in Adriatic and Ionian waters. Whitewashed villages cut from stone hug the surf-lashed coast and blanket the fertile countryside. And striking landscapes of soaring limestone peaks and river-cut ravines make for some sublime passeggiate of your own. On this stunning walking tour into the heart of two of Italy's most scenic regions, you'll follow the paths of ancient farmers and pilgrims, passing olive groves, undulating vineyards, old shepherd settlements, and rock-hewn churches. Marvel at fairy-tale trullo architecture. Meet dedicated artisans who keep local heritage alive. Savor the tantalizing flavor creations of farm-to-fork chefs. And stay in a luxuriously converted cave dwelling, an elegant palace, and a refined masseria farmhouse
Highlights
Tour the magical stone city of Matera with a local guide who brings its rich culture to life.
Stroll into the whitewashed village of Alberobello, and savor wine and traditional snacks at an enoteca fashioned from one of the region's beehive-shaped trulli.
Savor the breathtaking mountain views as much as the regional dishes when you join our friend Antonietta for lunch at her magnificent Castelmezzano restaurant.
Unwind poolside, a glass of primitivo in hand, at an authentic Apulian masseria, or farmhouse, near the enchanting coastal town of Otranto.
Walk the final stretch of the via Francigena—the "road from France"—to the southernmost point of Puglia at Santa Maria di Leuca.
On all Guided Adventures you can count on...
Expert local guides to introduce you to the best of your destination
Off-the-beaten-path places you'd never find on your own
Delicious multi-course meals—a majority are included
A maximum of 18 fun-loving fellow travelers to share the journey
Gracious accommodations that are a clean, comfortable home away from home
Experts to handle all the details
Flight + Tour Combos include plane tickets, airport shuttles, and pre- and post-tour accommodations
Dimora Don Ferrante
Dramatically situated between the Adriatic Sea and the whitewashed houses of the Old Town of Monopoli, the Dimora Don Ferrante occupies a former fortress rich in history. Awash in white walls and simple elegance, it exudes the laid-back air and stunning beauty of Puglia. Enjoy meals here in elegant style, savoring Apulian flavors with sweeping views of the sea. Breakfast is served in the 16th-century gunpowder store room under a stone-barrel vaulted ceiling. You may also indulge in a spa treatment and relax by the sun-drenched pool. Each air-conditioned room is meticulously tended to, offering ample amenities and comforts.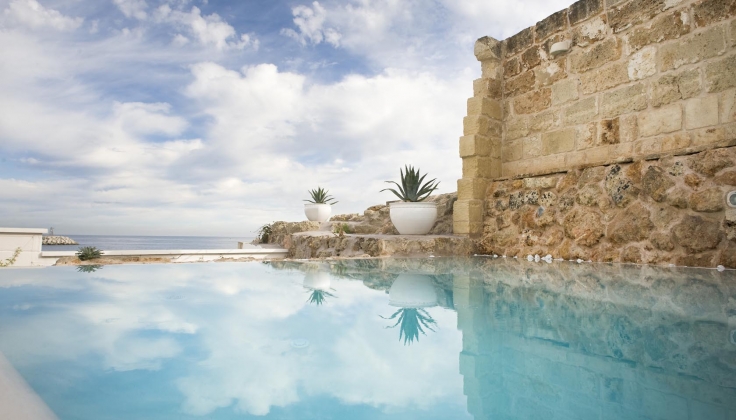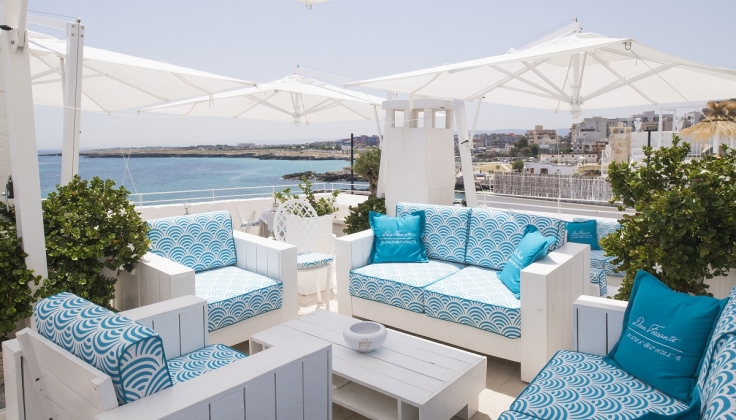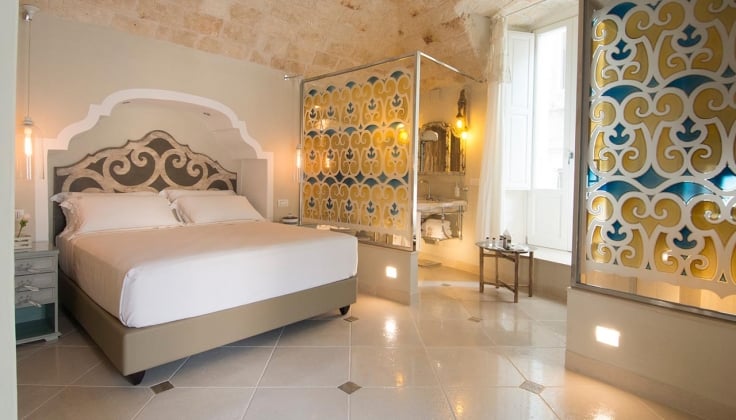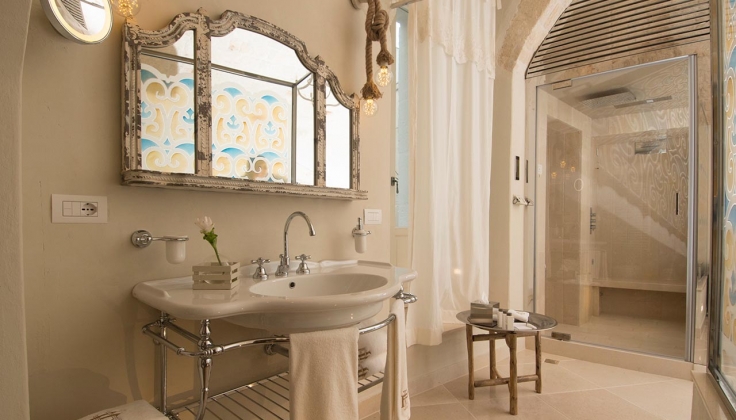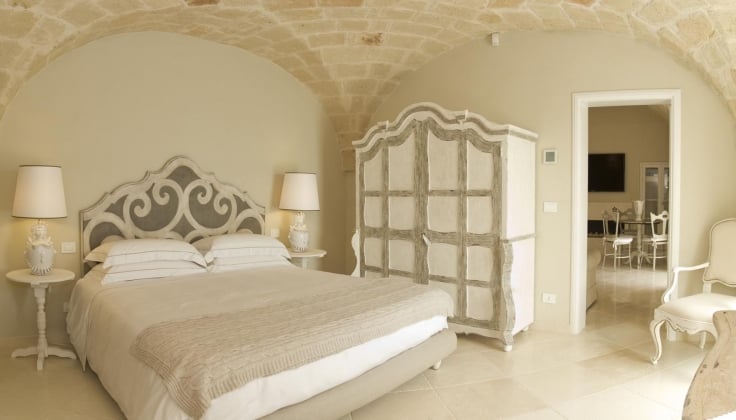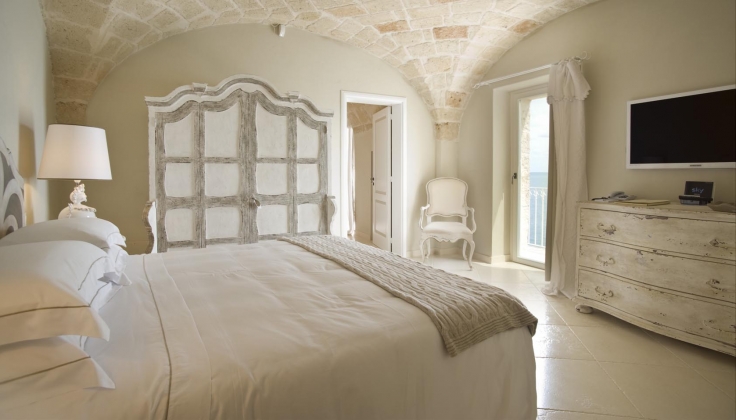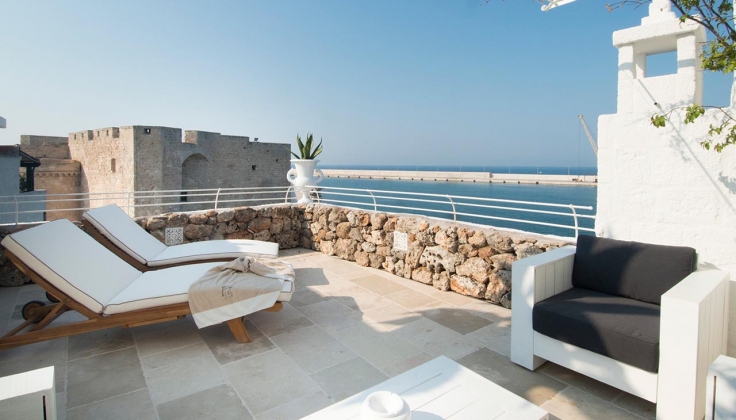 Sant'Angelo Luxury Resort
The Sant'Angelo Luxury Resort is a true albergo diffuso, a "dispersed hotel" spread out across historically significant buildings. Located in the heart of the Sassi historic center, it puts the entirety of this spellbinding city at your feet. This masterfully designed property blends seamlessly with the former cave dwellings that it occupies. Soft light and a calming white and cream palette bring out the beauty of the natural tuff rock in its walls. Dine in the stunning indoor or outdoor dining room and savor a glass of local wine on the terrace, with stunning views of the stone city. Its 23 air-conditioned rooms are spread throughout the property, connected by a network of stairs and intimate warrens that create the feeling of a tiny community. Graced with soft arched ceilings and luxurious furnishings, each room offers intimate comfort in a unique atmosphere.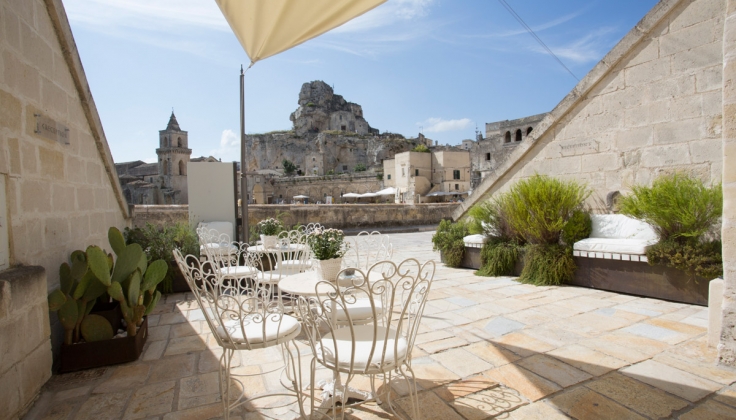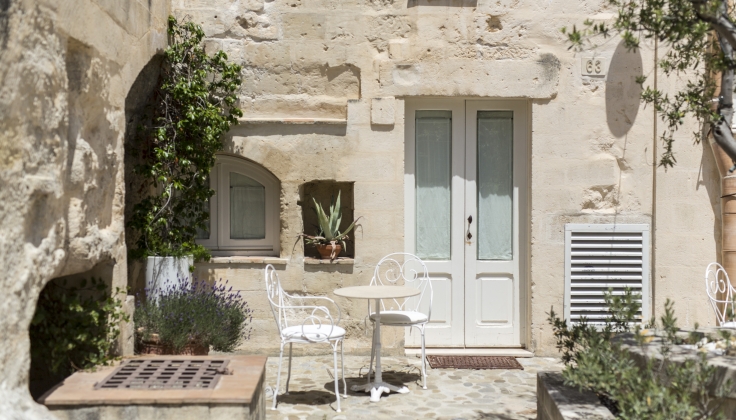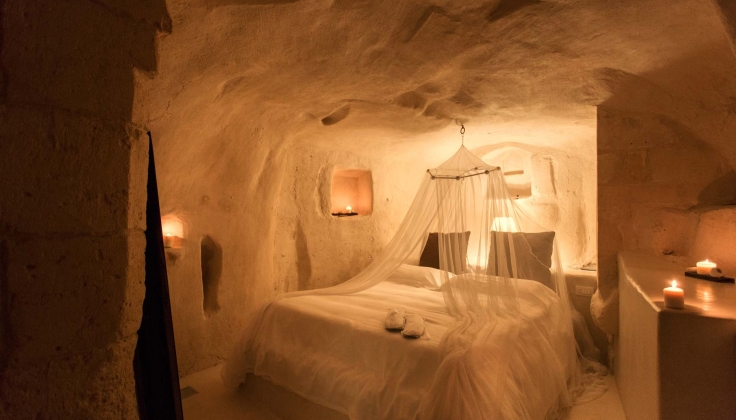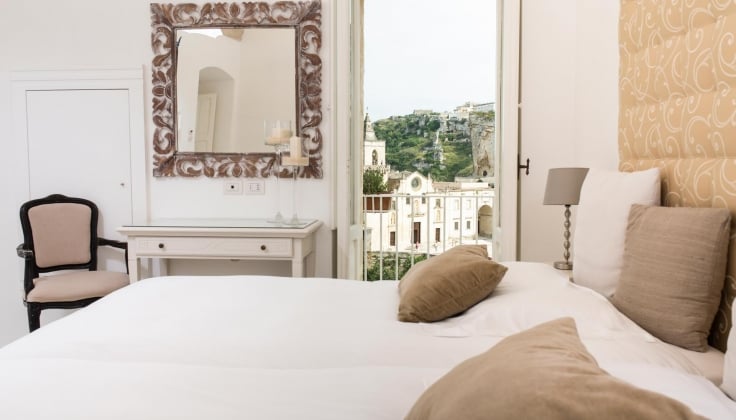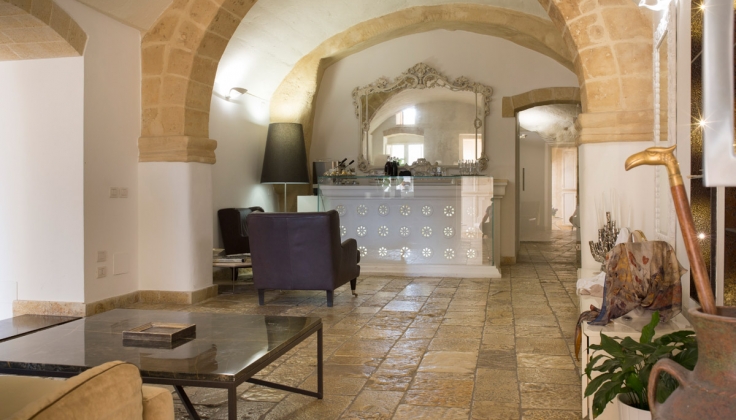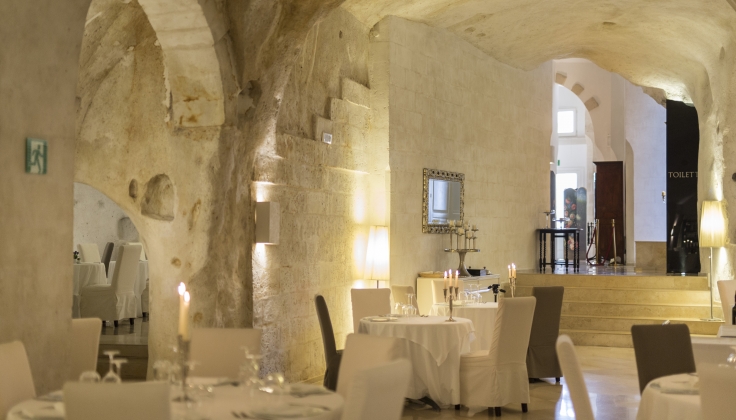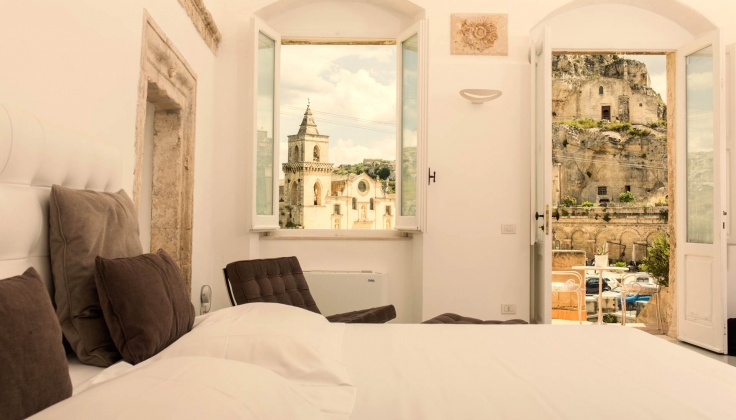 Ostuni Palace Hotel
Elegant and refined, the Ostuni Palace offers renowned Apulian hospitality with easy access to the historic center of Ostuni. Enjoy Mediterranean and Apulian flavors at the renowned restaurant and take in a treatment at the locally celebrated spa, perhaps a Turkish bath, sauna, or chromotherapy. Each air-conditioned room evokes the history of the palace's storied past while providing all the modern amenities to fill your stay with comfort.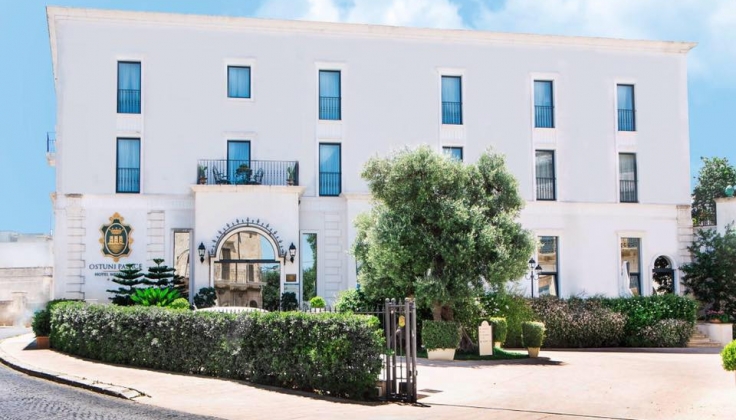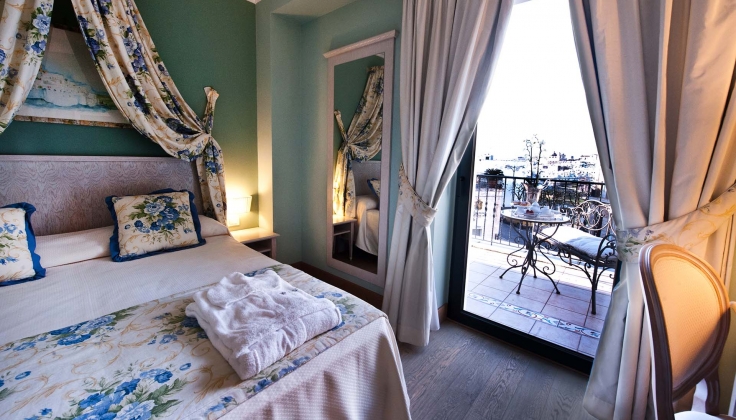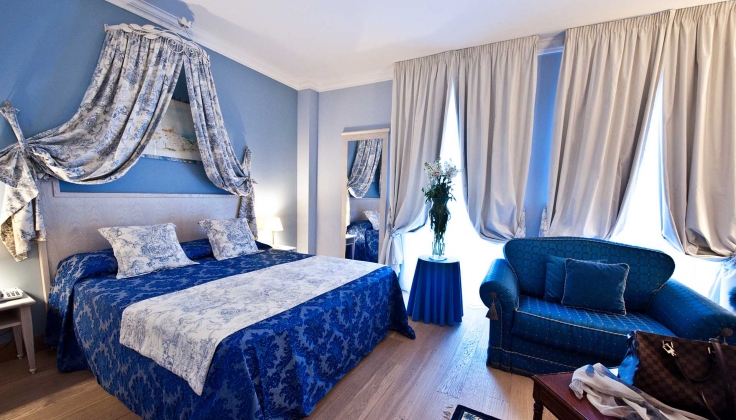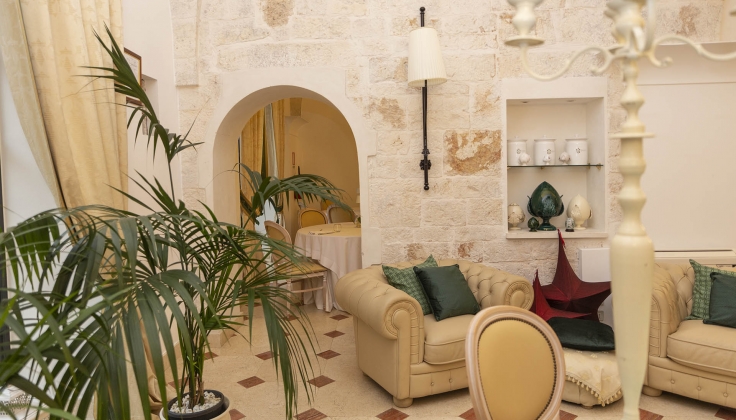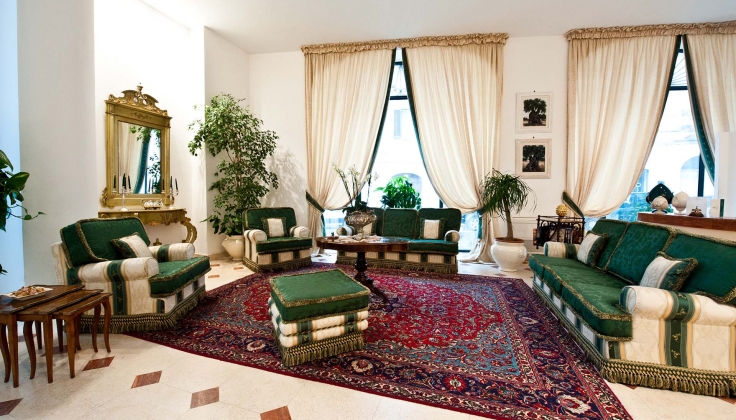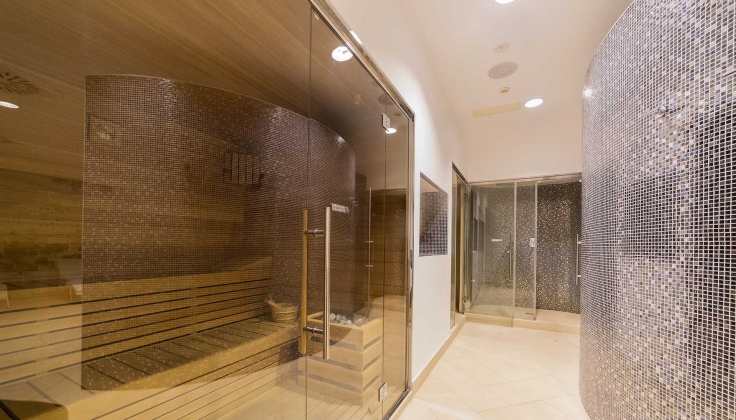 Masseria Muntibianchi
Nestled among century-old olive trees and graced with the natural fragrance of the Mediterranean landscape and the nearby sea of Otranto, Masseria Muntibianchi is a peaceful oasis. Though recently constructed, its white walls evoke the traditional local pietra leccese stone, and its architecture is inspired by traditional countryside estates. There is a private pool set in the courtyard, and a cozy reading room inside. Your rooms has an en-suite bath with shower and other comforts, such as free Wi-Fi, air-conditioning and heating, 32" satellite TV, safe, mini-bar, electronic locks, wake-up service, hair dryer, and a line of courtesy cosmetics.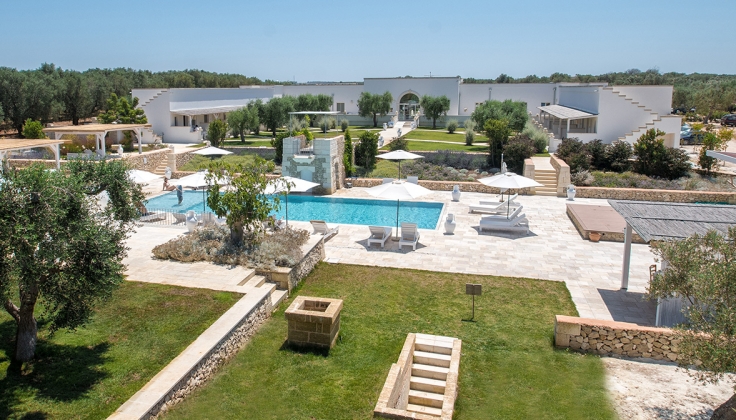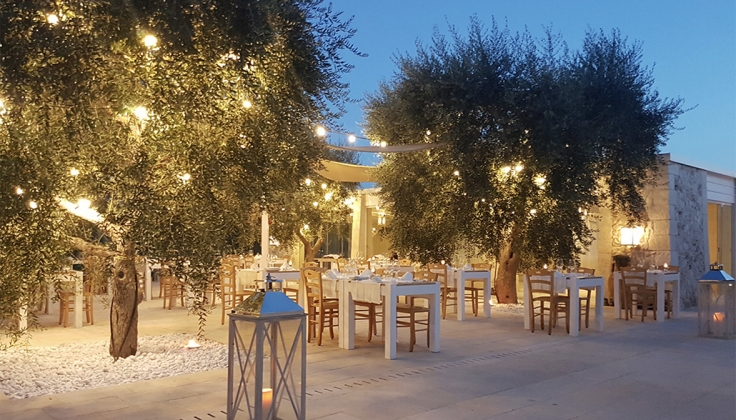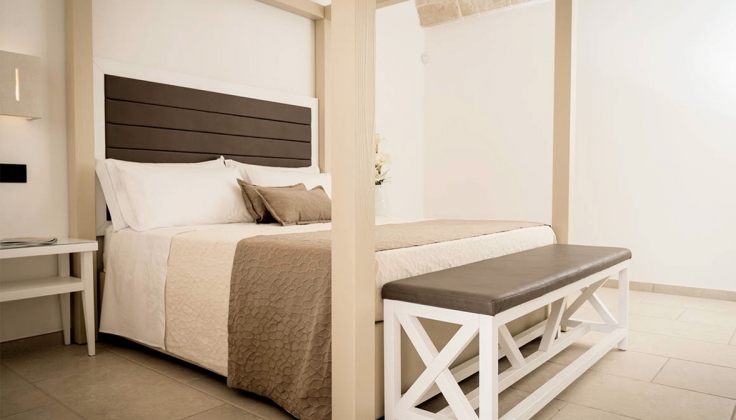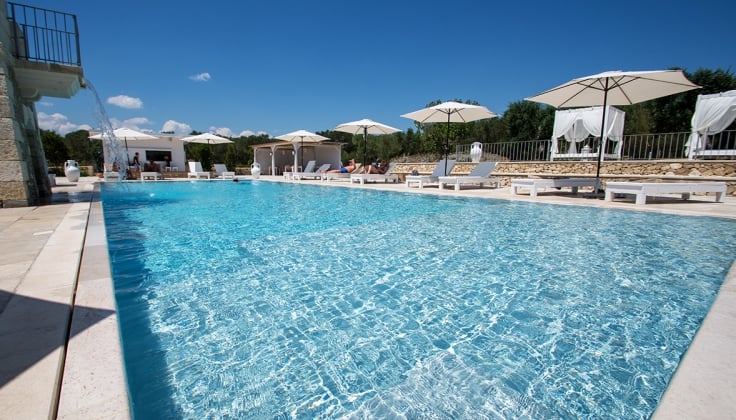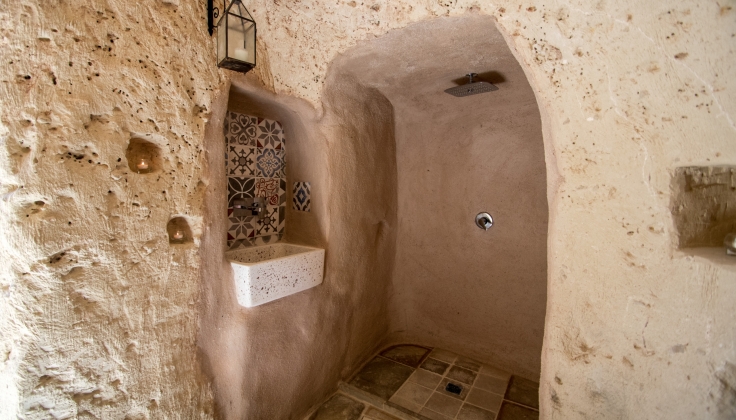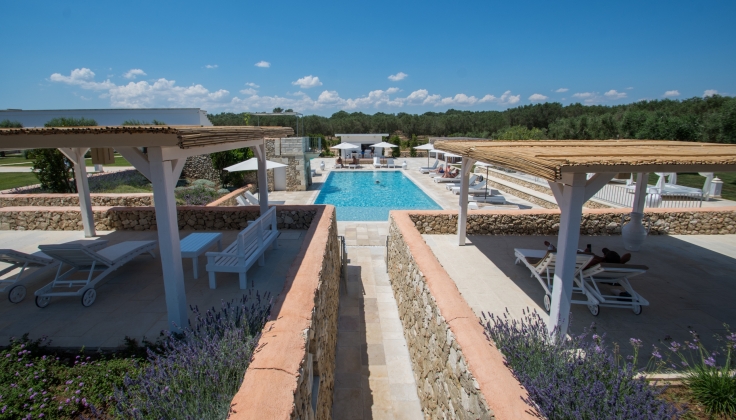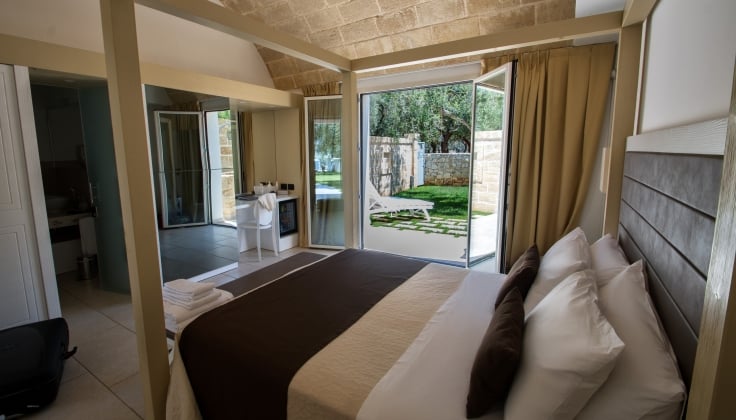 Patria Palace Hotel
The Patria Palace Hotel is enhanced by the Baroque scenery of the historic center of Lecce, called "the Florence of the South" for its beautiful buildings, churches, and squares. The hotel brings to life an 18th-century marquis palace. Each room is unique; personalized with original frescoes and equipped with modern comforts like air conditioning.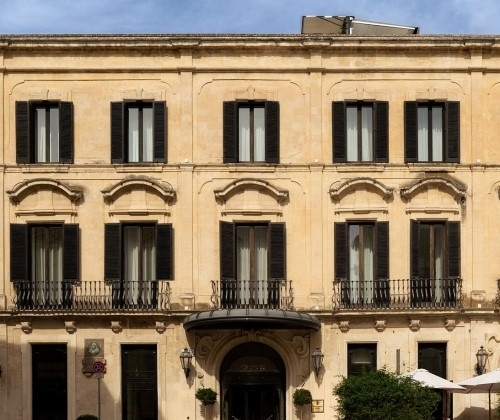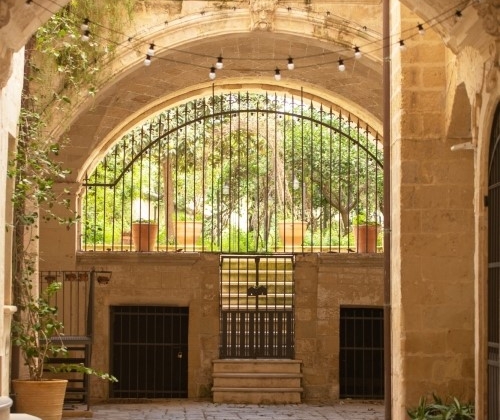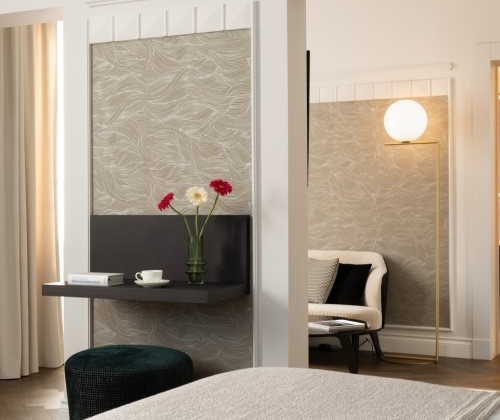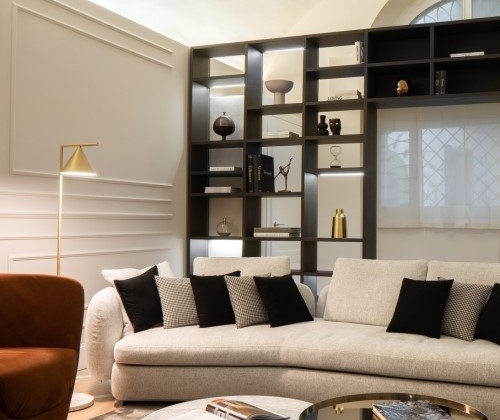 Linger Longer with a Tour Extension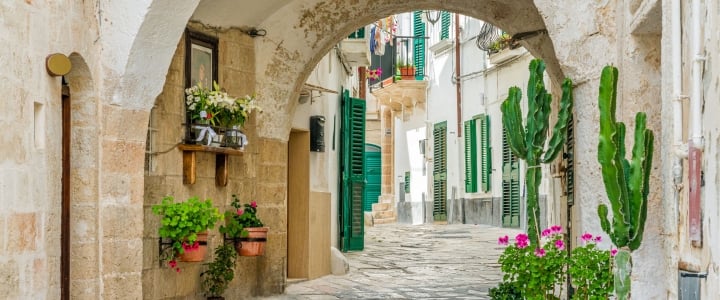 Pre-Tour
Flight + Tour Combo Only
2023 Pre-Tour Extension - Monopoli
One night at the Dimora Don Ferrante
Airport car service for arrival
Daily breakfast
City information
1 Night From $195
per person, double occupancy

Single Supplement: From $145
Your vacation is about to begin! Spend your first night aloft and arrive ready for an unforgettable trip.
A Country Walkers representative will greet you at the airport to start your adventure off right. A complimentary car service will whisk you to your centrally located hotel in Monopoli. From here, you are perfectly positioned to explore this charming city at your leisure.
After a delicious included breakfast at your hotel, you are free to explore on your own, using our included city information to guide your discoveries.
Included Meals: Breakfast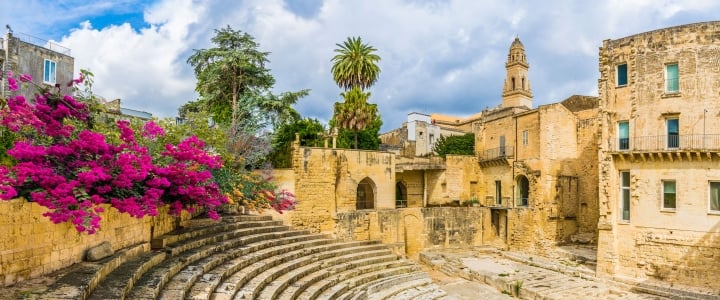 Post-Tour
Flight + Tour Combo Only
2023 Post-Tour Extension - Lecce
One night at the Patria Palace Hotel
Airport car service for departure
Daily breakfast
City information
1 Night From $145
per person, double occupancy

Single Supplement: From $95
After a delicious included breakfast at your hotel, you are free to explore on your own, using our included city information to guide your discoveries.
Included Meals: Breakfast
After an included breakfast this morning, complimentary transportation to the airport is provided (an approximate 40-minute or two-hour drive, depending on departure airport and traffic) for your departing flight.
Included Meals: Breakfast
| What's Included | Flight + Tour Combo | Tour Only |
| --- | --- | --- |
| Exceptional boutique accommodations | | |
| 14 on-tour meals: 6 breakfast, 5 lunches, 3 dinners | | |
| Local guides with you throughout tour | | |
| Local wine and/or beer with dinner | | |
| Entrance fees and special events as noted in the itinerary | | |
| Telescopic walking sticks provided on tour | | |
| Roundtrip airfare | | |
| One extra night in Monopoli and one extra night in Lecce | | |
| Airport car service for arrival and departure | | |
| Pre- and post-tour breakfasts | | |
| Business-class upgrades available | | |

There was not anything easy about this but I enjoyed the challenge so much. The food was outstanding and after our guide noticed we were being served a lot of the same recipes he suggested they change up some of our choices and I appreciated his observation. It was unseasonably hot so the hotels that had not turned the AC on yet were very uncomfortable if you had no window to open. The guides were very knowledgeable. Our group got along great and would do it again.
Italy: Matera, Otranto & the Puglia Coast
The guides were amazing. They took care of everybody and were very informative. The food was amazing, the walks/hikes were mostly great. Only negative thing I could say, it was extremely hot and humid. Sometimes we needed to walk on asphalt which exacerbated the heat.. My fellow travelers were also fun and a nice group.
Italy: Matera, Otranto & the Puglia Coast
Expert Local Guides
Experience your destination like an insider with people who call it home.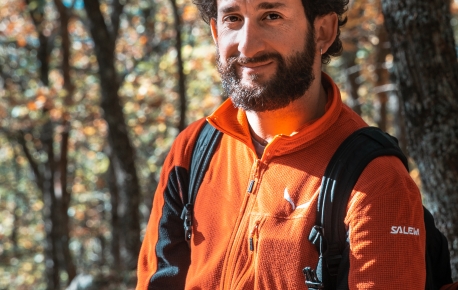 Cosimo Burgi
Cosimo Burgi is a hiker, traveler, and active adventure guide with deep roots in Puglia. A member of Italian alpine group Club Alpino Italiano, Cosimo is fascinated by geology and spends his free time trekking and exploring. Cosimo owns an eco-friendly B&B in Matera, and loves to introduce his guests to the natural beauty of his native Basilicata.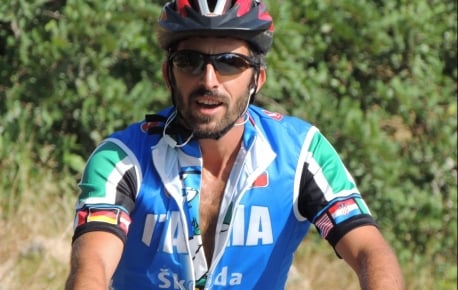 Mauro Chiummo
Mauro Chiummo was born and raised in Sicily and has a Neapolitan background. His love of nature began with his time in the Boy Scouts, eventually leading to a career in Environmental Education where he spent 10 years providing adults and children with wilderness adventures and outdoor recreational activities. In addition to leading biking and walking tours in Italy, Mauro is an active member of the anti-mafia association called Adiopizzo. He also enjoys spending time with his wife and daughter as well as playing volleyball and soccer, kayaking, running, and swimming. Plus, he's a master ping-pong player! When not enjoying all his outdoor sports, you can find Mauro reading, singing, studying history, and cooking.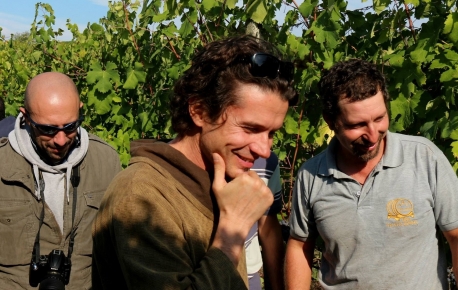 Marcello Bertino
Though born in the Piedmont wine hills of northern Italy, Marcello Bertino is equally passionate about the region of Puglia. No wonder: the hiking and biking guide met his wife and raised a family in this compelling region. Through the years he has learned much about the strong tastes and deep contradictions of "Apulia," breathing in the ancient silence of the olive groves, absorbing its local folklore, and studying its charming Mediterranean culture. Today, he is excited to introduce guests to the tasty mix of history, culture, and cuisine experiences the region offers.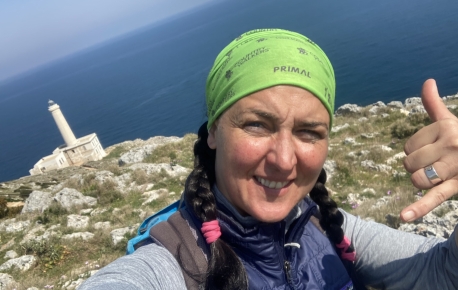 Debora Trippetti
Debora grew up in a tiny Apulian village close to Italy's easternmost point. Her carefree days were filled with swimming, scuba diving, cycling, and walking in the unspoiled region of the Mediterranean that she loved so much. Her travels later brought her to the Red Sea and to many other European countries. But her trails always led back to her roots, where she relishes her role as ambassador to a land brimming with history, tradition, authentic cuisine, and landscapes untouched by modern tourism. She says that much of Puglia remains undiscovered and she cherishes the pleasure of introducing guests to its hidden treasures … and of course to its decadent artisanal gelato!
Be the First to Get News & Special Offers
58 other people have recently viewed this tour!
Click and hold to Zoom