Israel: Galilee, the Dead Sea & Jerusalem
7 Days
Starting From
$5,848
10 Days
Starting From
$6,848
Favorite
See What's Included
From the Sea of Galilee to the Dead Sea, Nazareth to Jerusalem, journey beyond the reach of typical Jerusalem walking tours.
Follow the footpaths of figures from three of the world's major religions during one epic walking adventure. In this storied region, we found the most rewarding and inspirational trails, and some fascinating people to reveal the real Israel to you – a date farmer, a Jew and an Arab who run a hostel together, residents of kibbutzim and moshavim, and wine growers. Ancient pilgrim paths upon sacred soils deliver you to Masada and Nazareth … the Dead Sea and the Sea of Galilee … Ein Gedi Nature Reserve, Qumran, and the Valley of Elah … and finally to the very heart of the Holy Land, Jerusalem. This is so much more than other Jerusalem walking tours. This is a meditative journey unlike any other you'll ever take.
Highlights
Walk the Israel National Trail to Caesarea, the remarkable ancient Herodian port city on the Mediterranean.
Rise early for a hike up to the heights of Masada National Park, where you marvel at sweeping views of the Dead Sea.
Sail in the wake of Biblical legends during a private cruise on the Sea of Galilee in a replica traditional wooden boat.
Stroll the scenic Valley of Elah, where David famously confronted Goliath, rewarding yourself with a wine tasting and lunch in a Judaean vineyard.
Follow in the footsteps of Jesus along the Gospel Trail to the Biblical towns of Nazareth and Capernaum.
On all Guided Adventures you can count on...
Expert local guides to introduce you to the best of your destination
Off-the-beaten-path places you'd never find on your own
Delicious multi-course meals—a majority are included
A maximum of 18 fun-loving fellow travelers to share the journey
Gracious accommodations that are a clean, comfortable home away from home
Experts to handle all the details
Flight + Tour Combos include plane tickets, airport shuttles, and pre- and post-tour accommodations
Market House Hotel
Inspired by the history and atmosphere of ancient Jaffa, the Market House Hotel enjoys a central location in the heart of Tel Aviv. Look no further than the lobby to glimpse the area's rich past: The ruins of a Byzantine Chapel are on display under its glass floor. Various artwork throughout further illuminates the city's culture. Jaffa's historic Clock Tower and renowned flea market are next door for your browsing pleasure. The 44 air-conditioned rooms exude a bohemian-chic vibe while the common areas offer small intimate spaces for gathering. Enjoy the warmest of welcomes in Israel's famed White City.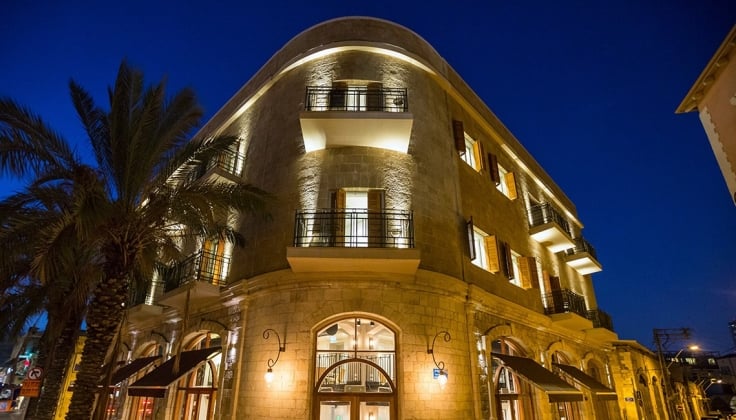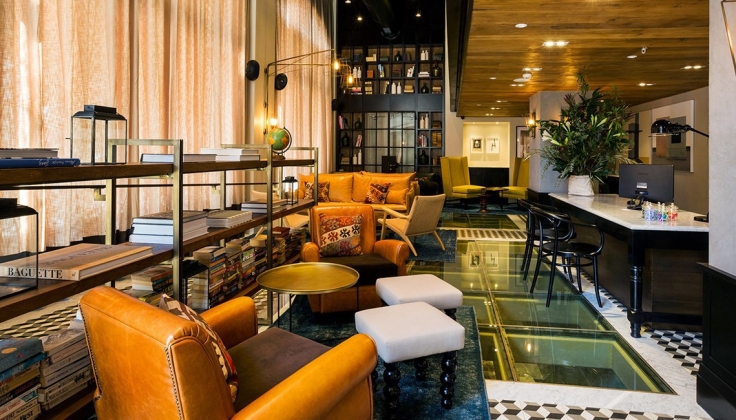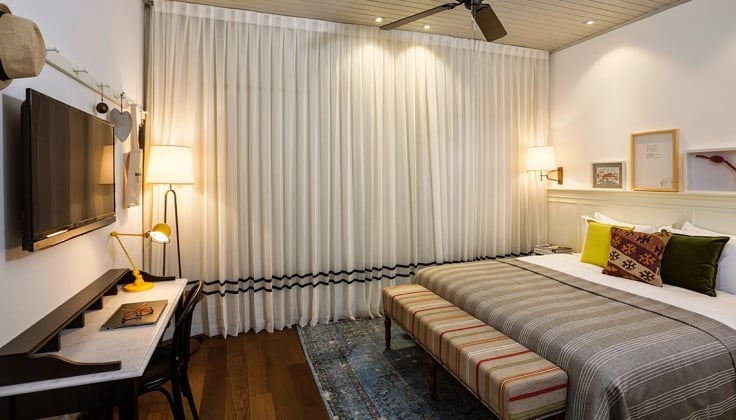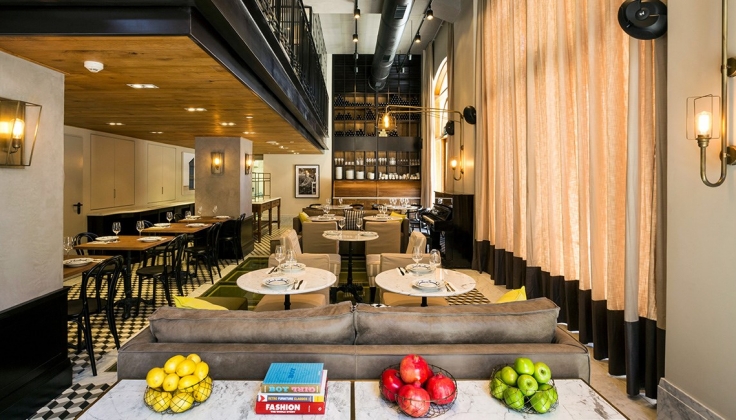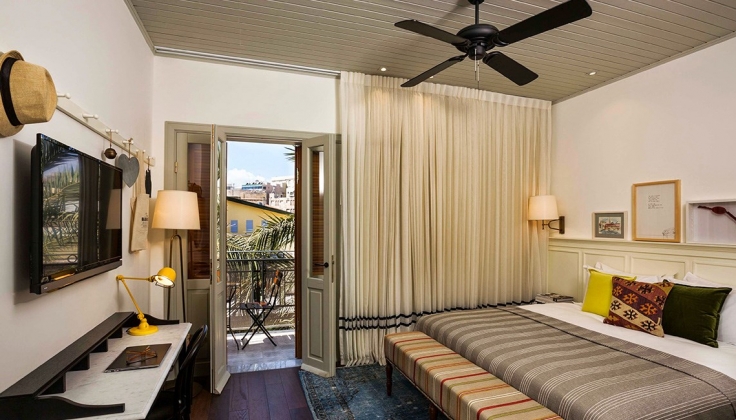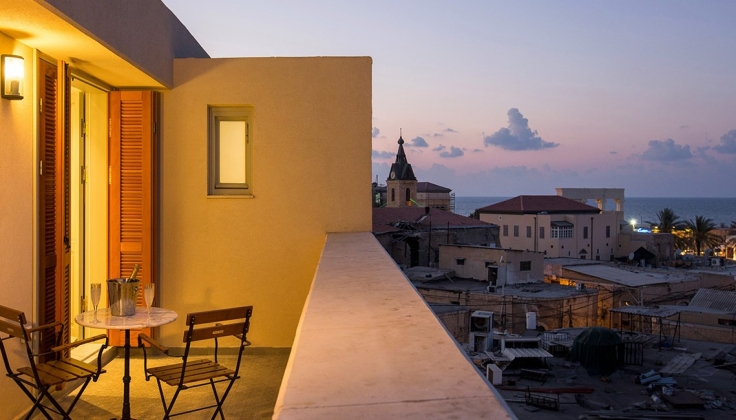 Sofia Sea of Galilee Hotel
Set on the shores of the Sea of Galilee in the city of Tiberias, the Sofia Sea of Galilee Hotel provides sweeping views of the water. This lovely air-conditioned property occupies an historic stone house dating to the late 1800s, accented with colonnaded arches, gorgeous masonry and elegant wood panel. During your stay, indulge in a relaxing treatment at the hammam, or Turkish bath. Savor thoughtfully prepared Galilean cuisine and a glass of fine wine at the Altamira rooftop restaurant, with spellbinding views of the Jordan Valley and Upper Galilee. And delve into the region's storied past in the inviting Abulafia Study Room.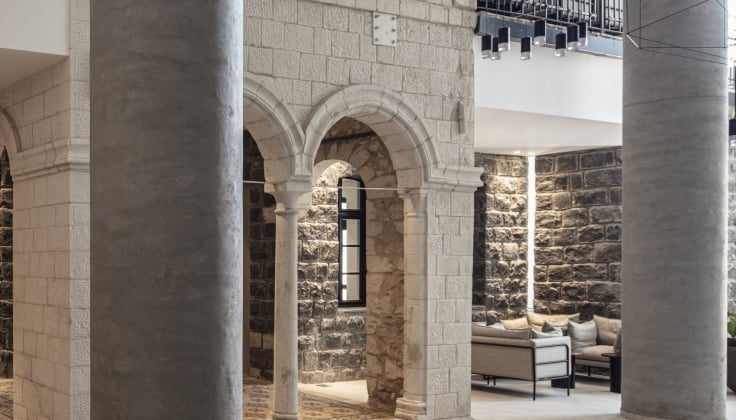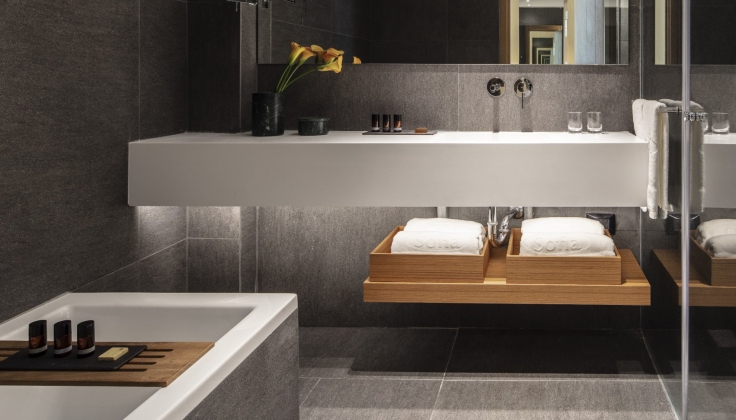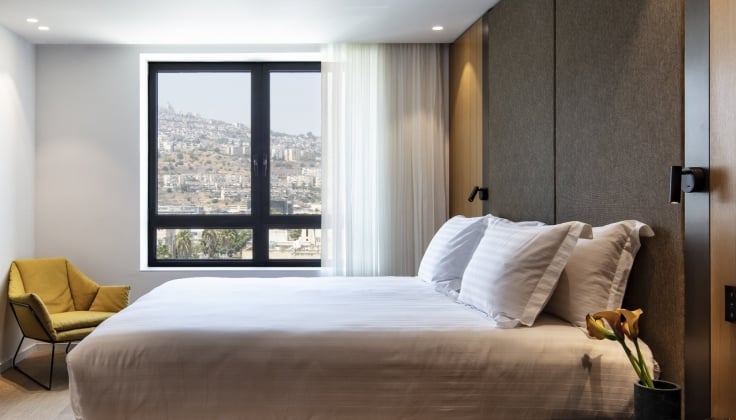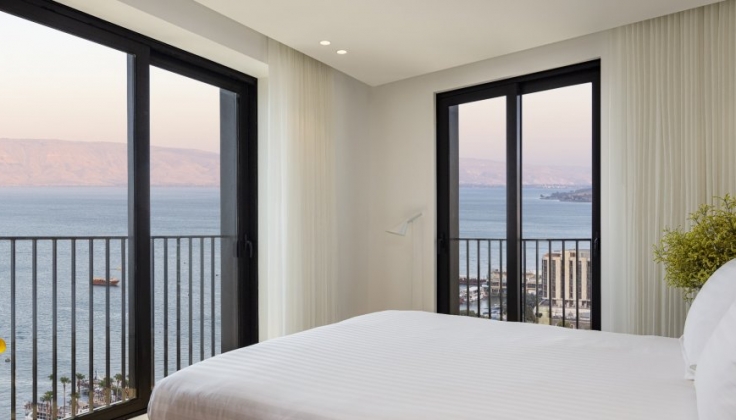 Ein Gedi Hotel
Situated where the Judaean Desert meets the Dead Sea, Ein Gedi Hotel, a working kibbutz, puts you at the heart of one of Israel's most scenic regions. A complimentary shuttle takes you to the buoyant mineral-rich waters of the Dead Sea beckon. The resort's spa, too, provides nurturing treatments. You are also at the heart of the Ein Gedi Nature Reserve, a protected region where wildlife roams free and hundreds of plant species from all over the world flourish in a lush Botanical Garden. If you wish, immerse yourself in cultural activities and tours at an additional expense during your stay. Each air-conditioned room is airy and bright, with all the amenities you need for a comfortable stay.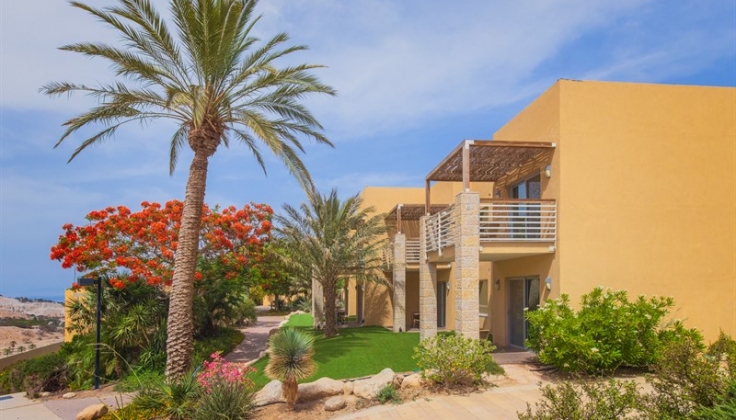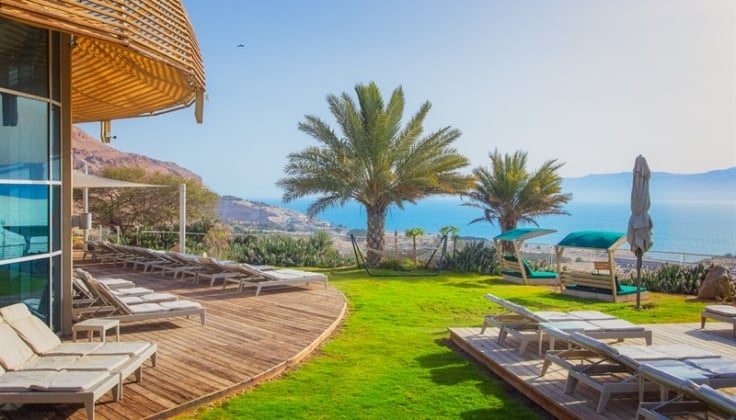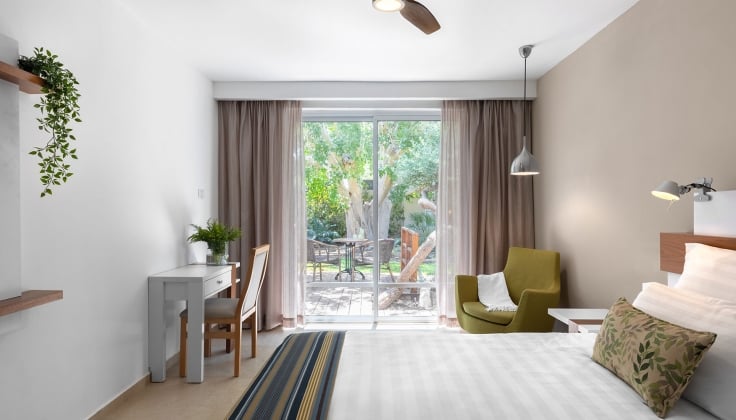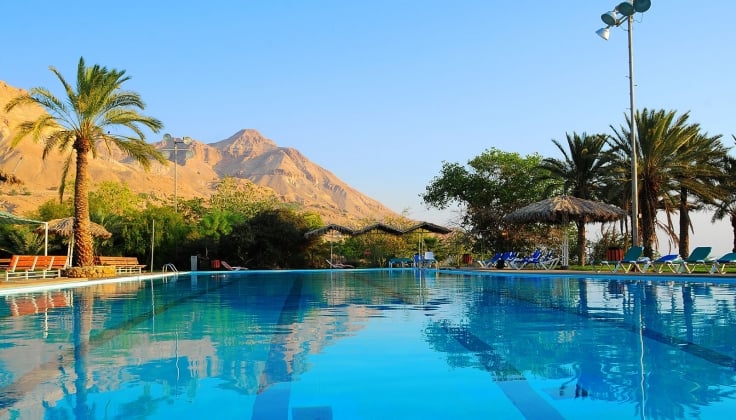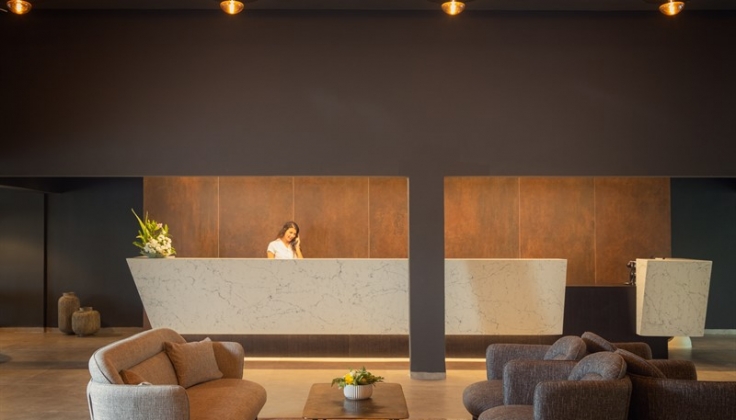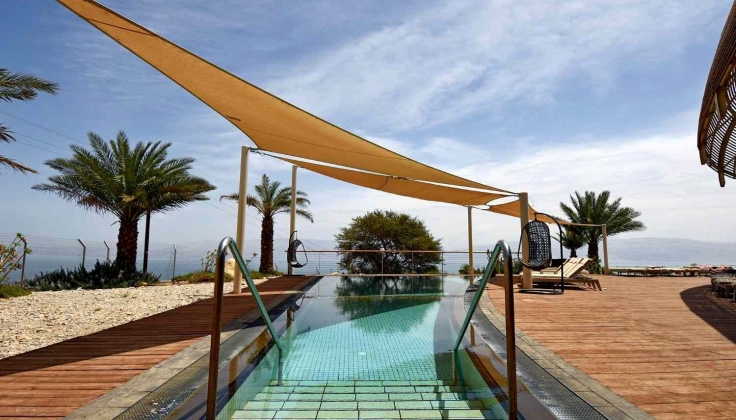 American Colony Hotel
Elegant and gracious and located in a former Pasha's residence, the American Colony Hotel is surrounded by lush tranquil gardens and the spirit of Old-World Jerusalem. For over 100 years, this boutique hotel has been serving elite visitors, from Bob Dylan to Winston Churchill. Air-conditioned rooms are comfortable and generously appointed. During your stay, walk to the Old City in just 15-minutes. Relax with a cool drink in the shaded courtyard, an oasis of calm. Take a refreshing dip in the pool. And choose from three unique dining venues at mealtime.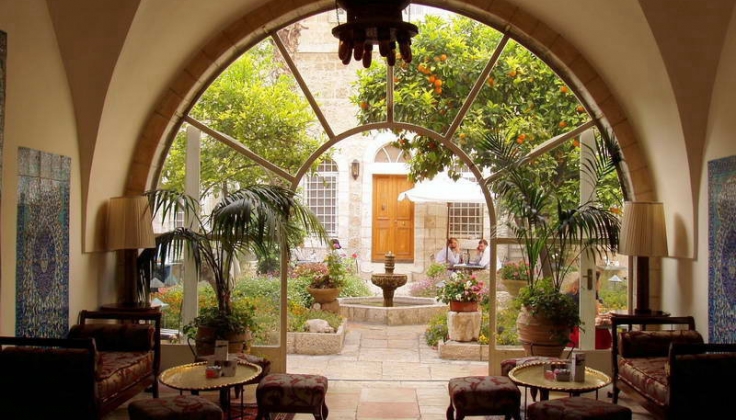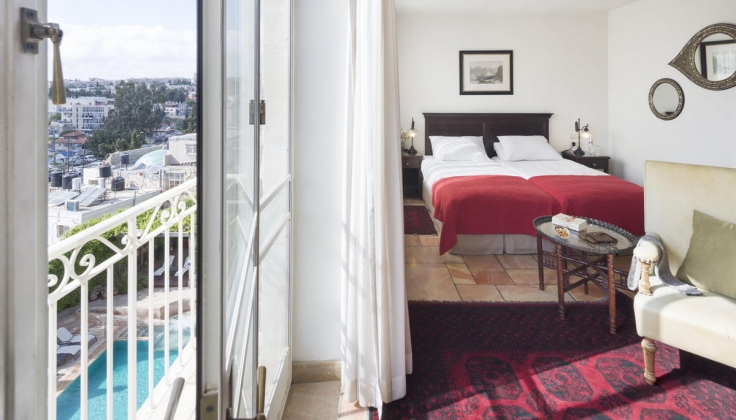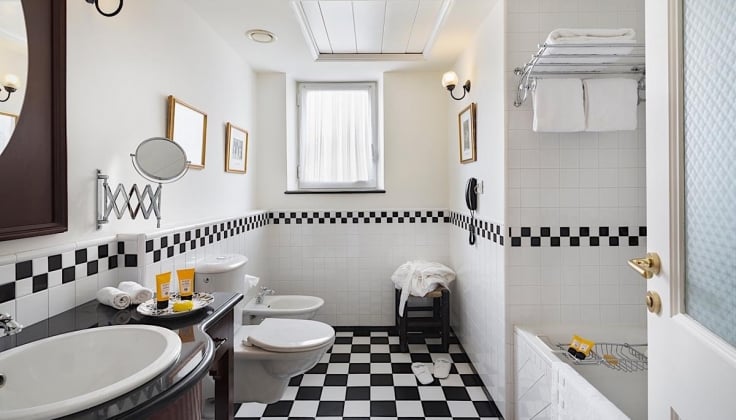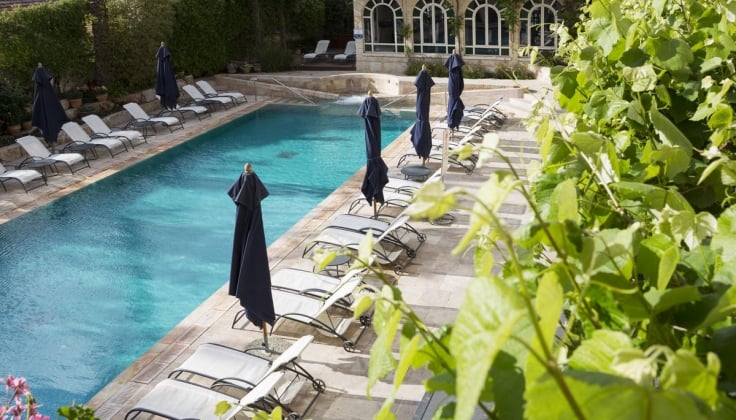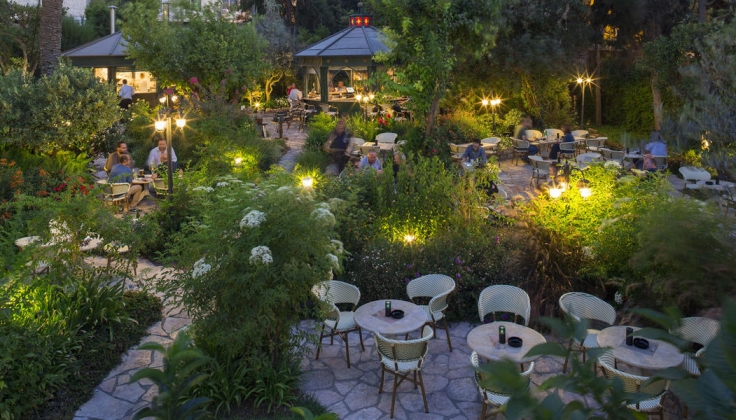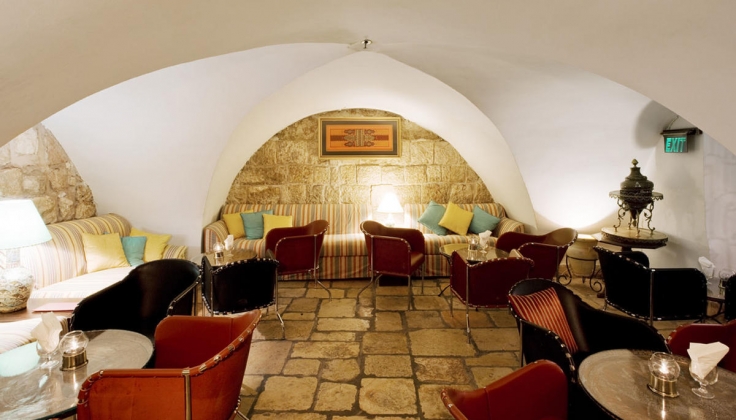 Linger Longer with a Tour Extension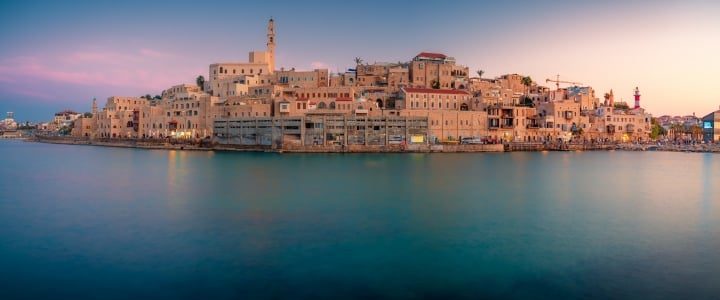 Pre-Trip

Air Package Only
2023 Pre-Trip Extension - Tel Aviv
One night at the Market House Hotel
Airport car service on arrival
City information
Daily breakfast
1 Night From $245
per person, double occupancy

Single Supplement: From $195
Your vacation is about to begin! Spend your first night aloft and arrive ready for an unforgettable trip.
Start off your first day in Tel Aviv right by having a Country Walkers representative greet you at the airport. A complimentary car service will whisk you to your centrally located hotel. From here, you are perfectly positioned to explore this charming city at your leisure.
After a delicious included breakfast at your hotel, you are free to explore on your own, using our included city information to guide your discoveries.
Included Meals: Breakfast
Inspired by the history and atmosphere of ancient Jaffa, the Market House Hotel enjoys a central location in the heart of Tel Aviv. Look no further than the lobby to glimpse the area's rich past: The ruins of a Byzantine Chapel are on display under its glass floor. Various artwork throughout further illuminates the city's culture. Jaffa's historic Clock Tower and renowned flea market are next door for your browsing pleasure. The 44 air-conditioned rooms exude a bohemian-chic vibe while the common areas offer small intimate spaces for gathering. Enjoy the warmest of welcomes in Israel's famed White City.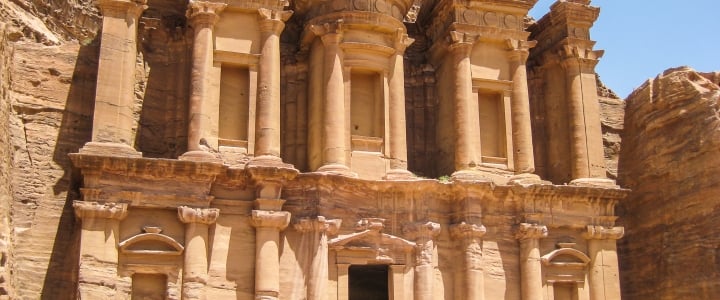 Post-Trip

Air Package Only
2023 Post-Trip Extension - Petra & Wadi Rum
One night at the Memories Aicha Luxury Camp
Two nights at the Movenpick Resort Petra
Day-use hotel room at the Grand Hyatt Hotel (November departures only)
Flight from Ben Gurion Airport to Ramon Airport
Return road transportation to Ben Gurion Airport or Queen Alia International Airport (November departures only)
Airport car services
Daily breakfast, two lunches, one dinner
Two guided tours of Wadi Rum and two guided tours of Petra
Three-day entrance ticket to Petra
3 Nights From $1845
per person, double occupancy

Single Supplement: From $595
This morning, rise early for your shuttle to Ben Gurion International Airport. You fly to Ramon International Airport in the south of Israel, where a representative meets you and assists you to the Yitzhak Rabin/Wadi Araba Crossing at the Jordan border (your flight details will be provided to you by your Israeli guide while on tour). Please note that breakfast may not be available in the dining room this early, but a take-away breakfast box can be requested with the front desk the night prior. It's recommended to pack any snacks that you may want for the day as there are limited places to purchase food before you reach your camp in time for a late lunch.
You will have instructions to help you pass through the Israel border on your own. Once on the Jordan side, your Country Walkers representative will be holding a Country Walkers sign with your name on it. After formalities and obtaining a visa (which will be arranged for you in advance), you meet your Bedouin guide and driver.
The magical, mysterious desert of Wadi Rum is your first destination in Jordan. After a bountiful buffet lunch, head into the lunar-like landscape of gentle sands and hulking rock formations that form this UNESCO World Heritage site. Stretch your legs on a desert walk (approximately 2.5 miles) to Khazali Canyon, a breathtaking dry ravine of soaring red rock. At the canyon, stop to view Nabataean inscriptions and drawings etched into the walls.  Next, climb aboard 4×4 Jeeps for a thrilling drive back to camp, gazing out at the massive sand dunes and cliffs of Wadi Rum as you go.
Settle in to your luxurious camp, where your private tent sits at the foot of giant massifs soaring from the desert floor. Explore this evening with additional sunset excursions at your own expense: a thrilling camel ride or a desert walk. After the sun disappears, there'll be time to admire an endless blanket of stars. Enjoy an indulgent dinner in Bedouin style, a traditional preparation of foods cooked underground. Note that you are welcome to bring your own wine or beer; the camp does not serve alcoholic beverages.
Included Meals: Breakfast, Lunch, Dinner
After a hearty breakfast at the camp, head back into Wadi Rum to visit one of the desert's natural rock bridges, a massive stone archway connecting two hulking rocks. En route, you pass medicinal plants used by the Bedouins and inspiring vistas. For those that are inclined, a brief walk to the top of the rock bridge presents a perfect photo op. From the top of the archway, the desert spreads before you in yellow and red hues.
After, you stop to meet a Bedouin family and witness their bread-baking talent. There'll be time for a visit and some conversation over tea. Then your guide takes you to a scenic spot for a picnic lunch of specialties he has prepared.
Later, you arrive at Petra, the magnificent ancient Nabataean capital carved in red sandstone that was lost to desert sands for centuries. You approach the UNESCO World Heritage site by foot, passing a necropolis and entering the Siq, an immense split in the Nubian sandstone. The winding fissure is about a half mile long and leads you through a narrow corridor enclosed by walls up to 300 feet tall. Then, at one final turn at the end of the passage, the spectacular Treasury building appears—Al Khazneh, one of the most elegant remains from antiquity. It 140-foot-high and 90-foot-wide façade was carved into the cliffside in the 1st century.
The Treasury—so named because early Bedouins who came upon it believed it contained treasures—is just the beginning of Petra's wonders that you explore. The Nabataeans carved hundreds of structures, soaring temples, elaborate royal tombs, burial chambers, houses, and even a theater into the rock, inspiring Victorian poet John William Burgon to call it "a rose-red city half as old as time." There'll be time to explore its endless marvels with your guide or on your own.
Your hotel is a short ride from the Petra visitor entrance. You end your day here with an included buffet dinner. If you wish, you may return to Petra for a night tour at an additional cost. Please see your city documents for additional information.
Note: Today's guided walk in Petra from the main entry gate to the Treasury is 1.5 miles each way and is rated easy. Time depending, you may be able to continue with your guide further into Petra (adding an additional 1-3 miles). For those that do not wish to return back to the entrance on foot, golf cart rides are available from the Treasury (at your own expense and subject to operating hours). Your guide can help facilitate this.
Included Meals: Breakfast, Lunch
After breakfast, you return to Petra for more exploration. But today, you arrive on foot via a little-known Bedouin walking trail through the magnificent mountain. You begin with a visit to Little Petra and its Siq al-Barid. Like at its larger counterpart, you enter through a narrow Siq before wandering among its rock-strewn façades. This smaller city is thought to have been an agricultural center, trading post, and resupply depot for the camel caravans heading to Petra.
A brief shuttle brings you to the trailhead. As you start, you admire this particularly picturesque region. You are walking among some of the oldest settlements in the world, including Al-Beidha, dating back to about 10,000 BC. Over 2-3 hours, you traverse open farmland, then follow a footpath across eroded sandstone. The Great Rift Valley opens up to the west and soon, you descend toward Petra, catching sight of one of its most impressive structures—the monumental carved façade of ad-Deir, the Monastery. Pause here for a rest and for some tea, exploring the ruins before following the stone steps of the Nabataean processional way to the heart of Petra, where more discoveries unfold.
After lunch on your own, explore further or return to the hotel for a relaxing afternoon. Perhaps partake of the resort's hammam or Turkish bath treatments. Your evening is free to sample another of Petra's restaurants.
Note: Today's guided walk to the Monastery is approximately 3.5 miles and is rated moderate, with a 950-ft. elevation gain and 750-ft. elevation loss. There are over 350 wide stone steps that you must hike, including both uphill and downhill steps. If you do not wish to join this walk you can be shuttled back to the hotel after exploring the archeological site of Little Petra and continue your day on your own. From the Monastery to the central area of Petra is 1.5 miles further and includes an additional 800 steps, all downhill. Mule rides are readily available (at your own cost) if you wish to avoid hiking this section on foot. It is then another two miles to reach the main entrance.
Included Meals: Breakfast
Wadaa'an! Enjoy another included breakfast today. You may wish to visit Petra one last time with an early morning visit. This morning, your driver will take you to Amman where you will check into your hotel for the evening. Lunch and dinner are on your own this day. Your hotel has multiple restaurants on site and nearby. The front desk will be able to offer suggestions of restaurants and things to do. complimentary transportation is provided to Amman's airport based on your departure time. Please note that depending on your flight time, your departure from the hotel may either be late this evening or very early the next morning.
Included Meals: Breakfast
Memories Aicha Luxury Camp
A stay at the Memories Aicha Luxury Camp is an adventure all by itself. Set in the middle of the desert at the foot of a dramatic massif, its individual air-conditioned tents offer privacy and the romance of a remote escape, adorned with lush bedding and beautiful fabric. Enjoy your meals and refined service in a large communal tent designed with elegant Bedouin touches. This is surely an experience you will not soon forget.
| What's Included | Air Package | Tour Only |
| --- | --- | --- |
| Roundtrip airfare | | |
| One extra night in Tel Aviv and one extra night in Jerusalem | | |
| Airport car service for arrival and departure | | |
| Pre- and post-tour breakfasts | | |
| Business-class upgrades available | | |
| Exceptional boutique accommodations | | |
| 16 on-tour meals: 6 breakfasts, 6 lunches, 4 dinners | | |
| Local guides with you throughout tour | | |
| Local wine and/or beer with dinner | | |
| Entrance fees and special events as noted in the itinerary | | |
| Telescopic walking sticks provided on tour | | |

Probably the best trip I have been on. I would suggest 2 possible improvements 1. Walk through the Garden of Gethsemane 2. Go to Mount of the Beatitudes
Israel: Galilee, the Dead Sea & Jerusalem
The tour leader, Rami, was exceptional! He did a fabulous job. We are experienced walkers and tennis players in our mid-70s. However, this trip should have been rated as challenging and difficult hiking, not moderate. The Wadi Qelt hike was quite a challenge, coming the day after we climbed Masada. There was insufficient "down time" to allow us to rest and recoup our energy, as well as to give us some free time. The pre-selected dinner menus were heavy on fish without good alternatives. At Scot's in Tiberias, entree choices were three kinds of seafood only. I would have liked…
Israel: Galilee, the Dead Sea & Jerusalem
Expert Local Guides
Experience your destination like an insider with people who call it home.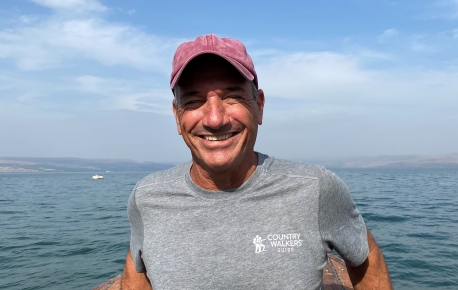 Rami Shemesh
Fascinated by the history and religious significance of his native Israel, Rami adds a profound and meaningful dimension to Israel's monuments and archeological sites. With certifications in guiding and religious studies, Rami is an expert in the stories behind the Jesus Trail. His passion for eco-tourism and Israel's wildlife help Rami bring the landscape of Israel to life.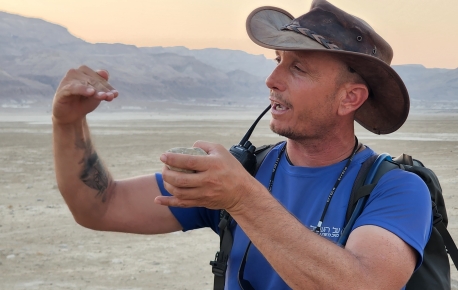 Avi Farjoun
A consummate traveler, Avi loves exploring off the beaten track. Avi's travels have taken him to the far ends of the world where he explores rugged landscapes and different cultures—but his first love has always been for his Israeli homeland. Avi's intimate knowledge of Israel's National Trail, the Jesus Trail, and the ancient routes to Jerusalem make him the perfect guide for discovering the Holy Land.
Be the First to Get News & Special Offers
42 other people have recently viewed this tour!
Click and hold to Zoom