Greece: Athens, Delphi & Meteora
Tour Only
Flight + Tour Combo
7 Days
Starting From
$3,698
10 Days
Starting From
$4,698
Favorite
See What's Included
Even with 5,000 years of history, Greece never stops surprising.
Standing trailside above Delphi's Temple of Apollo, with the sweep of Mount Parnassus as a backdrop, there's no better stage for appreciating the ancient Greeks' dramatic flair. Fortunately, your guides are experts at weaving history, myth, and tradition into a captivating mosaic that brings these places to life. You've experienced this while surveying the Peloponnese Peninsula from Acrocorinth's fortress gates and riding the rails through the magnificent Vouraikos gorge. Soon you'll be strolling through green forest and massive sandstone pillars to the dizzyingly perched medieval monasteries of Meteora. Greece isn't just antiquities, however—you've savored its vibrant culture during a visit with a local chef at his restaurant in Kalavrita and a private wine tasting in Polydroso. Yiamas!
Highlights
Hike among the medieval monasteries of Meteora, the astonishing UNESCO World Heritage site of sacred sanctuaries perched on towering sandstone pillars.
Explore the archaeological site of Delphi, taking in its ancient ruins and magnificent mountain setting.
Indulge in the freshest seafood in Galaxidi, once a thriving maritime community, then stroll cobbled streets past pretty 19th-century sea captains' stone houses.
Follow footpaths in and around Acrocorinth, one of the finest surviving fortifications in Greece, and gaze upon panoramas of the Isthmus of Corinth.
On all Guided Adventures you can count on...
Expert local guides to introduce you to the best of your destination
Off-the-beaten-path places you'd never find on your own
Delicious multi-course meals—a majority are included
A maximum of 18 fun-loving fellow travelers to share the journey
Gracious accommodations that are a clean, comfortable home away from home
Experts to handle all the details
Flight + Tour Combos include plane tickets, airport shuttles, and pre- and post-tour accommodations
Aegli Resort & Spa Hotel
Nestled among the rolling slopes of Arachova, the luxurious Aegli Hotel & Spa enjoys a splendid perch with magnificent vistas. Its main house and self-standing cottage-style rooms are constructed with materials that evoke the surrounding natural world—stone, wood, and beautifully crafted tiles—creating a sense that you are living in a traditional Greek mountain village. Take time to enjoy the onsite spa and your air-conditioned room adorned with stylish furnishings and generous amenities during your stay.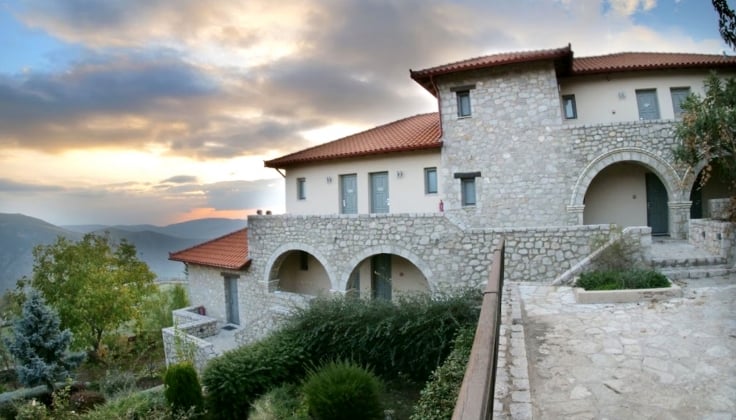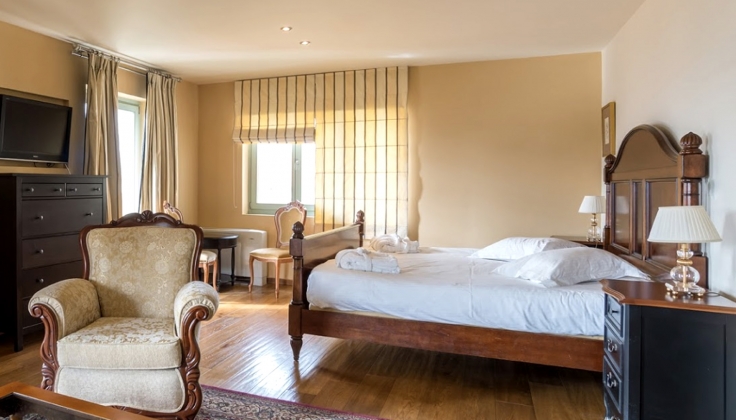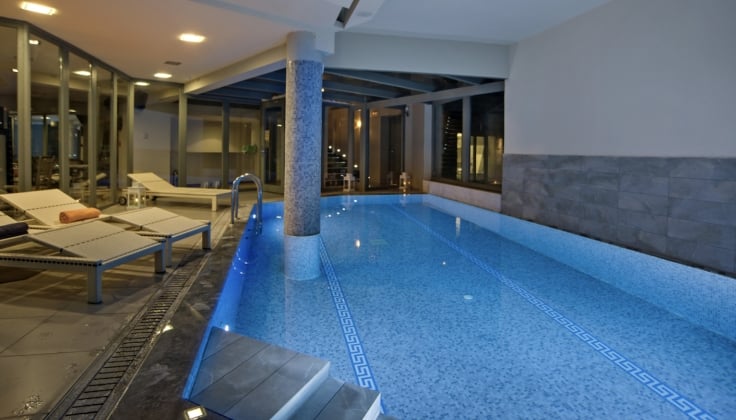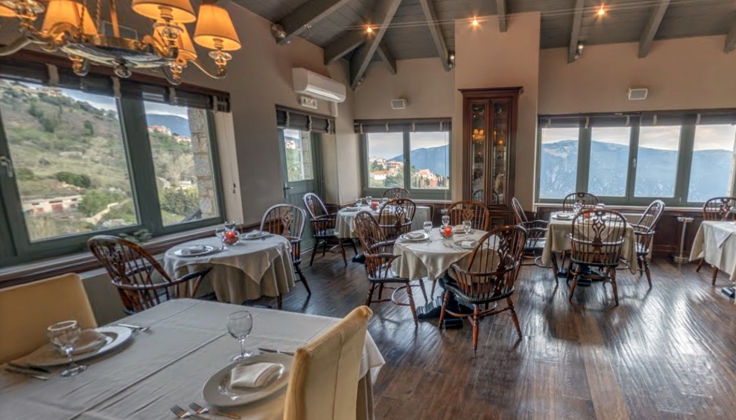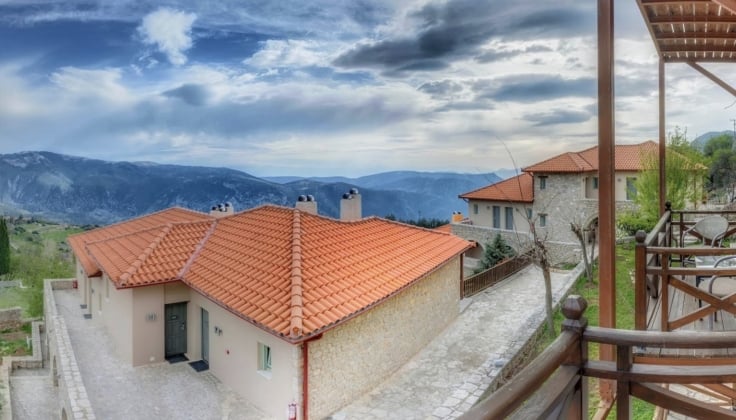 Electra Palace Hotel
Located in the heart of the elegant Plaka district, the Electra Palace Hotel offers a refined, exclusive experience. The many pleasures of Athens are right outside your door. From the roof garden and pool, enjoy stunning views of the hilltop Acropolis, a particularly magical sight when illuminated at night. At the award-winning restaurant, savor fine cuisine expertly prepared and served. Your luxurious air-conditioned room offers plush beds, Jacuzzi tubs, marble-tiled bathroom and all the amenities that make for a comfortable stay. For a touch of indulgence, treat yourself to a spa treatment.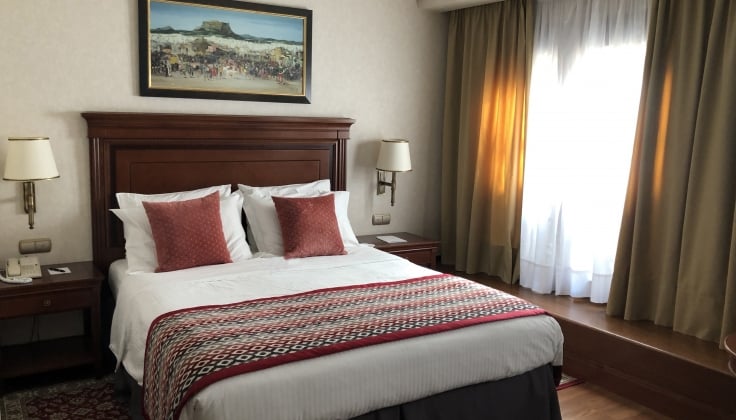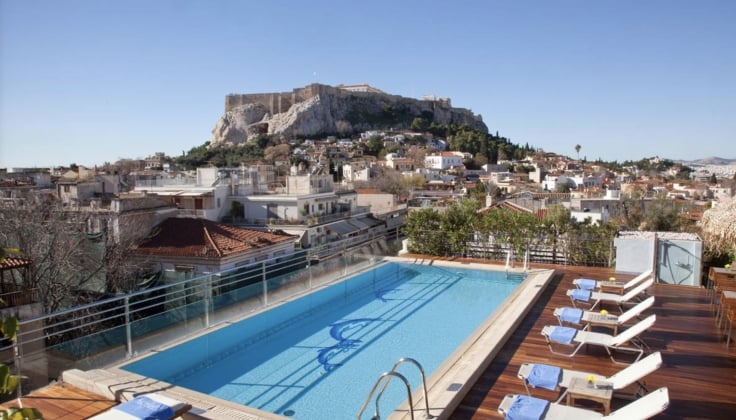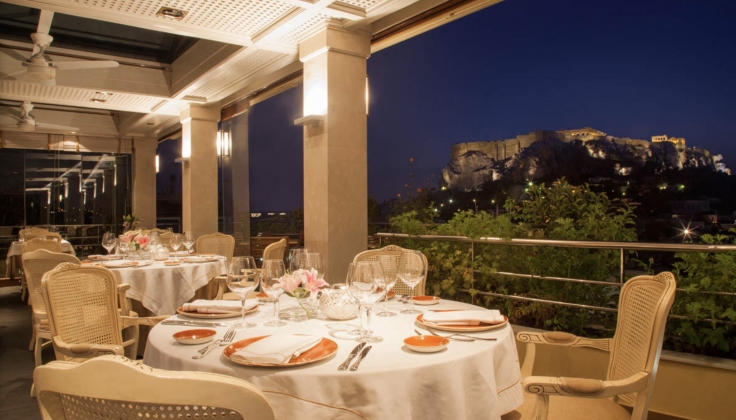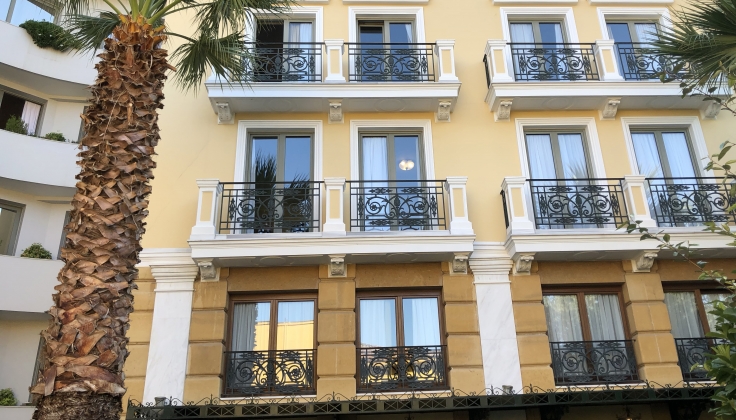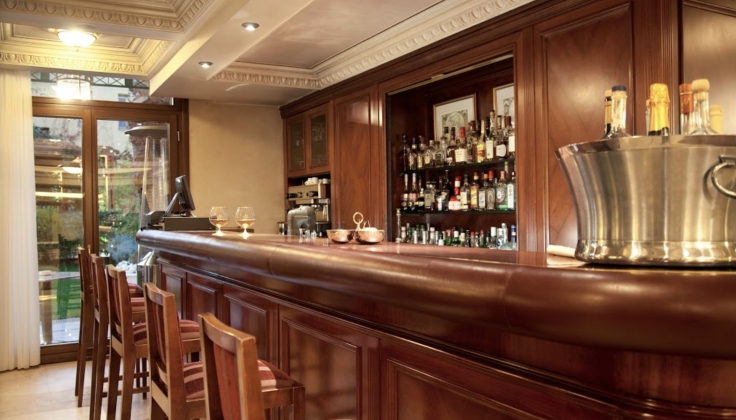 Kalavrita Canyon Hotel & Spa
Located in the heart of historic Kalavrita, the modern Kalavrita Canyon Hotel & Spa offers just 38 rooms, giving it a personal and intimate atmosphere. During your stay, start your day at the Monastery Restaurant and savor an authentic Greek breakfast of fresh local delicacies, including meats, cheeses and pastries. After a day of walking, relax over a drink at the atmospheric Golden Bar. And treat yourself to a sauna, steam room, massage or mud treatment at the spa. Each air-conditioned room is tastefully designed and provides all the amenities you need for a comfortable stay.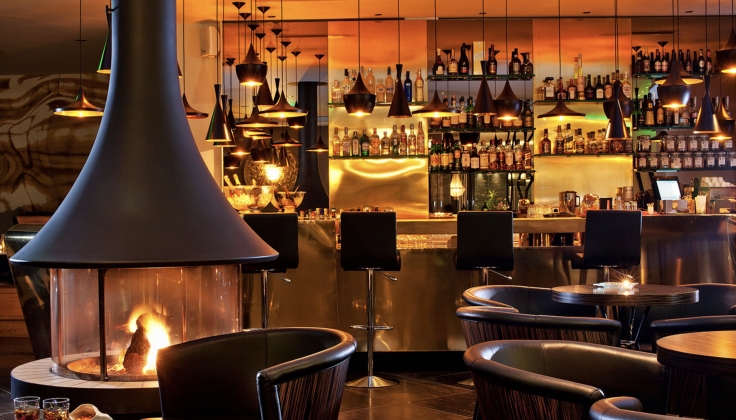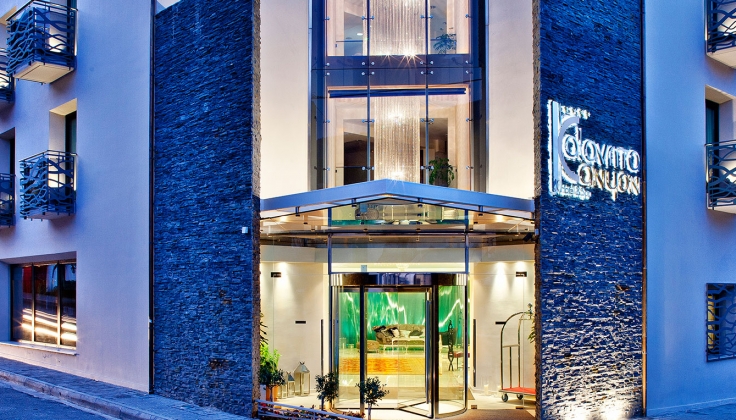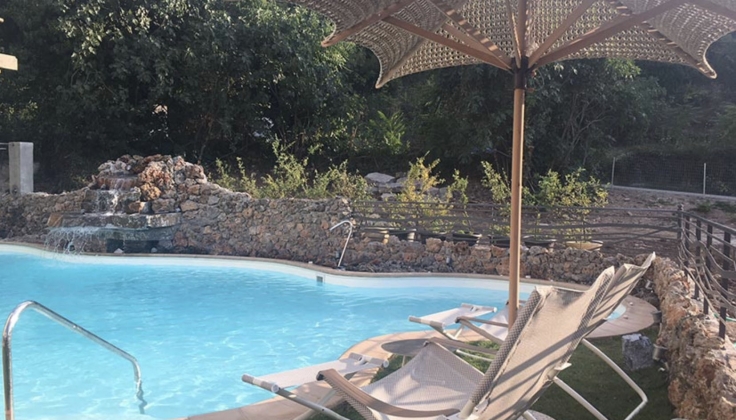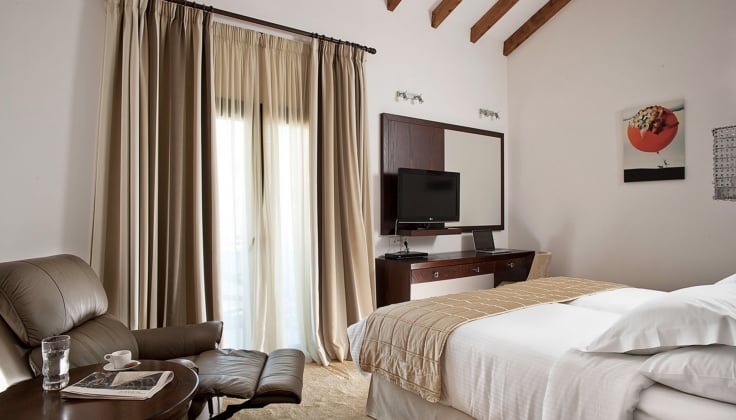 Hotel Meteora
Set at one of the higher points in Kastraki, the Meteora Hotel provides spectacular views of Mount Pindos and the famed rock pillars of Meteora. Its clean, streamlined architecture is both modern and traditional, hailed for a minimalist style that blends harmoniously with its stunning natural surroundings. The charms of the village are just a pleasant eight-minute walk away. In the morning, you can take your breakfast on the outdoor terrace. Take a dip in the pool as the monolithic mountains soar in the distance. Each air-conditioned room, also with splendid views, is bright and elegant and features ample amenities.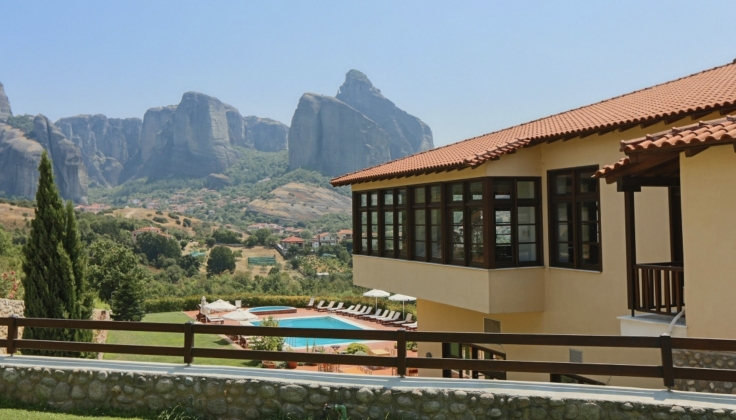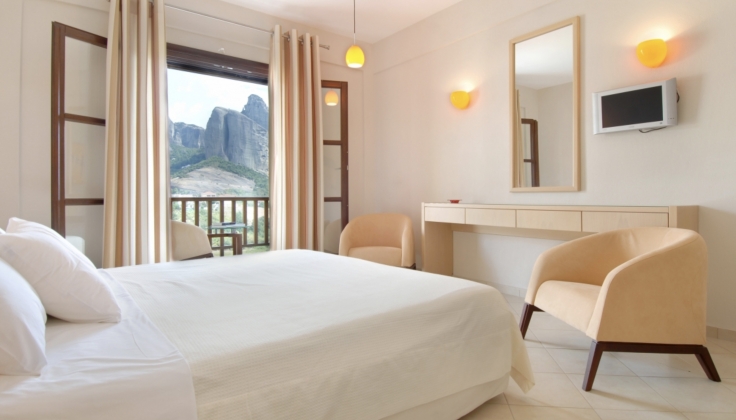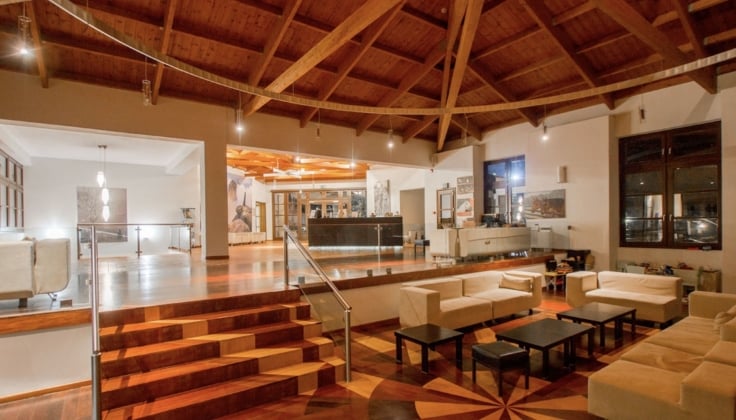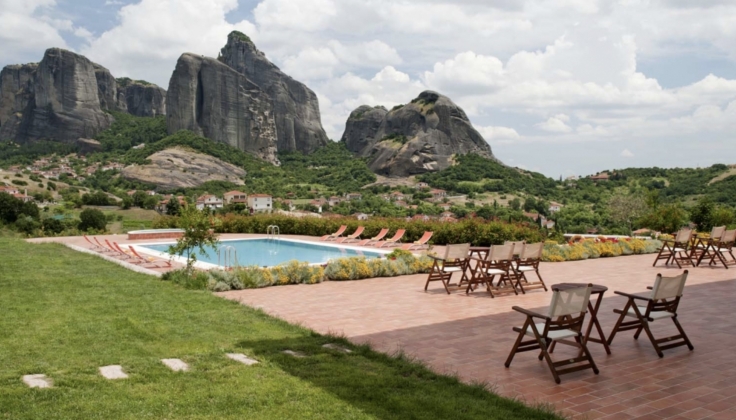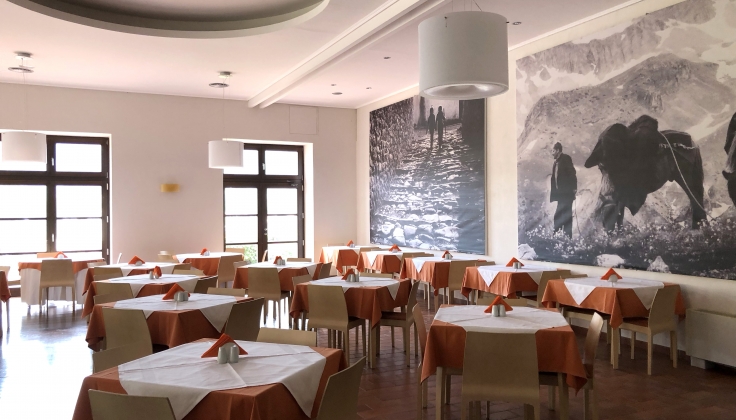 Linger Longer with a Tour Extension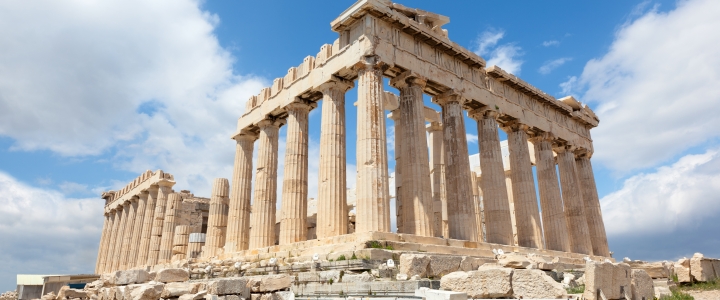 Pre-Tour
Flight + Tour Combo Only
2021 Pre-Tour Extension - Athens
Two nights at Electra Palace Hotel, Athens
Small group airport and hotel transfers
Two breakfasts
2 Nights From $448
per person, double occupancy

Single Supplement: From $448
Begin your adventure by departing from a convenient gateway city in the United States or Canada. Spend your first night aloft.
Upon your arrival in Athens, a representative holding a Country Walkers sign meets you as you exit the baggage-claim area. A complimentary small-group transfer will be provided to your city center hotel. The remainder of the day is at your leisure; all meals today are on your own.
If you are going to be delayed meeting our transfer representative for more than 15 minutes due to delayed or lost luggage, please contact Allianz Global Assistance to advise of your delay, and they will contact our transfer service on your behalf. Our drivers are generally able to wait for up to 45 minutes from the time your flight lands, after which you would be responsible for your own transfer.
Please note: If you arrive at your hotel prior to check-in time, your room may not be available; you may store your luggage with the reception desk.
Country Walkers provides City Information containing recommendations about what to see and do in Athens during your stay.
Accommodation: Electra Palace Hotel, Athens
You awake today to splendid views of the Acropolis from your hotel. After breakfast, set out to explore the city's iconic sites, perhaps starting at the heights of the Parthenon, Athens' universal symbol of the classical spirit shimmering a golden hue in the Mediterranean sun. Visit the iconic Doric temple to Athena; the Erechtheion, dedicated to Athena and Poseidon; and the Temple of Athena Nike, the site's earliest Ionic temple. Later, learn more about the ancients and their architectural and sculptural wonders at the new Acropolis Museum, where you enjoy endless insight into the city's archaeological treasures as expansive windows provide views of the breathtaking site itself.
Finish your exploration by winding through the city's renowned Plaka district, where cafés and shops line cobbled streets and charming tavernas invite you in for delicious Greek cuisine.
Accommodation: Electra Palace Hotel, Athens
Included Meals: Breakfast
Discover more of Athens today. You might peruse the priceless holdings of the National Archaeological Museum—a vast repository of exquisite sculptures, jewelry, pottery, and other artifacts of Greek art and history. Or stroll the quiet green space of the Agora, the heart of ancient Athens' social, commercial, and political life. As you explore, imagine Socrates here sharing his philosophy to all who would listen, or St. Paul spreading the word about Christianity in 49 AD. While here, visit the Temple of Hephaistos, once surrounded by metallurgy shops and one of Greece's best-preserved Doric temples. Or browse the museum that's housed in a two-story portico built in the 2nd century BCE.
Complete the day, while pausing to rest your feet, at one of the popular wine bars or cafés that dot the city. Consult the hotel concierge for recommendations on where to dine this evening.
Accommodation: Electra Palace Hotel, Athens
Included Meals: Breakfast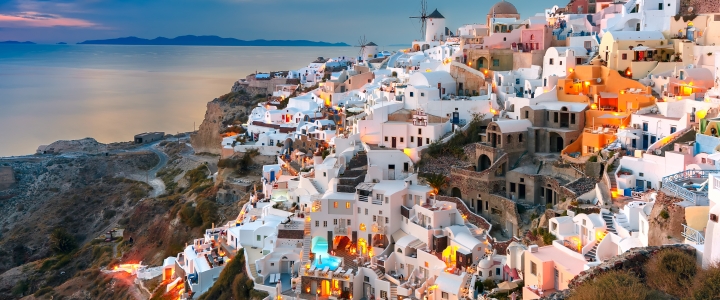 Post-Tour
Flight + Tour Combo Only
2021 Post-Tour Extension - Santorini
Three nights at four-star Santorini Palace Hotel on Santorini
One night at Hotel Sofitel Athens Airport, Athens
Small-group airport and hotel transfers
Round-trip flight Athens/Santorini
Four breakfasts and one lunch
Small-group guided Caldera walking tour
4 Nights From $2098
per person, double occupancy

Single Supplement: From $948
After breakfast, transfer to the Athens airport for a short flight to Santorini, a vision of dazzling white villages perched on steep slopes overlooking the azure Aegean Sea. This stunning island of the Cyclades archipelago is actually the crescent-shaped rim of a sunken caldera formed after a massive volcanic eruption about 3,600 years ago.
Upon arrival, you transfer to your hotel, a beautiful resort perched above the main town of Thíra. The remainder of the day is at leisure, perhaps to stroll into Thíra, where narrow warrens lead to white-washed houses, balconies overflowing with bougainvillea and staggering views of the Aegean Sea from a 1,300-foot caldera rim.
Accommodation: Santorini Palace Hotel
Included Meals: Breakfast
After breakfast, depart with your guide and small group on a walking tour along the rim of Santorini's stunning caldera. Your hike begins outside Thíra, weaving past white-washed houses and blue-domed churches. Astonishing views of the island's cliffs and the turquoise sea accompany you at every step. As you explore, your guide regales you with local lore and mythological tales that unfolded in this godly setting. At walk's end, settle in at a local taverna for a delicious meze-style lunch featuring small plates of fresh, local fare—perhaps feta cheese, kalamata olives, fava beans, or eggplant salad.
Afterward, return to your hotel for an afternoon and evening of independent exploration. There'll be time to relax or swim in the pool and enjoy cocktails on the terrace, the glorious Aegean your dining room.
Accommodation: Santorini Palace Hotel

Included Meals: Breakfast, Lunch
You have another day to experience the many pleasures of Santorini. The island hosts 36 varieties of grape in its volcanic soils and produces lovely white wines. Perhaps you will visit a winery today to sample some of them firsthand. Or explore the remains of Akrotiri. This Minoan settlement was frozen in time by the volcanic eruption that formed the island. Like Pompeii, it provides a fascinating snapshot of an ancient civilization. Your resort's concierge can also help you arrange a catamaran sail, a boat tour to nearby hot springs and more.
Accommodation: Santorini Palace Hotel

Included Meals: Breakfast
After breakfast, you transfer to the Santorini Airport for the short flight to Athens International Airport. Flight schedules back home require you to stay overnight, so we have reserved the Hotel Sofitel Athens Airport for you, the only hotel at the airport and an easy walk from the terminal. Spend the afternoon and evening poolside, indulge in a spa treatment or sauna, or head back into Athens for more independent exploration.
Accommodation: Sofitel Athens Airport Hotel
Included Meals: Breakfast
Enjoy breakfast before making your way independently to your terminal at Athens International Airport for your international flight home. Please review check in times carefully to ensure prompt arrival at Athens International Airport.
Included Meals: Breakfast
| What's Included | Flight + Tour Combo | Tour Only |
| --- | --- | --- |
| Exceptional boutique accommodations | | |
| All on-tour meals except 1 lunch and 1 dinner | | |
| Local guides with you throughout tour | | |
| Local wine and/or beer with dinner | | |
| Entrance fees and special events as noted in the itinerary | | |
| Travel assistance available 24/7 provided by Allianz | | |
| Two extra nights in Athens, Greece (one pre/one post) | | |
| Roundtrip airfare | | |
| Airport car service for arrival & departure | | |
| Pre- and post-tour breakfasts | | |
| Business-class upgrades available | | |

Be the First to Get News & Special Offers
Click and hold to Zoom