Greece: Athens, Delphi & Meteora
Tour Only
Flight + Tour Combo
7 Days
Starting From
$3,998
10 Days
Starting From
$4,998
Favorite
See What's Included
Even with 5,000 years of history, Greece never stops surprising.
Standing trailside above Delphi's Temple of Apollo, with the sweep of Mount Parnassus as a backdrop, there's no better stage for appreciating the ancient Greeks' dramatic flair. Fortunately, your guides are experts at weaving history, myth, and tradition into a captivating mosaic that brings these places to life. You've experienced this while surveying the Peloponnese Peninsula from Acrocorinth's fortress gates and riding the rails through the magnificent Vouraikos gorge. Soon you'll be strolling through green forest and massive sandstone pillars to the dizzyingly perched medieval monasteries of Meteora. Greece isn't just antiquities, however—you've savored its vibrant culture during a visit with a local chef at his restaurant in Kalavrita and a private wine tasting in Polydrosos. Yiamas
Highlights
Hike among the medieval monasteries of Meteora, the astonishing UNESCO World Heritage site of sacred sanctuaries perched on towering sandstone pillars.
Explore the archaeological site of Delphi, taking in its ancient ruins and magnificent mountain setting.
Enjoy a refreshing Mythos beer in Galaxidi, once a thriving maritime community, then stroll cobbled streets past pretty 19th-century sea captains' stone houses.
Follow footpaths in and around Acrocorinth, one of the finest surviving fortifications in Greece, and gaze upon panoramas of the Isthmus of Corinth.
Take a historic cog railway journey through the Vouraikos Gorge—into the deep-cut canyon past roaring waterfalls and through tunnels burrowed into mountainsides, with spectacular views of dramatic landscapes all around.
On all Guided Adventures you can count on...
Expert local guides to introduce you to the best of your destination
Off-the-beaten-path places you'd never find on your own
Delicious multi-course meals—a majority are included
A maximum of 18 fun-loving fellow travelers to share the journey
Gracious accommodations that are a clean, comfortable home away from home
Experts to handle all the details
Flight + Tour Combos include plane tickets, airport shuttles, and pre- and post-tour accommodations
Electra Palace Hotel
Located in the heart of the elegant Plaka district, the Electra Palace Hotel offers a refined, exclusive experience. The many pleasures of Athens are right outside your door. From the roof garden and pool, enjoy stunning views of the hilltop Acropolis, a particularly magical sight when illuminated at night. At the award-winning restaurant, savor fine cuisine expertly prepared and served. Your luxurious air-conditioned room offers plush beds, Jacuzzi tubs, marble-tiled bathroom and all the amenities that make for a comfortable stay. For a touch of indulgence, treat yourself to a spa treatment.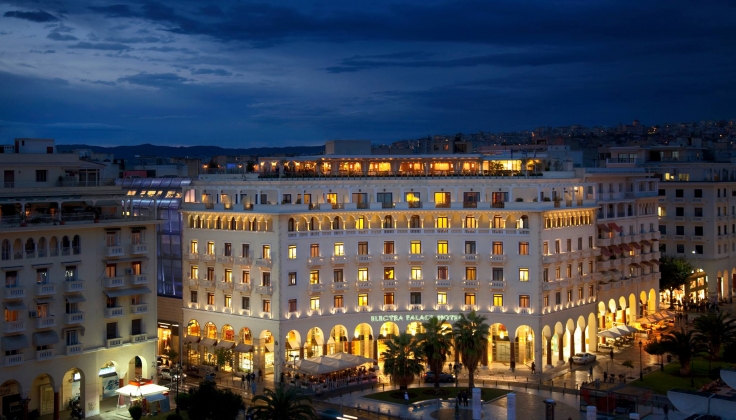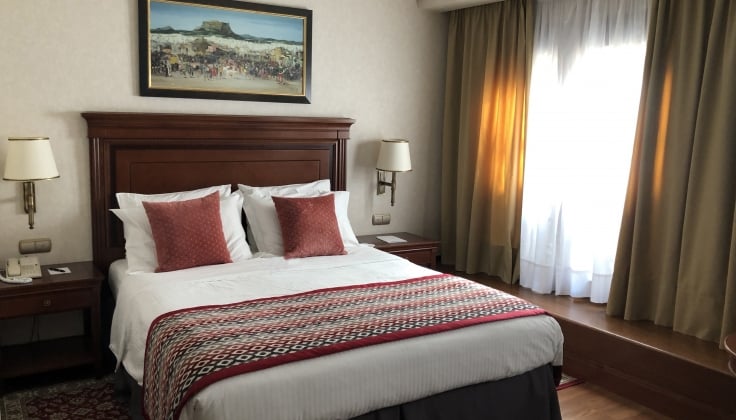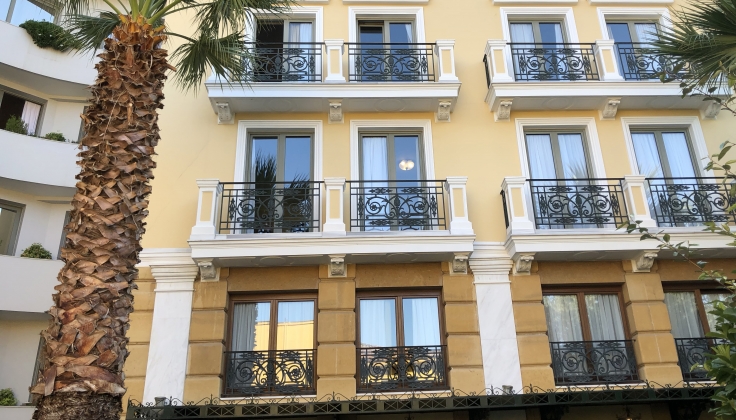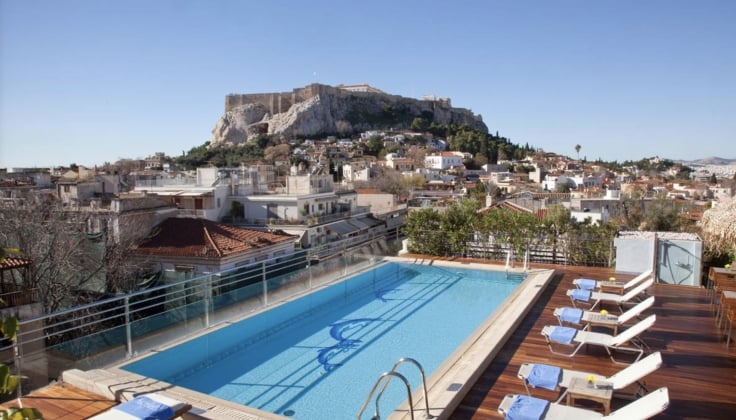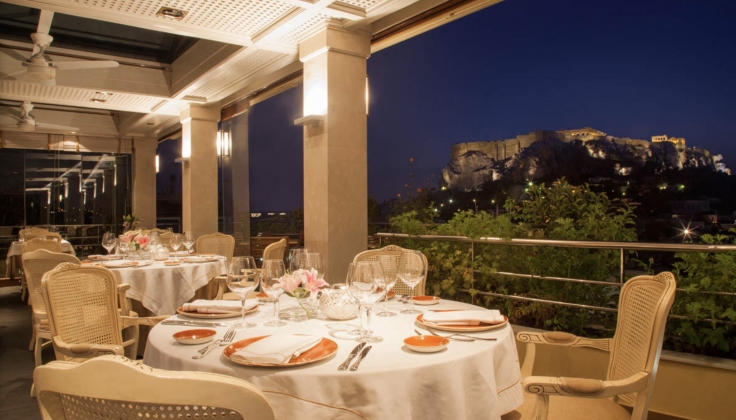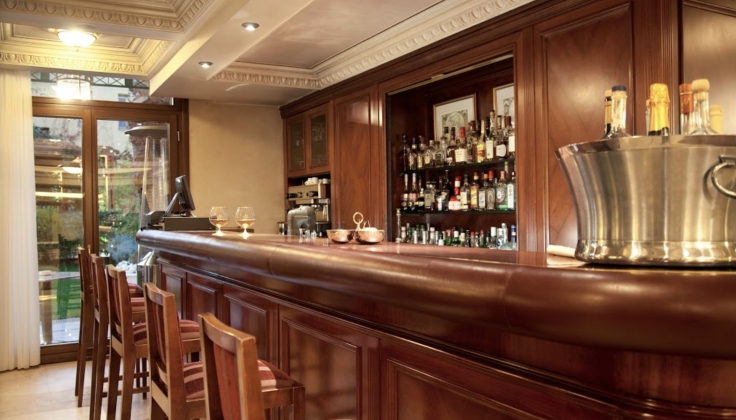 Kalavrita Canyon Hotel & Spa
Located in the heart of historic Kalavrita, the modern Kalavrita Canyon Hotel & Spa offers just 38 rooms, giving it a personal and intimate atmosphere. During your stay, start your day at the Monastery Restaurant and savor an authentic Greek breakfast of fresh local delicacies, including meats, cheeses and pastries. After a day of walking, relax over a drink at the atmospheric Golden Bar. And treat yourself to a sauna, steam room, massage or mud treatment at the spa. Each air-conditioned room is tastefully designed and provides all the amenities you need for a comfortable stay.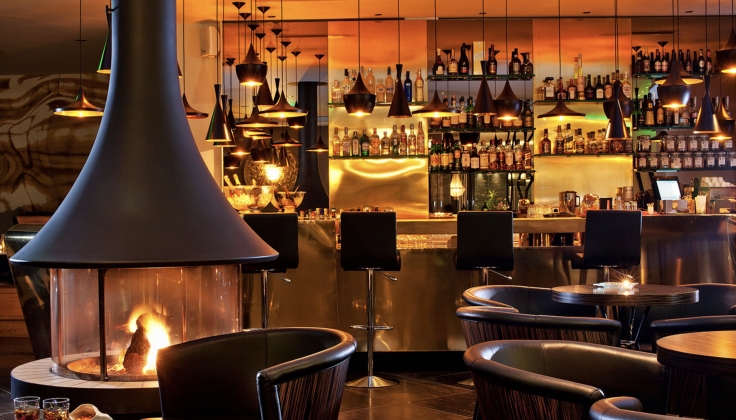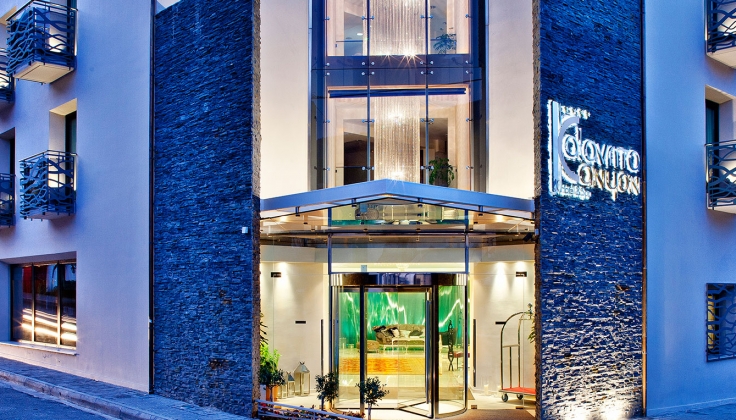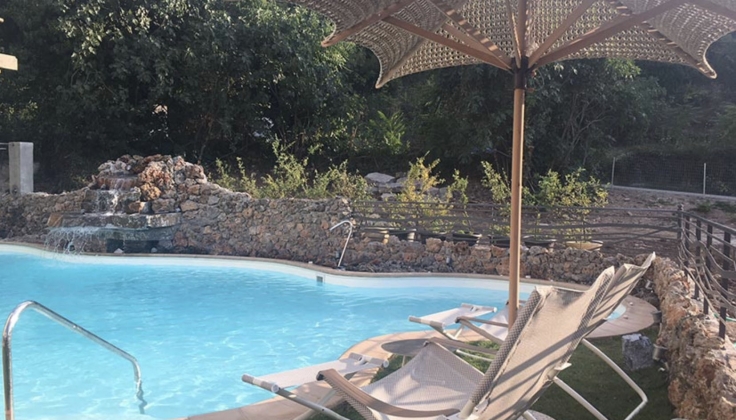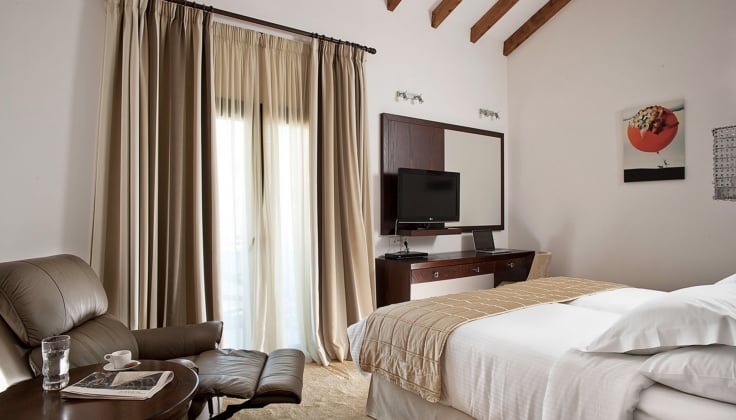 Aegli Resort & Spa Hotel
Nestled among the rolling slopes of Arachova, the luxurious Aegli Hotel & Spa enjoys a splendid perch with magnificent vistas. Its main house and self-standing cottage-style rooms are constructed with materials that evoke the surrounding natural world—stone, wood, and beautifully crafted tiles—creating a sense that you are living in a traditional Greek mountain village. Take time to enjoy the onsite spa and your air-conditioned room adorned with stylish furnishings and generous amenities during your stay.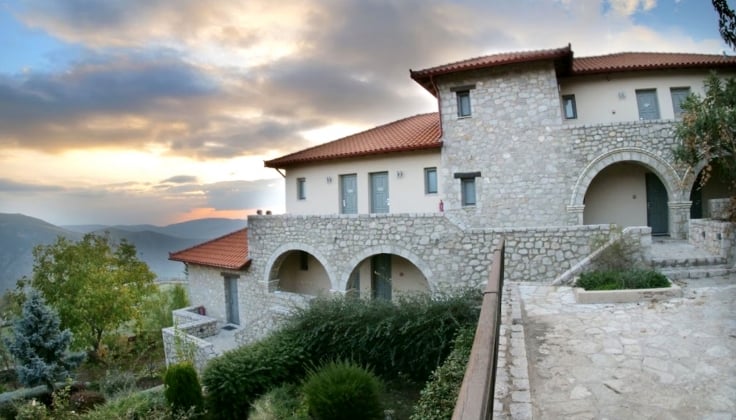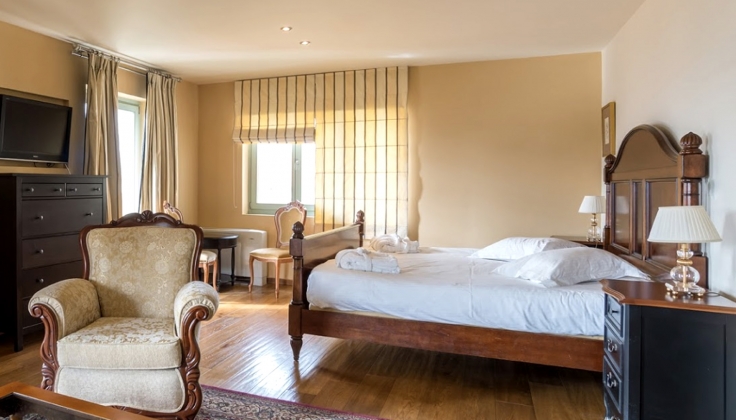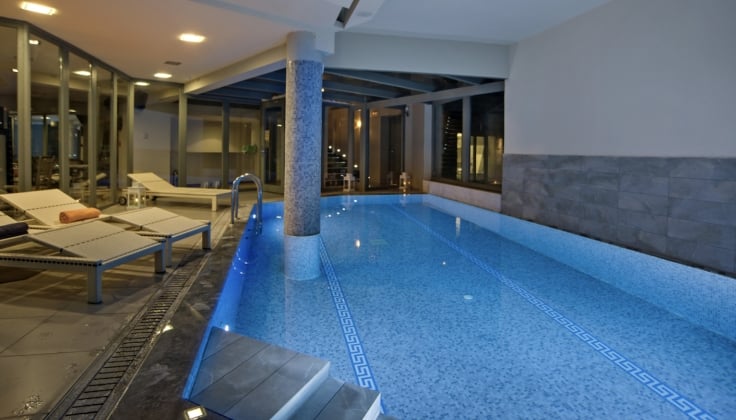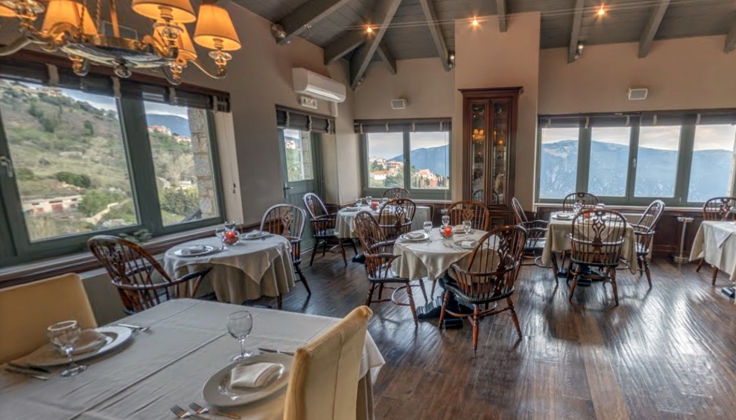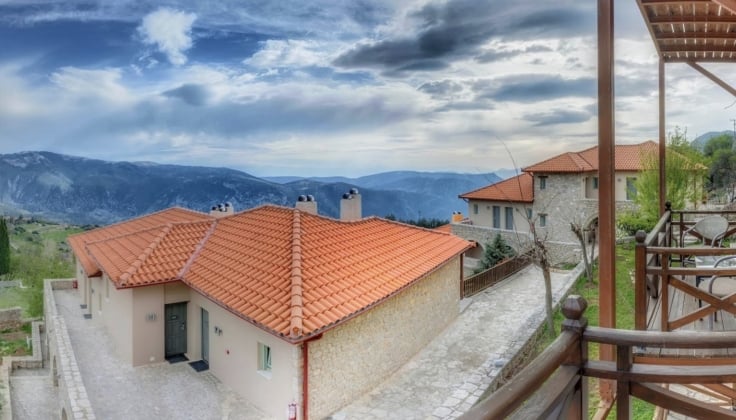 Hotel Meteora
Set at one of the higher points in Kastraki, the Meteora Hotel provides spectacular views of Mount Pindos and the famed rock pillars of Meteora. Its clean, streamlined architecture is both modern and traditional, hailed for a minimalist style that blends harmoniously with its stunning natural surroundings. The charms of the village are just a pleasant eight-minute walk away. In the morning, you can take your breakfast on the outdoor terrace. Take a dip in the pool as the monolithic mountains soar in the distance. Each air-conditioned room, also with splendid views, is bright and elegant and features ample amenities.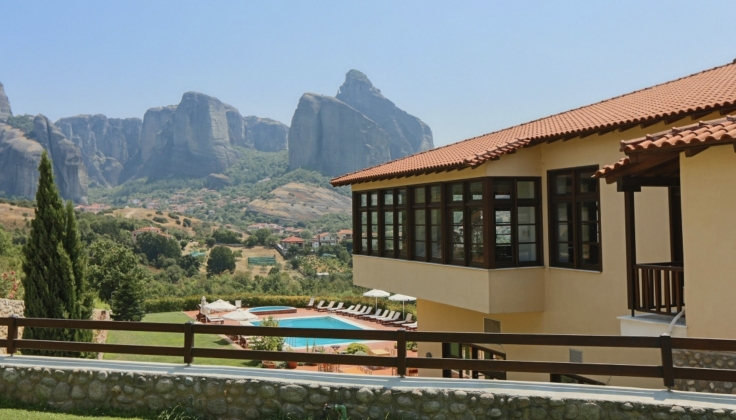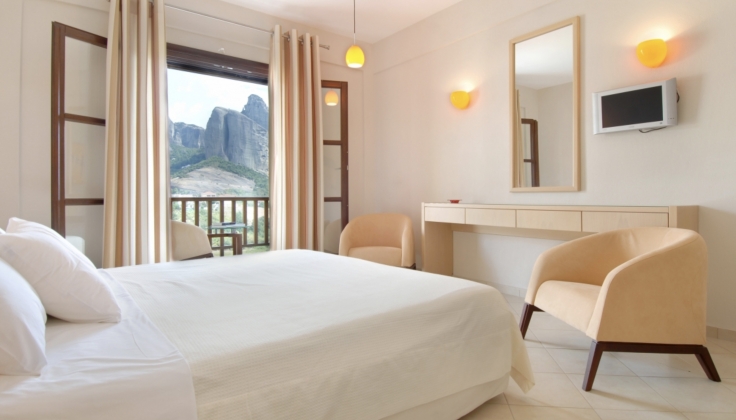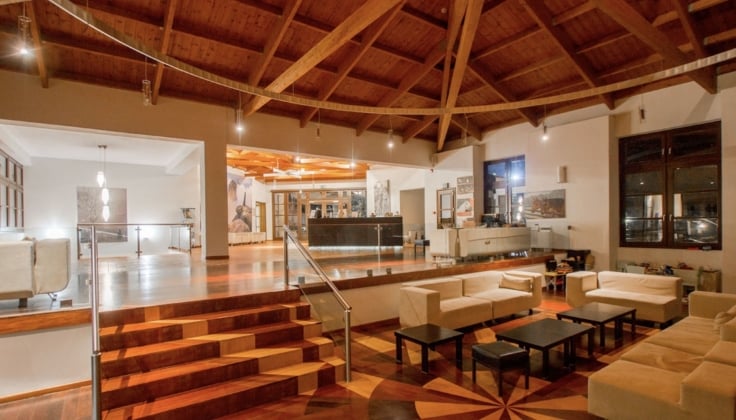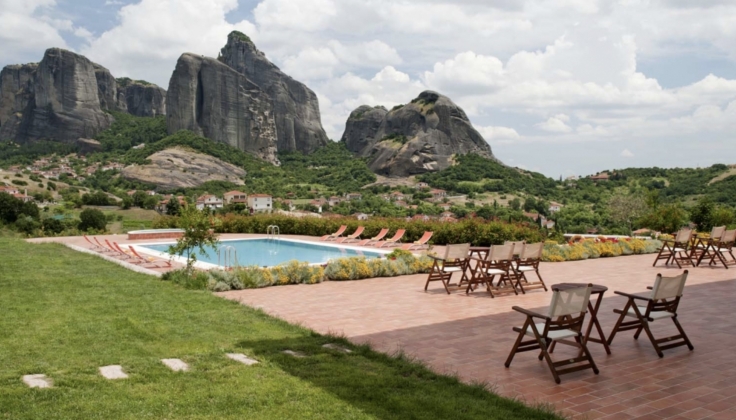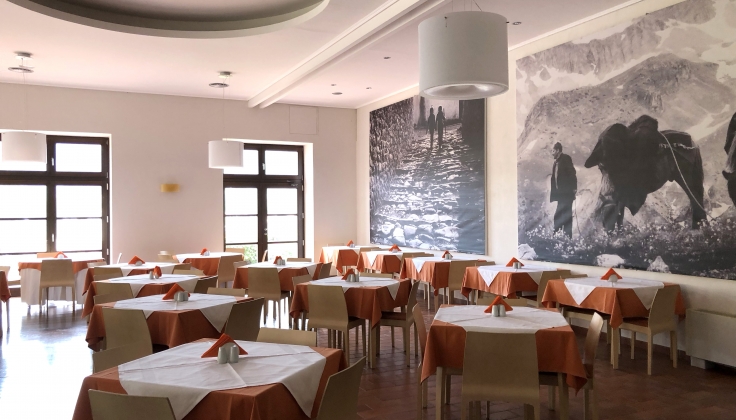 Linger Longer with a Tour Extension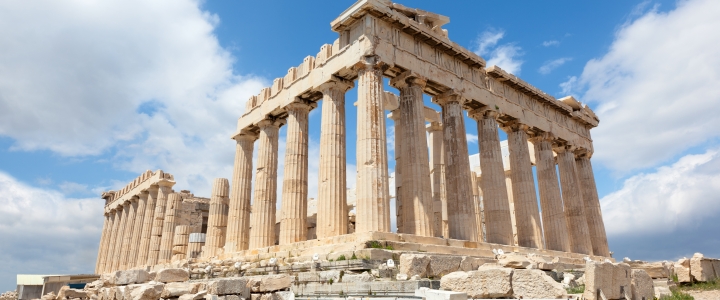 Pre-Tour
Flight + Tour Combo Only
2023 Pre-Tour Extension - Athens
Two nights at Electra Palace Hotel
Airport car service for arrival
Daily breakfast
City information
2 Nights From $495
per person, double occupancy

Single Supplement: From $495
Your vacation is about to begin! Spend your first night aloft and arrive ready for an unforgettable trip.
Start off your first day in Athens right by having a Country Walkers representative greet you at the airport. A complimentary car service will whisk you to your centrally located hotel. From here, you are perfectly positioned to explore this magnificent city at your leisure.
After a delicious included breakfast at your hotel, you are free to explore on your own, using our included city information packet to guide your discoveries.
Included Meals: Breakfast
After a delicious included breakfast at your hotel, you are free to explore on your own, using our included city information packet to guide your discoveries.
Included Meals: Breakfast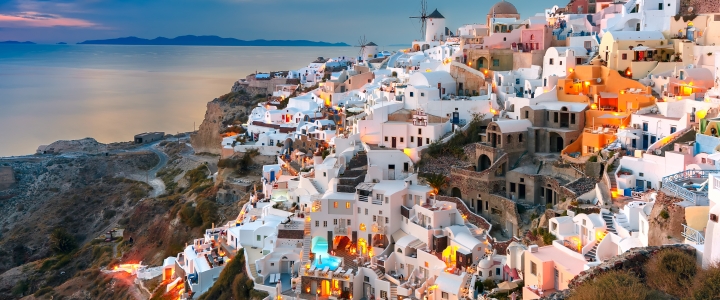 Post-Tour
Flight + Tour Combo Only
2023 Post-Tour Extension - Santorini
Three nights at four-star Santorini Palace Hotel or equivalent
One night at Hotel Sofitel Athens Airport
Airport car service to Athens airport
Roundtrip flights between Athens and Santorini
Airport car service for Santorini arrival and departure
Daily breakfast and one lunch
Guided Caldera hiking tour
City information
4 Nights From $2145
per person, double occupancy

Single Supplement: From $1045
After a delicious included breakfast at your hotel, transportation is provided to the Athens airport for a short flight* to Santorini, a vision of dazzling white villages perched on steep slopes overlooking the azure Aegean Sea. This stunning island of the Cyclades archipelago is actually the crescent-shaped rim of a sunken caldera formed after a massive volcanic eruption about 3,600 years ago.
Upon arrival, complimentary transportation is provided to your hotel, a beautiful resort perched above the main town of Thíra. The rest of the day is yours to enjoy at your leisure—perhaps explore town, relax poolside at the hotel, or select a local restaurant for lunch and dinner. We provide detailed city information to help you plan your day.
Included Meals: Breakfast
After a delicious included breakfast, meet in the lobby of the hotel at 9:00 a.m. (dressed in your hiking footwear; walking poles are not provided), and then depart with your guide and small group on a walking tour along the rim of Santorini's stunning caldera. Your hike begins outside Thíra, weaving past white-washed houses and blue-domed churches. Astonishing views of the island's cliffs and the turquoise sea accompany you at every step. As you explore, your guide regales you with local lore and mythological tales that unfolded in this godly setting. At trail's end, settle in at a local taverna for a delicious meze-style lunch featuring small plates of fresh, local fare—perhaps feta cheese, kalamata olives, fava beans, or eggplant salad.
Afterward, return to your hotel for an afternoon and evening of independent exploration. There'll be time to relax or swim in the pool and enjoy cocktails on the terrace, the glorious Aegean your dining room.
Included Meals: Breakfast, Lunch
After a delicious included breakfast at your hotel, you are free to explore on your own, using our included city information packet to guide your discoveries.
Included Meals: Breakfast
After a delicious included breakfast, there is time to do some last exploring or shopping before your complimentary transportation this afternoon to the Santorini Airport for the short (half hour) flight to Athens International Airport. (Departure time provided by your Country Walkers guides on tour, and luggage can be stored at the hotel until your airport shuttle departs.) Flight schedules back home require you to stay overnight, so we have reserved the Hotel Sofitel Athens Airport for you, the only hotel at the airport and an easy walk from the terminal. Spend the afternoon and evening poolside, indulge in a spa treatment or sauna, or head back into Athens for more independent exploration.
Included Meals: Breakfast
After an included breakfast this morning, make your way independently to your terminal at Athens International Airport for your flight home.
Included Meals: Breakfast
| What's Included | Flight + Tour Combo | Tour Only |
| --- | --- | --- |
| Exceptional boutique accommodations | | |
| 15 on-tour meals: 6 breakfasts, 5 lunches and 4 dinners | | |
| Local guides with you throughout tour | | |
| Local wine and/or beer with dinner | | |
| Entrance fees and special events as noted in the itinerary | | |
| Telescopic walking sticks provided on tour | | |
| Roundtrip airfare | | |
| Two extra nights in Athens | | |
| Airport car service for arrival and departure | | |
| Pre- and post-tour breakfasts | | |
| Business-class upgrades available | | |

The hiking trip to Greece was a fabulous adventure. The hiking was incredibly diverse from rocky mountain trails, to forests, to climbing the stair steps of monasteries, walking the railway between Gorges and exploring the ancient city of Delphi and swimming in the Ionian Sea. The amazing guides Thalia and Katerina shared their love of Greece and ensured we all had an amazing adventure. The local food were delicious. The extension trip to the beautiful island of Santorini is also highly recommended. Loved every minute of the Athens, Delphi & Meteora and Santorini trip.
Greece: Athens, Delphi & Meteora
This trip allowed us to see so much of Greece in a way that very few people are able to. Katerina and Fotis were exceptional guides, with lots of knowledge of history, mythology, geology, botany, culture...pretty much everything. The hikes and activies were expertly planned and we were kept well-fed and comfortable throughout the trip. The post-trip to Santorini was worth it, although there are a few kinks to work out. It would have been helpful to have hiking poles on the group hike along with two guides to bookend our group. Additionally, because tap water is undrinkable on the…
Greece: Athens, Delphi & Meteora
Expert Local Guides
Experience your destination like an insider with people who call it home.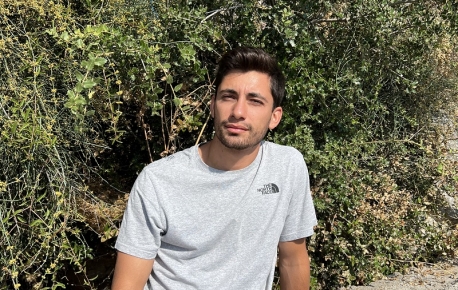 Fotis Kalaloue
Born and raised in Greece, Fotis has a passion for outdoor adventures. This civil engineering student spends his summers working as a VBT trip leader, and also leads tours of the Peloponnesian peninsula. In winter, he works as a ski instructor and mountain guide. When he's not guiding tours, Fotis enjoys backpacking trips and rock-climbing with friends.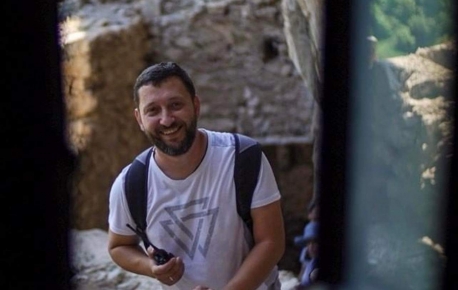 Mike Giannopoulos
Born in the historic Grecian city of Tripoli, Michalis (Mike) Giannopoulos has a passion for exploring the cultural and archaeological sites of Greece. He loves the challenge of hiking the Grecian mountains while eagerly finding natural and historic information to add to his extensive knowledge of the area.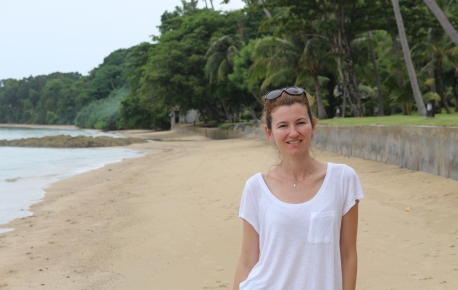 Erietta Mechili
Raised in the Peloponnese region of Greece, Erietta has lived in Athens for much of her adult life. Since her teenage years when she worked at a camp, she has understood the power of the outdoors to unite people from different countries and cultures. Her compassion and charisma are apparent in her work not only as a guide, but also as a volunteer with Translators Without Borders, where she puts her fluency in English and Spanish to use in supporting refugees and organizations, and with the Make-A-Wish Foundation, which helps dreams come true for terminally ill children. Erietta has a big heart, and much of it belongs to Greece. In fact, she keeps her nation's culture alive by performing traditional dances. In addition to helping guests explore her country by foot, she also cycles and plays a mean game of ping pong.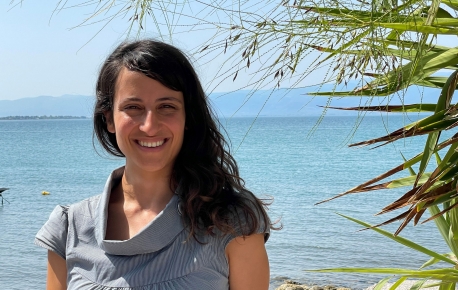 Katerina Pistola
Katerina Pistola grew up in the vibrant cultural convergence of Greece, Bulgaria, and Turkey. She inherited the travel bug from her Sarakatsani nomadic ancestors which led her to work in the wineries of France and in the hospitality sector of Iceland, where she formed a clear idea of her dream job: to inspire people's respect for nature and culture. Her love of the outdoors blossomed from a young age as she enjoyed sailing, mountaineering, and rock climbing, eventually obtaining a diploma in Mountain Leadership & Guiding. She speaks English, French, and Spanish fluently and, since she is passionate about storytelling and cultural heritage (topics she loves sharing with fellow travelers!) she works as a field reporter and researcher for an oral history project.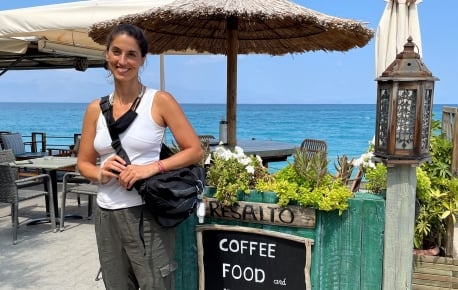 Thalia Mari Papadopoulou
Thalia Mari Papadopoulou lives in Athens, works as a pianist and performance artist, and has a background in archaeology and anthropology. She also runs her own musical theater and performance school with a focus on using the powerful tools of music, dance, theatre in education with people of all ages, including vulnerable groups such as refugees, prisoners, and gypsy minorities. She often collaborates with organizations in Greece and the UK, such as the National Theatre, El Sistema Greece, and Kingston and Guildhall Universities. Besides walking and trekking, she enjoys canyoning, swimming, horseback riding, and archery.
Be the First to Get News & Special Offers
71 other people have recently viewed this tour!
Click and hold to Zoom