With bucolic morning walks and refined afternoon teas, the Cotswolds' charms never run dry.
There's nothing like a full English breakfast to start your day. And with the pretty village of Bibury at your doorstep, you can't wait to embrace the morning. Outside, the River Coln rushes past your hotel's ivy-covered façade, and a graceful lane weaves among golden stone cottages with mossy slate roofs, up towards the public footpath. Swing open a gate and you're immersed in the Cotswolds' pastoral countryside, where chirping birds and bleating lambs keep you company as you wander rolling meadows and along willow-lined riverbanks. Even with all this glorious greenery, civilization is never far off on this Cotswolds walking tour. A cozy pub festooned with climbing roses signals your arrival in the neighboring village of Coln St. Aldwyns. Noon has barely struck, but the day's first spontaneous detour is already luring you in.
Highlights
Stroll a bucolic landscape of rolling meadows, sheep-dotted pastures, and tranquil forests straight out of a fairy tale.
Stay in quaint country inns and converted manors brimming with English charm and surrounded by beautiful gardens.
Follow some of England's most renowned walking trails including the hilly Cotswold Way, the gentle Heart of England Way, and the historic Monarch's Way.
Admire the graceful Regency architecture of Cheltenham, known at the "Western Gateway to the Coldswolds" and the cultural capital of Gloucestershire County.
Explore the enchanting grounds of the beautifully preserved Sudeley Castle & Gardens, resting place of Katherine Parr, the sixth wife of Henry VIII.
On all Self-Guided Adventures you can count on...
A local representative available 24/7
Detailed maps & route notes featuring turn-by-turn directions and places of interest
Delicious meals—many are included
Scheduled taxi transfers to bring you to and from each day's walks (excluding self-drive adventures)
Gracious accommodations that are a clean, comfortable home away from home
Experts to handle all the details, including moving your luggage between hotels while you're out exploring
Access to a Self-Guided Flight Concierge—ask our knowledgeable team to find flights that sync with your planned trip
Malmaison Cheltenham
The majestic white building of Malmaison's hotel in Cheltenham looks right at home just around the corner from the serene Montpellier Gardens, with the restaurant boasting a glass conservatory 'Garden Room' and beautiful terrace. Although the hotel rests in the very heart of Cheltenham, you'll instantly feel the calm and privacy of this carefully converted and utterly modern villa and surrounding grounds. Enjoy Malmaison's famous menus in the Brasserie, or cocktails and spirits in the unique ambiance of the bar. Underneath the charm and calm of this Cheltenham hotel bubbles a restrained energy, with modern bedrooms featuring monsoon showers, robes, and REN toiletries. Rooms are naturally cooled without air conditioning. A Nespresso machine, minibar, tea and coffee making facilities, and indulgent snacks provide the finishing touches. Please note: this accommodation is available on limited departures.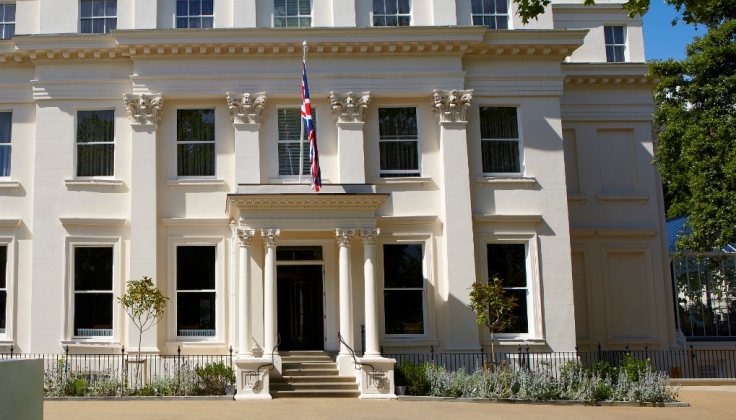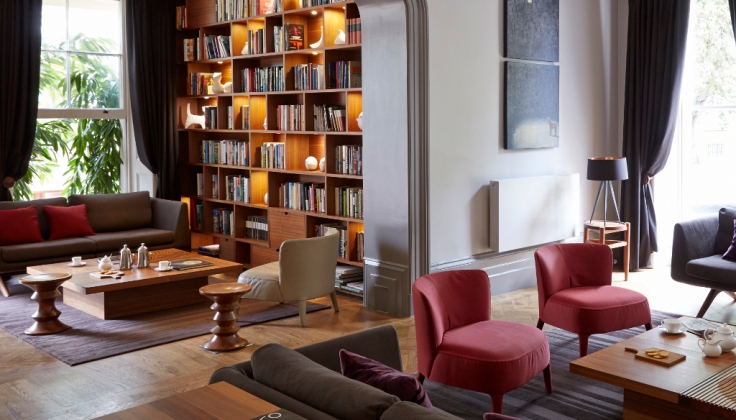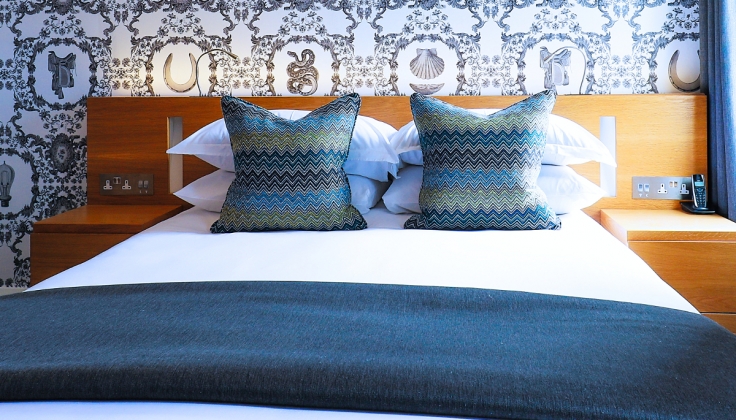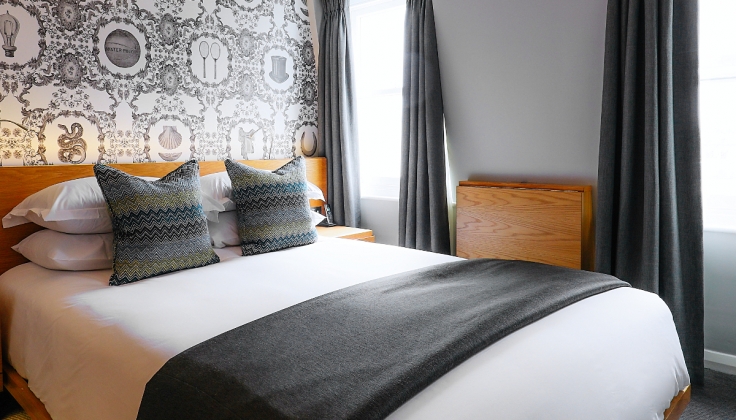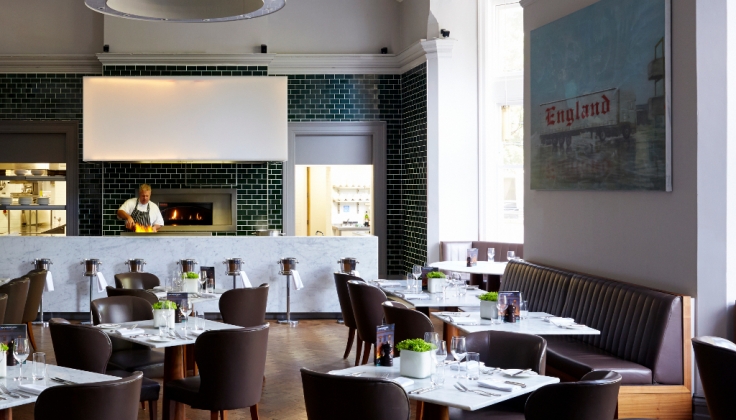 Dormy House
At once elegant and rustic, the Dormy House is bathed in soothing neutral palettes and farmhouse chic. This rural retreat rests near the top of the Cotswold escarpment, high above the village of Broadway, and provides sweeping landscape views. Inspired by the furnishings and warmth of a stylish home, its guest rooms are naturally cooled without air conditioning, and its streamlined interiors evoke Scandinavian designs. The outstanding spa offers a lavender sauna, salt-infusion steam room, and infinity pool. Exposed stone walls and beams round out the historical character of this gorgeous property. At mealtime, choose from three venues: The Garden Room provides exquisite meals and al fresco dining; The Potting Shed offers brasserie classics; and The Greenhouse is your choice for lighter fare. At breakfast, savor a feast of fresh fruits, cereals, meats, pastries, and hot options.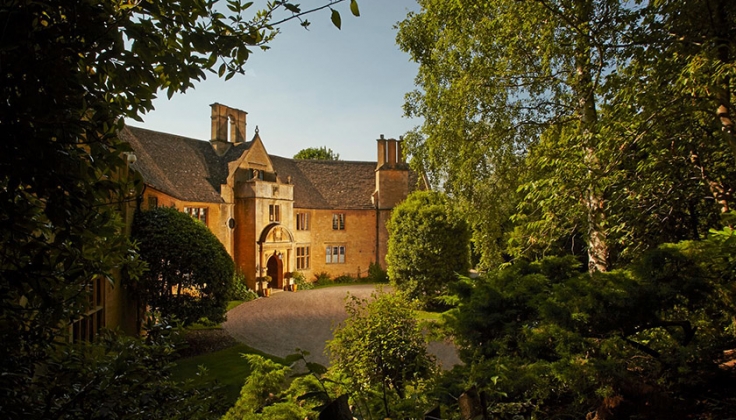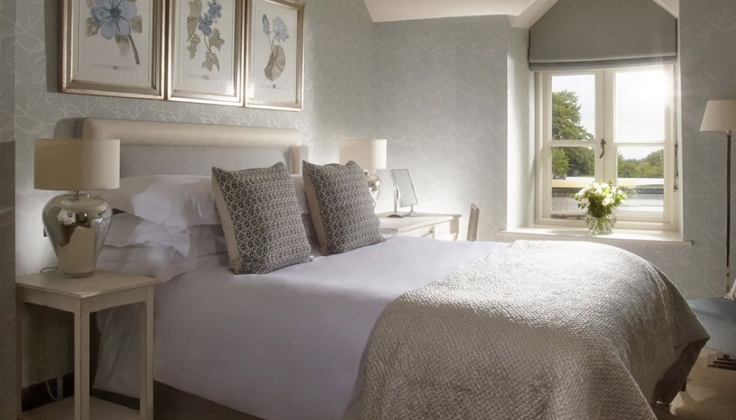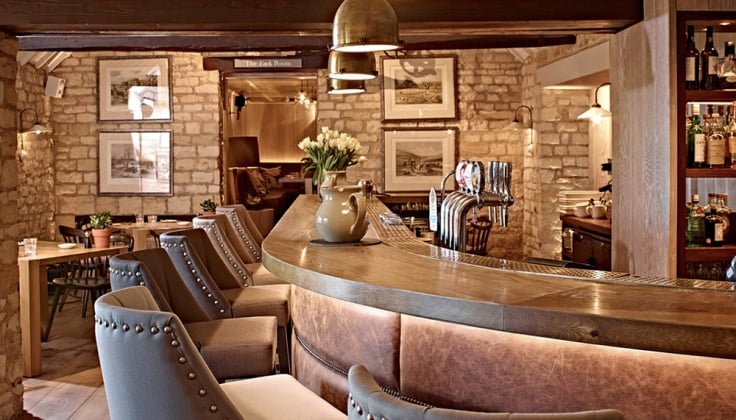 Sheep on Sheep Street
In the heart of one of the region's most famously picturesque little towns sits the Sheep on Sheep Street, three 17th-century golden-stone buildings converted into a stylish inn. The 22 un-air conditioned bedrooms—clad in harmonious greys and blues and equipped with Nespresso machines, kettles, and Birchall teas—feature an air of sophisticated simplicity. Popular with the locals, a lively, informal restaurant with an open kitchen, wood-fired oven, and full-length bar occupies the ground floor. Outdoors, the garden and rear patio area feature an outdoor dining area built around a feature fireplace.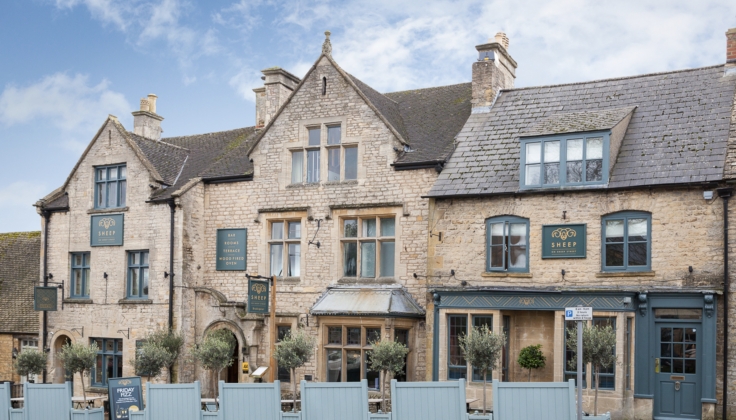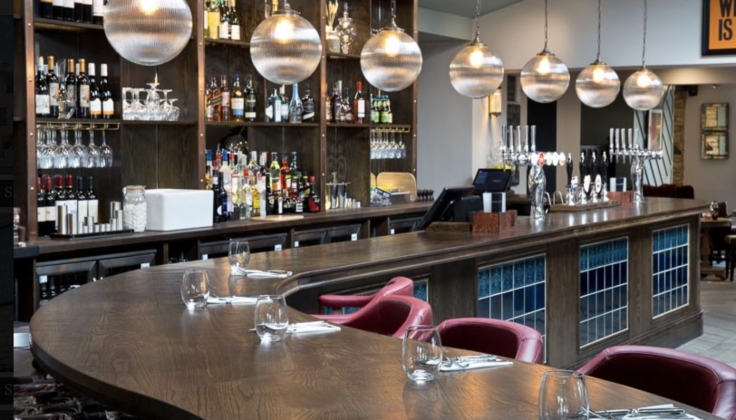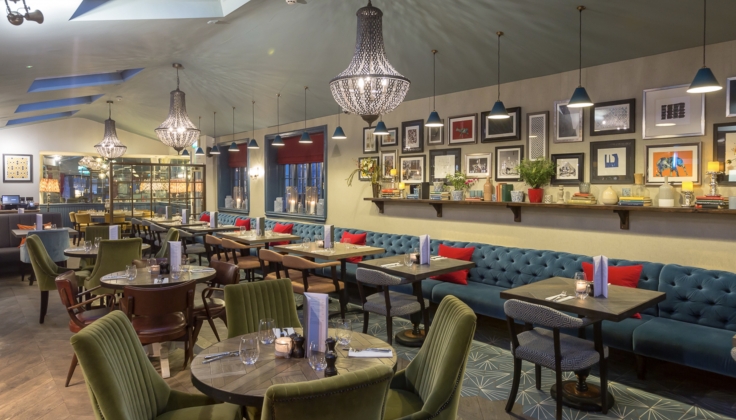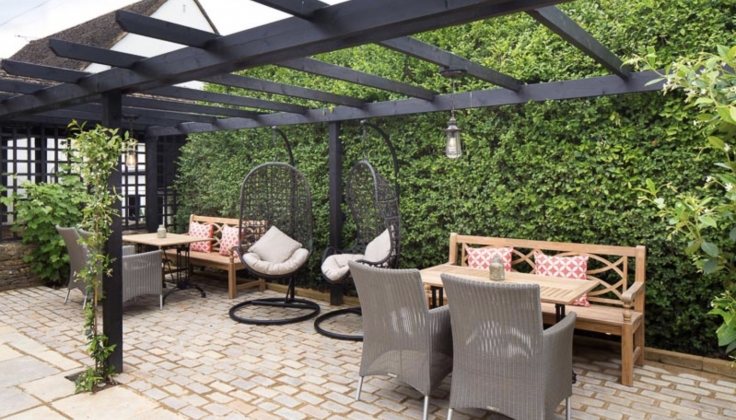 The Lords of the Manor
A rambling 17th-century luxury manor house, Lords of the Manor blends classic contemporary interiors with country charm and attentive service. Grand public rooms, snug corners, and un-air conditioned guest rooms—both in the main house and in the converted granary and barn—are decorated with country-house floral patterns, a muted color scheme, and antiques honoring the property's heritage. Luxury skin care and bath lotions, along with slippers, fluffy robes, and complimentary sparkling elderflower water, complete your stay. There's also an acclaimed restaurant offering upscale French-inspired cuisine and afternoon teas. Occupying eight acres of landscaped grounds featuring sweeping lawns and espaliered walled gardens, the manor is just a 35-minute stroll along country paths to Bourton-on-the-Water, the Cotswolds' best-known village with its picturesque streets, series of bridges over the Windrush River, and bird habitat. Please note: this accommodation is available on limited departures.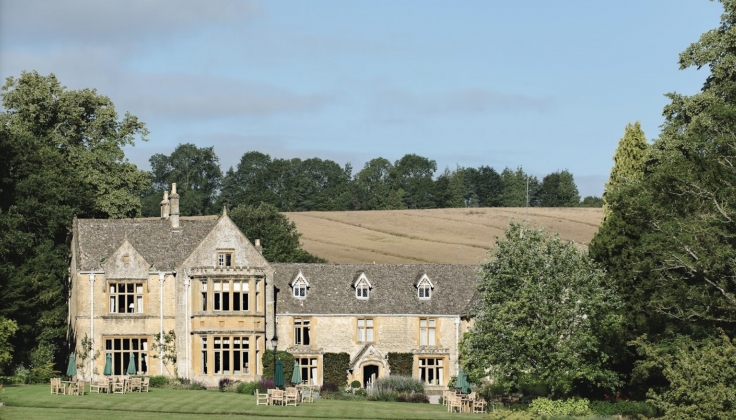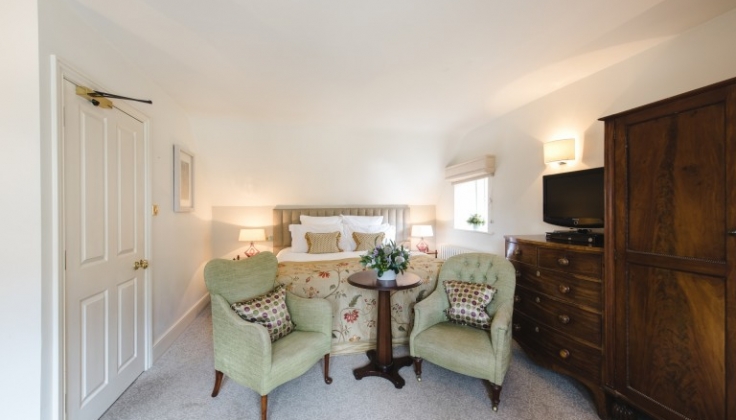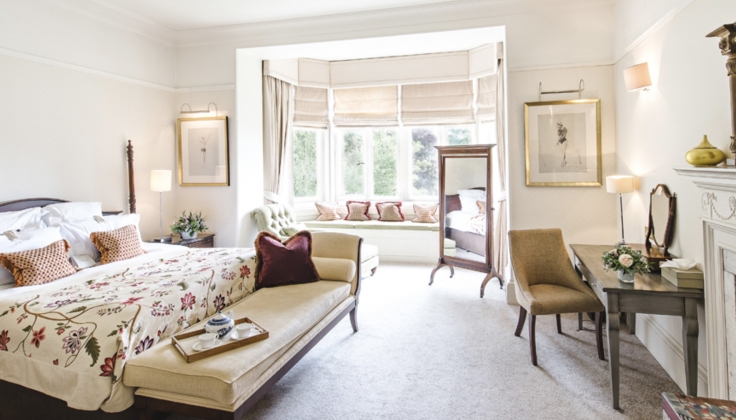 The Swan Hotel
A former Cotswold coaching Inn, The Swan Hotel is a tranquil retreat nestled in the picturesque Cotswolds beside the River Coln. Each of its 22 rooms are individually decorated and offer modern amenities such as in-room WiFi and Nespresso machines. Comfortable and stylish, the hotel's common areas boast bold colors paired with flamboyant prints and wallpapers. Rooms blend antique and modern styles while staying true to the hotel's historical roots with rooms that are naturally cooled without air conditioning. The on-site restaurant serves meals in an elegant setting and features a lavish afternoon tea. Relax in the lush garden or stroll by the riverbank gazing out over the rolling hills and pastoral scenes that encapsulate the natural beauty of the Cotswolds.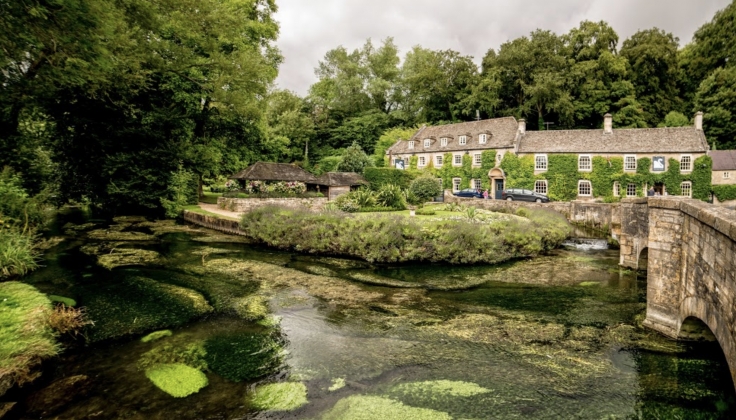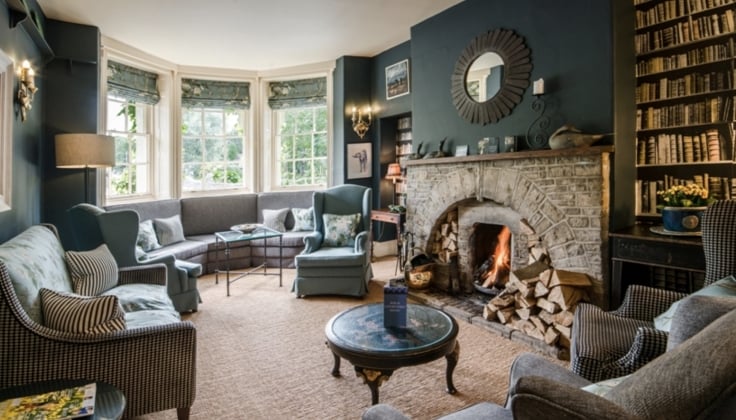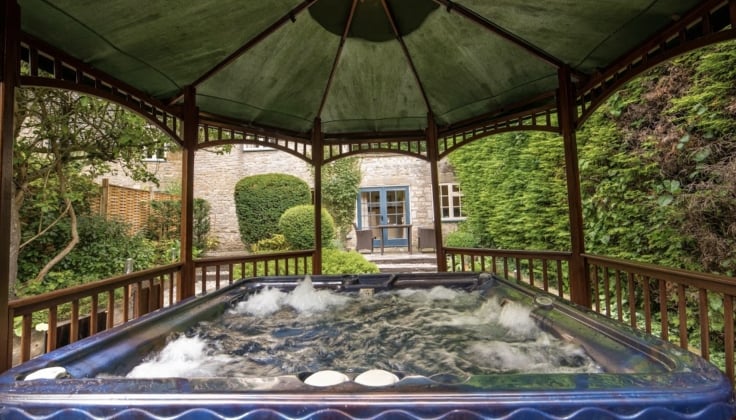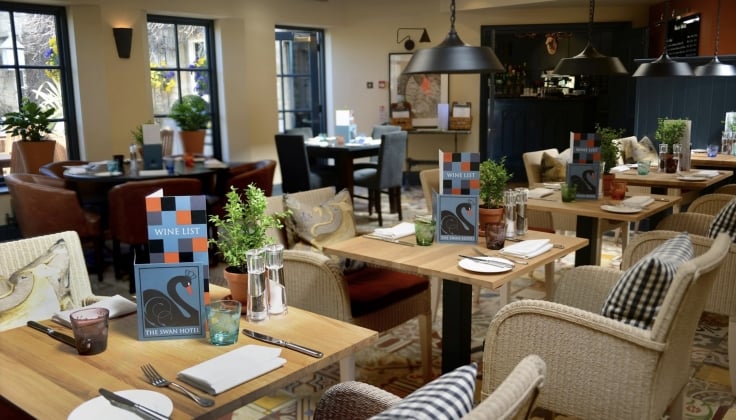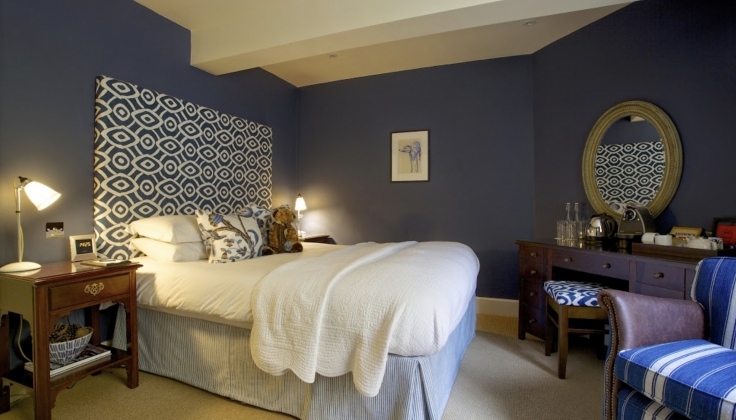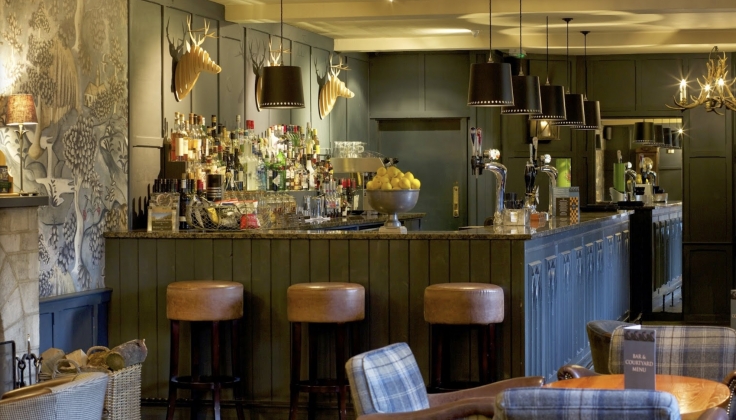 | What's Included | Tour Only |
| --- | --- |
| Boutique accomodations | |
| 9 meals: 6 breakfasts, 1 lunch, and 2 dinners | |
| Detailed water- and tear-resistant Route Notes and maps | |
| Orientation meeting with Country Walkers representative | |
| Local representative available 24/7 | |
| Entrance fees and special events as noted in the itinerary: Entrance to Sudeley Castle & Gardens | |
| Scheduled taxi and luggage transportations (Please note: If unable to walk, it is possible to travel with your luggage from one accomodation to the next at no additional charge.) | |
| Access to Self-Guided Flight Concierge – Ask our knowledgeable team to find flights that sync perfectly with your planned trip. | |

The experience of being outside everyday, walking in this beautiful part of England, and retiring to super comfy and well-located accommodation each evening, made this a Top 3 trip for me. I especially valued waking-up each morning knowing that the day's schedule was mine. Country Walkers had great recommendations for eating and visiting. The customized guidebook had all the information that I needed in one place. All details were taken care of. Thanks for making it so easy. A truly remarkable vacation, in a charming and welcoming part of the world.
In the company of my sister, who believed I could accomplish the walk, we embarked on what turned out to be a beautiful experience. We did it all. We had lovely landscapes, villages, walks, wonderful places to stay, food and most of all the English people. I want to do another trip very soon. June 2022
Be the First to Get News & Special Offers
101 other people have recently viewed this tour!
Click and hold to Zoom