Four Experiences that Highlight the Pleasures of Safaris
When most people imagine a safari, they picture a 4x4 full of travelers marveling at lions and elephants on the savanna. And while game drives are a remarkable part of any adventure to Africa, they're not the whole story. Country Walkers puts incredible care into all facets of your journey, from finding the best boutique tented camps to incorporating active elements (like walks or school visits) into your itinerary. Here are a few of our other favorite safari experiences.
Slipping through the Okavango Delta in a Mokoro Canoe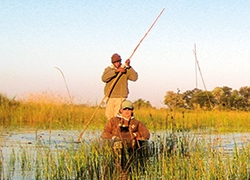 Dawn is just breaking as you and your guide board a traditional mokoro (dugout canoe) and navigate into the Okavango, the world's largest inland delta. All around you, tongues of intense greenery stretch out toward the Kalahari Desert, providing habitat for countless species of birds and mammals. The sounds of stirring creatures join the ripple of water and the swish of reeds as you slip through sinuous channels towards open water, where bird-thronged trees are silhouetted against the rising sun. Look and listen for yellow-bill storks stalking their prey in the shallows, the splash of a diving kingfisher, a distant crocodile slipping into the water, hippos bobbing up in the distance, or an elephant dipping its trunk in for a drink—your expert guide will help you find them all.
Get off the Grid at Zungulila Bushcamp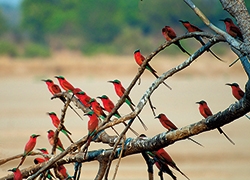 Wake to the sounds of the bush coming to life all around you and a knock on the door announcing coffee. After juice and toast at the campfire, you're off walking with your expert guide into the breathtaking wilderness at your doorstep. This evening, sip sundowners with your feet in the river under the vibrant blaze of the African sky. This is Zungulila, typical of the intimate, remote bush camps where you'll overnight throughout your Zambia safari. With only four luxurious tents, lantern-lit decks, and priceless views of wild game on the adjacent floodplains, it accommodates a maximum of eight guests, creating an immersed-in-nature, part-of-the-family feeling that will make it hard to say goodbye.
Elephant Tracking on Foot in Zimbabwe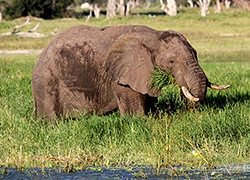 It's still early morning as you climb into the safari vehicle, but your eagle-eyed guide has been up since dawn—reading tracks, he jokes, like you read the morning paper. Excitement builds as you wait for his signal to disembark and follow him into the bush. This morning's adventure? Tracking elephants on foot! Zimbabwe is an elephant-lover's paradise, with some of Africa's biggest herds, and nothing brings you closer than walking directly into their world. Listening and watching, you learn the secrets of the trade: stay alert and downwind, keep a barrier between you and the elephants, look for clues like scuff marks, damage to vegetation and dung. By day's end, you will have seen more elephants than you can count, and have tracking stories to last a lifetime.
Watching Wildlife at Nightfall in Kruger National Park
It all begins just before sunset, navigating by jeep with your guides to a prime wildlife-watching spot for sundowners. Suddenly you're drinking fine South African wine or freshly shaken cocktails on a scenic riverbank, with front-row views of hippos and elephants coming down to play in the majestic twilight. As cooler evening air creeps in, the animal kingdom begins stirring again. Time to bundle up with hot tea and warm blankets and set off into the African night. Your driver and spotter single-mindedly search for a telltale flash of eyes, a sudden movement in the bush. What's out here tonight? Perhaps a lioness and her cubs feasting on a fresh kill? Nocturnal creatures you've never even imagined? Here in Kruger, something memorable is likely just around the bend.