Costa Rica: Where Five Leaves is the new Five Star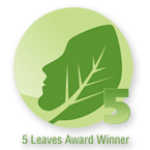 It's safe to say that most travelers know the star rating for hotels. Although the merit inherent in the rating system differs from country to country, two stars is pretty bare bones, while five stars is worthy of a spread in a newsstand travel magazine.
While stars denote standards of luxury, savvy travelers to Costa Rica now look for accommodations that pride themselves with that country's coveted Leaf certification. But it's not just accommodations that proudly show off their Leaves.
The Costa Rican Tourism Board manages the Leaf system, which was designed to differentiate the degrees that various tourism-related businesses in the country comply with a sustainable model of natural, cultural, and social resource management. The five level scale is, as you've probably guessed, represented by the number of green leaves.
Costa Rican hotels, inns, B&Bs, tour operators and travel agencies can choose to participate on a voluntary basis without restriction to size or location.
CST certified businesses spend years and a lot of money working to improvement their sustainable practices, infrastructure, and guest and community involvement, which together determine their overall rating.
Where a one star hotel leaves a lot to be desired, it's important to note that any establishment that's rated under the leaf system are environmentally conscious and have already implemented at least some green practices.
Attaining a Five Leaf rating is by international standards a rare and incredible accomplishment and over the last few years that coveted list has grown from two to ten!
Naturally a lot of the hotels and lodges where our guests stay on our Costa Rica tours are rated by the CST:
Costa Rica: Southern Rainforest & Coast
Savegre Lodge (4 Leaves)
Cristal Ballena (4 Leaves)
Casa Corcovado (5 Leaves)
Costa Rica: Northern Cloudforest & Volcanoes
Arenal Observatory Lodge (2 Leaves)
Fonda Vela (2 Leaves)
Rio Celeste (new-not yet rated)
Borinquen (3 Leaves)