'Czech' out České Budějovice, Brew Capital for the Holy Roman Empire
Czech Republic: Vienna to Prague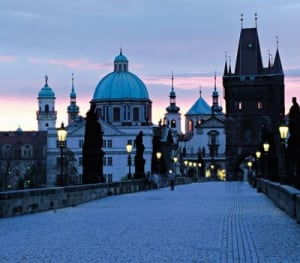 Beer has been a part of certain civilizations for more than two thousand years. With the advent of craft beer and microbrewing, the beverage is perhaps now more popular than ever. Many devoted beer enthusiasts consider Europe to be the best continent for beer brewing, and the Czech Republic - like Germany, Belgium, and Holland - is a nation particularly enamored with hops and fermentation. České Budějovice is the crown jewel of Czech brewing.
If you treat yourself to our Czech Republic: Vienna to Prague tour, you can visit the city and enjoy its many culinary (and pilsner-y) pleasures. Below is just a sampling of what you might experience:
The Exclusive Brewer for Emperors
Brewing in České Budějovice dates back to 1265, but it really took off in 1351. According to the Budvar Brewery's official website, the Holy Roman Emperor and King of Bohemia, Charles IV, declared there could be no pubs within a 10-kilometer radius of České Budějovice. This was meant to emphasize the elite artisanal status of Budvar, and helped cultivate a reputation that persisted for hundreds of years.
Budvar vs. Budweiser
Long before it was the preeminent choice of brew for citizens in the American heartland, Budweiser was the product of the Budvar Brewery in České Budějovice. Beer creation in the city evolved by leaps and bounds over the course of centuries, particularly due to industrial advances. The Czech Joint-Stock Brewery, Budweiser's predecessor, was founded in 1895.
The Budweiser most Americans know today was first made by Anheuser-Busch around the same time as Budvar and, according to MarketWatch, was inspired by Budvar's original Budweiser. So if you visit the Budvar brewery, you'll taste a unique variation on the pilsner style that's worlds away from the well-known lager sold in the U.S.
Unique Flavors at Restaurants and Brewpubs
In addition to actual breweries, České Budějovice is also chock-full of restaurants and bars that brew their own ales and lagers. RateBeer lists almost a dozen, with Klub Malých Pivovar standing out as the site's highest-rated establishment in the area. There are usually five local beers readily available on tap along with other popular craft brews.
But drink extra responsibly; many Czech brews have higher alcohol content by volume than the most common American beers!
Other Historical and Modern Attractions
Beer isn't the only thing České Budějovice has to offer.
First, there's Náměstí Přemysla Otakara II, the town square and one of the Czech Republic's biggest. Features include Samson's Fountain, the town hall constructed circa 1555, and other structures in both the Renaissance and baroque styles, including some fearsome gargoyles. The Black Tower and Iron Maiden Tower are some of the last vestiges of Gothic architecture around the old city, and the Church of St. Mary's Oblation, as the oldest building in the city, offers a peek into České Budějovice's far past.
There are also opportunities to delve into more contemporary, but no less intriguing, aspects of České Budějovice's history. The Museum of South Bohemia features many historic and artistic artifacts that illustrate the nineteenth- and twentieth-century Czech culture. But for those looking for a little more thrill in their history lessons, the South Bohemian Motorcycle Museum contains dozens of old motorcycles, bicycles, and even reproductions of planes.
To learn more about our walking tours in the Czech Republic, click here. To request a free Country Walkers catalog and learn more about other exciting destinations throughout the world, click here. If you would like to speak with one of our Travel Experts, please call 800.234.6900. They are available Monday-Friday from 8:30 a.m. to 6:30 p.m. EST.