4 Medieval Must-Sees in Evora, Portugal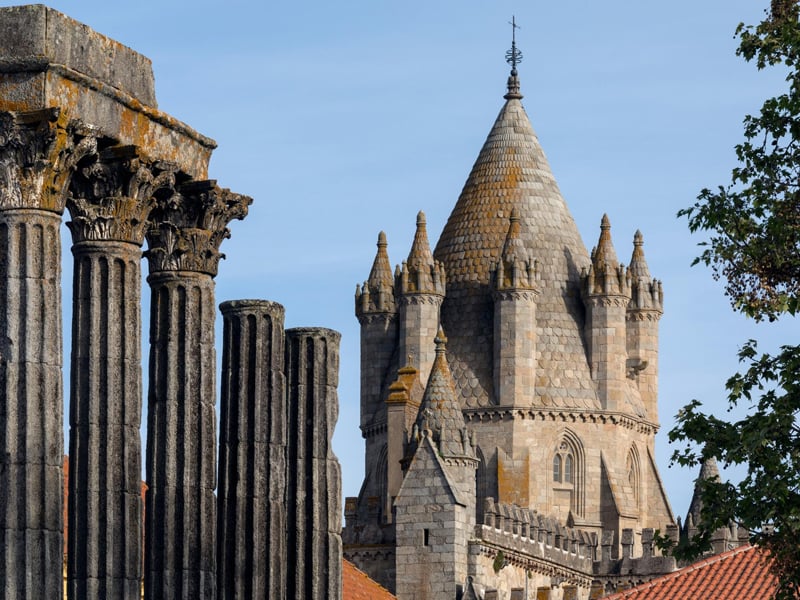 Evidence of Europe's rich and complex history is everywhere, no matter where you are on the continent. You can hardly walk a block without seeing a centuries-old church, a storybook stone fortress, strange ruins whose origins are lost to time - you name it and it's somewhere in Europe.
Portugal, especially the medieval city of Evora, is no different. Before you embark on a journey through the Iberian Peninsula's colorful history on our Portugal: Lisbon & Undiscovered Alentejo guided tour, read up on Evora's most intriguing medieval sights:
Stand in Awe of the Cathedral Sé
According to Lonely Planet, construction of this cathedral broke ground in 1186 and wasn't finished for another 60 years. The time taken certainly paid off. Sé Cathedral stands largely intact almost 800 years later. Additions were made in the fourteenth and sixteenth centuries, but builders didn't alter the fundamental essence of the granite structure. Sé will fascinate tourists who have an interest in religious history and the sublimity of Gothic architecture.
Experience More Gothic Wonders at the Church of Saint Francis
While not nearly as old as the Cathedral Sé, the Church of Saint Francis is another remarkable Gothic church in Evora. Historians estimate that it was built between 1475 and 1550. The travel blog Wandering Wagars noted that the place of Christian worship is the largest of its kind throughout all of Portugal. Beyond the vaulted, ornate naive lies a small sanctum, which is considered sacred by those who visit for religious reasons. Interestingly enough, many of the decorations are nautical-themed, a reminder of the influence that the high seas had on this coastal nation.
See the Sights at the Aqueduct of Silver Water
It's possible, in today's world, to take aqueducts for granted, as simple infrastructure. But there's nothing ordinary whatsoever about the Aqueduct of Silver Water in Evora, completed in 1530 by famed Portuguese military architect Francisco de Arruda. Over time homes and shops were built into the aqueduct, forming a society in miniature around the landmark's gigantic stone arches.
Why the Aqueduct of Silver Water? According to the Evora Aqueduct Guide, "silver" pertains to either the shimmering water that flows through the aqueduct or the large sums of money spent to build it!
Let Your Dark Side Out at the Capela dos Ossos
The Capela dos Ossos is not for the faint of heart. Constructed by Roman Catholic monks of the Franciscan order, this seventeenth-century catacomb is adorned with the skulls and bones of five thousand people. Incorporating bones into the architecture actually helped the monks solve their problem of overcrowded graveyards.
The whole affair reminds us of that joke about the really popular cemetery. You know, the one everyone was just dying to get in to.
For lovers of Halloween, fans of horror flicks or those with a macabre sense of humor, the Capela dos Ossos is a truly unique sight. Many of the tiles throughout the chapel, particularly those found in the Chapter House that now houses the building's admissions desk, were hand-painted by local artisans. They make for a strikingly fascinating contrast and, in their own odd way, celebrate the lives of those who gave an arm and a leg - literally - to one of Portugal's spookiest landmarks.
To learn more about our other tours in Portugal, click here. To request a free Country Walkers catalog and learn more about other exciting destinations throughout the world, click here. If you would like to speak with one of our Travel Experts, please call 800.234.6900. They are available Monday-Friday from 8:30 a.m. to 6:30 p.m. EST.