Norway: Bergen & the Fjords
Tour Only
Flight + Tour Combo
7 Days
Starting From
$5,848
10 Days
Starting From
$6,748
Favorite
See What's Included
Breathe in the pristine beauty of Norway on this walking tour of its fjord and mountain landscapes
Welcome to Norway—and an enlightening and idyllic fjords walking tour. Your journey takes you from the breathtaking fjords of the country's spectacular west coast to the mountaintops and valleys of its equally scenic interior. When not walking, you'll travel by coach, RIB boat, ferry, gondola, and train—including the celebrated Flam Railway. Along the way, you'll visit a castle and its gardens, perambulate a pristine lake, view the untamed beauty of Voss's Mount Hanguren, see historic wooden villages and a well-preserved stave church, and explore Bergen's historic Bryggen district. You'll also touch modern culture with tastings of goat cheese and cider, as well as the opportunities to mingle with locals that a walking tour allows. Let us show you the essence of Norway, then and now.
Highlights
Walk the historic and breathtaking Vindhella section of the King's Road hiking trail, a curvaceous path that winds toward the beautifully preserved Borgund Stave Church
Travel by coach, ferry, train, RIB boat, and gondola on scenic rides that include the renowned Flam railway, the Aurlandsfjellet National Tourist Route, and the Voss Gondola
Learn about cider production on the Hardanger Fruit Trail and enjoy a tasting, followed by a delicious lunch overlooking a fjord
Ferry to the historic Rosendal Barony, Scandinavia's smallest castle, to admire its famous rose garden and view a landscape of fjords, glaciers, mountains, and waterfalls
Spend two nights at a cozy boutique hotel in Lærdalsøyri, named a national "heritage village" for its cluster of 18th-century wooden houses
On all Guided Adventures you can count on...
Expert local guides to introduce you to the best of your destination
Off-the-beaten-path places you'd never find on your own
Delicious multi-course meals—a majority are included
A maximum of 18 fun-loving fellow travelers to share the journey
Gracious accommodations that are a clean, comfortable home away from home
Experts to handle all the details
Flight + Tour Combos include plane tickets, airport shuttles, and pre- and post-tour accommodations
Karl Johan Hotel
Blending an elegant setting with an informal air, the Karl John Hotel is ideally located in the theater district of Karl Johans Gate, Oslo's main boulevard. The Royal Palace is just steps away. Enjoy the historic ambiance of this 19th-century structure, updated to include WiFi, air conditioning, and other modern amenities. Rooms all are tastefully furnished and boast a view of Karl Johans Gate. Savor a delicious breakfast buffet in the skylit restaurant, and enjoy a wealth of nearby activities, from nature walks and beaches to cultural events, the Ekebergparken Sculpture Park, and the National Museum.IWiFiIAir ConditioningI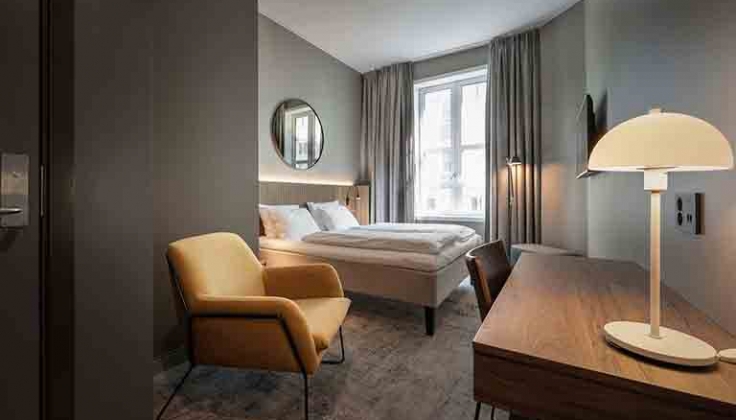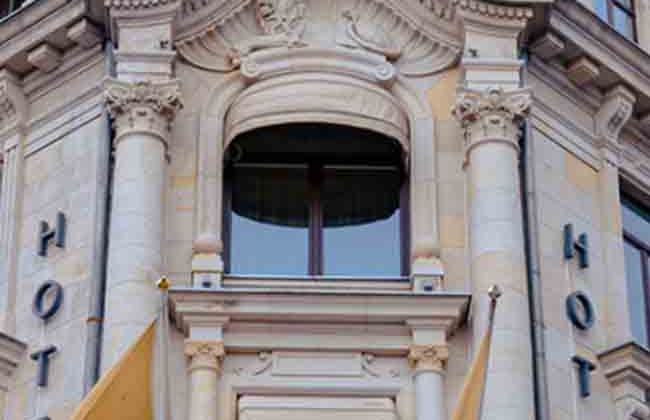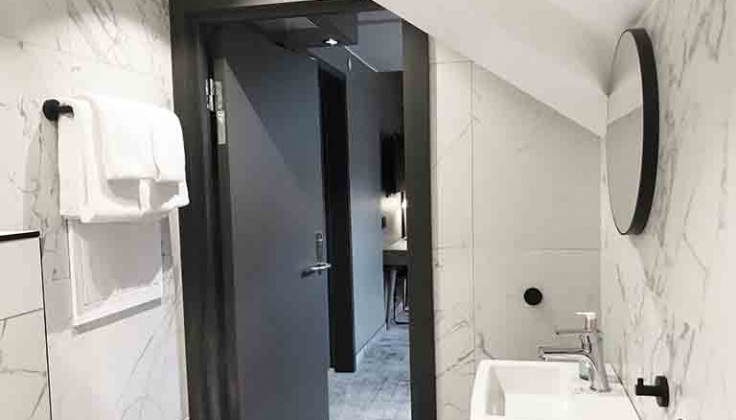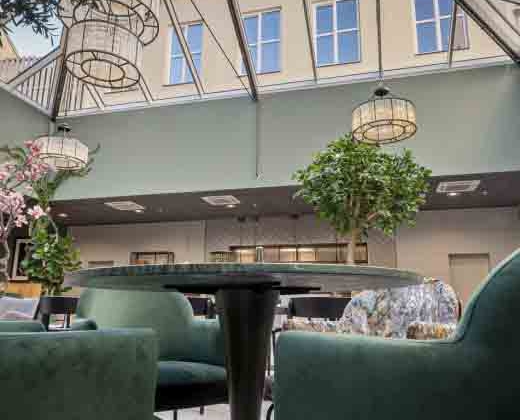 Hotel Ullensvang
Now managed by the fifth generation of the Utne family, the historic Hotel Ullensvang was inspired by the home of famed Norwegian composer Edvard Grieg, whose original hut is on the hotel grounds. Today, the Ullensvang is a gracious boutique hotel set in the country's largest orchard, on the shores of Hardangerfjord. While here, drink in stunning views of the fjord, the Folgefonna glacier, lush gardens and fruit trees, and the Hardangervidda mountain plain. Savor homemade, traditional Norwegian cuisine in the three hotel restaurants, relax at the bar, or sample beer, wine, and cider at the "Munkens Trøyst" ("the Solace of Monks") wine cellar. During your time at leisure, you might indulge in the sauna, the indoor and outdoor pools, or the hotel's private sandy beach, or work out at the onsite fitness center. Or choose from a wealth of activities, such boating, ten-pin bowling, tennis, squash, billiards, table tennis, or simulated golf (some at additional cost). The hotel is not air conditioned, but free WiFi is available throughout the property.IWiFiI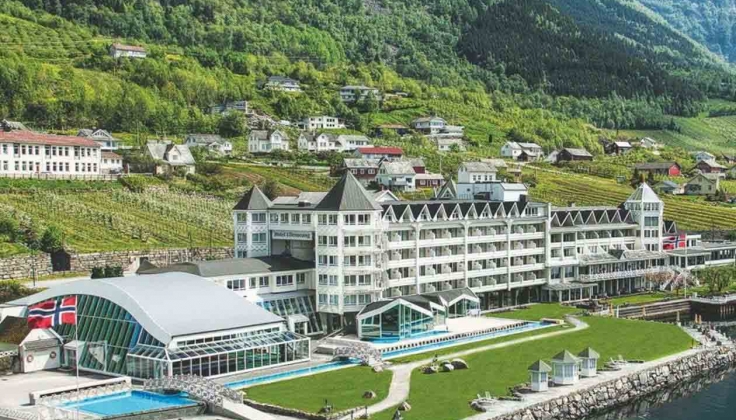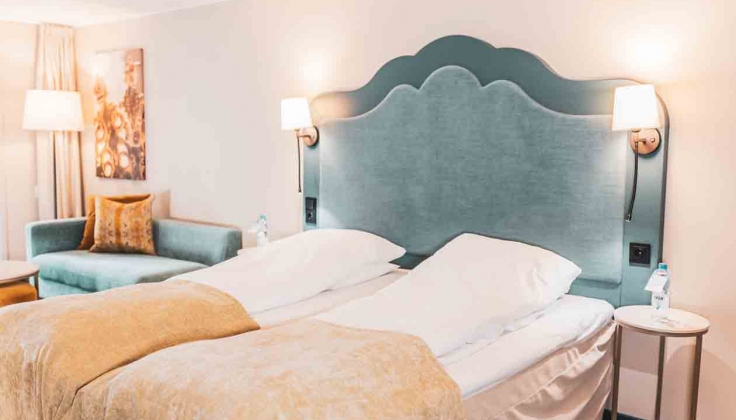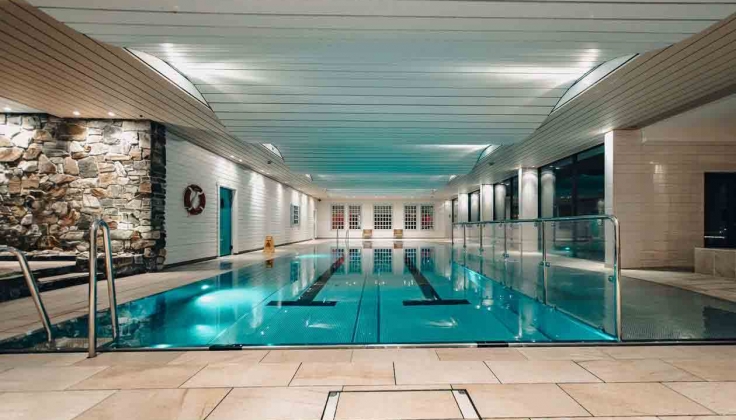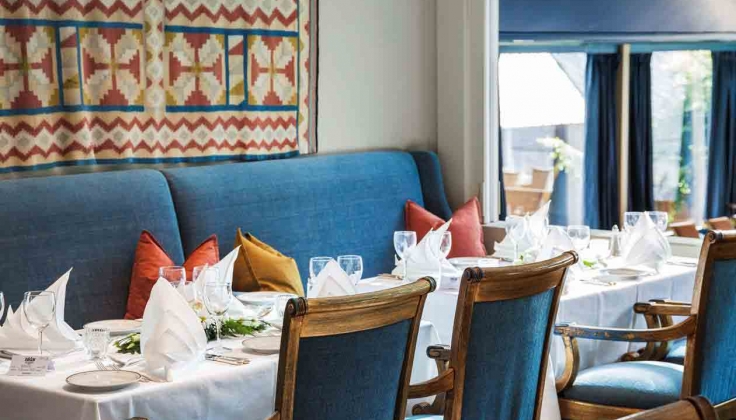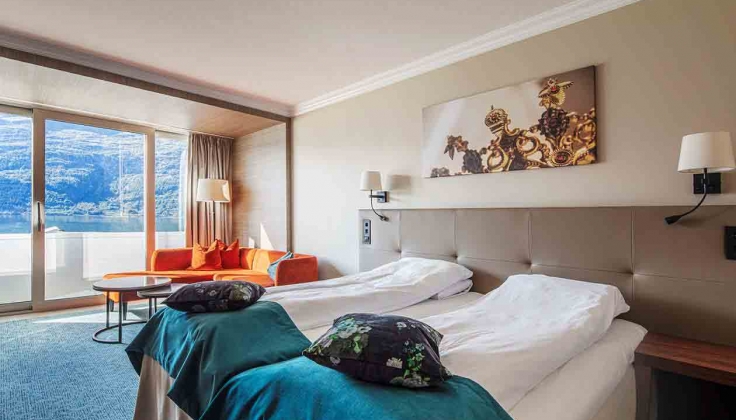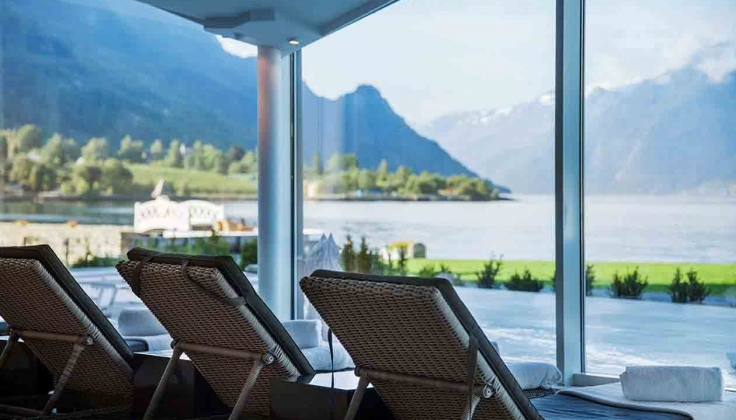 Lindstrom Hotel
With its eclectic architectural and decorative styles, the Lindstrøm Hotel offers a unique mix of old and new in a cozy atmosphere. Set amid pastel-colored houses, the hotel consists of five buildings conveniently set in the village center. Family run since 1845, it boasts a long heritage of warm hospitality. The rooms are simple but historic and authentic, and the hotel restaurant offers traditional cuisine crafted from local fruits and vegetables. The hotel is not air conditioned, but free WiFi is available throughout the property.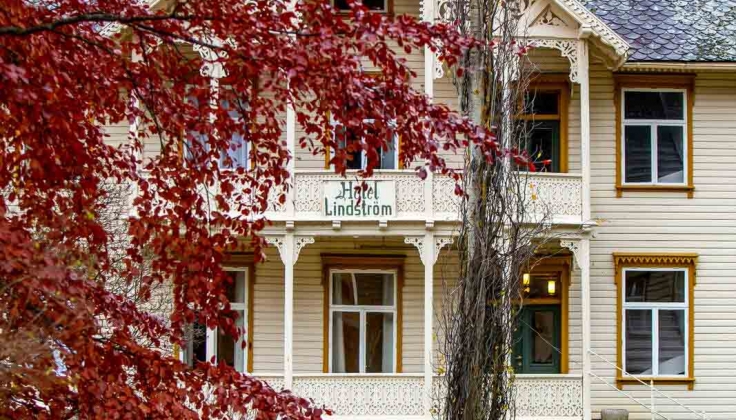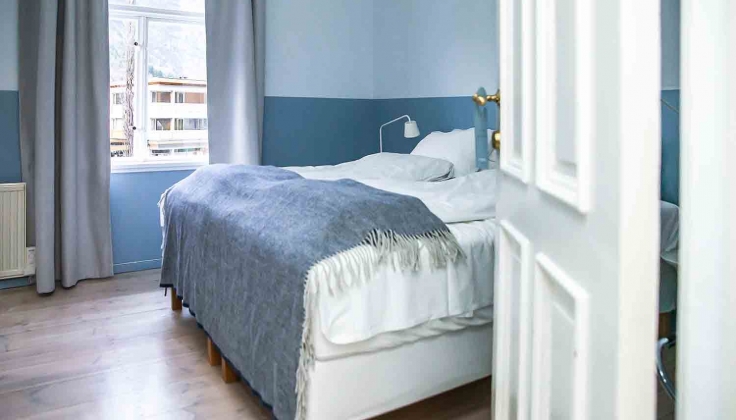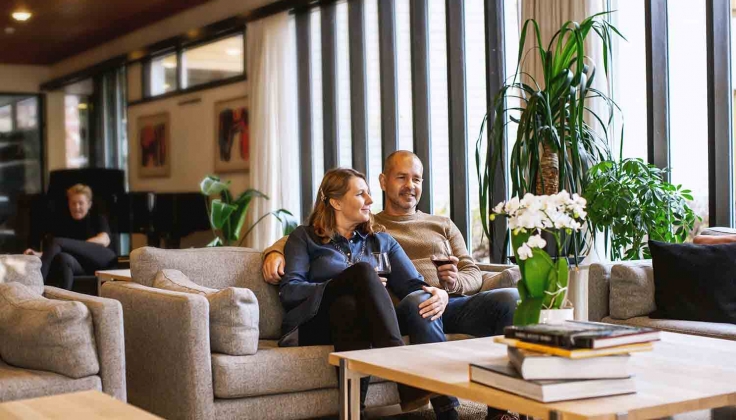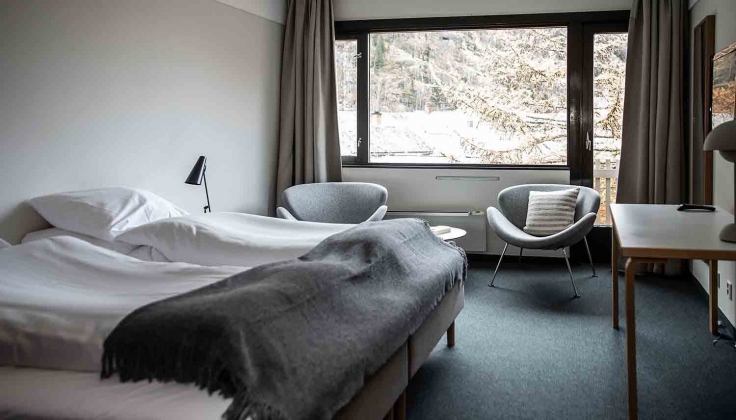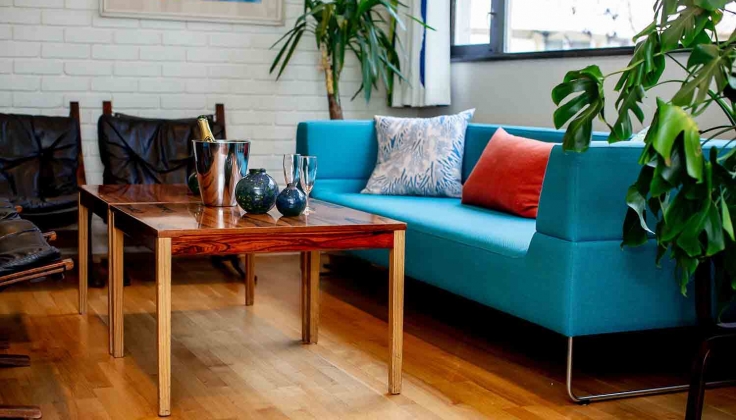 Fretheim Hotel
History inspires the Fretheim Hotel, which traces its origins to 1879, when English aristocracy flocked to Flam for the salmon fishing. Each comfortable room is air conditioned and features a unique décor, reflecting a different aspect of the hotel's past, and each has a private seating area. Enjoy breathtaking views of the Sognefjord landscape and surrounding mountains from your room and from the hotel restaurant, where locally sourced Norwegian cuisine is on the menu. And you can relax on the terrace, in the library, or by the fireplace in an elegant lounge.IWiFiIAir Conditioning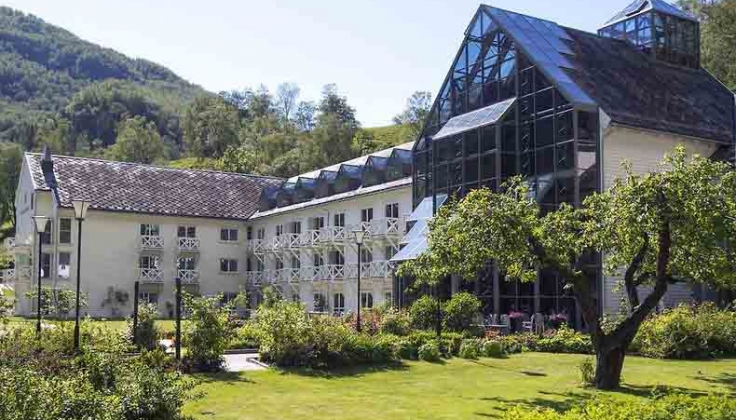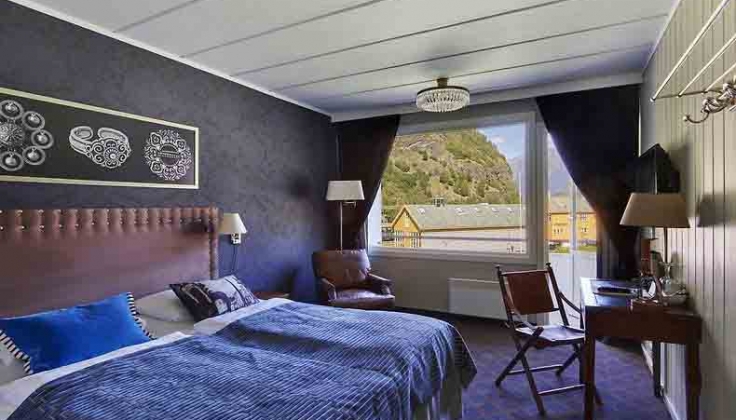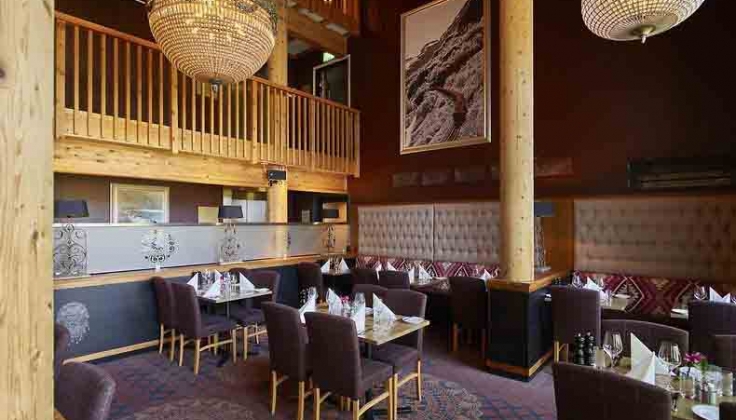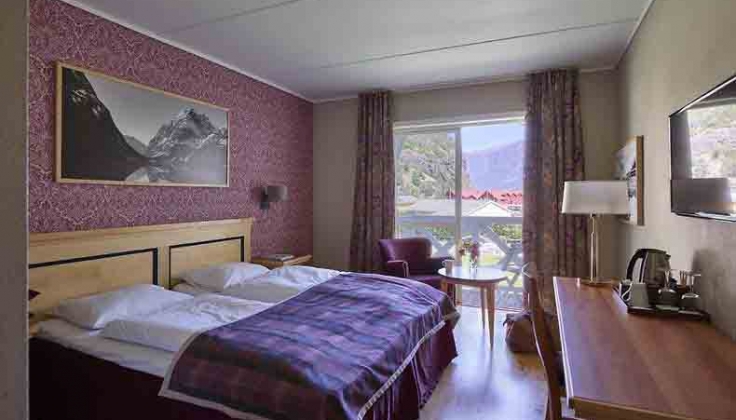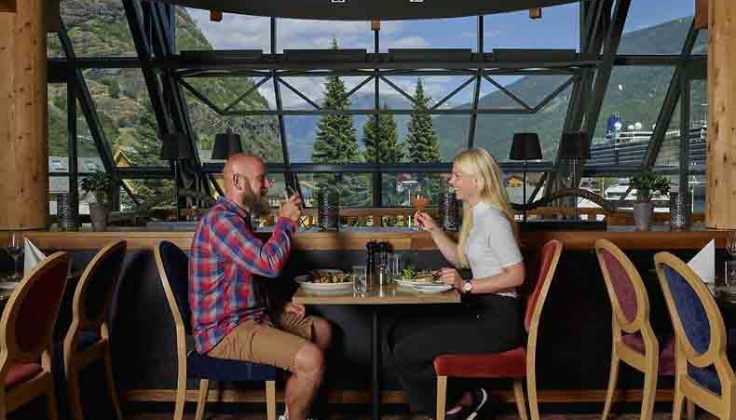 Clarion Hotel Admiral
Known for its stunning views, attentive staff, and convenient location, the Clarion Hotel Admiral will not disappoint. The recently renovated property features spacious rooms with classic designs, complimentary wireless Internet, 24-hour room service, and flat-screen televisions. This charming hotel also boasts a trendy restaurant, Kitchen & Table, featuring Swedish master chef Marcus Samuelsson who prepares traditional Scandinavian dishes with a unique twist.IWiFiIAir ConditioningI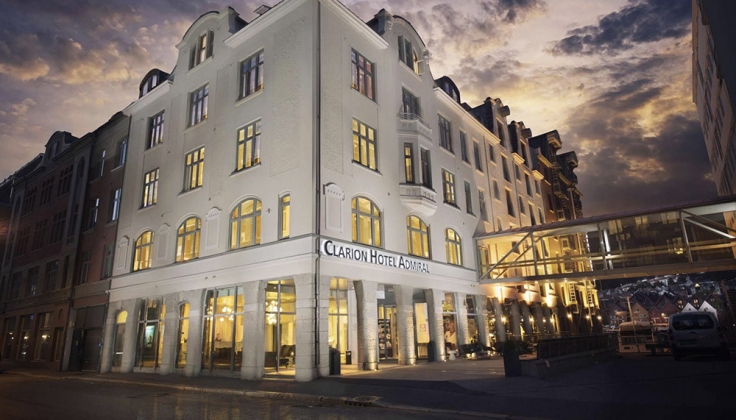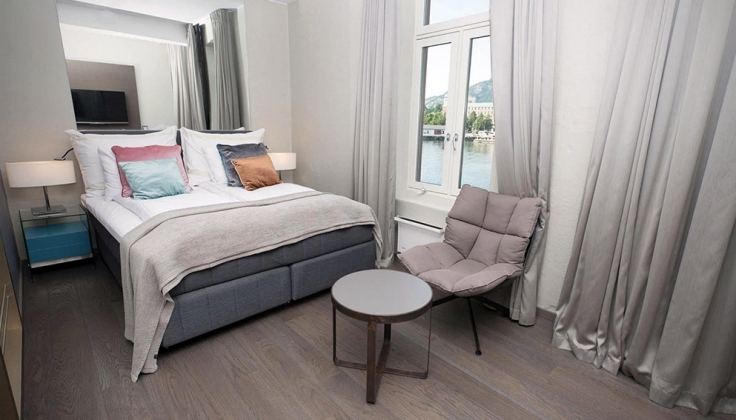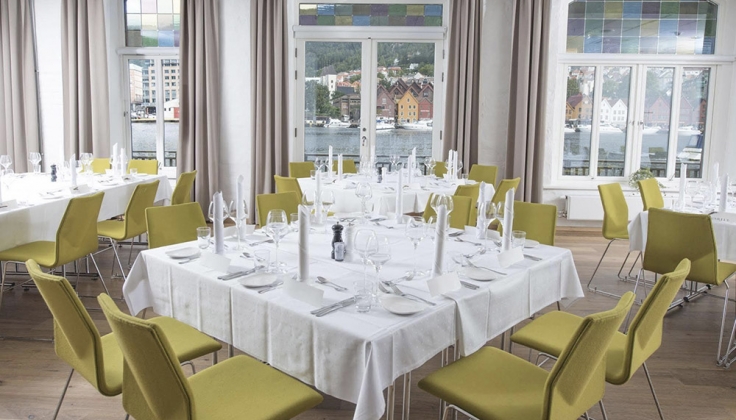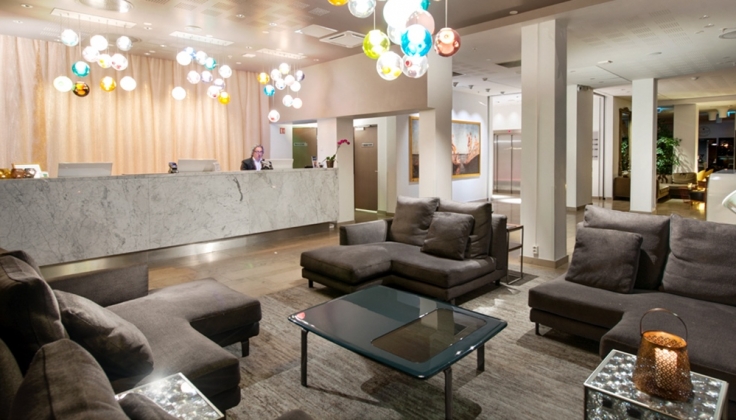 Linger Longer with a Tour Extension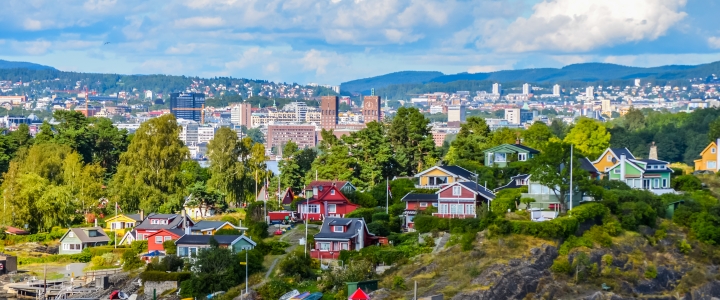 Pre-Tour
Flight + Tour Combo Only
2023 Pre-Tour Extension - Oslo
2 nights at the Karl Johan Hotel
Airport car service for arrivals and departures
Flight from Oslo to Bergen
Daily breakfast
City information
2 Nights From $598
per person, double occupancy

Single Supplement: From $298
Your vacation is about to begin! Spend your first night aloft and arrive ready for an unforgettable trip.
Start off your first day in Oslo right by having a Country Walkers representative greet you at the airport. A complimentary car service will whisk you to your centrally located hotel. From here, you are perfectly positioned to explore this charming city at your leisure.
After a delicious included breakfast at your hotel, you are free to continue to explore on your own. Late morning, be ready to depart the hotel for your ride to the airport, where a short midday flight takes you to Bergen on the country's west coast.
Upon your arrival at Bergen Flesland Airport, a representative holding a Country Walkers sign meets you as you exit the baggage claim area. Complimentary transportation is provided to your hotel in the heart of Bergen. The rest of the day is yours to enjoy at your leisure—perhaps explore the city, rest up in the hotel, or select a local restaurant for dinner. We provide detailed city information to help you plan your day.
Included Meals: Breakfast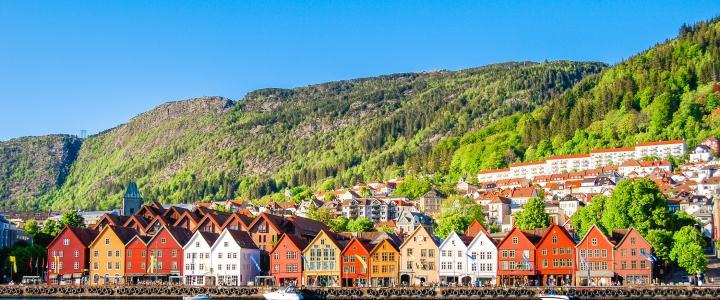 Post-Tour
Flight + Tour Combo Only
2023 Post-Tour Extension - Bergen
1 night at the Clarion Hotel Admiral
Airport car service for arrival
Daily breakfast
City information
1 Night From $248
per person, double occupancy

Single Supplement: From $198
After a delicious included breakfast at your hotel, you are free to explore on your own, using our included city information packet to guide your discoveries.
Included Meals: Breakfast
Ha det bra! After your included breakfast this morning, complimentary transportation is provided to Bergen Flesland Airport based on your departure time.
Included Meals: Breakfast
| What's Included | Flight + Tour Combo | Tour Only |
| --- | --- | --- |
| Exceptional boutique accommodations | | |
| 15 on-tour meals: 6 breakfasts, 5 lunches, 4 dinners | | |
| Local guides with you throughout tour | | |
| Local wine and/or beer with dinner | | |
| Entrance fees and special events as noted in the itinerary | | |
| Telescopic walking sticks provided on tour | | |
| Roundtrip airfare | | |
| Two extra nights in Bergen | | |
| Airport car service for arrival and departure | | |
| Pre- and post-tour breakfast | | |
| Business-class upgrades available | | |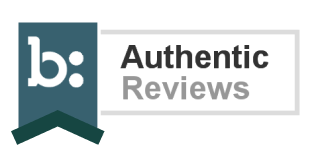 Guest Reviews This tour doesn't have any reviews because it is a new tour. Be the first to review it!
Expert Local Guides
Experience your destination like an insider with people who call it home.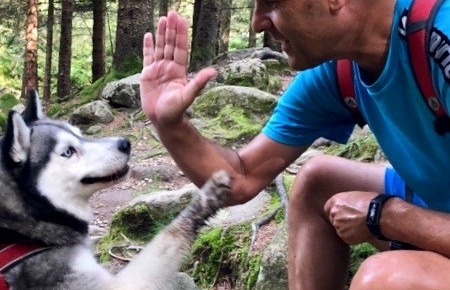 Frank Jensen
Born and raised in Bergen, Frank considers the western part of Norway his "back yard." A natural athlete, Frank spent his youth playing soccer, cycling, and skiing Norway's snow-capped peaks. In recent years, Frank has switched his focus to hiking tours. He works full time guiding hikes in Norway—as well as food and wine tours in Italy. What combination could be better?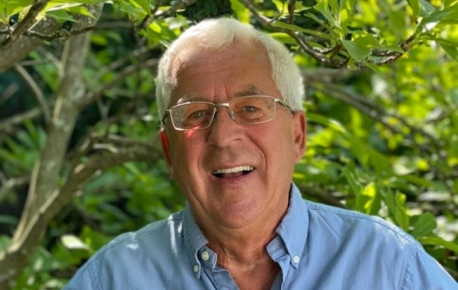 Olav Luhr
An experienced adventurer and travel professional, Olav has spent decades leading hospitality initiatives in the Flåm region—including the Flåm Railway, Flåm harbor and Fretheim Hotel. Based on his work as hotel manager in Norway's remote Svalbard archipelago, Olav has an insider's perspective on life in the remote region near the Arctic Circle.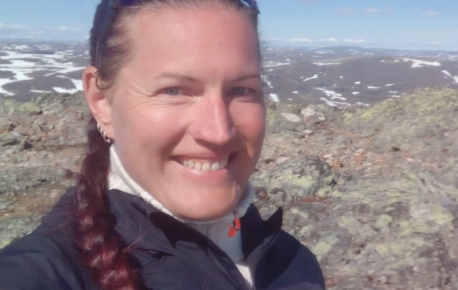 Heidi Ryum Marsh
Born in Flåm, Heidi is the fifth-generation owner of a local goat farm—one of the largest in Norway. A consummate outdoors woman, Heidi enjoys exploring the Norwegian countryside on foot—engaging in traditional outdoor skills such as hunting and shooting. A traveler herself, Heidi loves to introduce her beloved countryside to visiting guests.
Be the First to Get News & Special Offers
159 other people have recently viewed this tour!
Click and hold to Zoom